Parents scramble to find formula for their babies
Nathan Howard/Getty Images
Many parents' frustrations are hitting fever pitch as baby formula becomes scarcer on store shelves.
The baby formula shortage came after the recall of Similac, Alimentum, and Elecare powdered infant formulas earlier this year due to concern for bacterial contamination, as well as ongoing supply chain issues.
The White House, manufacturers and federal regulators say they are working on the problem.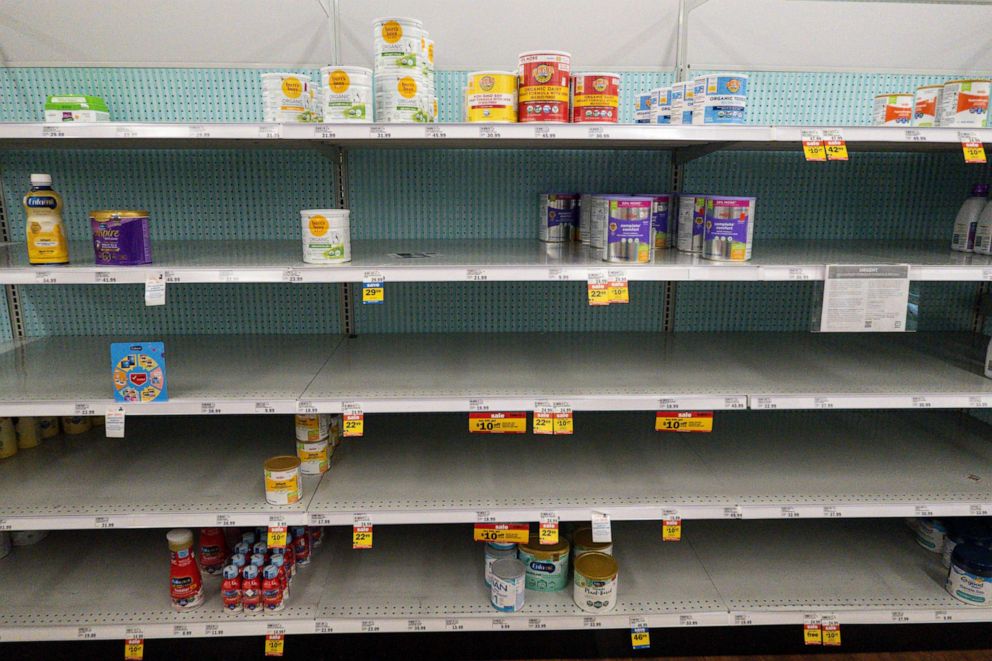 Food and Drug Administration Commissioner Bob Califf tweeted on Friday that measures are being introduced next week, including easing restrictions on imports of formula, which "will help dramatically improve the supply in the U.S. in a matter of weeks," he said.
In the meantime, parents need to know what they should and shouldn't do amid the baby formula shortage.
Do: Use breast milk
Breast milk is one of the best options if the infant's mother is willing and can provide. The American Academy of Pediatrics, the World Health Organization and UNICEF recommend, if possible, only feeding breast milk for the first six months as it continues to be one of the best sources of nutrition for children in the first and second years of life.
However, some medical conditions limit the ability to breastfeed and should be discussed with a doctor. Any person feeding an infant donated breast milk should follow the FDA safety guidelines -- which include considering potential exposure to infectious diseases and to a few prescription drugs that might be in human milk, if the donor has not been adequately screened.
Do: Use alternative brands
Another option if the child is already using formula is to use alternative brands. In most cases, it is safe to switch to a different brand of formula, especially if it is iron-fortified.
"Everything that's sold in a store is going to be FDA-approved," Dr. Julie Capiola, a pediatrician at Premier Pediatrics in New York City told ABC News. However, AAP says some exceptions apply if you're considering switching: for example, if your child is on extensively hydrolyzed or amino acid-based formula, or has a known allergy, consult a pediatrician before switching.
If your child has urgent health needs that require specific formula, Abbott, one of the largest producers of formula in the country, said it may be able to release formula to you. The process can be started online by parents at www.abbottnutrition.com/metabolics with the assistance of your health care provider.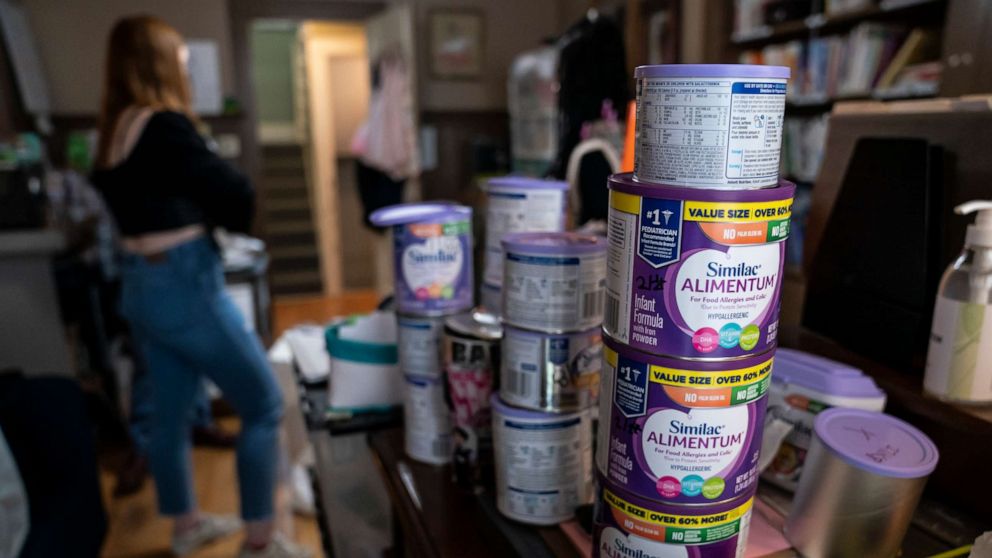 Do: Shop around
Also, parents should shop around. While most stores are running short, it is possible inventories are better stocked at stores close to you. Or, it's possible other families can share from excess supply they may have at home. Social media platforms are a good way for parents to communicate on availability of formula at different stores, as well as trade or donate unopened formula they do not plan to use.
The AAP healthychildren.org site for parents also suggests checking smaller stores, getting in touch with your local Special Supplemental Nutrition Program for Women's, Infants, and Children's (WIC) office, or reaching out to local charities for formula.
Do: Use cow's milk with limitations
Cow's milk is typically not recommended before twelve months, but because of the current situation, pediatricians are making an exception for those over 6 months for a limited time.
"This is not ideal and should not become routine," says AAP guidelines, "but is a better option than diluting formula or making homemade formula."
"If your child is older than 6 months, you can feed them whole cow's milk for a brief period," pediatrician Dr. Wendy Sue Swanson told ABC News, until the shortage is over as long as they are getting adequate iron supplementation, for example in "dark leafy green veggies pureed or soft, dark meats like dark chicken or turkey, red meat."
The reason is because cow's milk is low in iron. Malnourishment through iron-starvation can reduce blood count. Since blood carries oxygen to the rest of the body, a low blood count can further starve a baby's organs, including their brain, of oxygen. For the same reason, toddler formula is not an appropriate substitute for infant formula.
Do not: Use plant-based milk or other alternatives, and do not water down formula
Experts also recommend against milk alternatives: almond milk and other plant-based milks are often too low in protein and calcium for an infant.
Since many organs rapidly develop in the first year of life, infants have special nutritional needs -- missing even a few days of formula can be harmful for an infant's development. Parents are encouraged to talk to their pediatrician before changing their child's nutritional plan or if they are having problems getting formula.
The AAP also strongly discourages parents from watering down formula to make it last. The organization also warns against trying to make your own homemade formula based on store-bought ingredients.
Homemade formulas "are risky…and may not be safe or meet your baby's nutritional needs," the AAP warns. Going above the maximum dose of a substance can be dangerous: many nutrients are toxic to infants at high concentrations. And the FDA reports that some babies fed homemade formula have been hospitalized for hypocalcemia (low calcium).
The next few weeks or months may be challenging -- and to help ease the impact of shortages for everyone, the AAP advises people to avoid hoarding and not buy more than a two-week supply of formula until supply increases again.
As desperate as the situation may feel in the moment, parents should feel comfortable speaking with their pediatrician and know that they have some options available to keep their children nourished.
Rebecca Fujimura is a family medicine resident at MedStar Health/ Georgetown-Washington Hospital Center and Genevieve Yang, M.D., Ph.D., is a psychiatry resident in New York City. Both are contributors to the ABC News Medical Unit.