The death of "Black Panther" star Chadwick Boseman at age 43 sent shock waves across the country, particularly for Black fans who got a chance to see themselves as a superhero on the big screen.
Boseman, who played the iconic role of King T'Challa in "Black Panther," died Friday of colon cancer at his Los Angeles home surrounded by his wife and family, according to a statement.
Seeing a superhero on a movie scene that looked like him meant everything.
As condolences continue to pour in for the award-winning actor, parents across America are also paying tribute to the star for bringing legendary Black characters -- such as Jackie Robinson in "42," Thurgood Marshall in "Marshall" and James Brown, the Godfather of Soul, in "Get On Up" -- to the big screen.
But it was "Black Panther," the global blockbuster that broke box office records by grossing more than $1.3 billion worldwide, that made him an onscreen superhero. The movie also made history as the highest-grossing film made by a Black director -- Ryan Coogler, who penned a moving tribute to his late friend, calling him a "special person" and "an epic firework display," who meticulously pondered every choice when preparing for the film.
Boseman meant a lot to his youngest fans. Here, five Black American families remember the late star and the power of the groundbreaking film "Black Panther."
Kian, 7
'Seeing a superhero on a movie scene that looked like him meant everything'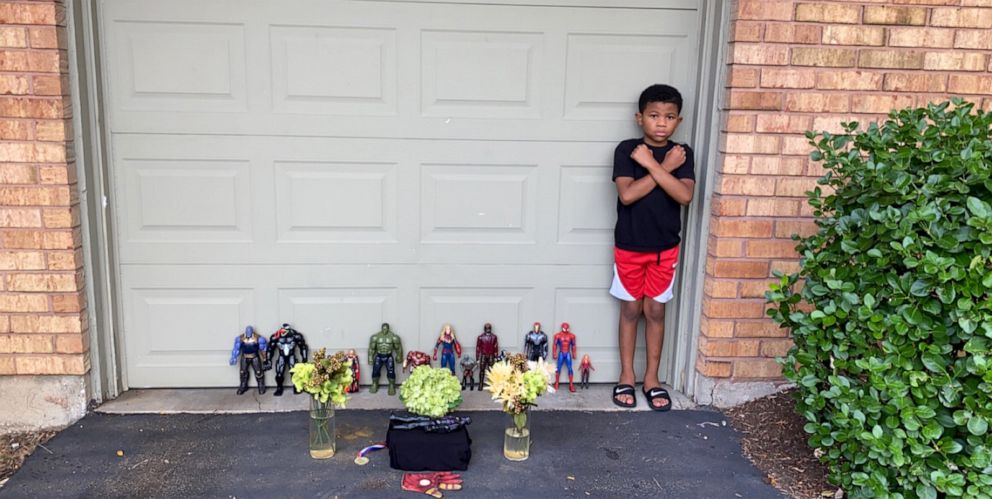 After learning of Boseman's death, 7-year-old Kian wanted to give Boseman's character, King T'Challa, the perfect send-off. He decided to create a memorial service at his home for T'Challa alongside his other Avengers figurines, and his family shared the moment on social media.
"He knows death is a part of being human and wanted to cope with losing his hero this way," Kian's father, King Curtis-Lavelle Westbrook, wrote.
Westbrook, a truck driver in St. Louis, Missouri, told "Good Morning America" his son was devastated and emotional after learning about Boseman's death. He said he vividly recalls seeing his son's face light up when he saw the movie for the first time in 2018.
"Seeing a superhero on a movie screen that looked like him meant everything," Westbrook said. "For a child with a great imagination like he has, to see this in a comic book character ... smart, powerful and Black, made him feel like, as a young Black boy, he could do anything."
Anthony 'Bubba,' 8
'"Black Panther" meant everything'
For 8-year-old Anthony, who goes by the nickname "Bubba," his favorite superhero in the entire Marvel Universe is King T'Challa.
"'Black Panther' meant everything to my son. I can't even count how many times he has watched it," his mother, Mary Wilson, told "GMA." "I remember looking at his face when T'Challa first appeared on the screen and he was literally smiling from ear to ear."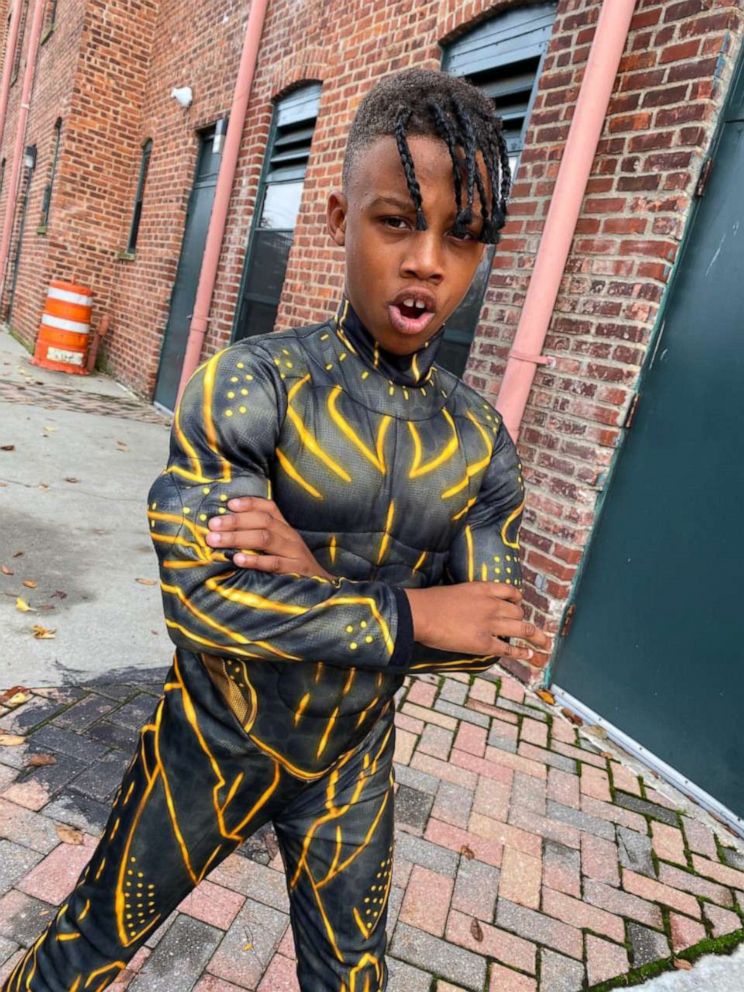 Wilson, a broadcast news producer in New York, said that last year, her son was hoping to be the Black Panther for Halloween, but the costume for the character was sold out at five different stores. Instead, he opted to dress up as the film's supervillain, Erik Killmonger, who was played by actor Michael B. Jordan.
"When I found out that Chadwick Boseman died, I was in shock, and then that shock turned into extreme sadness because I knew that my son would be devastated," Wilson said. "When I told him, he got completely silent, his eyes watered up, and he then hugged me for a very long time."
Wilson said the morning after the star's death, the third grader turned on the movie just so he could see King T'Challa again.
"He didn't want to let go."
Jonah, 9
'To see Wakanda come to life ... it was breathtaking'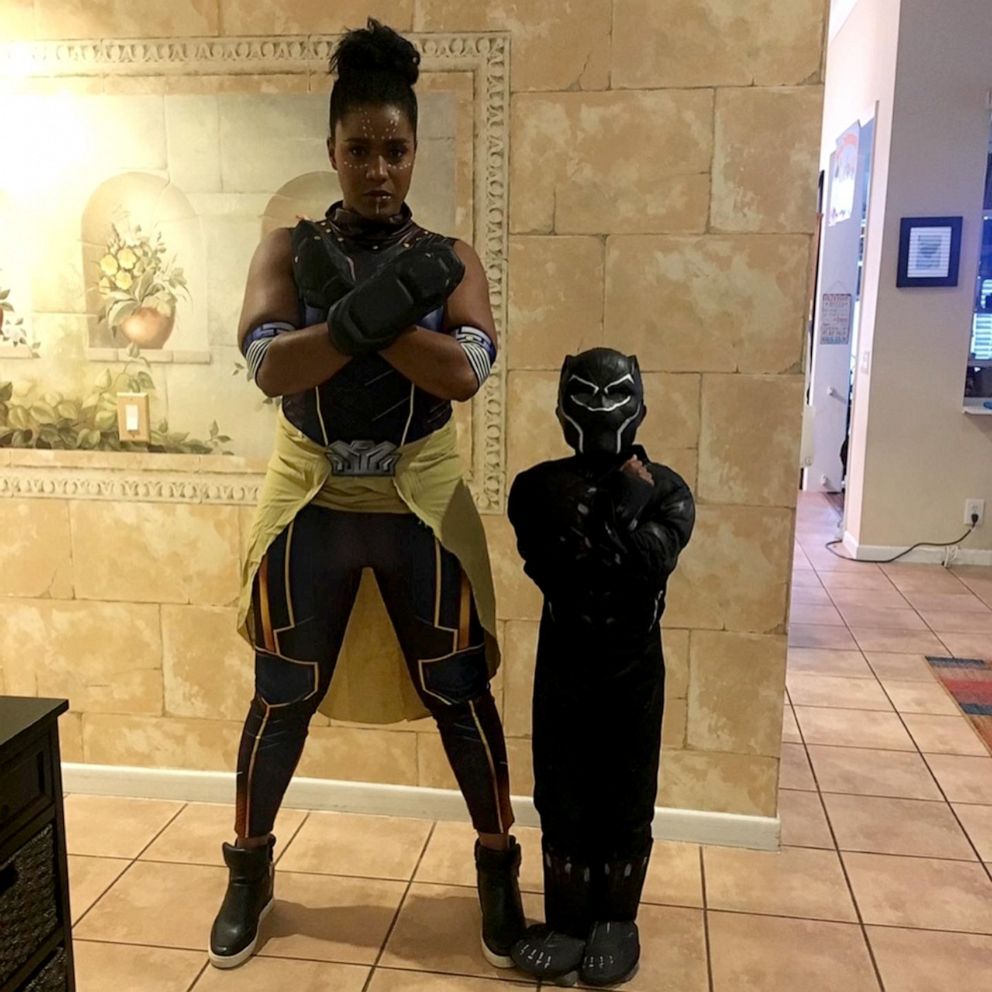 Jonah, 9, loved the movie "Black Panther" so much that his room is decked out in the theme of the film with action figures sitting on the King T'Challa comforter on his bed.
"When we took Jonah to see the movie when it was released, it was a very big deal for our family. My husband read all the Marvel comic books as a child and we enjoyed going to see the movies as they've been released over the years," Jonah's mother, Pascale Royal, told "GMA."
Royal, whose family lives in Florida, says that seeing this particular film was different from all the others, as her son got to "see a hero who looked like him."
"The colors, the beauty, the majesty, the celebration of technology and science" of Wakanda, Royal said, was "breathtaking."
Royal also said that Jonah, along with his 4-year-old brother, had a renewed excitement after they got to rewatch the film over and over again when it was added to streaming platforms, including Disney+.
"It's truly refreshing that seeing a Black superhero isn't such a big deal anymore," she said. "It's normal ... as it should be."
Yui, 6, and Masaya, 10
'"Black Panther" meant so much, in so many different ways'
For brother-sister duo Yui and Masaya of Buffalo, New York, the film has inspired them in more ways than one way.
"It's not all about being a superhero, it's also about being a good person," 10-year-old Masaya said.
His sister, 6-year-old Yui, said that after watching the film, she now has dreams of becoming a scientist, just like Shuri, who was portrayed by actress Letitia Wright.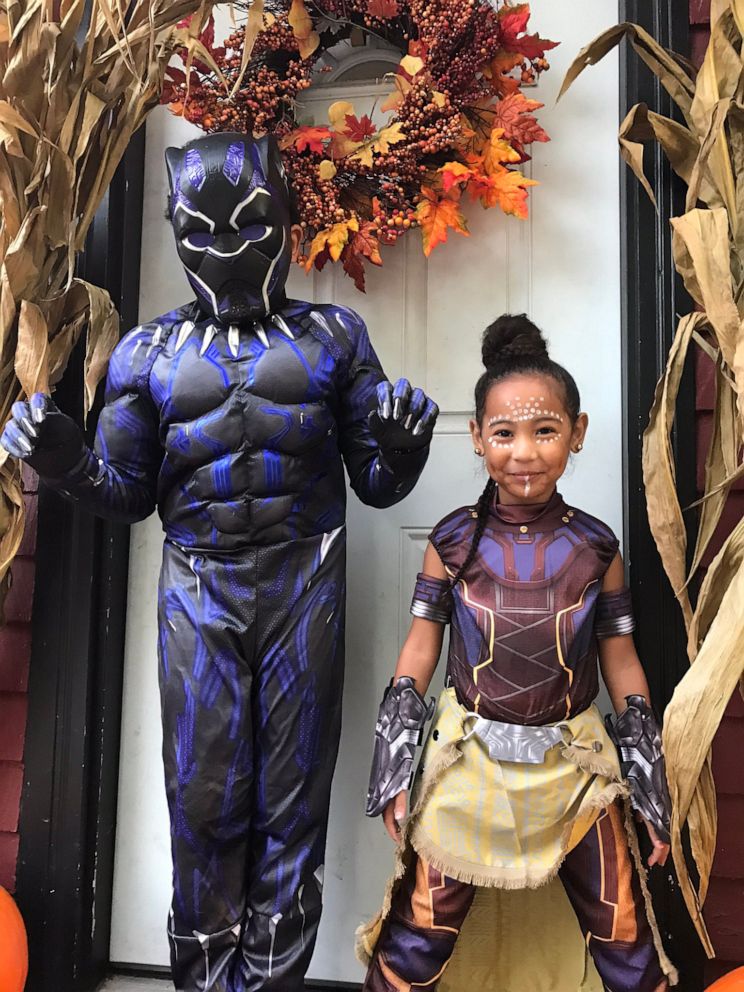 Their mother, Malinda Caudle, said the movie gave her children the opportunity to "see themselves in these characters," including the loving and fun dynamic between King T'Challa and his sister, Shuri.
"'Black Panther' meant so much, in so many different ways," Caudle told Good Morning America.
Carter, 5
'The Black Panther was and is Carter's hero'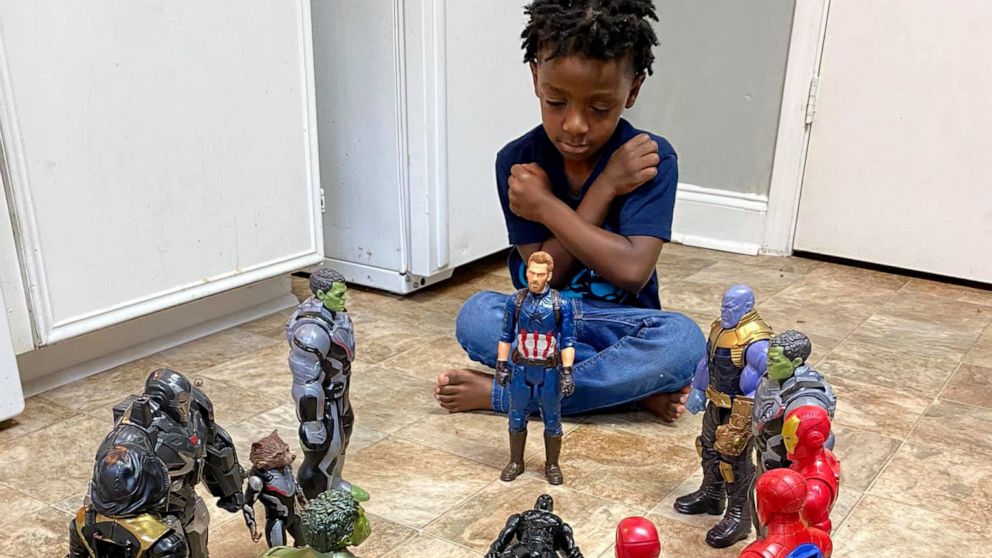 Though Carter was just 3 when "Black Panther" was first released, his mom said he watched the entire movie and just couldn't get enough.
"He saw that he could be someone strong and powerful," his mother, Sade Berry, said.
Berry, of Greenville, South Carolina, said that her 5-year-old kindergartner paid tribute to a fallen King T'Challa, in a moment surrounded by other toy action figures such as Hulk and Spider-Man, then saying the words, "Wakanda Forever."
"The Black Panther is who my little Black boy looked up to," she said. "The Black Panther was and is Carter's hero."
ABC News' Carlin McCarthy contributed to this report.
Disney is the parent company of "Good Morning America," Marvel Studios and Disney+.