COLUMN: I went on my first Tinder date in front of a stadium full of strangers and this is what happened
Cosmo, Tinder reveal best advice to stand out on dating apps
I immediately started laughing when I read the email.
"Hey, Alexa," read the email, "you've been chosen as the Perfect Match Sweepstakes Winner!"
I had just won Tinder's contest to send me and the Tinder match of my choice to a VIP experience at the New York City Football Club (NYCFC) soccer match inside Yankee Stadium -- even though I'd never gone on a Tinder date before.
If you're happily in a relationship or have been living under a rock and never heard of Tinder, here's what you need to know: The app helps you meet new people by connecting you with potential matches in your area. You can set up a profile with photos and a short bio about yourself complete with your interests. Swiping left on someone's profile means you're not interested, and swiping right means you want to match with them. If the other person swiped right on you, too, then you're able to start a conversation with each other.
I've been single for a couple years, and I wanted to see what all the fuss was about so I recently joined Tinder. I matched with a few guys, but we never messaged each other. Or, if we did, our connections never went offline and into the real world for an actual date. Swiping through the app was always just a fun activity to see who I matched with, and it was through swiping that I came across the contest.
I swiped right to enter, but quickly forgot about it. I never thought I'd actually win.
But when Tinder emailed me on a Friday morning, they let me know I was selected at random out of thousands of entries to attend the soccer game that upcoming Sunday. The online dating company even said I could also bring a friend -- enter my best friend Janel and her own Tinder date -- for moral support and a "double Tinder date." Now, it was just a matter of picking a match to join me.
I went through my previous matches, and I sent them all a pretty generic message: "Hey [name], free this Sunday? I won this Tinder contest and have to pick a match to come with me VIP to an FC match at Yankees Stadium, haha."
But one by one, each of my matches either didn't respond or said they were busy Sunday. Some even expressed their disbelief that my offer was legitimate.
"I mean that sounds great, and props for the spontaneity, but I don't believe it's real," one match wrote.
"What's an FC match?" another said.
"My struggle to even find a Tinder match to go on a VIP date with me at Yankee Stadium is so indicative of the current state of my dating life," I said jokingly to my coworkers, who were as fully invested as I was in my potential love story.
As the deadline to send in the name of my date quickly approached, I started getting nervous and got down to business. I "tindered" like never before as I swiped through profiles for an hour straight to find someone who was bold and spontaneous enough to meet a complete stranger for a unique first date. My thumb is still sore from all the swiping (only joking, of course!).
One person said they were interested, but I held out to see who else might want to come. At the last moment, I finally got a message back from a match and exhaled out a sigh of relief.
"Actually, I am free," Walter, who asked "Good Morning America" not to share his last name, from Belgium, wrote back. "Let me know, I'd love to join!"
I matched with Walter, 27, a couple weeks earlier, but our prior conversation had fizzled out. Still, we exchanged information, and I sent him the details of our first date. Despite only just learning each other's last names and where we lived, I was excited for what was to come.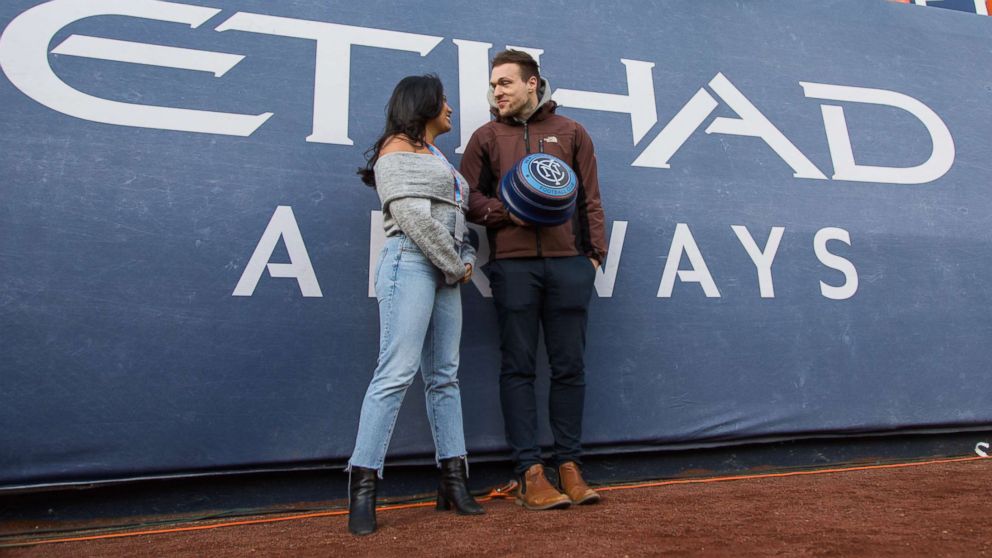 When Sunday arrived, I still had one dilemma: What to wear!
I got a manicure and had a blowout, so that no matter what outfit I wore, at least my hair would hopefully look good in photos and for my date, too -- of course.
I settled on a gray, off-the-shoulder sweater and my favorite jeans. Then, I set off to meet Walter in Manhattan before we both crossed the river into the Bronx to head for Yankee Stadium.
When I finally met him in person, we were running late and rushing to make the train, so it wasn't until we took our seats that I got to take him in. He was tall, had kind eyes and a warm smile. More importantly, he looked like the photos in his profile.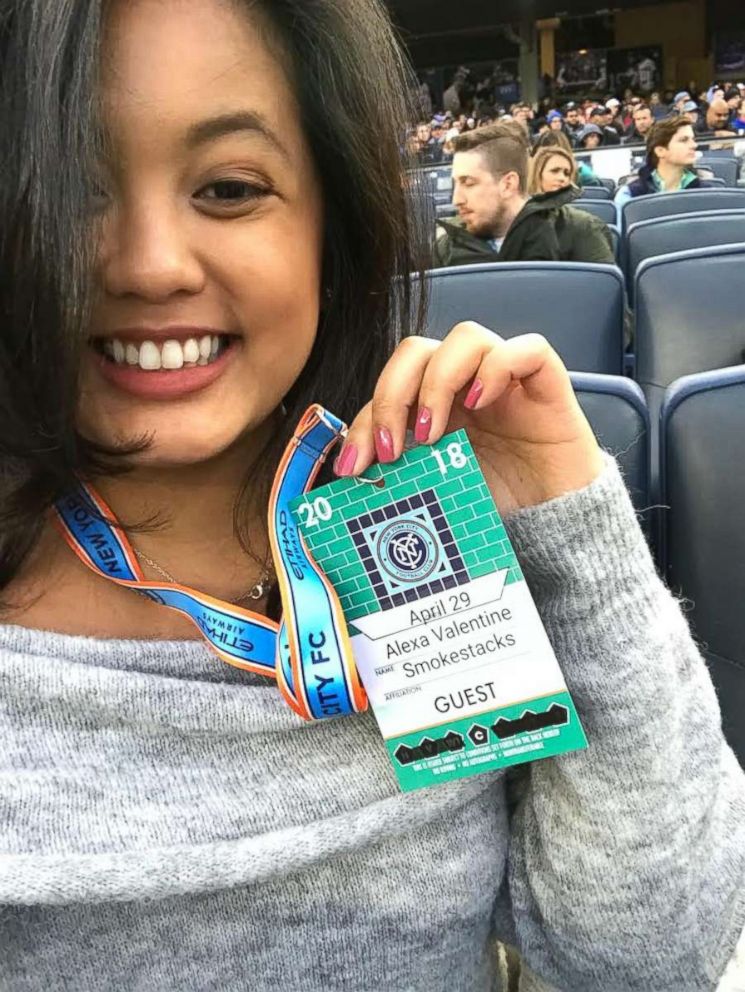 We had a lot to chat about right off the bat. We exchanged stories about our mutual love of travel, what we studied at university, our careers and what we knew about soccer. As a European, he knows a lot about the sport and has been rooting for Belgium to win the World Cup. Lacking in soccer knowledge myself, I was thankful to have him as a resource during the game.
By the time we arrived at the stadium, it became clear that good conversation wasn't going to be a problem for us. I was glad I chose him as my date for the evening.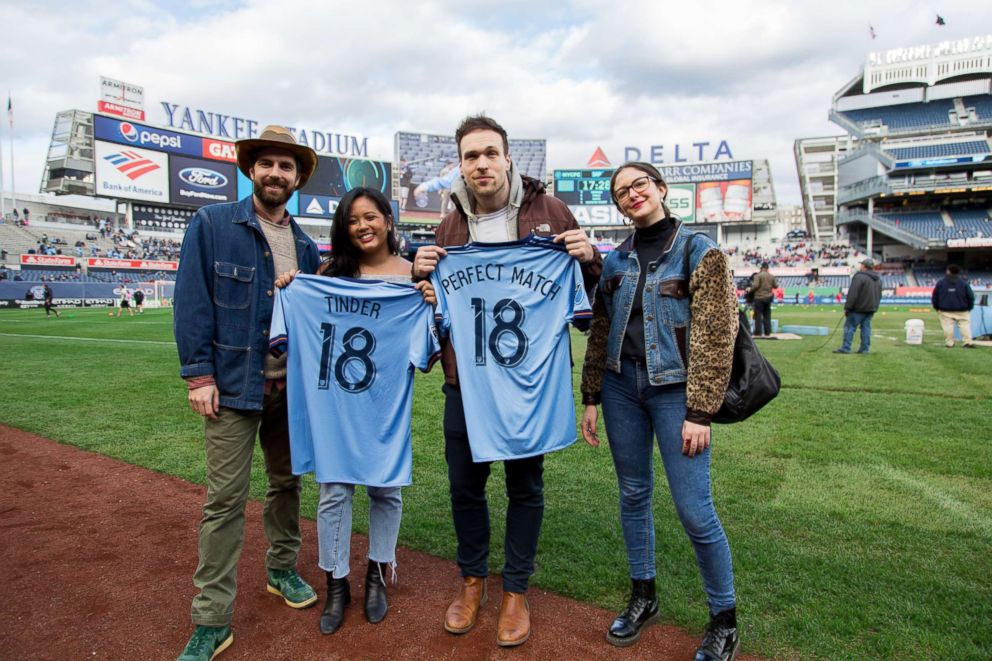 We met my friend Janel and her cowboy-hat-wearing Tinder date Kyle from Brooklyn. The four of us were handed VIP credentials and quickly whisked away into the stadium for our private behind-the-scenes tour of Yankee Stadium.
Walter, Janel, Kyle and I roamed Monument Park, walked onto the field of Yankee Stadium to watch the NYCFC players warm up before the start of their game and even got to sit in the Yankee dugout -- a dream come true for any Yankee fan, like myself.
At each stop, we posed for photos and Instagram story moments, which was admittedly awkward since this was the first time the four of us ever hung out together. But the guys took it like champs, well aware that we were all sharing a once-in-a-lifetime experience together.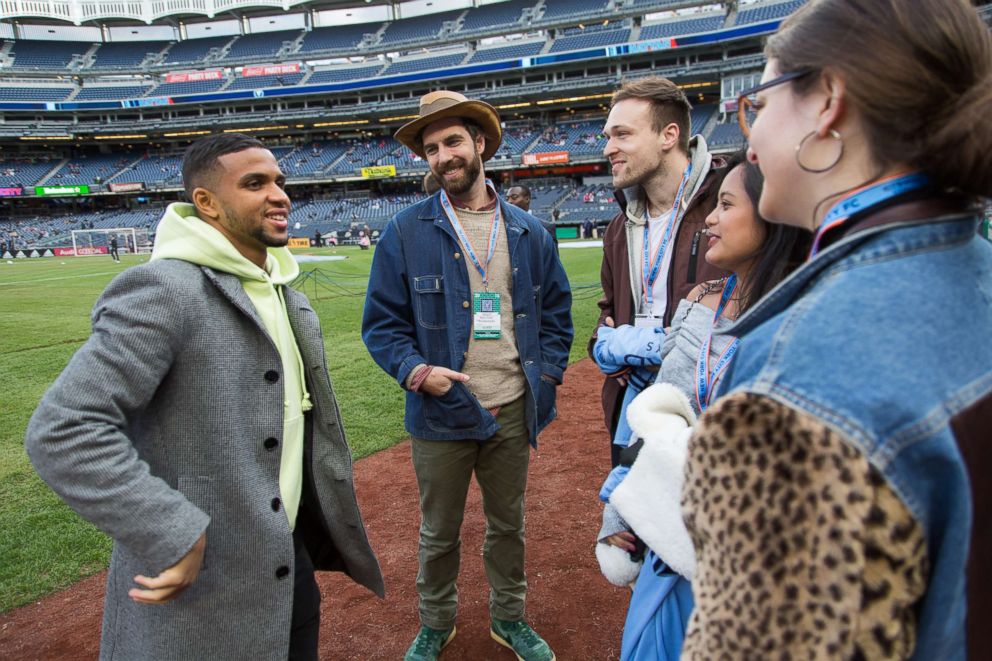 Walter and Kyle even bonded briefly over an unexpected connection they shared.
"I started a Belgian waffle shop, and you're Belgian! What are the odds of that!" Kyle said to Walter.
"Apparently, really high," Walter replied, laughing.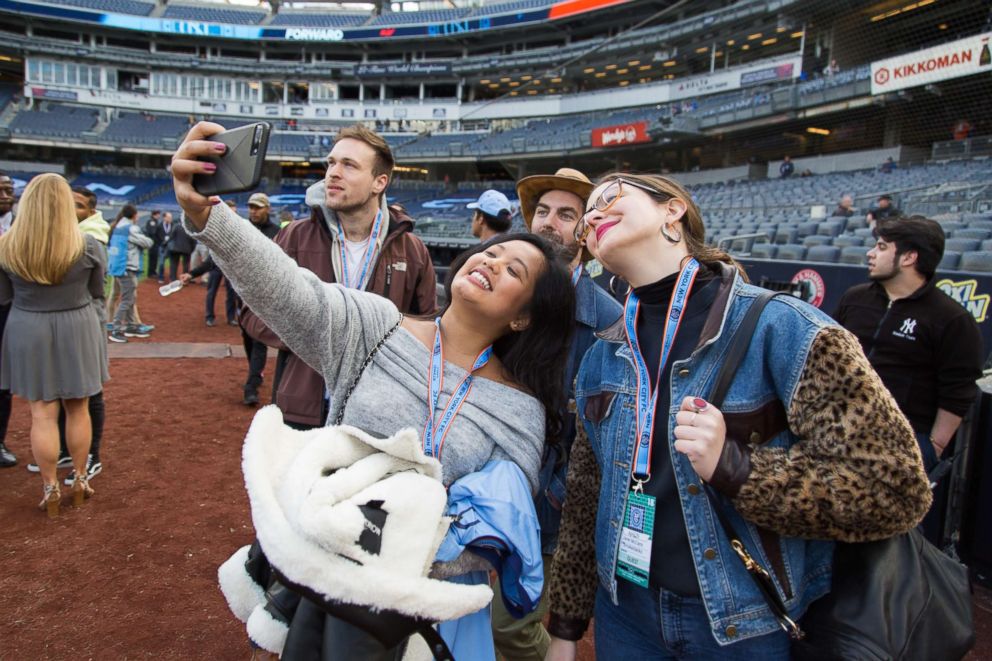 Walter and I were then asked to set off the NYCFC Smoke Stacks, an NYCFC game-day tradition that signifies the start of every match.
"Do most people get to appear on the Yankee Stadium Jumbotron with their first Tinder date? Is this how Tinder works? Is my mom going to see this?"
These were all thoughts that ran through my head at that moment.
"I have an idea," Walter whispered to me as we were about to have our moment. "Just go with it."
When we got the cue to press the button to light the Smoke Stacks, Walter got down on one knee as if he was going to propose, and I acted surprised and pressed the button.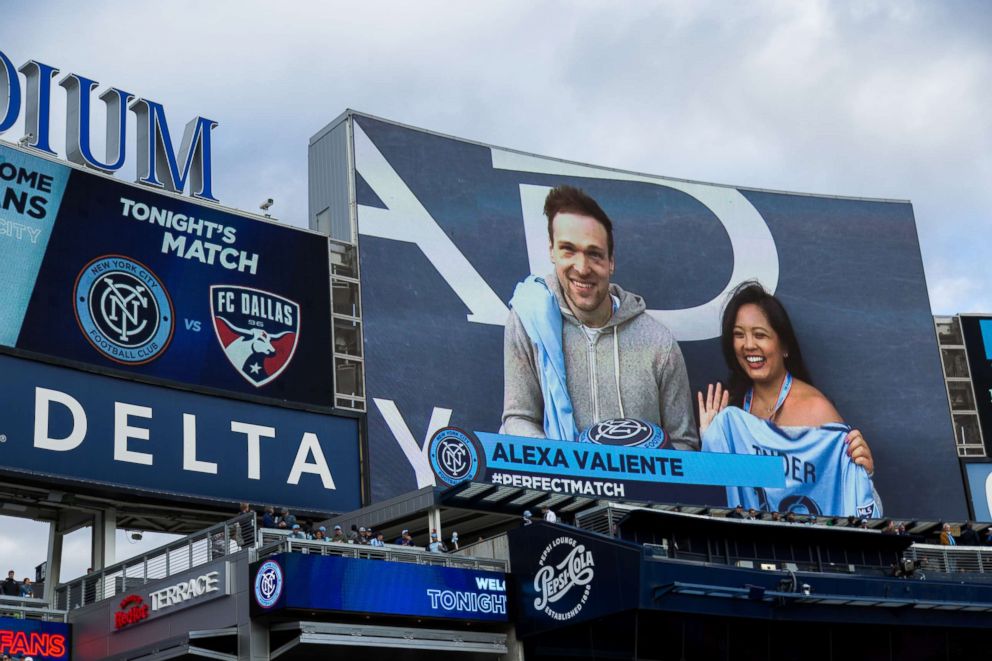 After a few more photo opportunities, our guides led us to our seats in the Legends Suite section, with an incredible view of the game that had just begun. Finally, we were left to enjoy the rest of our "date."
While taking advantage of the luxurious and fully stocked Legends Suite dinner buffet and dessert bar, we almost missed NYCFC's David Villa scoring his 400th career goal. At every turn, the four of us kept exclaiming to each other that the entire experience felt surreal.
In the middle of the game, our hosts from Tinder and NYCFC stopped by to let us know there were several people wondering how our dates were going. No pressure.
By the end of the match, which NYCFC won against FC Dallas 3-1, we all hesitated to leave after an unbelievable day. Walter and I headed back to the train home together, where we continued to get to know each other and marvel at our wonderful day.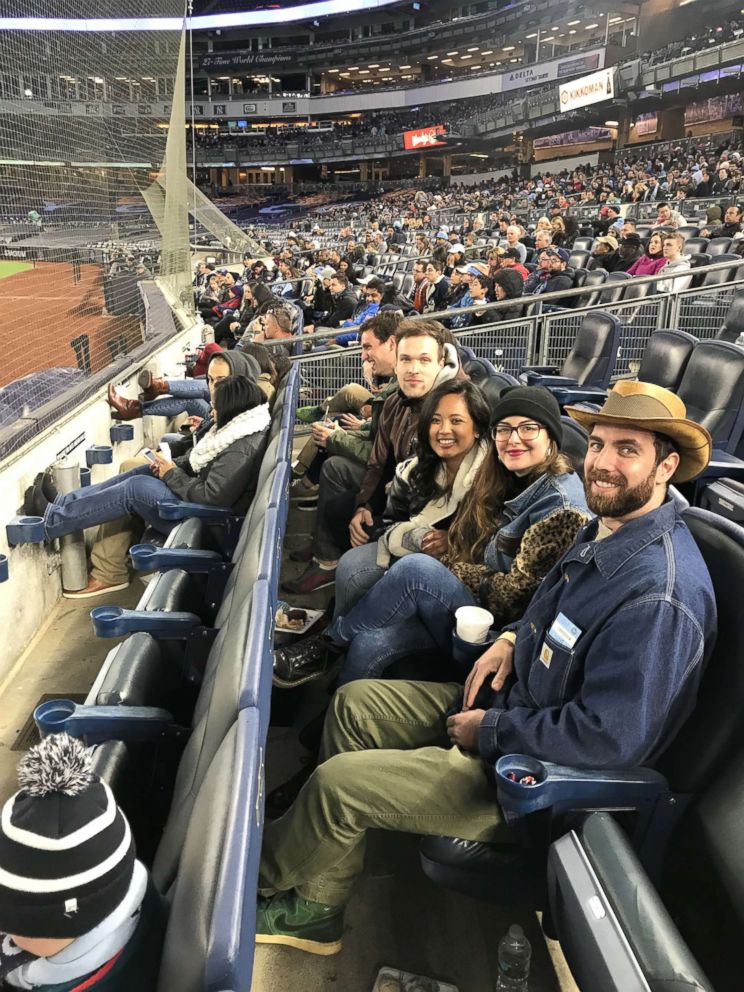 I couldn't believe I went from swiping right to standing on the field of Yankee Stadium. It was definitely a unique first date and unusual way to get to know Walter.
But are we going out on a second date?
He actually just texted me -- so, we'll see!