These dads are changing the face of Black fatherhood
Courtesy Darren Bias/DMB Photography
While grocery shopping with his youngest daughter a few years ago, Sean Williams, a Black father of three, was approached by a woman in the store who commended him for "sticking around" for his kids, leaving him shocked. Since then, Williams has been on a mission to change society's inaccurate perception of Black fathers, launching The Dad Gang, an organization made up of Black fathers who want to erase the myth of the absentee father.
"People still see Black fathers as MIA or they like to associate us as being deadbeat dads, and it's just not the truth," Williams told "GMA3: What You Need To Know" in a 2020 interview.
The inaccurate myth that Black fathers are often absent from their children's lives has been perpetuated by society for generations. But according to a 2013 study conducted by the Centers for Disease Control and Prevention, a higher percentage of Black fathers between the ages of 15 to 44 took their children to or from activities every day compared to dads of other races.
Known for its popular Instagram page that showcases Black fathers, The Dad Gang also hosts events to connect fathers from around the globe.
Williams' ultimate goal is simple: To change the negative perception of Black fatherhood.
"I hope we change the world and the way the world views us," he said.
"I'm in his corner and I'll support him in whatever he does"
This past school year, 12-year-old Sean received nearly all As, started making his own money through stocks and even helped out tremendously around the house. So his dad, Tim Matthews, knew he had to do something special to celebrate his achievements.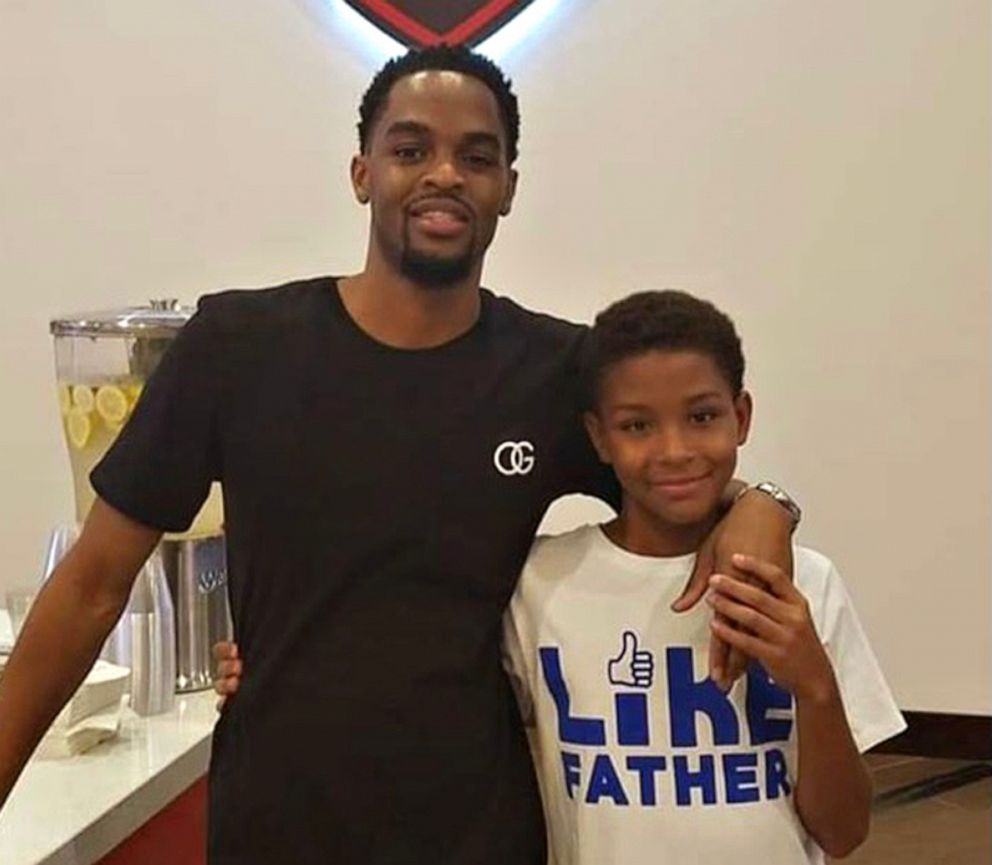 While Sean was away at his mom's house for a week, Matthews decided to give him the bedroom makeover of his dreams, building him a custom Nike-themed dresser, painting his room blue and purchasing all types of cool gadgets.
"He's been saying for a while that he wanted his room redone," Matthews told "GMA." "It doesn't have to be a holiday or birthday for me to celebrate him. I just wanted to show him a little bit of love."
When his son arrived back home and opened his bedroom door, he dropped to his knees in tears. The heartwarming video was shared on Color Coded Voices, a digital platform that highlights positive news and outstanding stories from communities of color.
"Seeing his reaction was the best feeling ever. It made me feel like I did something to make him happy and he appreciates me," Matthews said. "It was hard for me not to tear up or cry myself."
As a parent, Matthews always does his best to make Sean feel extra special, no matter the occasion. He hopes this gesture will remind this son that he'll have his back despite whatever life may throw his way.
"Our relationship is what I believe a father-son relationship should be," Matthews said. "I'm in his corner and I'll support him in whatever he does."
"My joy comes from seeing him prosper"
When 17-year-old Teric Trotter walked across Clarksdale High School's stage to accept his diploma on May 22, his dad, Teran Trotter, couldn't hold back his tears.
Teran Trotter, 36, was just a teenager when he became a father in 2003. Although many of his peers cast doubts and told him that he was too young to have a child, Trotter proved otherwise by becoming the best father he could be.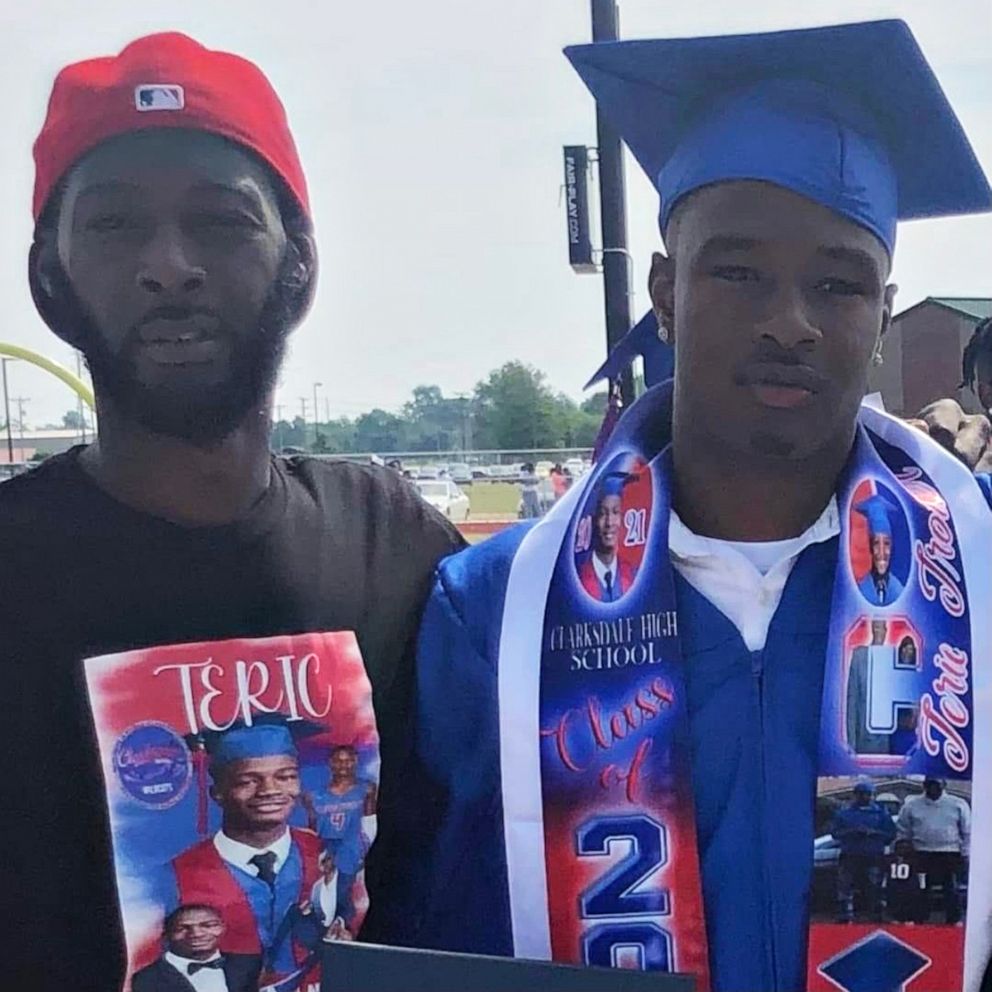 "I didn't have my biological father with me growing up, so I made a promise that my child would never have to go through the things that I went through," Trotter told "Good Morning America."
From attending each of his basketball games to helping with school projects, Trotter was always there for his boy. So when his son's high school graduation came around, Trotter knew he wouldn't miss it for the world.
"My boy's success is my success. My joy comes from seeing him prosper," he said.
After the ceremony, Trotter broke down in tears after hugging his son. The emotional moment was caught on camera.
"I cried the whole graduation," Trotter said. "I kept thinking back to all the times people said that I was too young to be a dad. So once my son graduated, it was not only a piece of success, but also a relief."
Teric plans to head to the University of the Incarnate Word and hopes to one day be drafted to the NBA, where his dad will remain by his side, cheering him on.
"I got my degree to make sure that my son can have the life that he wants"
Raising a child and pursuing a master's degree at the same time isn't easy, but Keisland Smalls' young son always kept him motivated.
Although Smalls received his degree in finance last year from Texas A&M University, he wasn't able to take his grad photos because of the pandemic. So when he finally got the chance to celebrate this year, he brought his son along with him for the photo shoot.
The two rocked matching suits and posed outside of his alma mater for the father-son photo shoot, which quickly went viral.
"He's the root of starting this journey of what it means to be a true provider," Smalls said when asked why he chose to have his son in the photos. "I knew this was the best way to explain my appreciation for his presence."
"Many say I make it look easy, but I remind you I've already weathered the narrative of wondering who my father was. Now I demonstrate how it's supposed to be done the right way," he wrote on Instagram.
With this degree, Smalls said he hopes to always provide for his son and show him that anything is possible.
"I got my degree to make sure that my son can have the life that he wants, with support," Smalls said. "He gives me something to live for and I want to fully support him in anything he wants to do."
Editor's note: This was originally published on June 17, 2021.