These dads are changing the face of Black fatherhood
Courtesy of Lauren Miller
A young woman's video of a touching tribute to her late father has gone viral.
Lauren Rosa Miller installed a gallery wall in her home and recently shared an Instagram reel of the process. The gallery showcases an assortment of postcards that her late father, Dave Miller Sr., had sent her from 1994-1996 when she was a young girl.
"I always knew I wanted to do something with him," the 34-year-old told "Good Morning America" in a Zoom interview.
"When he passed away in 2018, I was like, 'How am I going to do something with this?' because I read somewhere that 'grief is like love with nowhere to go,' and so for me, it was like, 'Alright, I need to be able to express this some type of way.' And so I started to create new traditions," Miller continued.
She gathered 27 postcards to display and also added a framed proclamation from the governor of Georgia, the Millers' home state, that recognized her father.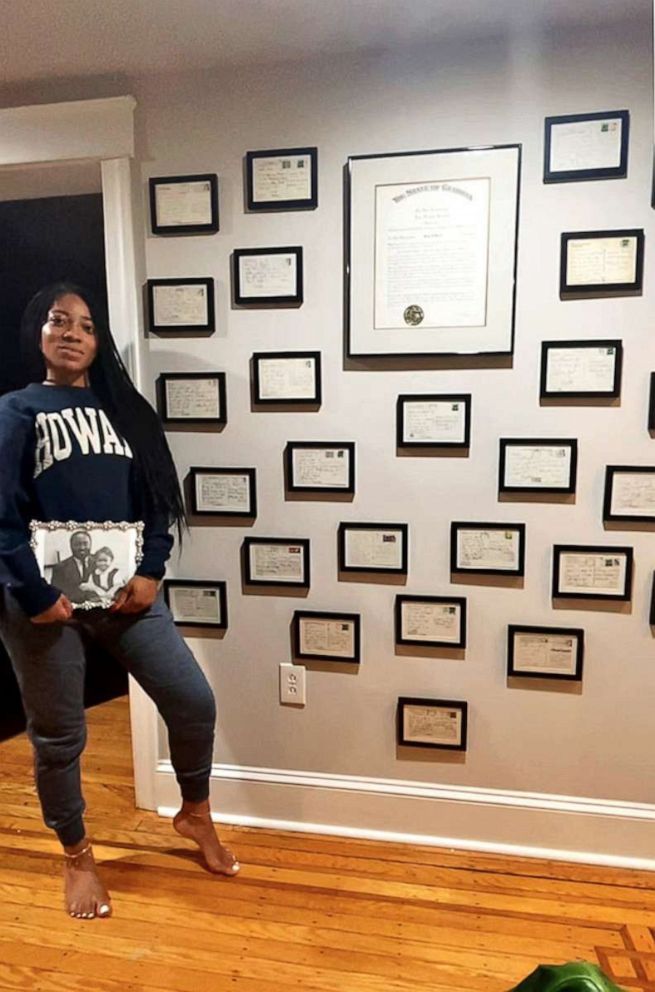 "My father started the business that [my brother and I] now run, so at the time when I was a child, it was when it was first starting to take off, and so he traveled a lot. Although he was still very much a part of my day-to-day life, I think [sending the postcards] was a way for him to just kind of reinforce his love when he was away," Miller said.
For Miller, she said putting the postcards up was a much-needed therapeutic exercise and that she goes back to reread the postcards regularly. "There are instances where I'll read them. And it's like, I really needed to read this today," she said.
"When you lose a parent, this journey, grieving is a forever thing, and it never goes away but I think putting them up and being able to honor him, I just felt just an immense sense of pride," Miller added.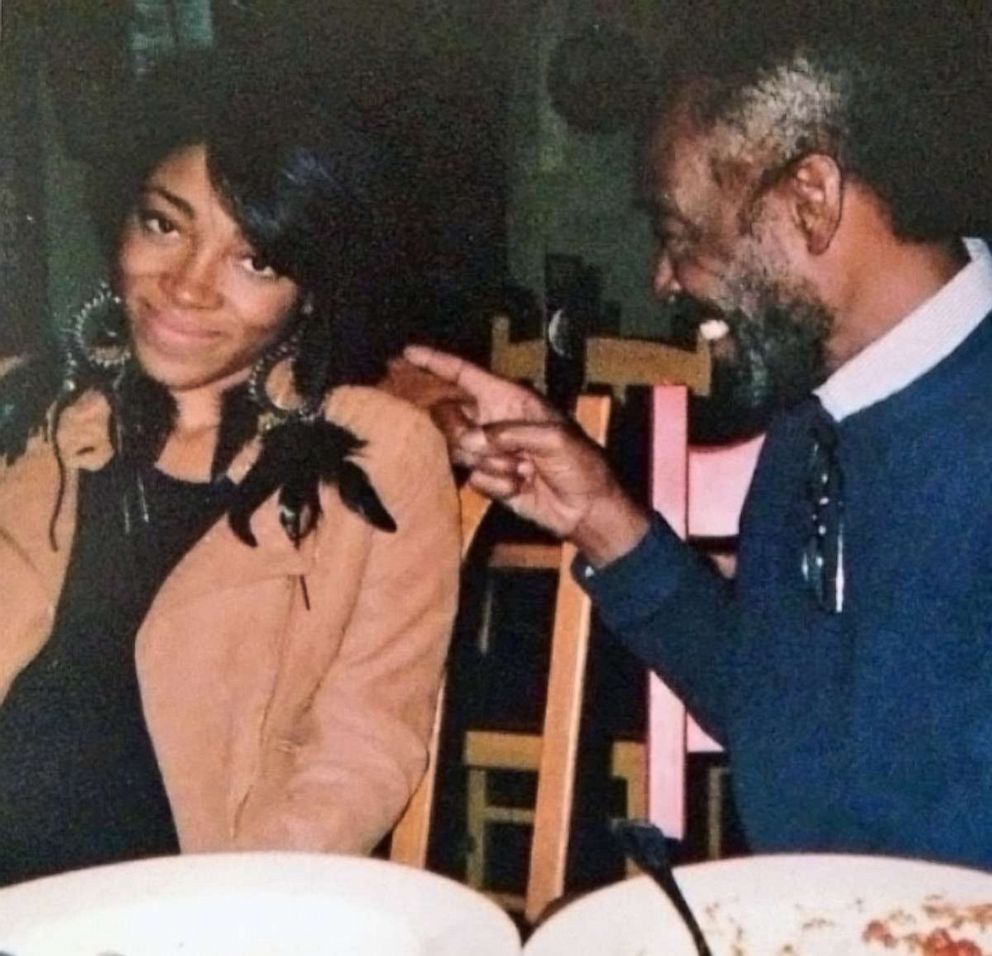 In 2014, Miller became a caregiver to her father, who had stage four chronic obstructive pulmonary disease, or COPD, a lung disease that affects a person's ability to breathe. The elder Miller began to share more of his knowledge to prepare his daughter and son, Dave Miller Jr., to take over his management consulting business, but he also made sure to pass down personal items as well.
"He brought out this stack of postcards, and I was in awe because he had kept them for over 20 years," Miller recalled, noting that she has close to 100 postcards from her dad. "He wrote these to me, I think I was probably between the ages of like six and 10. ... I had totally forgotten about them, and then when he pulled them out, he was like, 'I kept these for you because I want you to have them.'"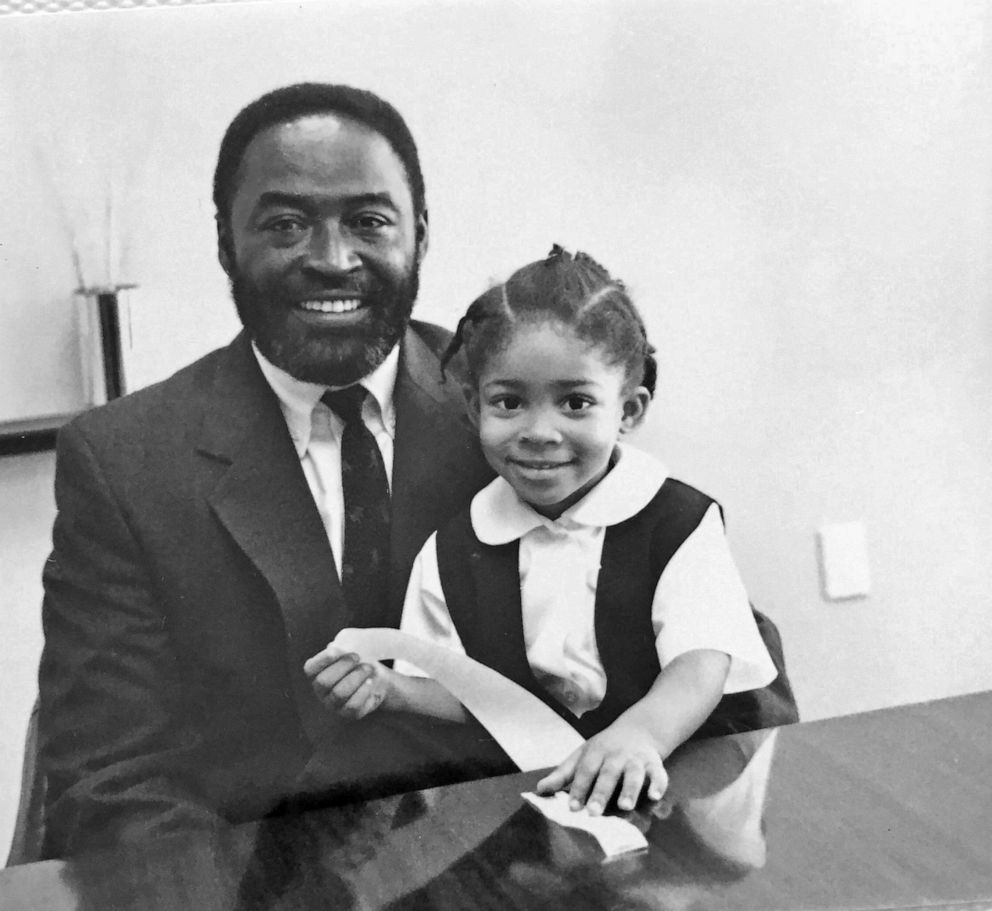 "At the time, it was a very emotional moment, because just to reread all of these things, of course I read them as a little girl, but it means a lot more when you're older," Miller said.
"Having the postcards, I think, provided him with comfort, that I would have these constant reminders of his love. And so, they really are gifts that keep on giving."
Miller Sr. wrote to his daughter from the road, while on vacation and at historical events, including the Million Man March in 1995, one of the largest gatherings of Black men in Washington, D.C. to promote families and unity.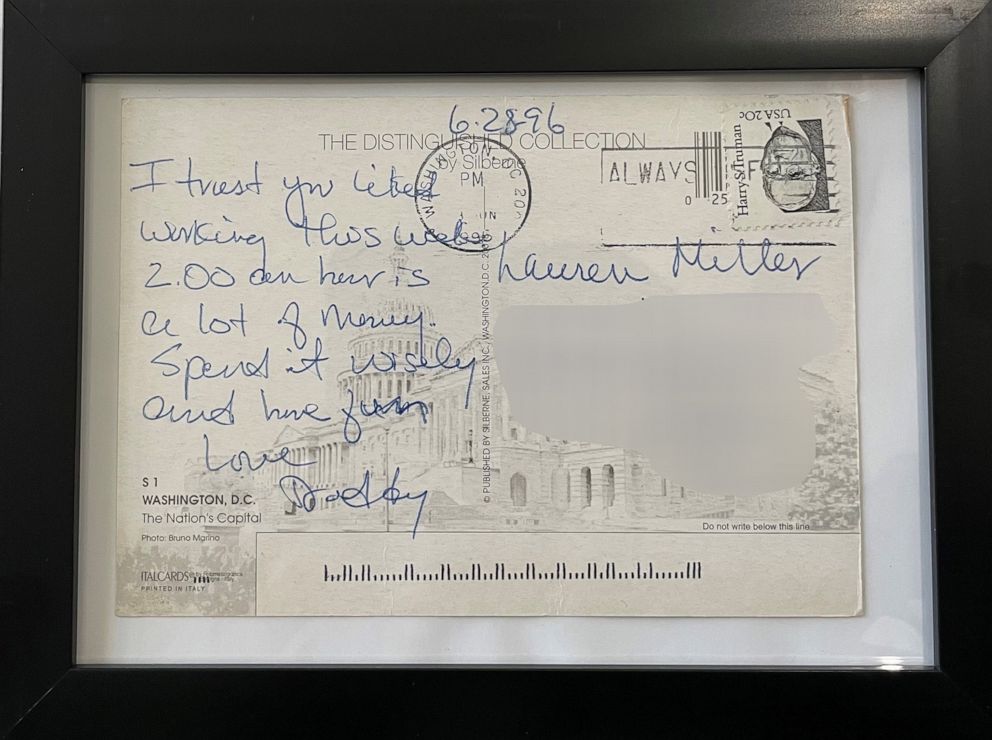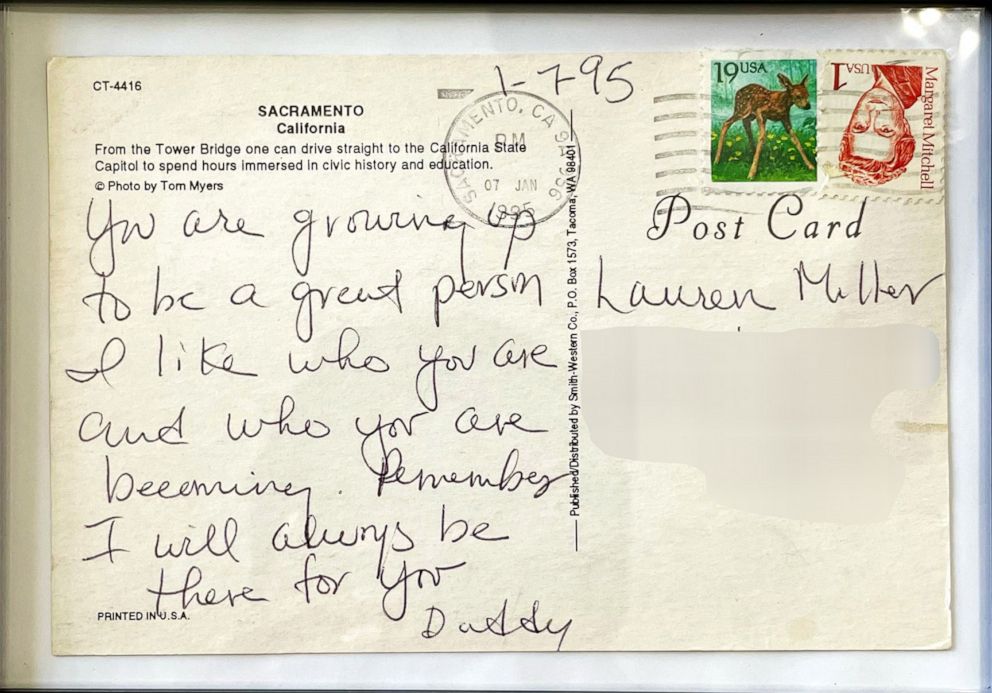 "I have postcards where I'm actually with him and he still wrote me. So I have one postcard where he says, 'Lauren, I'm watching you play in the pool. Hope you have a good time at the beach.' We were still together, and he still felt the need to continue that tradition, so I'm just super grateful because he was very busy but still took out the time to write these postcards."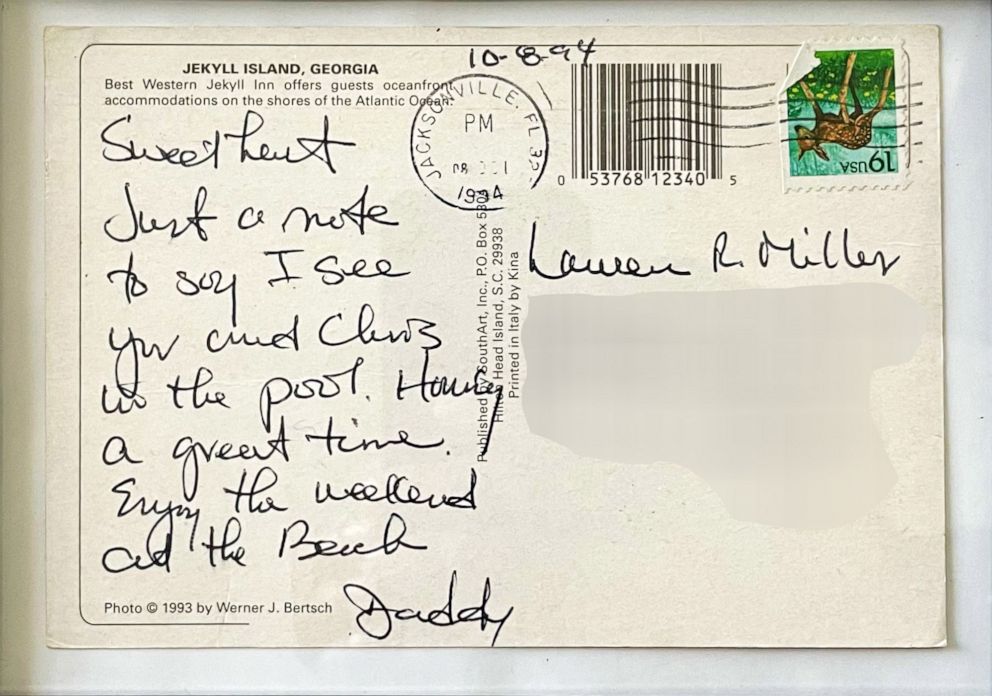 Miller's father wasn't the only one writing throughout the years.
"I remember writing him a postcard when I got older -- I ended up starting a lifestyle and travel brand called Can't Stay Put, and so a lot of the seeds that he planted [when I was] a kid served as a foundation for the life that I would create as an adult -- and so I remember writing him a postcard from Brazil telling him that I was just so honored to be his daughter and that I would take his spirit with me everywhere that I went and that if people knew me, that they would know him," Miller recalled.
Since sharing her reel, Miller said she has heard from others who have also lost parents, some who have found comfort through her post and parents who are inspired to share tangible keepsakes with their kids.
"When I put it up, I was like, this is very special and then I was like, I want to share this because I think, one, we just don't see enough examples of fathers being very emotionally loving and invested, specifically Black fathers, too, and so I was like, I hope this is very inspirational and impactful to people," Miller said.
Miller, who also teaches others how to preserve their legacy, especially in the Black community, hopes to carry on the postcard tradition with her own family one day.
"Knowing how it makes me feel to have these I definitely will continue the tradition with my kids ... it's a no brainer."