When Priya Amin received a drawing from her seven-year-old son, her initial reaction was to give him the "requisite response."
She planned, she told "Good Morning America," to say "oh, sweetie, what a beautiful drawing!" But then she took a closer look.
"I actually looked at it, and it broke my heart," she said. "Well, it sort of warmed and broke my heart at the same time."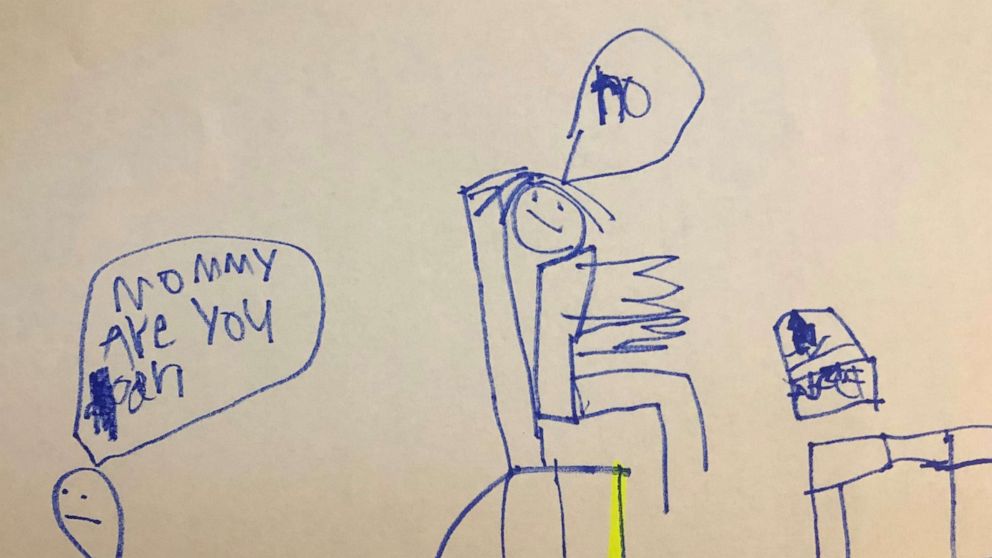 It was a drawing of a parent at work and a child looking on. The child says, "Mommy are you done?" and the mother replies, "No." She then posted the picture to LinkedIn.
"All I wanted to do was close up my laptop and spend time with my kids, but I knew that if I didn't get a few important things done, I wouldn't be able to get my mind off of them," Amin told "GMA." "I think so many parents feel that way, especially during the pandemic, where work and life have collided with one another and it's really hard to step away from work. My son's drawing was a stark reminder to me about just how hard that is."
Amin, who lives in Pittsburgh, Pennsylvania, is the founder and CEO of Flexable. The company, she said, creates "innovative child care solutions, such as virtual child care, and partner with organizations around the country to provide our child care services as a benefit for working parents."
When the pandemic began, Amin was waking at 4 a.m. to work so she could then homeschool her two children -- and work again at night.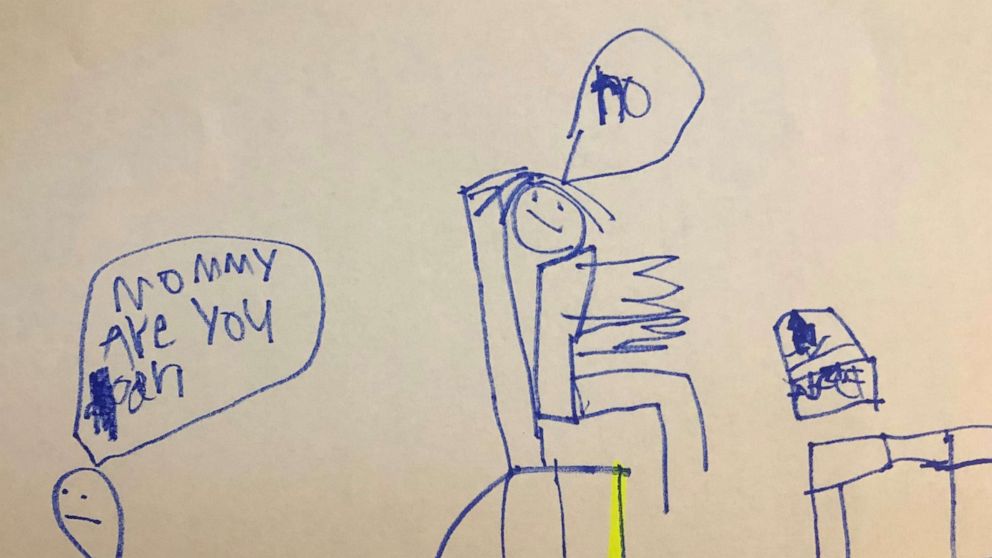 "It was a nightmare and not sustainable at all," she said. "I realized that I couldn't work that way and neither could my team. Flexibility has always been at the core of everything we do at our company, and I wanted to make sure that was a part of our culture so that all the folks, especially working parents on our team, felt supported and seen.
"Getting this picture from my son, though, reminded me that I need to do a better job of modeling that behavior to my team. Now I work when my kids are in school, but log off when they get home."
And as far as balance goes, Amin believes it's a myth.
"It does feel really good to know that your kids miss you and want to spend time with you," she told "GMA." But as far as "balance?"
"It's more of a crazy juggling act, where all the balls are on fire," she said.