If you're feeling down, take a mental note from 3-year-old Scarlett Smith who starts each day stating that she's pretty, fierce and that her future is bright.
Each morning while Scarlett's mom, Tiania Haneline, does her hair, Scarlett repeats a set of affirmations to remind her that she's kind and loved.
"You literally wouldn't think that she gets it," Haneline told "Good Morning America." "But the confidence I feel like she is building it herself -- like looking in the mirror and just having this like, fierceness about her."
The mother-daughter duo from Myrtle Beach, South Carolina, have always done daily affirmations, but they first started sharing them to Tik Tok last month amid the civil unrest happening across the country.
For Haneline, a white mom, raising Scarlett who is mixed race, it was important for her daughter to recognize how beautiful she is at an early age and to be confident in her brown skin.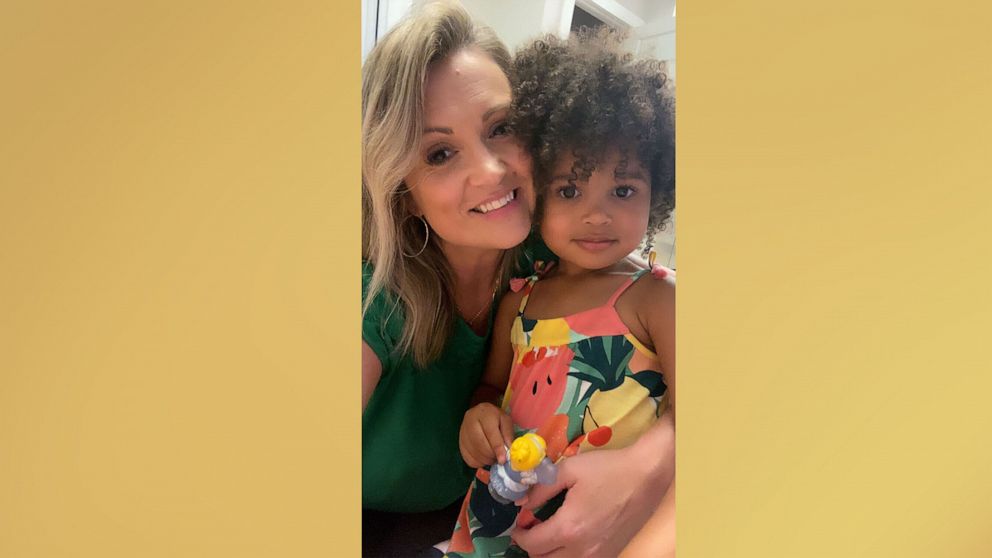 "People are going to look at her as a Black woman. They're not going to see her as a mixed-race woman," said Haneline. "Instilling that, 'I love my brown skin, I am beautiful, my curls are beautiful…' I just want to instill that in her. So whenever she does get called names, because I know she's going to, that it's not going to bother her."
The daily affirmations have built so much confidence in the 3-year-old that Scarlett isn't afraid to also tell others how beautiful they are too.
"She will affirm other people, so she'll tell me, 'Mommy, you're so beautiful, I'm so proud of you.' Like it's crazy," said Haneline. "I feel even at this early age of only being three and just seeing her confidence, like I can just imagine what it will be when she gets older."
Since Haneline started sharing her and her daughter's daily affirmations to Tik Tok, their videos have been viewed thousands of times and the reactions have been nothing but positive.
"I've had so many teenagers and even adult women that have said, 'I wish so much my parents would have done this for me when I was little. I wouldn't hate myself or I wouldn't hate my hair. I wouldn't hate my brown skin," said Tiania. "For them to say that to me, really makes me feel like I'm doing the right thing."
Editor's note: This story was originally published on July 23, 2020.