When Kristin Batykefer brought up the idea of living in a "mommune" to her best friend Tessa Gilder, Gilder said it felt like a scary proposition.
The two moms have been close friends for years and have been through some of life's biggest moments together -- living together as college roommates over a decade ago and even going through pregnancy together around the same time.
Batykefer and her daughter, now 4, had started living with a married couple, Cleta and Ben -- who asked that their last names be withheld for privacy reasons -- last July. Batykefer was going through a divorce and Cleta and Ben, who were Batykefer's family friends and empty nesters, had offered their Florida home to the mother and daughter as a place to stay indefinitely.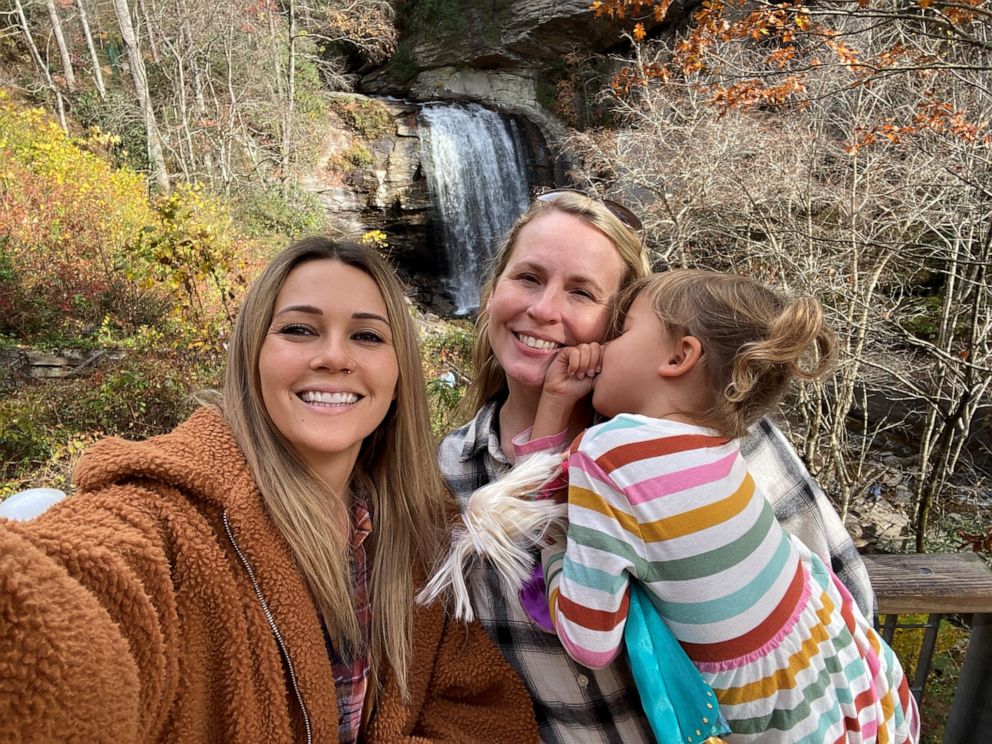 Batykefer calls her unique living situation a "mommune," a term she said she first heard about from a co-worker. She's since been sharing about living in a "mommune" on TikTok.
"It's a play on mother and community," Batykefer told "Good Morning America." "It's a community of moms living together under one roof … helping each other raise children together."
A couple months after her move, Batykefer said Gilder called her, telling her she was also going ahead with a divorce from her husband. That's when Batykefer suggested Gilder and her two kids, now 4 and 1, move in to Cleta and Ben's home as well.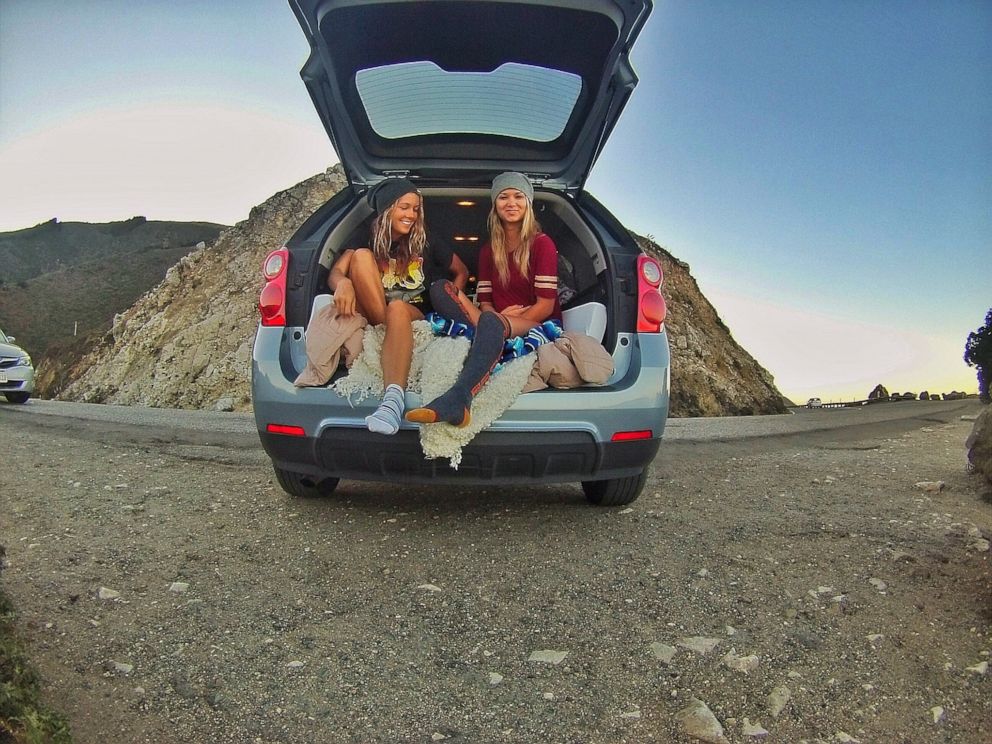 "At first, I was just like, 'No, I'm not. I can't move back to Florida. Like, that's insane. I'm in Colorado,'" Gilder recalled to "GMA." "I had a very successful business, a salon that I had opened, and it just kind of felt like I was leaving behind a lot and it was really scary."
But the more Gilder considered the offer, the more she felt that what Batykefer had -- a supportive "village" -- was what she was looking for too.
Batykefer and Gilder are just two of the approximately 10.9 million single parents in the U.S., 80% of which are single mothers, according to data released by the U.S. Census in November 2022. They started their "mommune" at a time when American families have been struggling, with everything from childcare, employment, housing and inflation,
Like other single parents, Batykefer and Gilder said they had to consider their families' financial situations and living in a "mommune" has given them a form of financial safety net, aside from its other benefits too, as they both work to complete their respective legal divorce proceedings.
"I just felt like I would have that support and that family unit and that village that everybody talks about, like, it takes a village [to raise a child]," the mom of two said.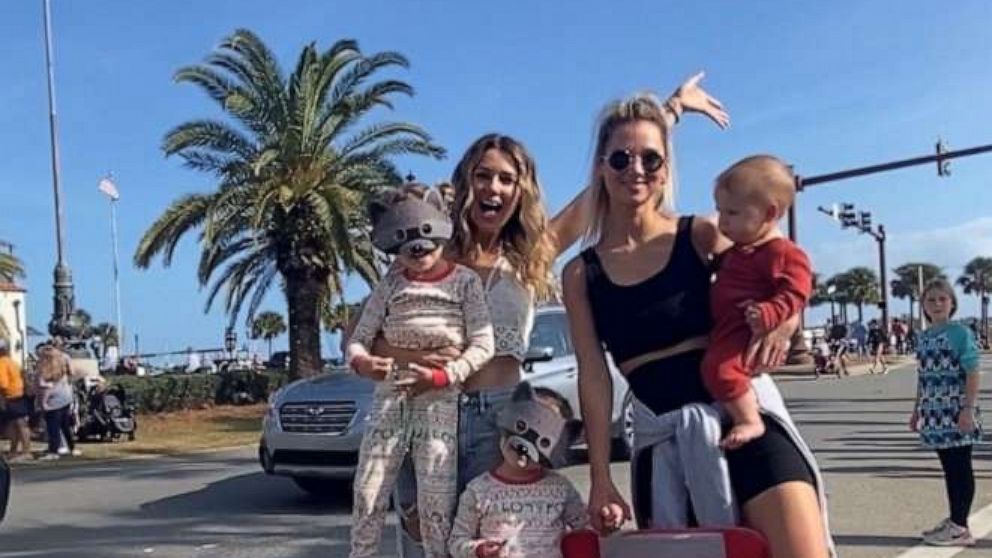 It was a leap of faith for Gilder, who moved in with her best friend, her best friend's daughter, and two strangers whom she didn't really know.
Now, the mothers say they couldn't be more grateful for how things have turned out with their shared home of three moms, one dad and three kids.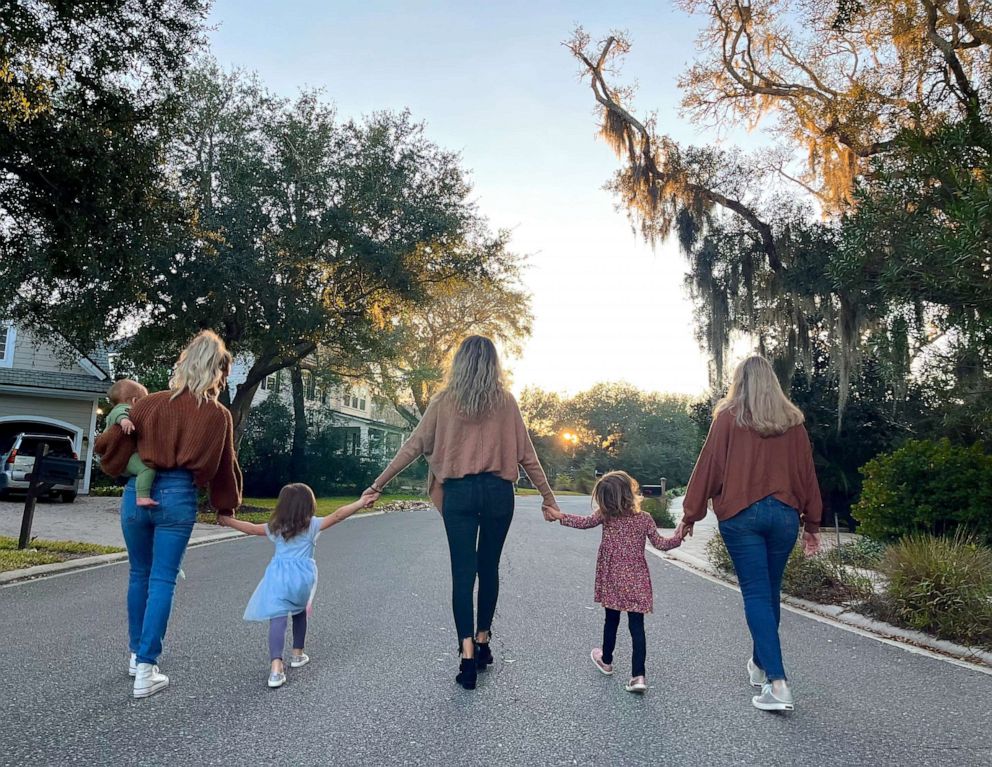 How the moms make a 'mommune' work
Even though living altogether under one roof may be a daunting prospect, Batykefer and Gilder say it's worked out well because Cleta and Ben take the time to care and look out for them and their children.
"We all help each other with the kids. We also all help each other with cleaning up the house or making dinner ... and we make each other coffee in the morning," Batykefer explained. "We just love to support each other."
And as much as they've leaned on each other, they're also open and accepting of what can naturally come up with combining families, especially when it involves young children.
"There [are] two 4-year-olds running around and then a 1-year-old baby crying at the same time, and it just can be a lot," Gilder said. "We all are aware that it's absolute chaos. But also, we're OK and we're grounded and we just help each other ride the roller coaster without it getting too hectic and overstimulating."
"Sometimes, people don't like mesh as well as you think they are going to and we just all did, so [we're] just very lucky," Batykefer added.
Both Batykefer and Gilder said living in a "mommune" have helped them move forward during a time of uncertainty in their lives.
"In the midst of feeling so alone and so hurt in my situation, I was reminded that there are good people in this world and they just continuously, every day, show up that way," Gilder continued. "I feel very fortunate to know them."
Batykefer added, "Now I'm like, 'Oh, I don't ever want to give this up for anything ever again.'"
For other single mothers and parents who want to consider living in a "mommune," Batykefer encourages it, but aside from vetting safety concerns, she recommends a key piece of advice.
"My main advice is, you have to really make sure that your parenting styles are similar, that your views and your beliefs on things are similar, and that you trust those people, because they're going to be around your kids a lot," she said.
Batykefer and Gilder say they plan on staying in a "mommune" together even if they eventually move out of Cleta and Ben's home in the future.