Families were glued to screens Saturday night when Kamala Harris made history as the first woman and woman of color to become vice president of the United States.
Harris and President-elect Joe Biden gave their victory speeches in Wilmington, Delaware, hours after being declared the winners of the 2020 presidential election.
"While I may be the first woman in this office, I will not be the last. Because every little girl watching tonight sees that this is a country of possibilities," Harris said in her first remarks as vice president-elect.
Parents watched as the symbolic moment aired to American audiences -- many of whom shared images of their own children witnessing history.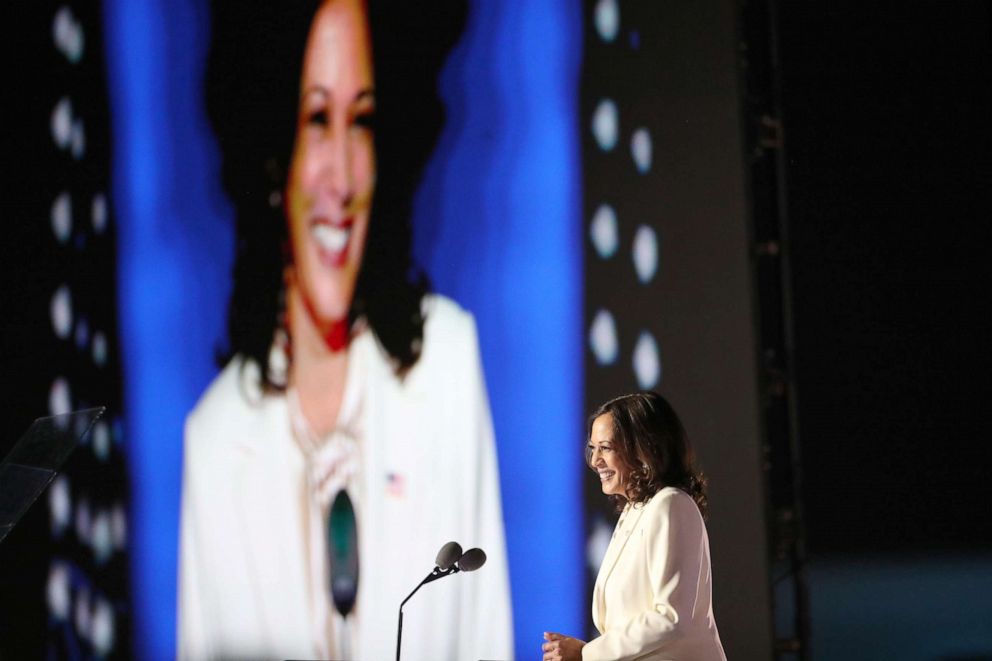 Racquel Bailey-Palmer, a mother of two from Montclair, New Jersey, posted an image to Instagram showing her 2-year-old listening to Harris' powerful message to girls.
More than 4,000 people reacted to the photo.
"I'm a mom of two Black children," Bailey-Palmer told "Good Morning America." I think the most overwhelming feeling I had was comfort. It showed my daughter was seeing where we are transitioning as a country. This wasn't something she was going to read in her history books, but it was something she was witnessing with her two eyes."
"Whether she understood it or not, it was still there" she added. "It was still a moment for her."
Harris, 56, is the daughter of immigrants. Her mother is Indian and her father is Jamaican.
Harris has already achieved several historic milestones throughout her career. She was the first African-American woman to be elected district attorney of San Francisco, serving from 2004 to 2010. And in 2011, she became the first woman, first African-American and first Asian-American to serve as California's attorney general.
Harris has been a U.S. senator representing California since 2016.
Faith Hagedorn of Green Bay, Wisconsin, is another parent who shared a photo of her daughter watching Harris' acceptance of the title of U.S. vice president.
"Gretchen, my 6-year-old daughter pictured, asked after witnessing the speech, 'Mom, what if the president and vice president were both women?'" Hagedorn told "GMA." "This historic moment opened up possibilities to her."
Other parents shared similar images and used hashtags such as #girlpower and #representationmatters.
Bailey-Palmer in particular said her daughter Diana's picture moved people to tears .
ABC News' Meredith Deliso contributed to this report.