News headlines today: April 18, 2019
There's no disputing being a parent and a student is a major juggling act.
But it sure does help when someone is willing to hold one of the balls. Or in this case, the baby.
That's exactly what happened when Katie Lewis went to take a test at University of Texas at Tyler -- Palestine campus.
Lewis is a 22-year-old single mom, she told "Good Morning America." She's in level 4 of nursing school and will graduate with a bachelor of science in nursing (BSN) on May 2. Her baby, Allie, is just a few weeks old.
"During my pregnancy I was diagnosed with hyperemesis," she said. "I was throwing up my entire pregnancy all day everyday. It was a really rough. During two of my tests I was running out of the testing room to go throw up in a trash can in the hallway. There were times where I was ready to give up on school. It was so hard but Allie just gave me all the motivation to keep going and finish," she said.
She did 16 weeks of clinicals in six weeks in order to spend time with her baby when she arrived, she said.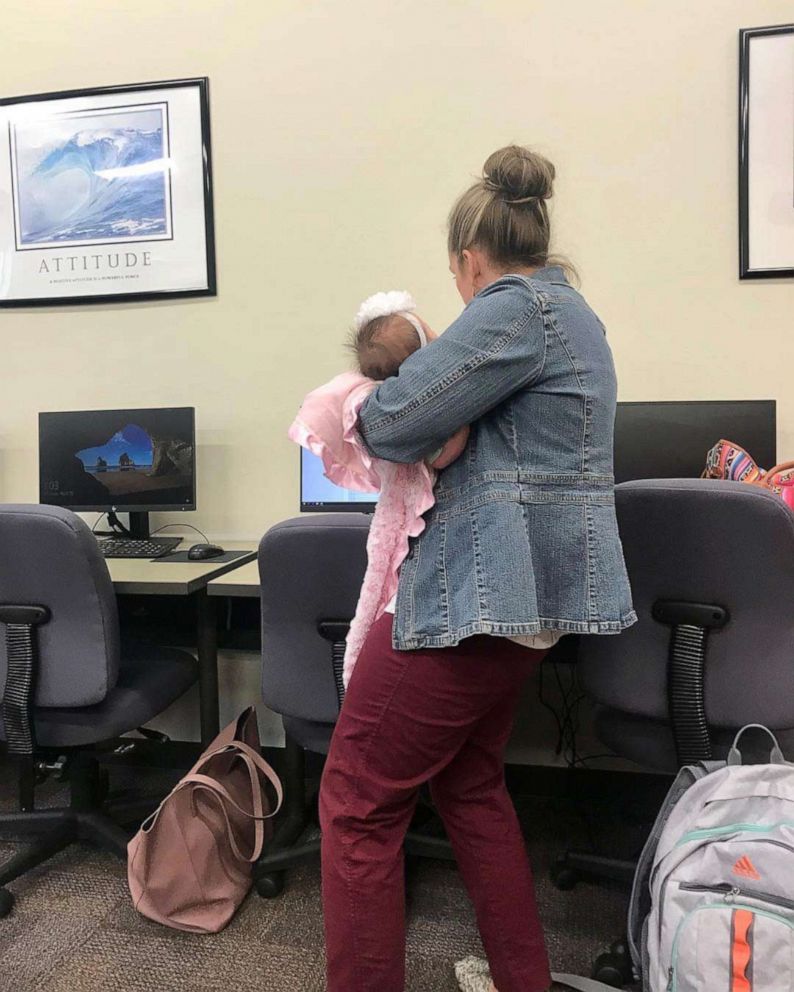 "Fourteen days after I had Alianna [Allie], I had to go back to school to take a test for my leadership class," she explained. "I had told Dr. George jokingly that I was mad at her because I had to leave my two-week-old baby for the first time. She said that she would have been happy to hold her. Well, fast forward three weeks and she got to hold her during a test."
Natalie Norman, who took the photo and posted it to Facebook, called George's act of kindness "just so her."
"She has always told us not to miss a test and to call her if we get in a bind," Norman told "GMA." "Not only was she OK with it, she was so excited to hold the baby. She held her for at least an hour."
Lewis's mom, who is a nurse practitioner and works 12 p.m. to 12 a.m., is typically available to take care of Allie when Lewis takes tests, as they are usually at 9 am.
But not this time.
"My mom had to work, my dad was out of town and my primary babysitter had school so I texted Dr. George a few days before the test. I said, 'Hey Dr. George, I know this is super unconventional but I'm having trouble finding a sitter for Monday for Allie because it's in the afternoon. I know you had offered before to hold her during a test... is there anyway I can bring her with me?," she wrote.
"If not, I totally understand and will figure something out!"'Dr. George promptly replied saying, 'ummm you can totally bring her... I'm already excited!" '
As it turned out, Allie was sick on test day.
"As soon as the test was over I took her to the pediatrician where she was diagnosed with an ear infection and an upper respiratory infection," Lewis said.
"Dr. George without hesitation just held and rocked my sick and fussy baby throughout the entire test. Teachers like Dr. George are who making nursing school possible for all of us, but especially single moms. All of our teachers at the Palestine Campus care for us and help us out in anyway they can for us to achieve our goals. I'm so grateful for the school and all of our amazing teachers, especially Dr. George."