Aug. 25 is one big party for the Lammert family as three sisters celebrate the same birthday -- and no, they're not triplets.
The oldest, Sophia, is turning 7 this year. Her baby sister, Giuliana, was born on Sophia's third birthday in 2018. Three years later, Mia arrived on the same day.
"It was for sure not intentional," mother Kristin Lammert, 33, told "Good Morning America." "It wasn't even a thought at first."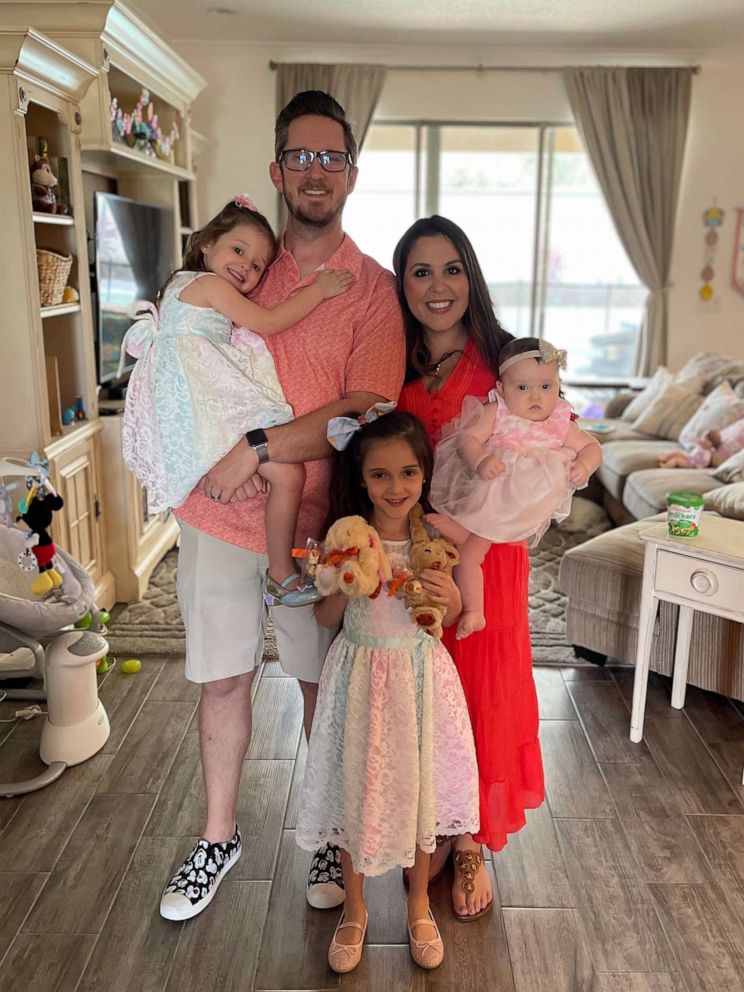 The Lammerts, from Oviedo, Florida, knew their daughters would have birthdays close together, but never thought they'd share the same day.
"It was definitely more of a, 'Oh my gosh, it would be so crazy if they came on the same day,''' father Nick Lammert, 34, said. "But they again were due almost a week apart."
Kristin said throughout her pregnancy, her husband would joke with the staff at Winnie Palmer Hospital for Women & Babies about delivering their daughter on Aug. 25, but the doctors would reply in a very matter-of-fact manner.
"The doctor made it very clear that ... you can't just go in and be like, 'I would like this birthday' unless there was a medical reason," Kristin said.
"We get that a lot," Dr. Megan Gray, an OB-GYN at the hospital where the Lammert girls were born, told "GMA." "Even if we try to induce someone to give them medication to make them deliver, that's unpredictable."
When Kristin was in labor with Giuliana, her labor was at first progressing slowly, causing her to doubt that the girls might share a birthday. However, things sped up and the baby was born around 10:30 p.m.
"When Giuliana came out of mommy's belly, daddy said this was your last birthday gift and I didn't know what it was and then he said that Giuliana was my birthday gift," Sophia said.
Exactly three years later, in 2021, Kristin spent her girls' birthdays back in a hospital, preparing to give birth to Mia.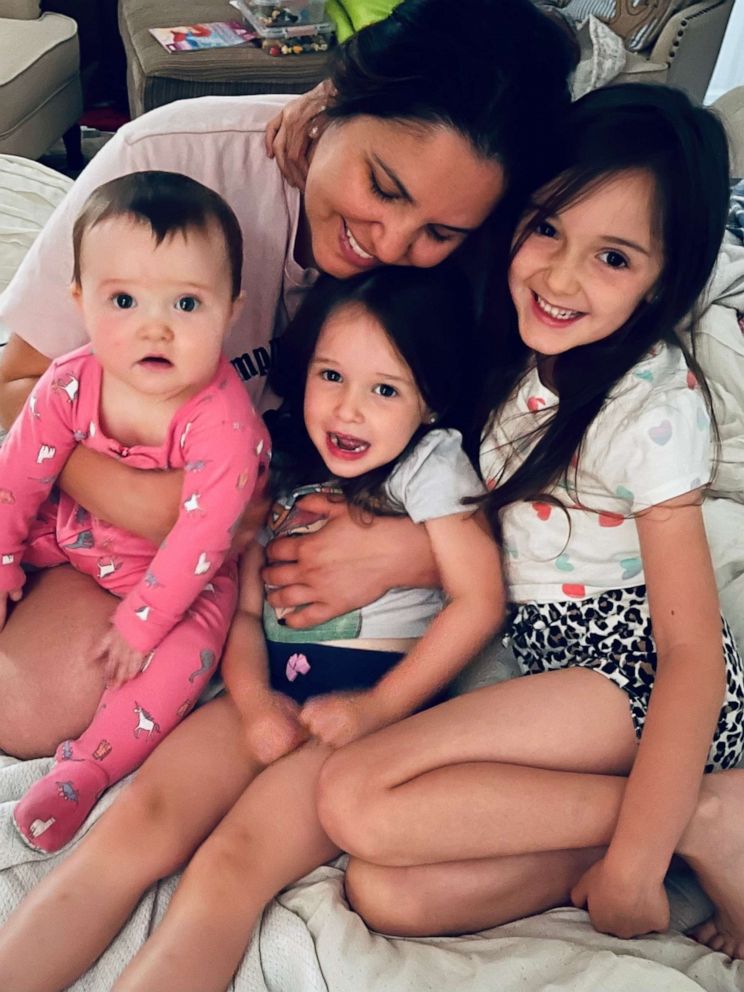 At 37 weeks pregnant, Kristin was diagnosed with preeclampsia, a serious blood pressure condition, and doctors decided to induce labor on Aug. 23, weeks ahead of her Sept. 8 due date. On Aug. 25, Mia arrived.
"When she was born, we just looked at each other like, 'Did that just happen? ... Are they serious? All three are the same day?" Kristin said. "And now the nurses are running in asking for the numbers so they can go buy a lottery ticket."
Statistically, the odds of delivering two siblings on the same day, let alone three, is extremely rare, Gray said.
"It's not very common at all," Gray said. "Even when you try to time that, that would be logistically very difficult. So it is pretty wild that she's delivered three children, naturally, unplanned, on the same day and years apart."
This year will be the first the Lammert girls celebrate their "triple crown" birthday together, but Sophia is no stranger to joint parties.
"She didn't realize it was unique until kind of recently where she's like, 'Oh, so siblings don't all share birthdays?'" Kristin said.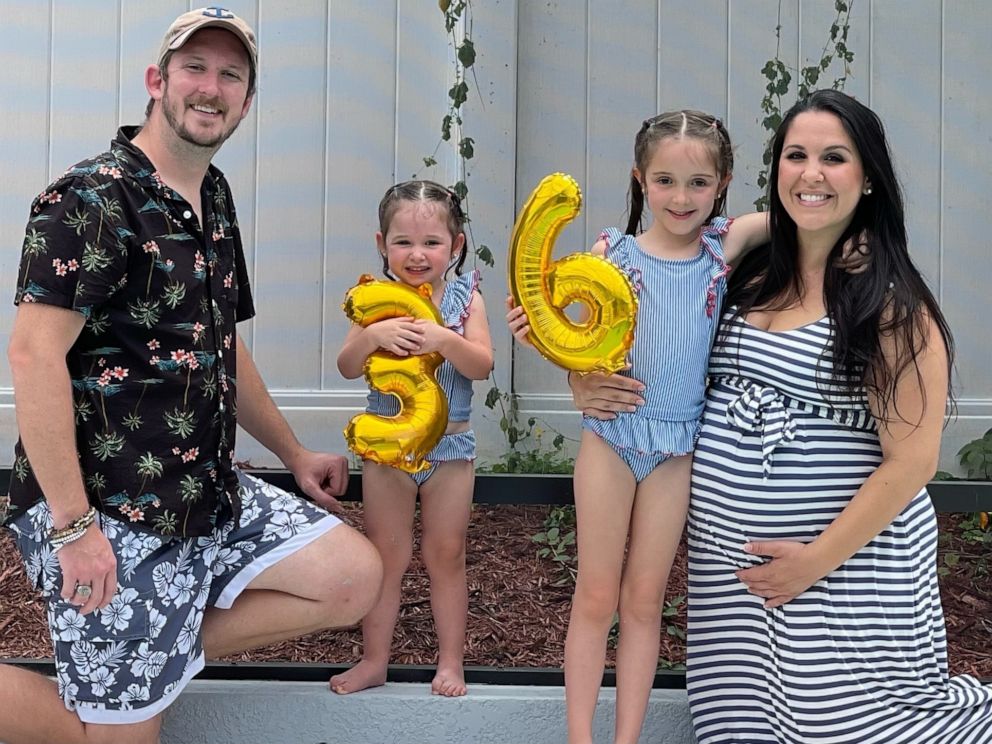 This year, their party will be, in the words of Sophia, their "biggest party yet" and is both Barbie and mermaid themed. Despite having to share attention -- and a cake -- the girls have no problem combining their special day.
"It's definitely on us as parents to instill in them that it is very special," Nick said. "And they have never uttered or even thought about not sharing a birthday. ... I think it's a special bond between all of them."
As for adding another kid to the Lammert family birthday party, Kristin and Nick said they're all for it. But they know it's unlikely the dates would work out.
"We feel like it was fate, how it all aligned," Kristin said. "If it winds up working out again in August, that would be incredible."