A state politician is bringing attention to the difficulties facing expectant mothers as she went into labor during an impassioned speech to delegates at a local party convention.
Minnesota state Senate candidate Erin Maye Quade was in active labor Saturday while she delivered a speech to delegates at the Minnesota Democratic-Farmer-Labor Party's District 56 convention.
"So they broke the news that I'm in labor, yeah?" Maye Quade, 36, asked the audience, some of whom responded "yeah," while others laughed.
Maye Quade labored as she spoke in hopes of wooing delegates to win her party's endorsement.
"This is our moment to build our future together -- to unlock the powerful, life-affirming, transformative kind of politics that means we can help achieve safe and stable communities, create economic opportunity and prosperity and safeguard our civil and human rights, and strengthen our human and public infrastructure. Excuse me," she said, pausing briefly while she looked up and down and took a few deep breaths. The audience responded with a few cheers.
Shortly thereafter, she proclaimed, "I'm good!" before continuing with her speech.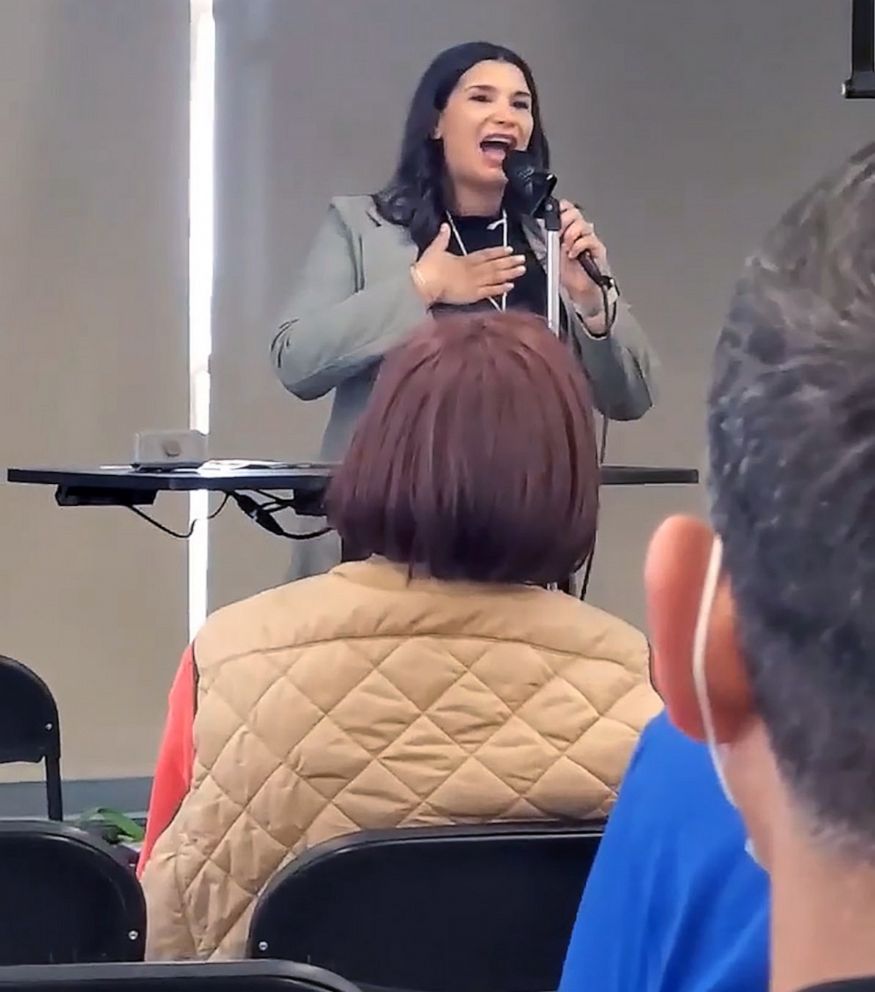 The speech was captured by attendee Karrah Marie Cheruiyot, who posted it on her social media pages the same day and the video clip has drawn widespread reaction.
In a Facebook post, Cheruiyot wrote in part, "I am so angry right now! Woah woah woah.... 100% NOT okay. Erin Maye Quade is in ACTIVE LABOR. Justin Emmerich wins the coin flip but won't allow Erin Maye Quade to speak first or waive the coin flip so she can get to the hospital?!? I'm sorry... what?"
Maye Quade's opponent, Justin Emmerich, won the DFL party's endorsement after she withdrew from the endorsement process and went to a hospital before a second round of delegate voting. Emmerich told "GMA" he was leading by 11 votes and went on to win the party's endorsement unopposed.
Mitchell Walstad, a campaign manager for Maye Quade, told "GMA" their campaign had requested that the endorsement process timeline be moved up in light of Maye Quade being in labor. "The chair had said that she didn't want to move up the time because of the other elections happening that day. We asked the convener of the convention, who's a different person in charge of the rules. He said it was a reasonable accommodation so then the chair changed her mind. And at that point, we involved the opposing candidate, and they all agreed to get the delegates to unanimously change the order of events of the day."
"We didn't feel like there was reasonable latitude for us to ask for the process to be suspended," he added. "When our first thing we asked for was to move up the timeline and the chair of the district didn't even want to make that accommodation, we had to work pretty hard to convince her to do so. And it was not something that seemed like an option for us."
Nancy Stroessner of DFL's District 56 told "GMA" they worked to accommodate Maye Quade's requests at the convention.
"Going into our convention, we learned that Erin Maye Quade was in labor but wanted to be present and move forward with the endorsement process that day," Stroessner said in a statement. "SD56 leadership met with her and Justin Emmerich to discuss what accommodations we could make to better facilitate her participation. Erin asked that we move the Senate endorsement as early in the convention process as possible, which was acceptable to everyone in that meeting. The changes were presented to the convention, which the delegates supported unanimously."
Emmerich said when he first learned that Maye Quade was in labor he agreed to all accommodations that had been discussed between the two of them and convention organizers.
"Had there been a formal request from Erin or any of the delegates to suspend the convention in order to hold it at a later date I would have agreed, however, no such request or motion was made," he said in an emailed statement Thursday. "I continue to believe an endorsement is in the best interest of our efforts to keep this seat in DFL hands and to flip the Senate in November."
"After the first ballot had been completed, I received word from a member of my campaign that the results showed me leading by 55-44 percent (1 percent abstaining)," he continued. "I was on my way to talk to my floor manager to verify this information when Erin pulled me aside. She asked if I would be willing to suspend the convention and take the race to a primary since it appeared to be about even. I responded by saying I hadn't verified the count yet and would get back to her. She said that was fine. However, before I was able to speak with her again, she made the decision to suspend her campaign."
Stroessner also added, "When Erin ultimately requested to withdraw from the endorsement process, we did not second-guess her decision. Plus, for reasons of fairness, our convention chairs cannot unilaterally close or delay the endorsement process. If a delegate had wanted to postpone the endorsement, they could have made a motion for postponement, which the convention would have then voted on. No such motion was made."
Walstad disputed what happened afterward, saying, "After the first round of balloting, Erin went up, before we had the results, she went up to her opponent and asked if he would consider suspending the endorsement process and going through a primary and he did not agree to that." He added that Maye Quade hasn't suspended her campaign and only withdrew from the party's endorsement process.
Reactions on social media have been mixed, with some praising her and others criticizing Emmerich and the local DFL chapter for not letting Maye Quade give her speech earlier or not giving her other accommodations without her requesting them.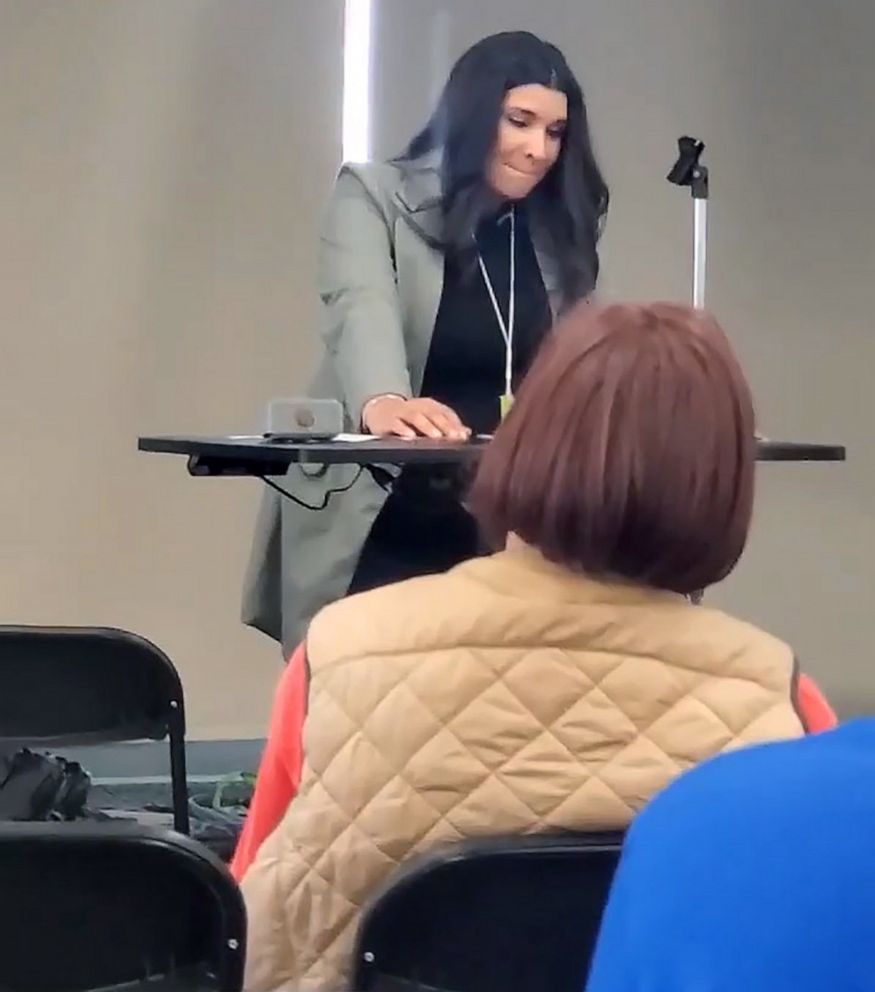 Maye Quade served in the Minnesota House of Representatives from January 2017 to January 2019, representing Dakota County, and self-identifies as Black, according to a Minnesota legislature member record. She is also an advocacy director at Gender Justice, a nonprofit working to address gender inequality.
Maye Quade is married to Alyse Maye Quade and the couple announced they were expecting last October, with Maye Quade sharing a family photo on Instagram of her and her wife dressed as characters from 2007's "Juno."
Alyse Maye Quade also shared a baby announcement post on Monday, writing in an Instagram caption, "Welcome to the world, Harriet Blake Maye Quade -- roaring into our lives at 2:20 this morning, and coming in at a very average 6 pounds, 14 oz. People (we) will be calling her Hattie!
"Mom did awesome, even in the moments that got a little intense, and especially when it came to pushing baby girl out. Actually seeing the power and determination, push after push - I'll never look at my wife the same again, she is so powerful," she added, alongside three photos of the new family of three.