New twists on classic summer grilling dishes
Peden + Munk, Bon Appétit
Summer is synonymous with grilling, and whether you prefer to fire up the coals or turn on the gas, Bon Appétit has all the recipes and tips for everything from protein, veggies and even desserts to cook on the fire all season long.
Editor-in-chief Adam Rapoport joined "Good Morning America" to demonstrate some of the recipes featured in the magazine's annual grilling issue and revealed some tricks to get even better results.
Rapoport shared his culinary expertise and settled the first great debate: charcoal or gas grills?
"Charcoal is always going to get hotter than gas," Rapoport said. "And want that crispy char you'll get that from charcoal, not gas."
While both are great, and all the BA recipes can be made on either one, Rapoport said he prefers charcoal -- even though he did recently splurge on a gas grill. He swears by charcoal for grilling because he said nothing matches the ferocity of hardwood lump charcoal.
For the average griller, Rapoport recommends the steady, consistent heat of conventional charcoal briquettes.
Check out the full recipes as seen on "GMA" and more from Bon Appétit's grilling issue below.
Sambal Chicken Skewers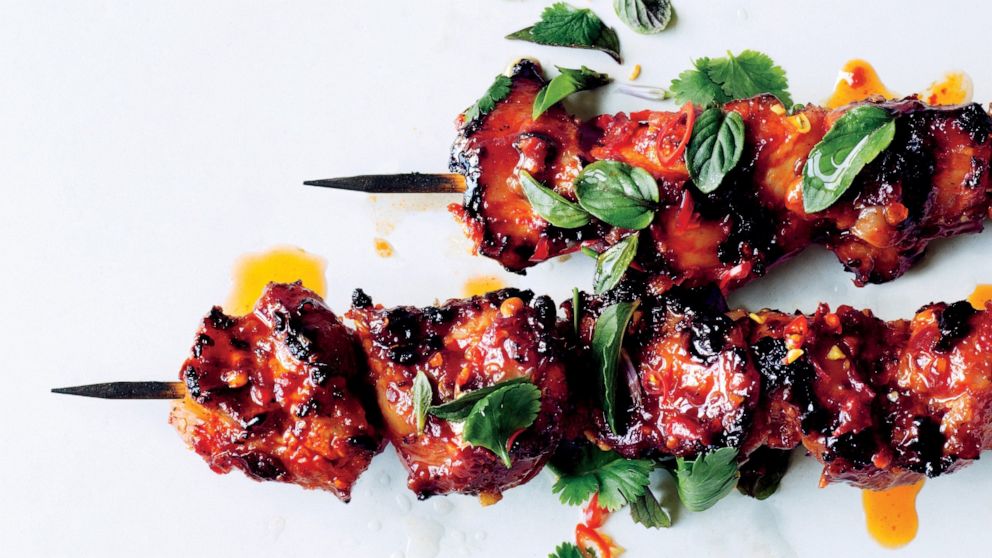 These spicy, sticky sambal glazed chicken skewers are a great, unexpected twist on the traditional kebab.
Hot Tips:
-- Unlike traditional BBQ kebabs with alternating protein, zucchini coins and cherry tomatoes, Rapoport suggests keeping the protein and vegetables separate because meat cooks at different times than vegetables.
-- The sambal glaze packs in a ton of flavor, keeps outside crispy and inside juicy, and you can use breast or thighs.
-- Chopping the chicken into pieces and coating each with the glaze gets more flavor on every bite and the protein cooks more evenly, as opposed to grilling the breast whole.
-- Baste chicken generously with the glaze and they'll develop an irresistible caramelized crust when cooked over high heat.
Ingredients:
1/2 cup (packed) light brown sugar
1/2 cup unseasoned rice vinegar
1/3 cup hot chili paste (such as sambal oelek)
1/4 cup fish sauce (such as nam pla or nuoc nam)
1/4 cup Sriracha
2 teaspoons finely grated peeled ginger
1 1/2 pounds skinless, boneless chicken thighs, cut into 1 1/2-inch–2-inch pieces
Special equipment
8 bamboo skewers soaked in water at least 1 hour
Directions:
Prepare grill for medium-high heat. Whisk brown sugar, vinegar, chili paste, fish sauce, Sriracha, and ginger in a large bowl. Add chicken and toss to coat. Remove chicken and thread four or five pieces onto each skewer.
Transfer leftover marinade to a small saucepan. Bring to a boil, reduce heat, and simmer until reduced by half (about one cup), 7–10 minutes.
Grill chicken, turning and basting often with reduced marinade, until cooked through, 8–10 minutes.
Soy Sauce-Marinated Grilled Flank Steak and Scallions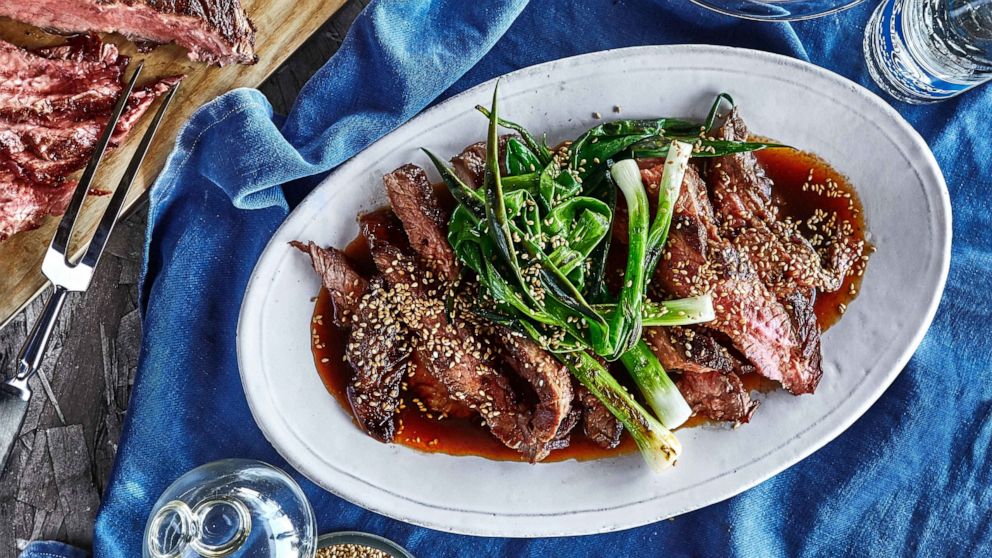 This marinated grilled flank steak and scallions flips the script on conventional summertime grilling wisdom and wants you to marinate your protein once it's hot off the grill. Rapoport said it's based on the basic Spanish technique for escabeche.
Hot Tips:
-- Contrary to everything been told, you should marinate after you grill to get that picture-perfect sear and still pack in tons of flavor. Conventional summertime wisdom holds that marinating proteins should happen before cooking. Well, we were sort of wrong (sorry!). The moisture and sugar in most marinades can actually cause a protein to simultaneously steam and burn without ever truly searing. Instead, flip the script and marinate after grilling.
-- Let your hot-off-the-grill steak soak in the soy sauce marinade for 15 minutes to build layers of flavor in record time. The longer they sit, the more flavor they'll absorb.
Ingredients:
3 tablespoons extra-virgin olive oil, divided, plus more for grill
1 1/2 lb. flank steak
Kosher salt, freshly ground pepper
1 bunch scallions, trimmed
1/4 cup mirin (sweet Japanese rice wine)
1/4 cup soy sauce
2 tablespoons light brown sugar
1 tablespoon distilled white vinegar
1 tablespoon Sriracha
2 teaspoons toasted sesame oil
Toasted sesame seeds (for serving)
Directions:
Prepare a grill for medium-high heat; lightly oil grate. Pat steak dry and place on a rimmed baking sheet. Lightly score both sides of steak with the tip of a paring knife, making shallow parallel cuts (no deeper than an ⅛") about 1" apart and running across the grain of the meat (this will prevent the steak from curling as it cooks). Season generously all over with salt and pepper; let sit at room temperature at least 30 minutes and up to one hour.
Meanwhile, toss scallions on another baking sheet with two tablespoons of olive oil to coat; season with salt and pepper.
Whisk mirin, soy sauce, brown sugar, vinegar, Sriracha, and sesame oil in a medium bowl until sugar is dissolved; set marinade aside.
Pat steak dry again (the salt will have drawn out more moisture) and rub with remaining one tablespoon of olive oil. Grill scallions, turning often, until tender and charred in spots, about 1 minute. Return to baking sheet. Grill steak, turning every two minutes or so, until medium-rare, six to eight minutes. Transfer to a cutting board and let rest 10–15 minutes.
Thinly slice steak crosswise and arrange on a rimmed platter; drizzle all of the juices that have collected on the cutting board over. Arrange grilled scallions on top of the steak, then pour reserved marinade over. Let sit at least 15 minutes and up to one hour before serving. To serve, sprinkle with sesame seeds as desired.
Grilled S'more Ice Cream Sandwiches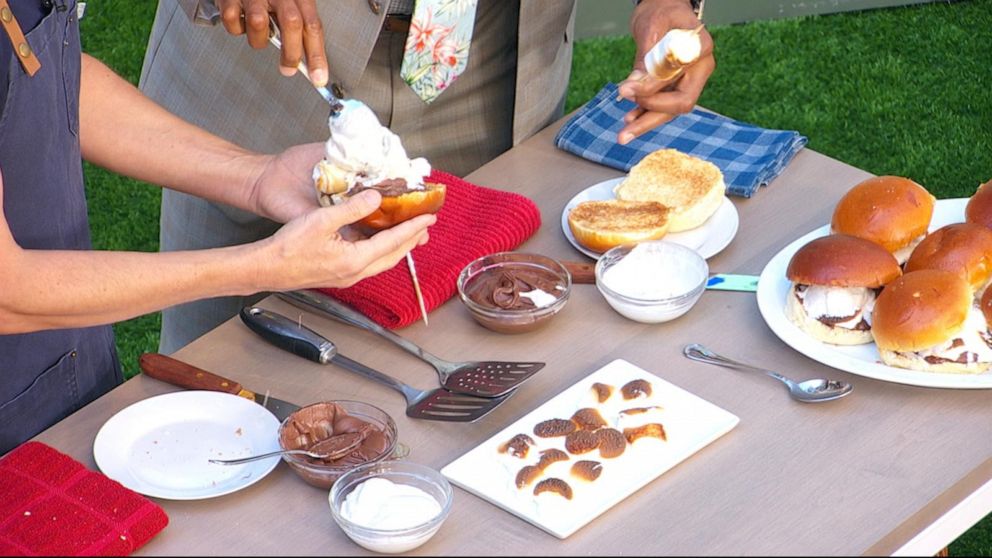 This is a take on the Sicilian ice cream sandwiches with brioche and gelato -- Grilled s'more ice cream sandwiches.
Hot Tip:
-- When it comes to the grill you don't have to stick to proteins and vegetables. Believe it or not, you can make desserts, just make sure to check any sweet ingredients so that the sugars don't over caramelize or stick.
Ingredients:
1 brioche roll, split
1 scoop Nutella
2 large marshmallows
1 scoop of your favorite vanilla ice cream
Special equipment
Long metal skewers for toasting marshmallows
Directions:
Halve the rolls crosswise using a knife.
Prepare a grill for medium, direct heat. Place brioche buns on the grill, cut side down, and cook just until lightly toasted. Brioche burns quickly so be careful!
Meanwhile, toast marshmallows, two to a skewer, over the hottest part of the grill until golden brown. Don't let them touch the grate or they will stick.
Spread toasted buns with Nutella, stick to just one side as things are going to start to get messy.
Place the toasted marshmallows on top of the Nutella'd brioche halves, you may have to scrape them off using tongs or a knife.
Place a scoop of ice cream on the remaining brioche halves. Close the two sides together and serve immediately.
The special issue also features crispy skewered scallops, a spicy pork chop and a Filipino BBQ menu from the crew at Bad Saint in Washington, D.C. There's also seaside cookout recipes from senior food editor Andy Baraghani and lots more.
All recipes reprinted courtesy of Bon Appétit.