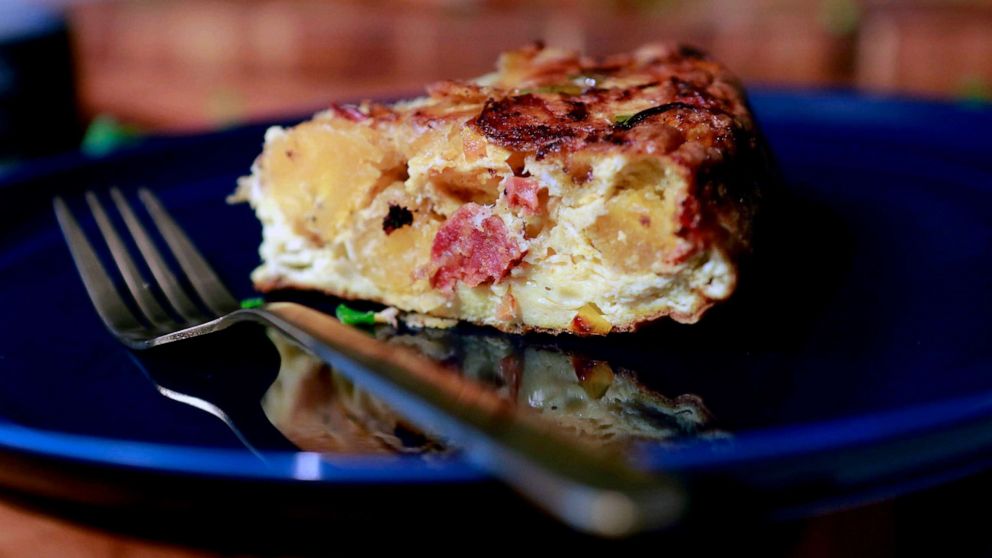 Chef Chris Valdes is Miami-born author, chef and celebrity caterer, known for being a finalist on Food Network's Star and Star Salvation.
He joins us in the "GMA3" kitchen to make his Spanish-style tortillas, one of his favorite latin-inspired dishes from his cookbook, "One With The Kitchen."
Chef Chris Valdes' Miami Tortilla Española
Ingredients
Serves 4 to 6
1/4 cup olive oil
4 medium russet potatoes, peeled, and thinly sliced
1 sweet plantain, medium dice
1 medium onion, peeled, and thinly sliced
1 medium green bell pepper, medium dice
½ chorizo, diced
6 large eggs, beaten
Salt and pepper to taste
Directions:
1. Preheat the oven to 350°F.
2. Heat oil over medium-high heat in a 10" saute pan. Add potatoes, sweet plantain, onions, peppers, chorizo, and cook until potatoes and plantains are cooked and brown for about 15 minutes.
3. In a large bowl, add eggs, a pinch of salt and pepper, and whisk. Add the whisked eggs to the pan. Bake until eggs are firm and golden brown, about 20 minutes.
4. Slide a spatula along the edges and underneath the tortilla. Place a large plate over the pan and quickly turn the plate and pan over so the tortilla falls onto the plate. Cut into wedges and serve at room temperature.