It's National Soul Food Month and who better to share a mouthwatering meal with than classically trained and soul food-raised chef, Alisa Reynolds?
The "Searching for Soul Food" host, who has traveled the globe in her Onyx series to find delicious flavors that connect people and cultures, joined "Good Morning America" Friday equipped with a bold, flavorful recipe that represents just that.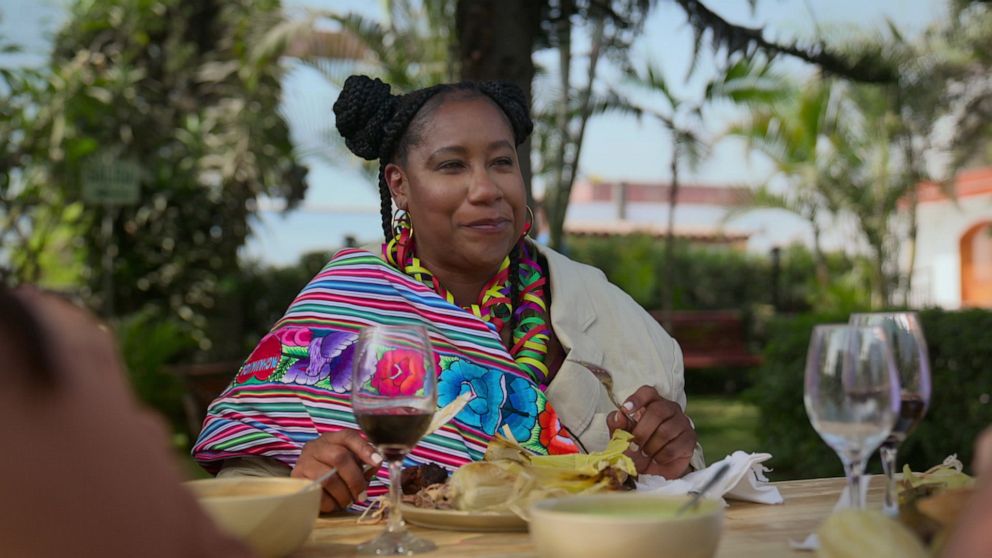 In the promos for her series, Reynolds calls soul food "cuisine created with ingenuity through struggle that nourished my people through its hardest times."
She told "GMA" that "it's kind of nuanced" but ultimately "my definition is love -- because this food was created as a love language when peoples' backs were against the wall."
"It's part of American fabric, but did that exist outside of our borders. And it does -- all of these places were special because when you're creative and you have nothing, you create all these great dishes and they become symbols of love," Reynolds continued.
Reynolds, the owner of My 2 Cents, a Los Angeles-based restaurant that is celebrating its 10 year anniversary, created this gluten-free crispy chicken dish with a sweet, smoky and vibrant Asian citrus accompaniment that incorporates all the attributes of soul food.
Check out her full recipe with a rub inspired by her sister Resie, as well as a recipe for a delicious side pairing, below.
Gluten-free Crispy Chicken with BBQ Yuzu Mayo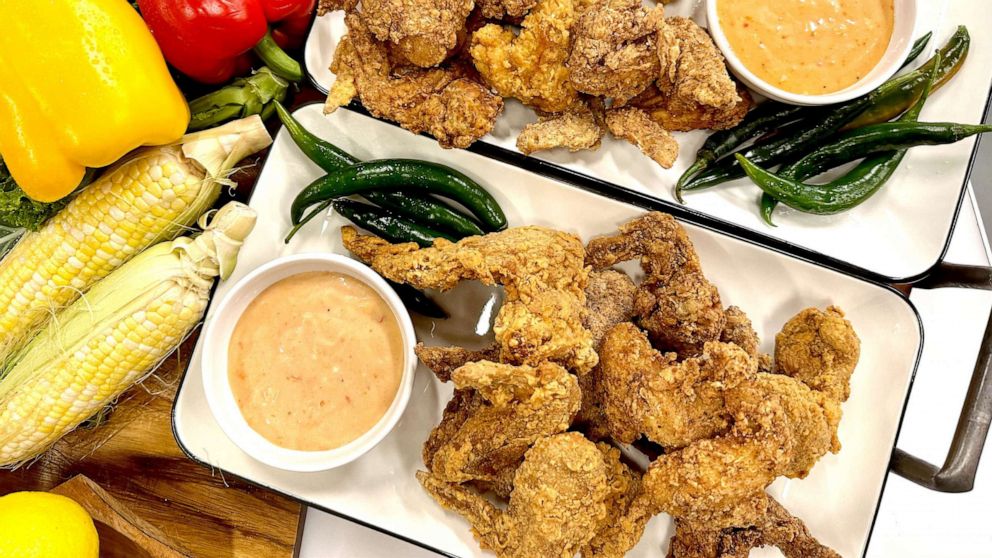 "At my restaurant in LA we have a little lighter, healthier approach to our soul food, I like to call it evolved nostalgia," Reynolds told "GMA."
Ingredients
Rice bran oil
2 pounds whole chicken wings or drumettes
1/2 cup all-purpose gluten free flour (baking flour is OK)
1 teaspoon Resie Rub
1/2 teaspoon granulated garlic
1/4 teaspoon freshly ground black pepper
1 teaspoon Old Bay
1/8 teaspoon pink salt
3 eggs, beaten
1 tablespoon Dijon mustard
1 cup mayo
3 tablespoons barbecue sauce
1/4 cup sweet chili sauce
1 teaspoon yuzu oil
1/8 teaspoon cayenne pepper (optional)
Directions
Place chicken wings in a bowl and sprinkle all dry seasonings over and toss to coat (Optional to refrigerate for 30 minutes before frying).
Place eggs and Dijon mustard in a bowl with a dash of Old Bay, and whisk until combined.
In a shallow bowl combine flour and Resie Rub.
Dip chicken wings into the egg wash and then dredge in seasoned flour.
Fill oil to line and heat in tabletop fryer until 350 F, then add frying chicken in a batch until golden brown, usually 5 to 7 minutes.
Whisk mayo, yuzu oil, barbecue sauce and sweet chili sauce together in a bowl until blended.
Succotash Salad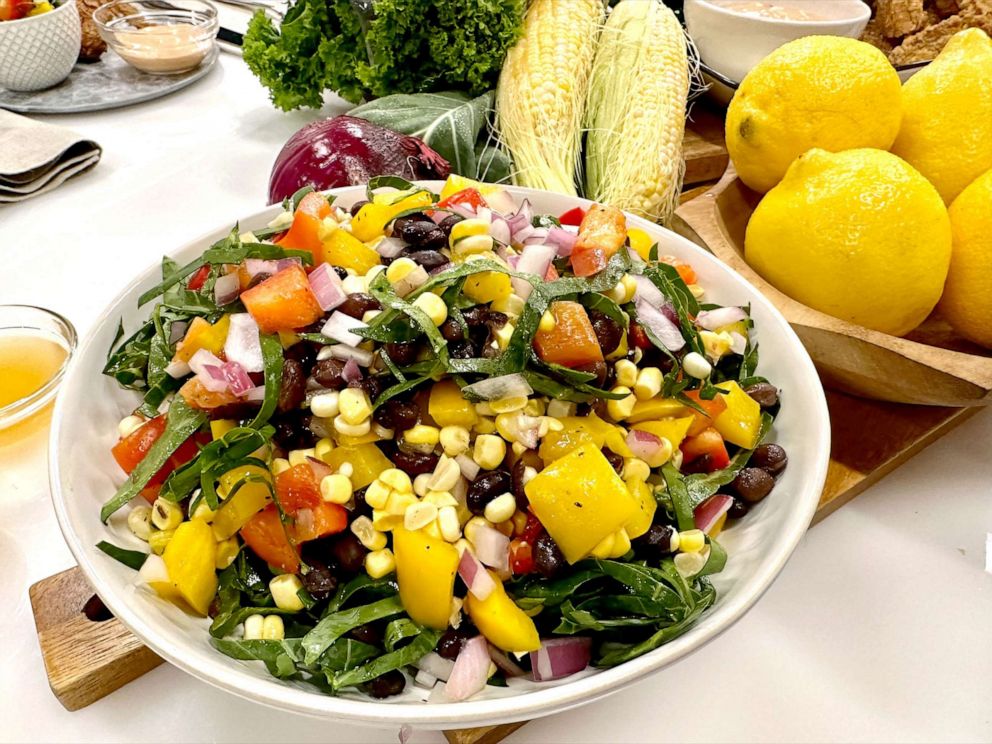 "Apple cider vinegar, maple syrup and mustard brightens up the salad -- it's subtle and anyone can make it at home," Reynolds said.
Ingredients
3 ears of corn, cleaned
8-ounce can black beans (drained and rinsed) or 8 ounces fresh-cooked black beans
1/2 small red onion (finely chopped)
1 red bell pepper (diced)
1 yellow bell pepper (diced)
2 cups julienned mustard greens (or collard greens)
1/2 lemon for greens
Salt and pepper to taste
For the dressing
3 tablespoons olive oil
1/2 lemon for dressing
1/2 teaspoon salt
2 tablespoons apple cider vinegar
1 tablespoon maple syrup
1 teaspoon Dijon mustard
1/4 teaspoon pepper
Directions
Remove the fresh corn from the cobs by holding them vertically over a large mixing bowl and using a sharp knife to cut downwards along the cob. Be sure to use a gentle sawing motion and avoid cutting too deeply, so as not to include any of the tough cob.
In a large mixing bowl, combine the corn kernels with the drained black beans, finely chopped red onion and diced red and yellow bell peppers. Cover, and put in the refrigerator.
Whisk together the olive oil, lemon juice, apple cider vinegar, maple syrup, Dijon mustard, salt and pepper in a separate small bowl to make a dressing.
Lay a paper towel or tea towel into a large bowl and place greens on top. Dry them thoroughly and then squeeze half a lemon over the greens and add 1/4 teaspoon of salt. Massage the greens with your hands for 1 or 2 minutes.
Gently toss in mustard greens in with your mix.
Drizzle the dressing over the salad mixture in the larger bowl and toss well to coat.