Happy National Gluten-Free Day!
Whether you have a strict dietary restriction, sensitivity or are simply looking to give gluten the hook, one food blogger and author has you covered.
Jillian Glenn first started her blog, Peanut Butter and Jilly, to share easy recipes with her family and friends and show other people how simple vegan and gluten-free cooking can be.
Glenn rounded up a handful of her favorite standout sweet treats for "Good Morning America" and shared full recipes to help anyone who recreates them forget they ever missed gluten.
Vegan, Gluten-Free Banana Pancakes
This recipe only requires five ingredients and takes less than 20 minutes from prep to plating.
Ingredients
2 mashed ripe bananas
4 teaspoons baking powder
2 cups almond milk
2 cups gluten-free all-purpose flour
Vegan butter for frying
Optional ingredients
1 teaspoon vanilla
1 teaspoon cinnamon
2 tablespoons maple syrup
Directions
Mash the ripe bananas and mix them with the almond milk, baking powder and optional ingredients. Then mix in the flour. Batter will be slightly lumpy, this is OK.
Heat a skillet to medium, and add a little butter.
Once the butter is melted and begins to bubble, scoop in 3 to 4 tablespoons of the batter per pancake. Cook until bubbles form on the top, and then flip. They should be golden brown.
Vegan, Gluten-Free Cinnamon Rolls
"These are the best gluten-free cinnamon rolls you will ever have," Glenn boasted on her blog. "The golden, fluffy and buttery dough is wrapped around a delicious cinnamon sugar filling. The entire thing is topped with my famous vegan cream cheese icing for an out-of-this-world cinnamon roll sensation."
Ingredients
1 cup warm (not hot) almond milk2 tablespoons maple syrup1/4 cup melted vegan butter1/4 teaspoon salt
2 teaspoons xanthan gum (only add if using gluten-free flour) optional, omit if your blend already includes it3 teaspoons packet active dry yeast
2 1/2 cups gluten-free all-purpose flour
For the filling
1/3 cup softened vegan butter
2/3 cup sugar (any kind)
2 teaspoons cinnamon
For the frosting
4 ounces vegan cream cheese
1/4 cup softened vegan butter
1 1/2 cups confectioners sugar
Directions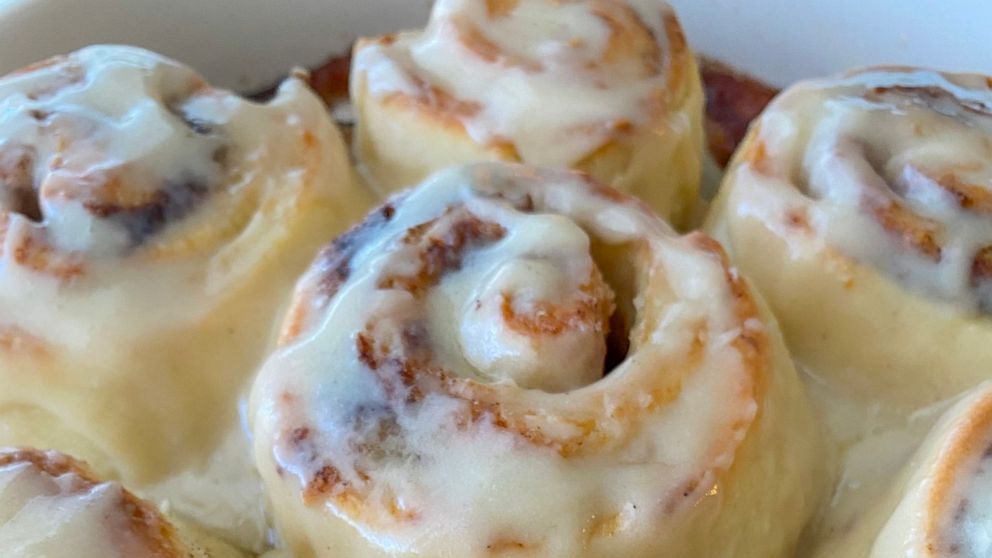 Prepare the dough by mixing the warm almond milk, melted vegan butter, maple syrup and salt. Add xanthan gum if using. Sprinkle the active dry yeast evenly across the top of the mixture, stir gently and let it sit for about 10 minutes.
Add the all-purpose flour and mix until a dough forms. Leaving the dough in the bowl, form it into a round mound and cover the bowl with plastic wrap or a kitchen towel. Allow it to sit for an hour. I like to sit my bowl on top of an oven preheated to 350 F. The warmth from the oven helps the dough rise faster.
Note, if using gluten-free all-purpose flour, the dough will rise slightly less than dough containing gluten.
After the dough has risen for an hour, place it on a floured surface and roll the dough into a 1/4 inch oval or rectangle (add more flour if the dough is too sticky to roll). Note, if using gluten-free flour, the dough will be slightly more dry. Spread the softened butter to cover the dough. Top with the sugar and cinnamon.
Preheat the oven to 350 F. Roll the dough into a log, and cut it into about 10 pinwheels. Place the pinwheels into a baking dish so that they are close but not touching. Cover them with a towel or loose plastic wrap and set aside for another 30 minutes. Note, if your rolls are gluten-free, they won't be as voluminous as rolls with gluten in them, but they'll be every bit as delicious.
Remove plastic wrap, and bake the rolls in the oven for about 35 minutes.
While the rolls are baking, make the vegan cream cheese frosting by using an electric hand mixer to mix together the softened vegan butter, powdered sugar and vegan cream cheese.
Allow the rolls to cool, and spread the icing over the rolls. Enjoy!
30-Minute Blueberry Donuts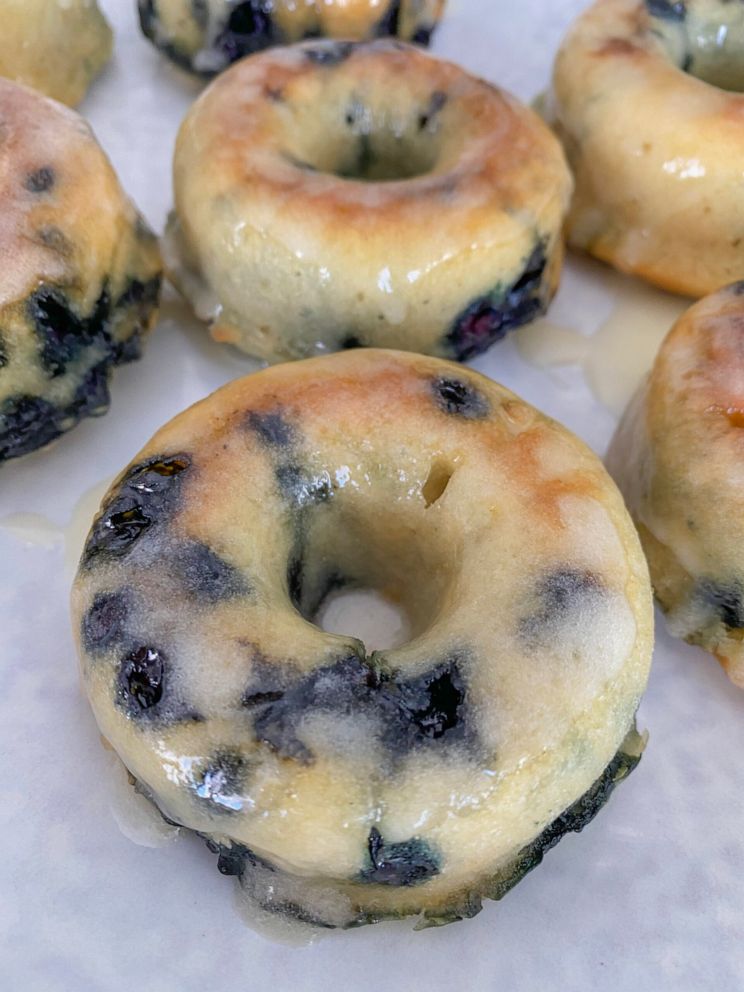 Ingredients
1/4 cup melted vegan butter1 1/4 cups almond milk1 cup sugar (sub 3 teaspoons pure stevia and 1/4 cup sugar for lower calorie option)
1 teaspoon baking soda
1 1/2 teaspoons baking powder
1 teaspoon vanilla
2 cups gluten-free all-purpose flour
1 cup fresh or frozen blueberries
Optional glaze
1/2 cup powdered sugar
1 tablespoon almond milk
Directions
Preheat oven to 350 F. In a large mixing bowl, mix vegan butter, almond milk, baking soda, baking powder, sugar, and vanilla. Then, mix in flour until just combined.
Fold blueberries into the batter gently, and pour the batter into 14 to 16 greased donut molds.
Bake in the oven for about 20 minutes.
Option to pour over glaze but they are perfect without it.
Super Easy & Moist Chocolate Loaf Cake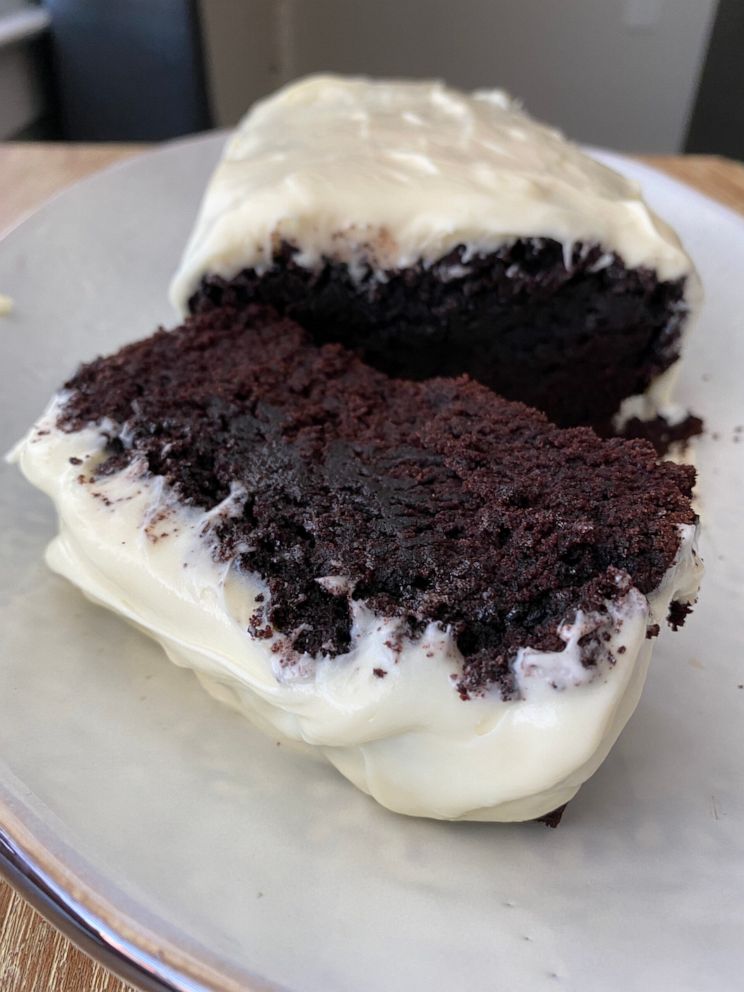 Glenn said this decadent, tender, gluten-free and vegan chocolate cake is a "perfect recipe to use for any occasion." Plus, it's kid- and family-friendly.
Check out the full recipe here on her blog.
Chewy Chocolate Chip Cookies
These soft and tender cookies take just 20 minutes from start to finish and will satisfy any gluten-free or vegan sweet tooth.
1/2 cup melted vegan butter
1 cup cane sugar
1 teaspoon vanilla
2 flax eggs (2 tablespoons flax seed meal mixed with 4 tablespoons warm water)
1 teaspoon baking powder
1 teaspoon almond milk
1/4 teaspoon salt
1 1/4 cups gluten-free all purpose flour
1/4 cup vegan chocolate chips
Directions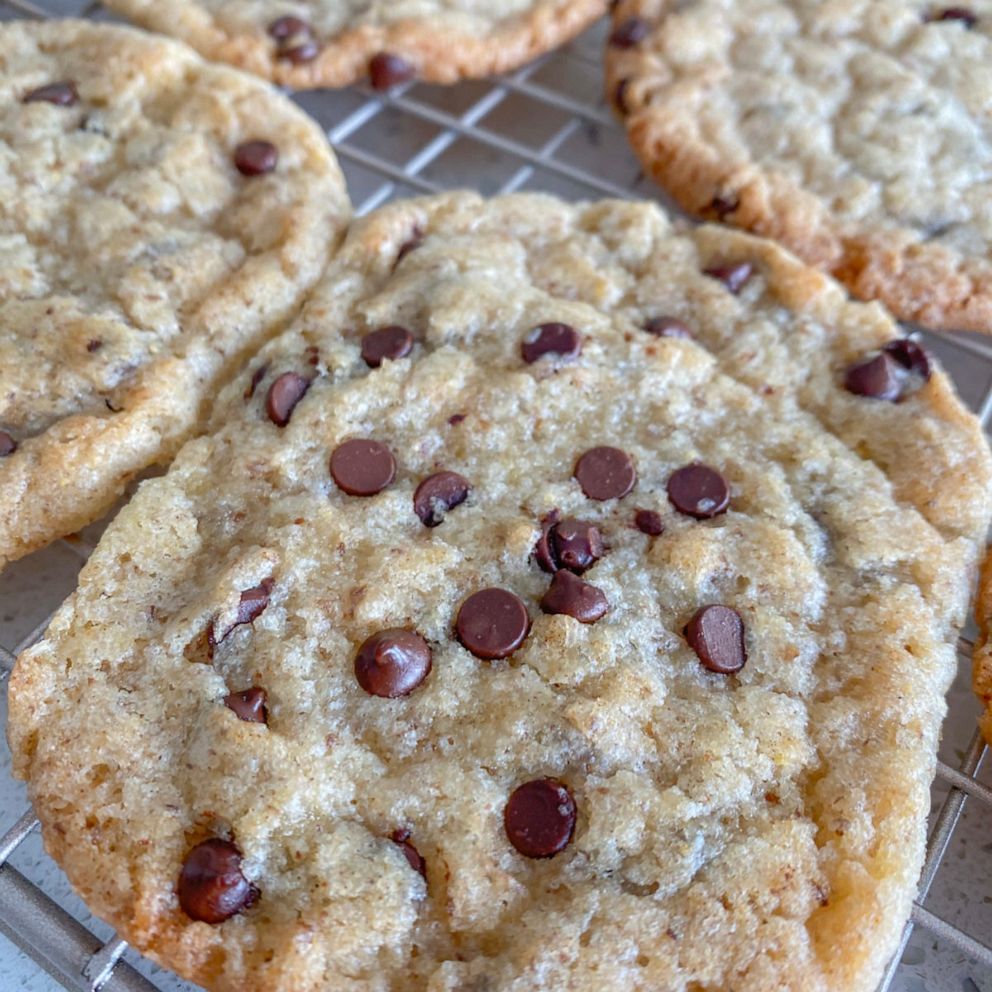 Preheat oven to 425 F. Prepare your flax eggs by mixing 2 tablespoons of flaxseed meal with 4 tablespoons warm water, and set aside.
In a medium sized mixing bowl, mix together the melted vegan butter, cane sugar, vanilla, flax eggs, baking powder, salt and almond milk. Then, mix in the flour until a thick dough forms. Fold in the chocolate chips.
Use your hands to roll the cookies into about 18 balls and place onto a baking sheet lined with parchment paper.
Bake for 10 to 12 minutes until the cookies are lightly golden on the bottom. Enjoy!
Recipes reprinted courtesy of Jillian Glenn, creator of Peanut Butter and Jilly.