Five extreme ice-cream shops in New York City that you must try before summer ends
Don't let the pumpkin spice lattes fool you: summer is not over...yet.
What better way to beat the heat than with everyone's favorite summer dessert: ice cream?
We rounded up five of the most extreme ice cream shops in New York City that you need to add to your foodie bucket list right now.
Emack and Bolio's
Your inner child will fall in love with Emack and Bolio's ice cream.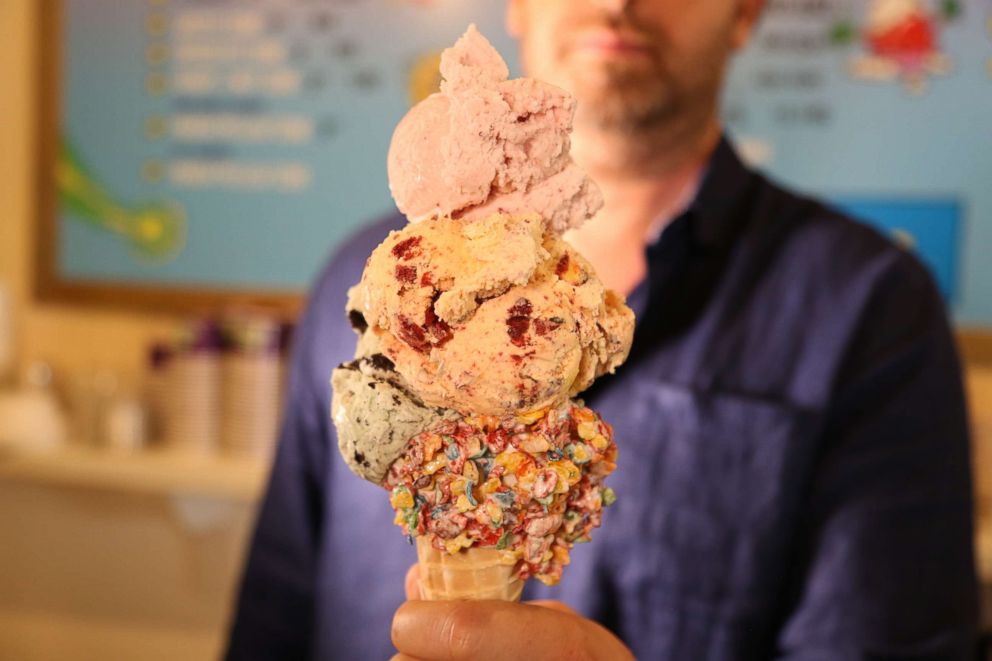 The ice cream shop was originally founded in 1975 in Boston, Massachusetts, and it rose to fame with its unbelievable cones. It now has nearly two dozen shops across the country, and locations in six countries in Asia.
Some of their most popular cones include the rice crispy treat cones, Fruity Pebble cones, and chocolate-dipped cones, which made this hole-in-the-wall shop famous on social media.
"I always say people might come in for the cone, but they'll come back for the ice cream," Jarrad Rock, vice president at Emack and Bolio's, told "GMA."
Tipsy Scoop
Boozy ice cream cocktails bring a whole new meaning to "treat yourself." These yummy concoctions at Tipsy Scoop in New York City will spike up your Instagram game.
Tipsy Scoop specializes in artisan liquor-infused ice cream flavors, and they teamed up with Muddling Memories to create some delicious ice cream cocktails and sundaes at the Tipsy Scoop location in Camp Arlo.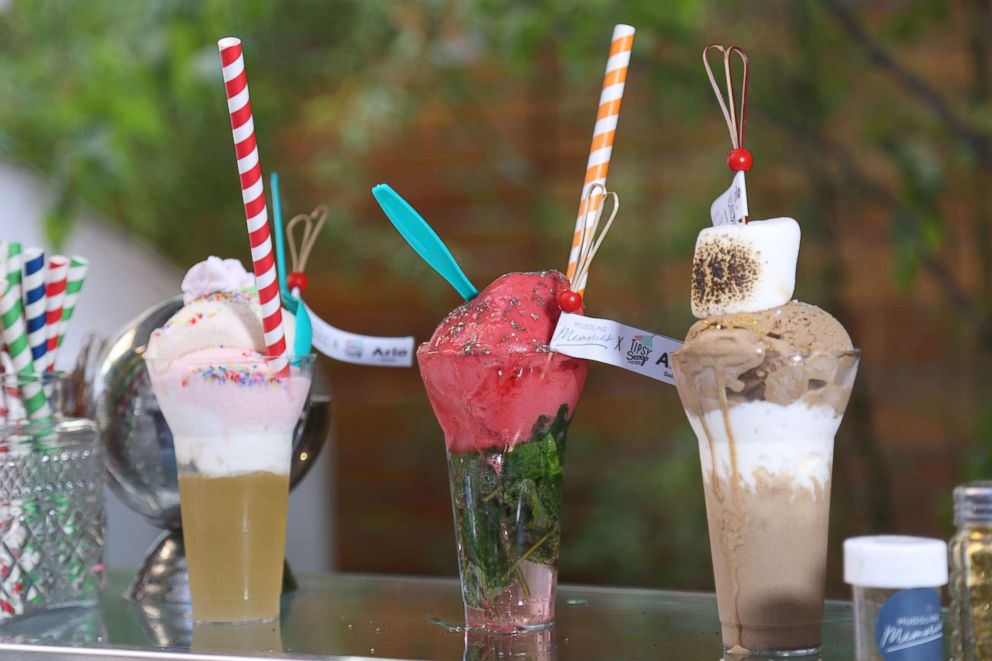 Some of the biggest hits on the menu include the Some Spike it Hot, which is a fun spin on the classic frozen hot chocolate, and The Enchanted Rose, which is a vodka-infused raspberry limoncello sorbet inspired by Disney's "Beauty and the Beast."
Their Negroni Pony sundae that is made with fresh orange sorbet infused with Campari, Vermouth and Gin served in a Funfetti cone bowl, topped off with a "My Little Pony" inspired sugar cookie.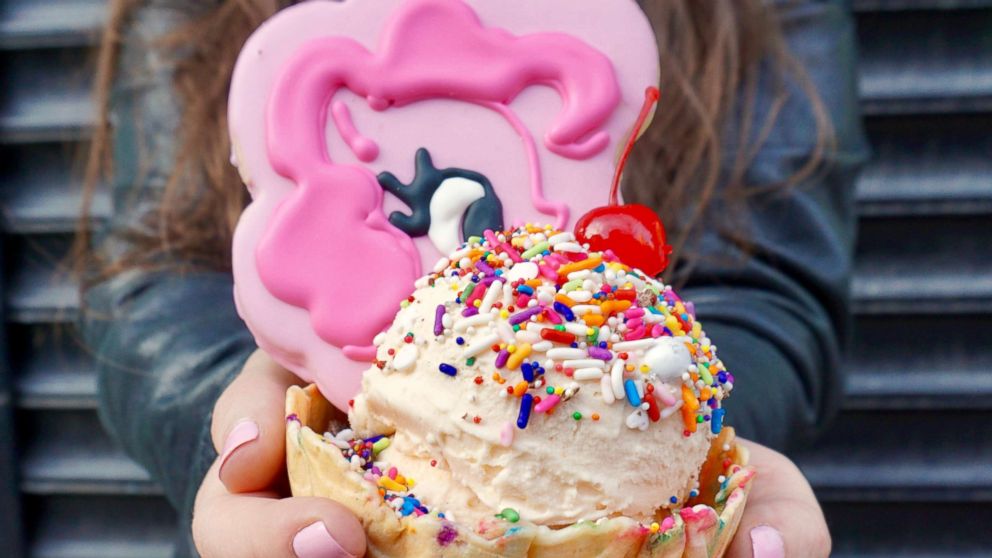 Stuffed Ice Cream
Who needs of bouquet of roses, when you can get a bouquet of ice cream? Stuffed Ice Cream creates the craziest, most delicious towers of ice cream, with 21 scoops packed on a single cone. Located in New York City's East Village, this small shop became a hit on social media with its massive ice cream "bouquets."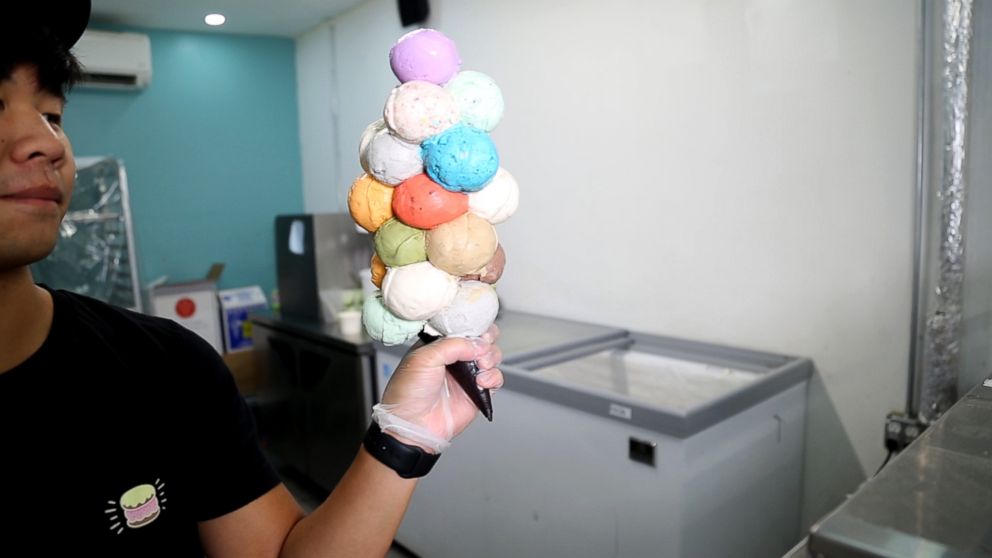 The ice cream tower craze at Stuffed Ice Cream actually "came up by accident," according to Jackie Luu, co-founder of Stuffed Ice Cream.
"One day I was playing around, trying to put nine scoops on a cone, and it got to a point where we knew we were going to make 20 flavors," he said. "so we wanted to throw 20 scoops on a cone, and we ended up throwing 21 scoops."
Don't worry, there's no judgement here if you get one of Stuffed Ice Cream's bouquets to share with a friend, or as a way to step up your Instagram dessert game.
Dulcinea Churros & Co.
Dulcinea's churro ice cream sandwich puts the traditional ice cream sandwich to shame.
Dulcinea's sweet mission was to bring Spain's beloved churros to the streets of New York City in a way that "pushes the culinary envelope."
"We don't just fill our churros with dulce de lecha, but also Nutella, and passion fruit to make this perfect dipping treat for our customers," store manager Pelin Gulen shared. "We take it to another level by adding a scoop of ice cream in between two churros, and topping it off with sugar and sprinkles."
Is your mouth watering yet?
If you want a truly magical experience, try the unicorn ice cream sandwich. Dulcinea's most popular (and most Instagrammable) item by far is rainbow-swirled vanilla ice cream covered in sprinkles, dulce de leche sauce, and stacked in between two round churros.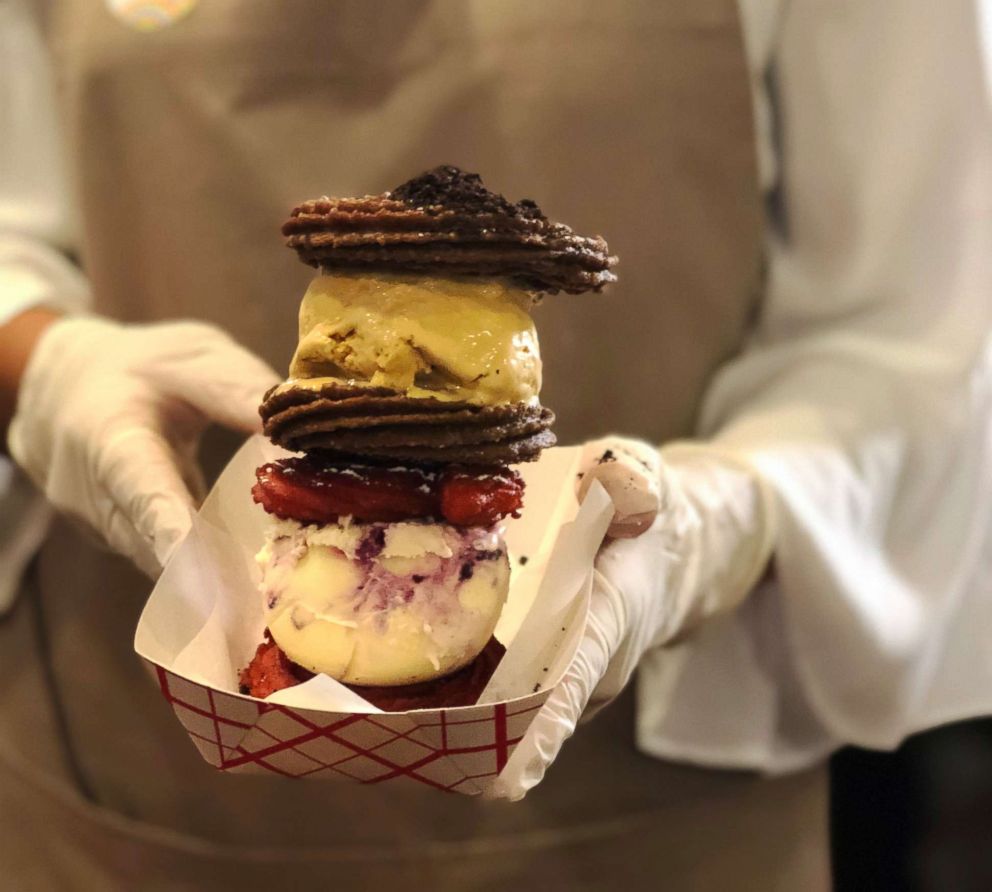 Van Leeuwen Artisan Ice Cream
Before you write off vegan ice cream, make sure you check out Van Leeuwen Artisan Ice Cream.
What started as an ice cream truck service grew into an ice cream empire, with flavors that everyone can enjoy.
"The inspiration behind Van Leeuwen came from our own experiences tasting extraordinary food," the company's founder Ben Van Leeuwen said. "Not necessarily fancy food, but single ingredients that made the food really great and shook our core. We thought it was incredible and wanted to find a way to make it accessible to others."
Van Leeuwen's vegan ice cream is made with cashew milk and/or a coconut milk base, and their traditional ice cream consists of fresh milk and cream, cane sugar, and egg yolks.
A customer favorite on the menu is Planet Earth, which is a sky blue ice cream made with cashew and coconut base, match green tea cake made with Kettl Tea matcha, and topped off with colorful sprinkles.