Tired of searching for turkey day side dishes? Look no further because a few of Food Network's biggest stars shared their delicious Thanksgiving recipes that you can make in your kitchen this year!
You don't need to be a celebrity chef to prepare a delicious Thanksgiving spread. But if you want to serve up something special like the stars on Food Network, check out their top turkey day recipes below.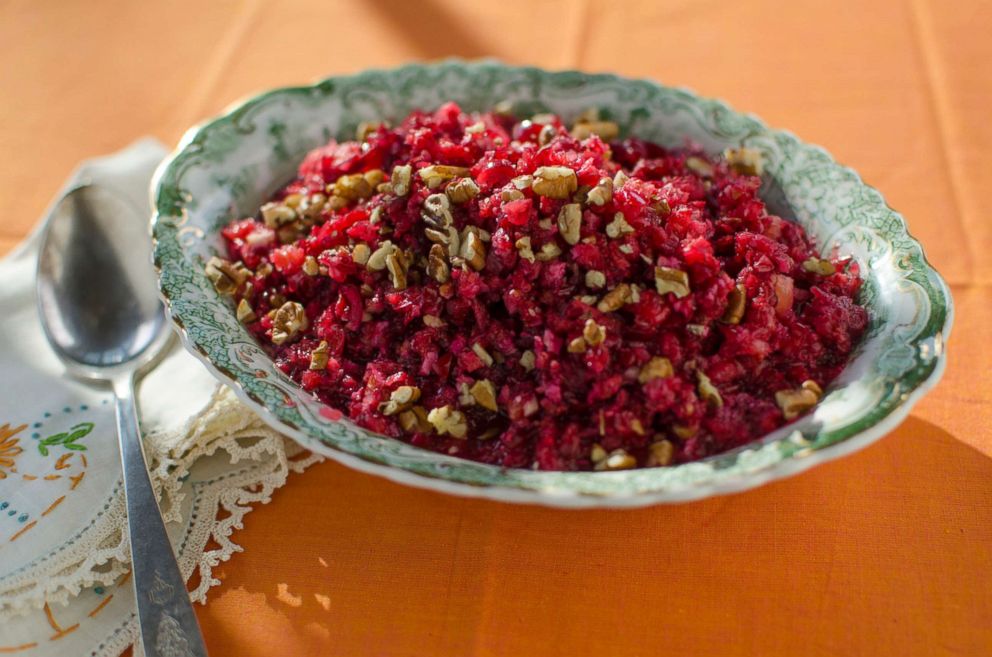 Music superstar and best-selling cookbook author Trisha Yearwood shared her favorite no-baste, no-bother turkey recipe, but the main event would not be complete without this simple, sweet and tart side.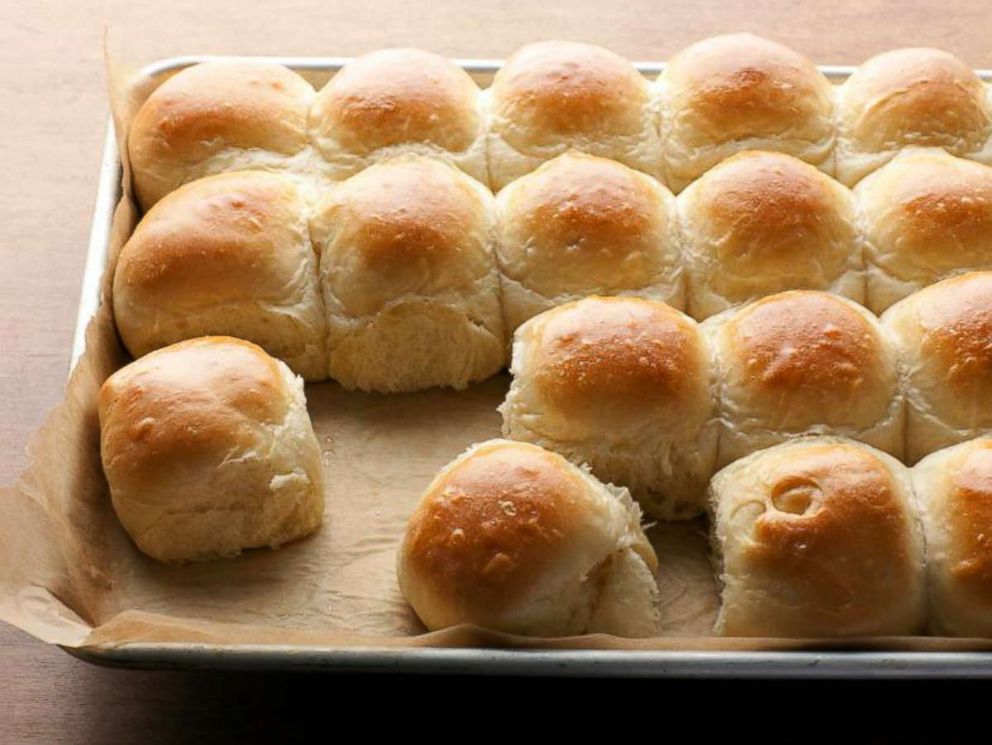 These buttery and pillowy rolls are a classic addition to any dinner and will be the perfect complement to a Thanksgiving feast.
Alex Guarnaschelli's baked and smashed goat cheese potatoes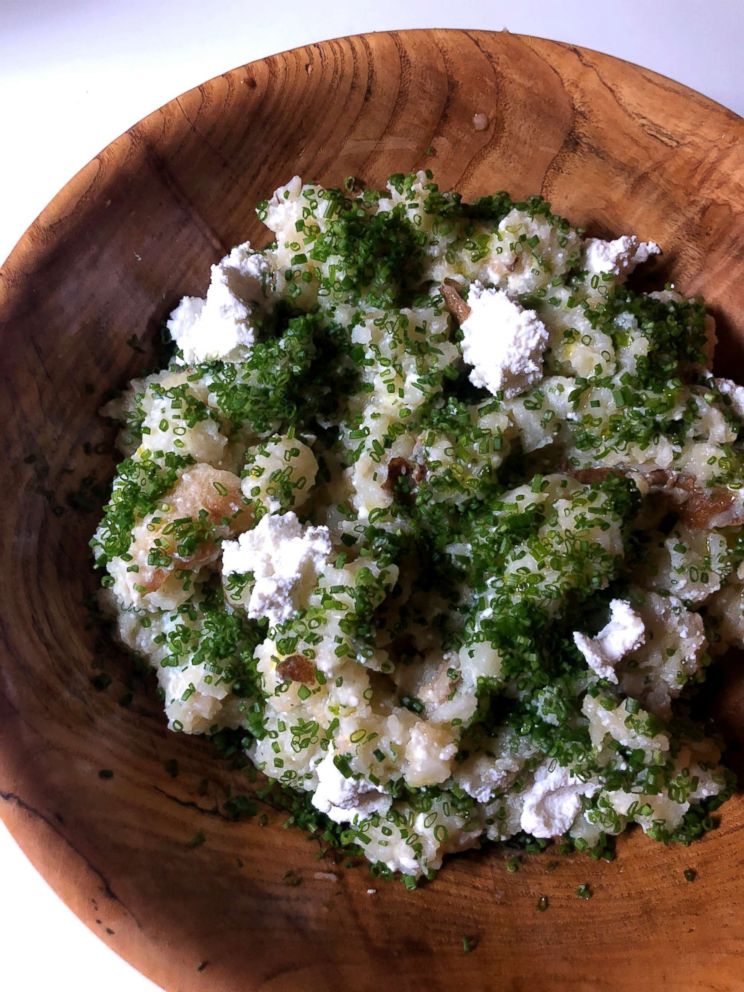 These elevated potatoes add an extra creamy and tangy richness to the classic side.
Ingredients:
6 Idaho Baker potatoes, each about 1/2 pound
Kosher salt
1 log (8 ounces) fresh and soft goat's milk cheese, softened at room temperature
1/2 cup sour cream
1 small bunch chives sliced into small matchsticks
Directions:
Preheat the oven to 450 degrees.
Arrange the potatoes on a baking sheet. Do not wrap the potatoes individually in tinfoil. This causes the potatoes to "steam" instead of developing a nice crust and deeper flavor as they cook.
Bake the potatoes until completely tender when pierced with the tip of a knife, one to one and a half hours.
Remove from the oven and slit them each in half lengthwise. Scoop out the flesh and transfer to a bowl. Immediately add the goat cheese and crush the potato flesh and the goat cheese with the tines of a fork until integrated.
Season with salt to taste. Add the sour cream and chives.
Chop and add some of the skins, if desired.
Andrew Zimmern's chestnut stuffing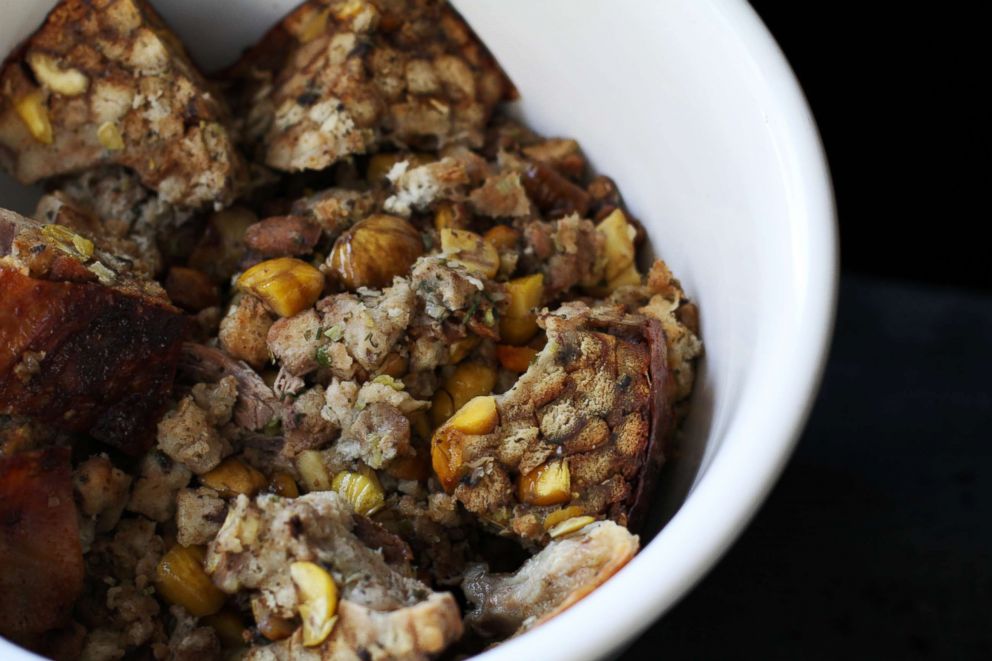 Stuffing is a staple on any Thanksgiving table, and Zimmern's take on the traditional dish is a savory success. Maybe plan to make a double batch so you have enough leftovers to go around!
Ingredients:
1 pound fresh chestnuts, in the shell
8 cups dry seasoned bread cubes
1 cup onion, minced
1 cup celery, minced
2 tablespoons fresh sage leaves, minced
1 tablespoon fresh thyme leaves
2 tablespoon parsley, minced
2 tablespoons butter, melted
Salt
Pepper
1/2 cup turkey (or chicken) livers, minced
2 to 3 tablespoons heavy cream or milk
Directions:
Preheat oven to 350 degrees.
Score the tops of the chestnuts with an "X" mark using a paring knife or small serrated knife. Roast for 25 to 30 minutes, until cooked through.
Peel and reserve meats, slicing them into quarters as best you can. Reduce oven to 325 degrees.
In a large mixing bowl, combine the bread cubes, onion, celery, sage, thyme, parsley and butter. Season with salt and pepper. Add the chopped chestnuts and minced livers. Moisten with a few tablespoons of cream and mix well to combine.
Stuff the turkey, front and back. Tie or skewer legs together. Roast the stuffed turkey for 15 minutes per pound, or until the internal temperature of the thigh meat and stuffing reaches 160 degrees.
Alternatively, place the stuffing in a casserole dish loosely tented with aluminum foil, and bake at 375 degrees for about 40 minutes.
Adam Richman's twice-baked sweet potatoes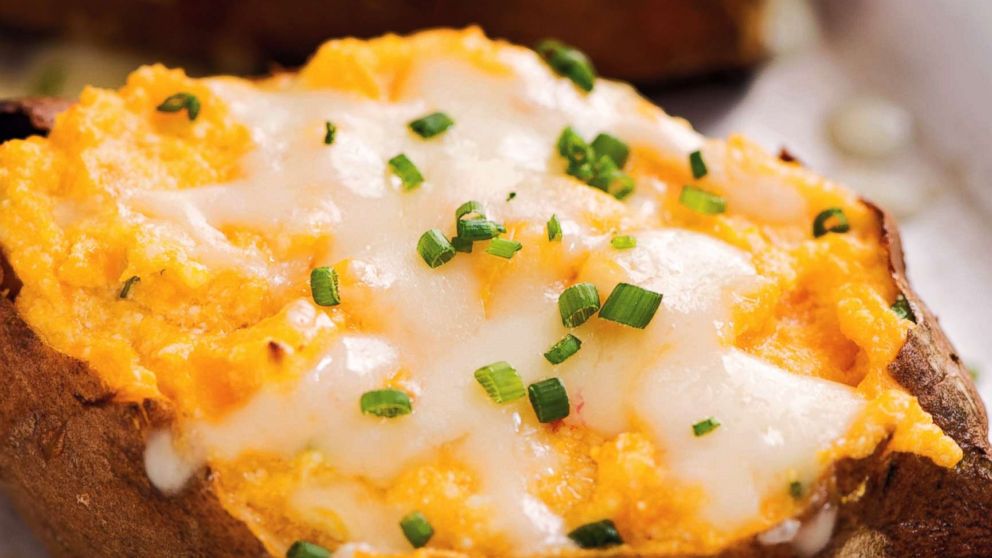 What's better than sweet potatoes that have been roasted to perfection? Twice-baked sweet potatoes with a cheesy and creamy ricotta and bourbon filling. If you're not already drooling you will be when these come out of the oven this Thanksgiving!
Ingredients:
6 large sweet potatoes
Olive oil, for roasting
2 cups ricotta cheese
1/3 cup bourbon (optional)
6 tablespoons unsalted butter, melted
1 bunch of fresh chives, finely chopped
1 1/2 cups grated Fontina cheese
Directions:
Preheat the oven to 400 degrees. Line a rimmed baking sheet with aluminum foil.
Using a fork, poke holes in the sweet potatoes. Rub the skins with olive oil and place the potatoes on the prepared baking sheet. Bake until a fork can slide easily into a potato, 1 to 1 ½ hours. Remove the potatoes from the oven and let cool completely. Keep the oven on at 400 F.
Slice off the top third of each potato lengthwise and discard. Scoop most of the flesh of the potatoes into a large bowl, leaving just fairly thin shell, thereby turning the skins into potato canoes.
Add the ricotta to the cooled potato flesh and combine well. Stir in the bourbon, if using, and the melted butter, then add half of the chopped chives. Spoon the mixture back into the potato canoes and arrange the potatoes on a rimmed baking sheet.
Bake the potatoes for 15 minutes, then remove them from the oven and top with the Fontina cheese. Return the potatoes to the oven and bake until the Fontina is melted and the potatoes are golden, another five to seven minutes. Top the potatoes with the remaining chopped chives and serve hot.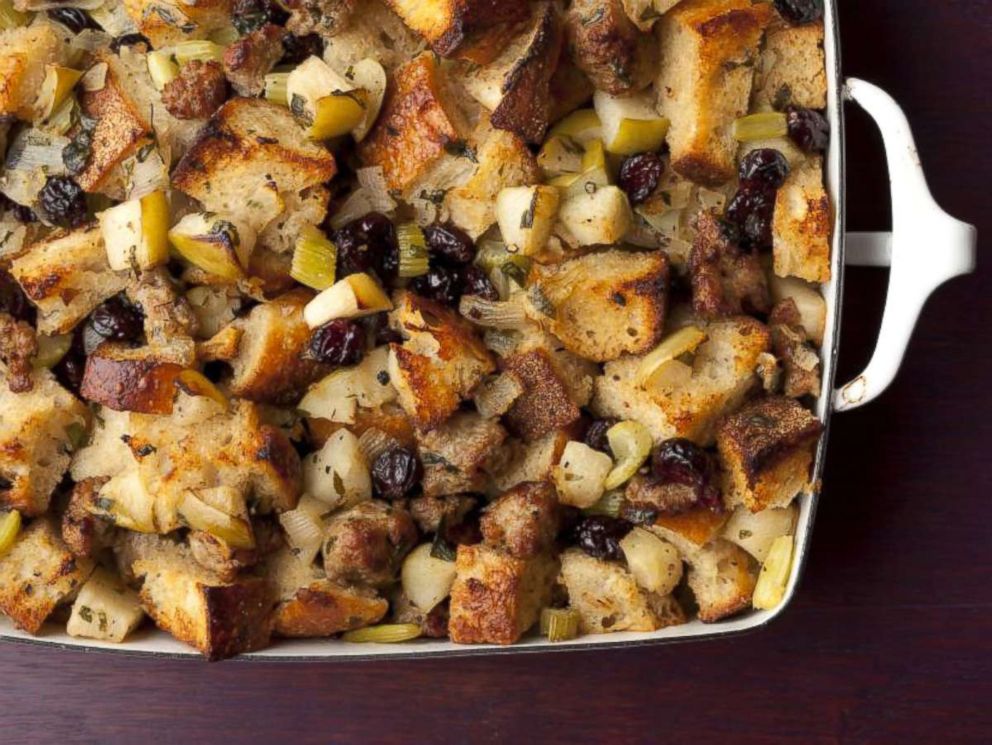 Guy Fieri's green bean casserole with homemade mushroom gravy and fried shallots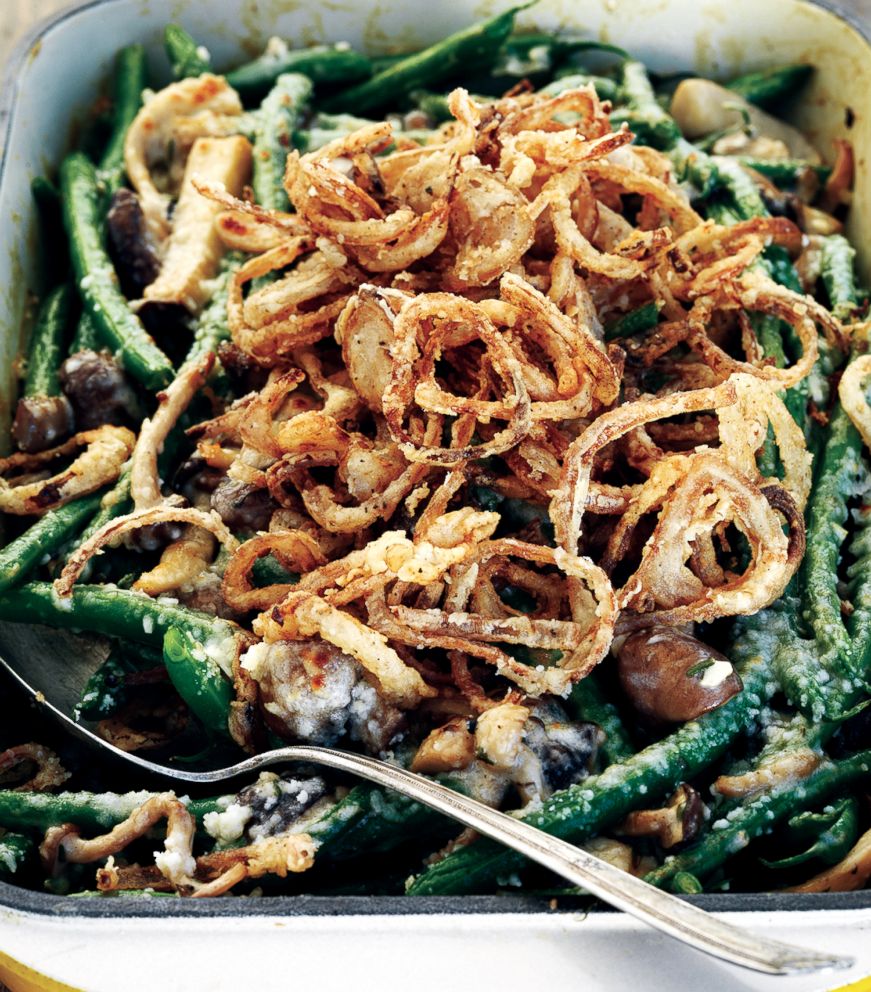 Next stop, flavortown! This decadent dish amps up all the umami flavors with a medley of wild mushrooms and promises that perfectly crunchy top that everyone knows and loves.
Ingredients:
1 1/2 pounds green beans, trimmed
2 tablespoons unsalted butter
1 tablespoon vegetable oil, plus more for frying
1 pound mixed gourmet mushrooms, such as shiitake, cremini, and oyster, cleaned and quartered1/2 teaspoon fresh thyme leaves
2 garlic cloves, minced
Kosher salt and freshly ground black pepper
1/4 teaspoon cayenne pepper
1/4 teaspoon ground nutmeg
1 cup plus 2 teaspoons all-purpose flour
1 cup low-sodium chicken broth
1 cup sour cream
1/2 cup heavy cream
1/4 cup grated Parmesan cheese
4 medium shallots, sliced and separated into thin rounds
Directions:
Preheat the oven to 450 degrees.
Bring a large pot of salted water to a boil and set up a large bowl of ice water. Add the green beans to the boiling water and cook until they turn bright green, approx. 2 to 3 minutes. (You don't want to cook the green beans through, as they'll cook in the oven as well).
Strain and plunge the beans immediately in the ice water to stop the cooking process. When cool, drain and set out to dry on paper towels.
Set a 12-inch cast-iron skillet over medium-high heat. Add the butter and 1 tablespoon vegetable oil. When the butter is melted and the pan is hot, add the mushrooms. Cook undisturbed so the mushrooms sear nicely, about 1 minute. Add the thyme and garlic and continue cooking until the mushrooms achieve some nice color, about 7 to 8 minutes. Season with salt, pepper, cayenne, and nutmeg.
Cook 2 to 3 minutes, dusting the mushrooms with 2 tablespoons of flour as they release moisture. Stir with a whisk to incorporate the jour until golden (just like making a roux) and gradually add the chicken broth.
Bring to a simmer, then reduce the heat and add the sour cream and heavy cream. Stir gently and cook over low heat until the gravy thickens, 5 to 6 minutes.
Add the blanched green beans and fold together to mix well.
Spread the green bean mixture evenly in the cast-iron skillet and sprinkle with the grated Parmesan.
Place the pan on a roasting tray or rimmed baking sheet to catch any spill-over. Bake until the casserole is bubbly and the top is melted and golden, 15 minutes.
To fry the shallots, pour 2 inches of vegetable oil in a deep skillet and heat to 350 degrees F. Pour 1 cup of flour into a large mixing bowl and sprinkle generously with salt and pepper. Toss the shallot rounds in the seasoned flour, then place in a strainer and shake off any excess. Fry the shallots in the hot oil in small batches until golden brown, 3 to 5 minutes. Remove with a slotted spoon, drain on paper towels, and season with salt while still hot.
Top the green bean casserole with fired shallots and serve.