Get cooking with Ginger Zee!
Welcome to "Ginger's Cook Club," a new series where Ginger invites chefs into her home to learn and share recipes.
"One of my greatest challenges every single day is: What do I make for dinner?! Every day, there's this 'Oh crap moment' where it's 3 p.m. and we look at each other like, what are we doing tonight? If someone hasn't planned and shopped by that hour of the day — we are done for. Plus I'm bored with our regular dishes and need some inspiration," Zee said. "I'm not alone in people getting bored, not feeling inspired or just feeling overwhelmed by the thought of coming up with something new that the whole family will like that doesn't take an hour."
Deb Perelman, behind the wildly popular Smitten Kitchen blog and bestselling cookbooks, "The Smitten Kitchen Cookbook" and "Smitten Kitchen Every Day," shared two warm family-friendly favorites for fall and those colder months: a pizza bean bake and white bean and potato soup with crispy kale and baked potato fixings.
Ginger's two boys loved these recipes and we hope you do too!
Get the full recipes from Perelman below to make them in your kitchen. Tweet at Ginger and @GMA to share your cooking experience and inspire each other.
Pizza Beans / Tomato and Gigante Bean Bake
"What happens when you give white beans the ziti treatment, with a tomato, garlic, and saucy vegetable base and charred melted cheese on top? Magic, unquestionably," Perelman writes. "The garlic bread to scoop it onto is optional, but not around here."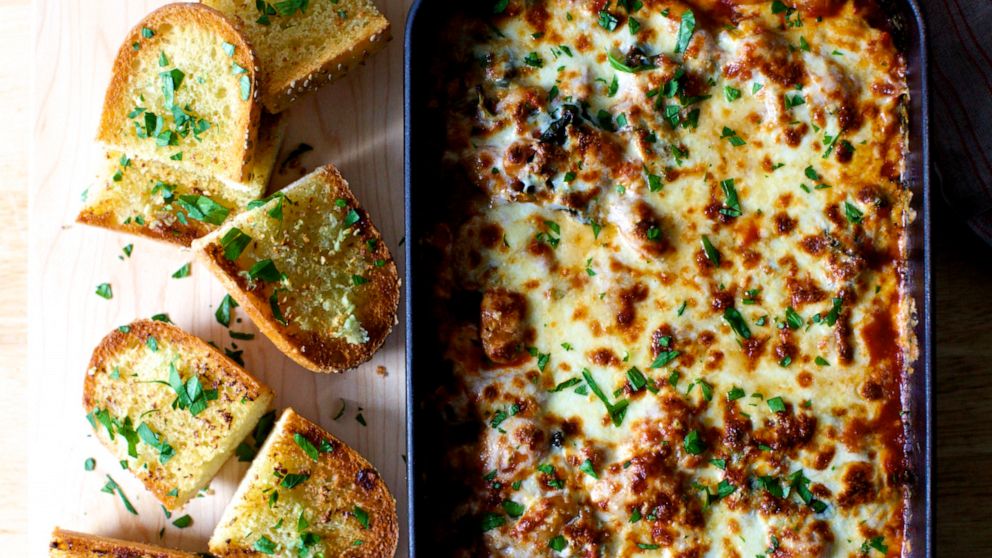 Ingredients:
2 tablespoons (30 ml) olive oil
1 large onion, chopped
2 celery stalks, diced
1 large or 2 regular carrots, diced
Salt and freshly ground black pepper or red pepper flakes
2 large garlic cloves, minced
1/4 cup (60 ml) dry white or red wine (optional)
4 ounces (115 grams) curly kale leaves, chopped or torn
2 1/4 cups (550 grams) crushed tomatoes (28-ounce or 800-gram can minus 1 cup; reserve the rest for another use)
1 pound (455 grams) cooked firm-tender giant white beans
Up to 3/4 cup (175 ml) vegetable broth
1/2 pound (225 grams) mozzarella, coarsely grated
1/3 cup (35 grams) grated Parmesan
2 tablespoons (5 grams) roughly chopped fresh flat-leaf parsley, for garnish (optional)
Directions:
Prepare the beans and vegetables: Heat the oven to 475 degrees. In a 2 1/2-to-3-quart (ideally oven-safe) deep sauté pan, braiser, or shallow Dutch oven, heat the olive oil on medium-high. Add the onion, celery, and carrots.
Season well with salt and black or red pepper. Cook, sautéing, until the vegetables brown lightly, about 10 minutes. Add the garlic, and cook for 1 minute more. Add the wine, if using, to scrape up any stuck bits, then simmer until it disappears, 1 to 2 minutes. Add the kale, and cook for 1 to 2 minutes, until collapsed, then add the tomatoes and bring to a simmer. Add the beans, and, if the mixture looks too dry or thick (canned tomatoes range quite a bit in juiciness), add up to 3/4 cup broth, 1/4 cup at a time. Simmer the mixture together over medium for about 10 minutes, adjusting the seasonings as needed.
If your pan isn't ovenproof, transfer the mixture to a 3-quart baking dish. If it is, well, carry on.
Bake: Sprinkle the beans first with the mozzarella, then the Parmesan, and bake for 10 to 15 minutes, until browned on top. If you're impatient and want a deeper color, you can run it under the broiler. Finish with parsley, if desired.
Garlic Bread
Ingredients:
1 large (about 12 ounces), not-too-firm seeded baguette
8 tablespoons (115 grams or 4 ounces) unsalted or salted butter (if salted, skip the salt below), cut into chunks
4 medium cloves garlic, minced
Pinches of red pepper flakes, to taste
1/2 teaspoon coarse or kosher salt
1/2 teaspoon dried oregano (optional)
1/3 to 1/2 cup finely grated Parmesan or aged pecorino cheese (optional)
1 tablespoon finely chopped parsley
1 tablespoon minced chives (optional)
Directions:
Heat your oven's broiler. Line a large baking sheet with foil to limit the mess you make. Cut baguette lengthwise and arrange pieces cut side up in pan. Put butter, garlic, pepper flakes and salt in a small saucepan and melt over medium-high heat, stirring, until garlic is sizzling in the butter (but not browning). Remove from heat and stir in oregano, if using. Spoon evenly over bread. Sprinkle bread with parmesan, if using, and broil — keeping a close watch on it and turning it as needed for even coloring — for 2 to 3 minutes. Seriously, watch it like a hawk. Nothing's sadder than under- or over-cooked garlic bread.
Remove from oven, sprinkle with parsley and chives, if using, and cut into segments. We keep extras in foil in the fridge and rewarm them in the oven, but you know it's always best on the first day.
White Bean and Potato Soup with Crispy Kale and Baked Potato Fixings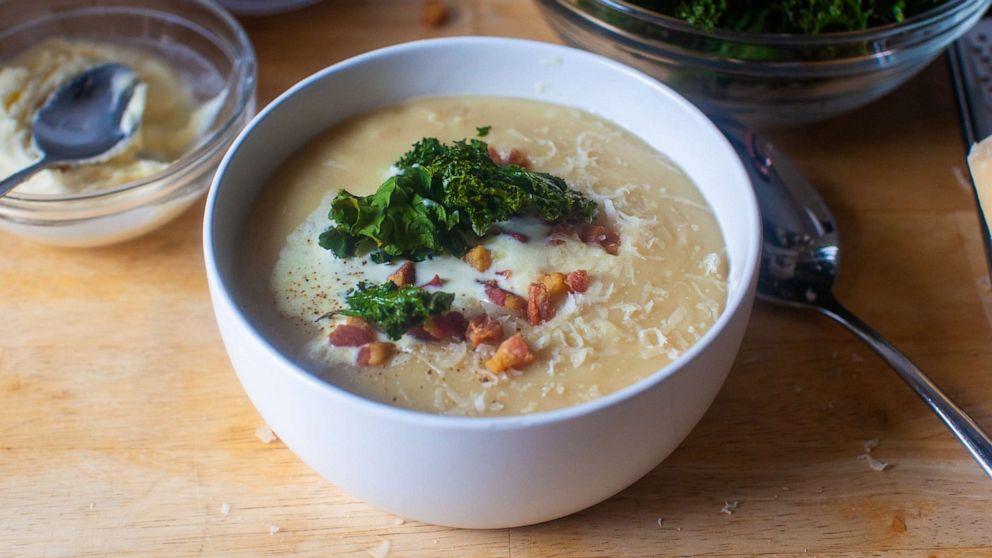 Serves 4, generously
Ingredients:
4 ounces diced pancetta
Olive oil
1 large onion, chopped
3 cloves garlic, minced
Kosher salt
Freshly ground black pepper
4 cups chicken or vegetable broth
1 1/2 pounds yukon gold potatoes, diced into 1/2-inch cubes (no need
to peel)5 ounces curly kale leaves (from a salad-ready container)
1 15-ounce can of cannellini or a smaller white bean, drained and rinsed
1/2 cup finely grated Parmesan or 2/3 cup grated white cheddar
Sour cream, to serve
Directions:
Heat oven to 350 degrees F.
In a large, heavy pot, heat 1 tablespoon oil and pancetta over medium heat; cook, stirring, until pancetta is crisp all over. Remove with slotted spoon and drain on paper towels. Leave oil in pan, and heat on. Add onion and garlic and cook until softened but not brown, about 5 minutes. Add broth, potatoes, 1/2 teaspoon kosher salt, and many grinds of black pepper. Bring to a simmer and cook, partially covered, for 15 minutes, stirring occasionally. Reduce heat and simmer until simmer, partially covered, until potatoes are tender (you can check by trying to smash one against the side of the pot with a spoon), about 15 minutes.
Meanwhile: Toss kale leaves with 1 tablespoon olive oil, rubbing it into the leaves. Spread them on your largest baking sheet, season with salt, and bake until the leaves are crisp, anywhere from 12 to 17 minutes. (It ranges due to whether there's water clinging to them still and how much the pieces curl up.) You might want to move pieces around halfway to ensure they bake evenly. Set aside.
Once potatoes are tender, add beans and simmer for 3 minutes more. Blend soup until totally smooth. It will be thick. Taste and adjust seasonings if needed, adding more salt and pepper. Stir in half your cheese until melted and combined.
To serve, ladle into bowls. Dollop with sour cream, some kale chips torn into smaller chunks, pancetta, and remaining cheese if needed to please the masses.
Recipes reprinted with permission.