Recreate this ultimate barbecue dessert at home from Se7en Bites in Orlando
Stone fruit is still at its seasonal peak and with Labor Day weekend just around the corner, this sweet treat recipe that combines a cool southern classic with a hot new twist is the perfect confection to celebrate the unofficial end of summer.
Trina Gregory-Propst, owner of Se7en Bites in the heart of Orlando, Florida, shared her ultimate barbecue dessert with "Good Morning America" -- a grilled peaches and cream icebox cake.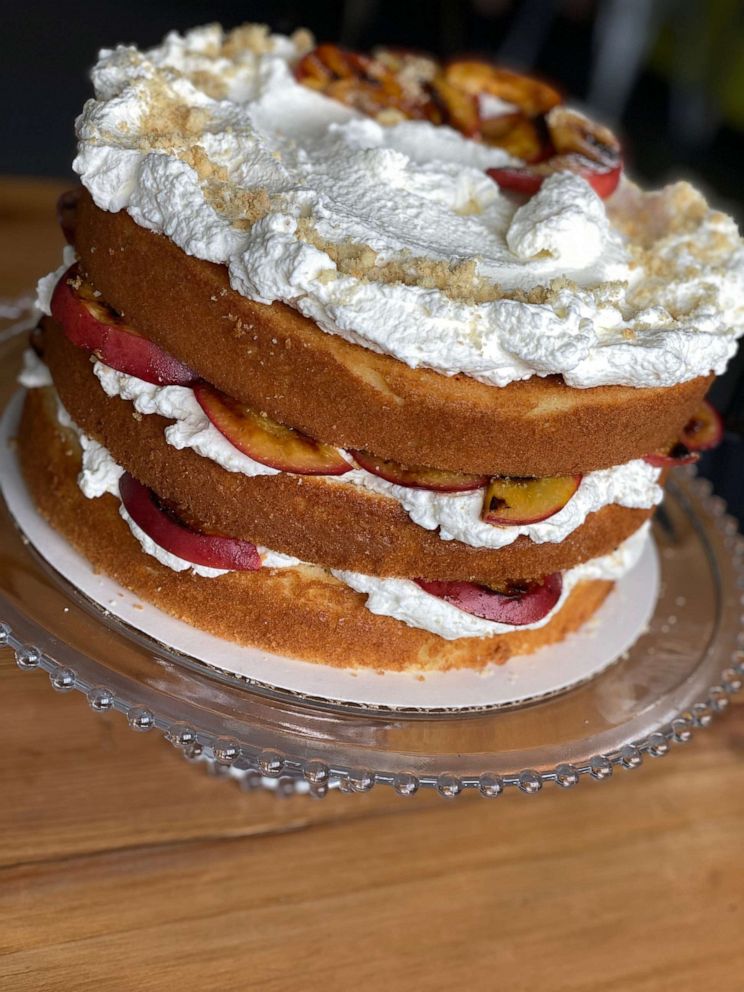 Her restaurant, known for its unique riffs on tried and true southern fare and nostalgic sweets, just reopened their doors amid the coronavirus pandemic.
"We realized that our restaurant brings so much more than delicious Southern food to this community," Gregory-Propst said. "It's a place for people to gather, share stories and eat with each other -- We're just so excited to see their smiles even through their masks we can see it in their eyes."
Check out the full recipe below for her signature cake that treats peaches like the true star with a little something extra.
"Before you get ready to grill, in order to make sure the peaches don't burn, you're going to use a little olive oil," she suggested. "I always like to add a little bit of peach schnapps to them."
Grilled Peaches and Cream Ice Box Cake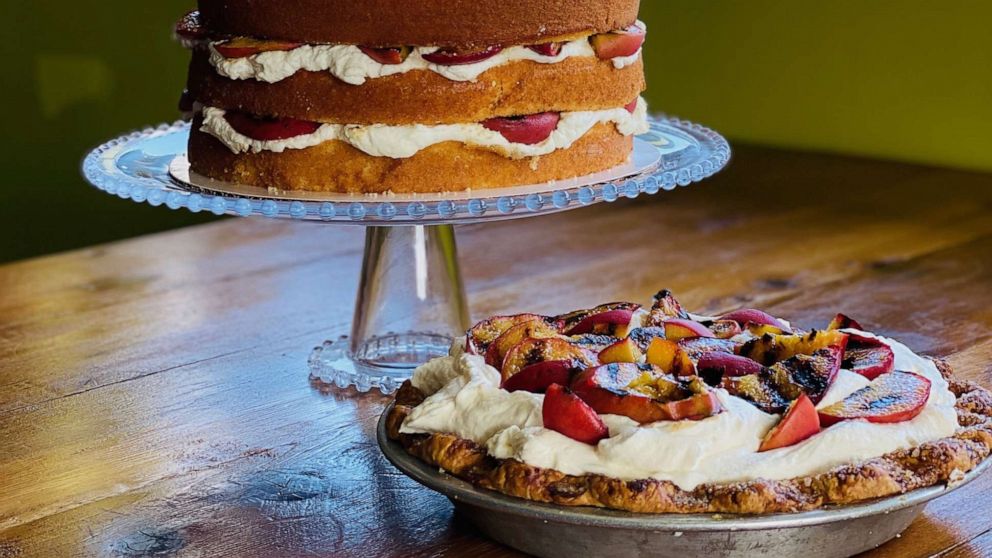 Ingredients for the cake
1 box store-bought white cake mix
1 1/2 cups cakes flour
1 cup sugar
1 teaspoon salt
3 eggs
1/2 cup melted unsalted butter 1 cup sour cream
1/3 cup vegetable oil
1 teaspoon vanilla extract
1 teaspoon almond extract
Directions
Preheat oven to 350 and line 3- 9" cake pans with parchment and a spray of pan release.
In a medium bowl whisk cake mix, cake flour, sugar & salt together and set aside.
In mixing bowl combine all wet ingredients using whisk attachment on stand mixer or beaters with hand mixer.
While mixing on low speed, begin to add the combined dry ingredients one cup at a time until completely incorporated. Then turn mixer on medium speed and mix for two minutes.
Evenly divide all finished cake mix amongst the three cake pans, then bake on 350 for 30 minutes. Then lower temp to 325 and complete cooking (approximately 10 minutes more) or until baked through with no jiggling. Remove from oven and let cool for 10 minutes then carefully turn out of pan and allow to cool completely.
For the grilled peaches
5-7 medium size peaches
1 tablespoon olive oil
1 tablespoon peach schnapps
Heat your grill or grill pan over high heat. Wash, dry then slice and pit your peaches. Place all pieces in medium bowl and drizzle with olive oil and schnapps.
Turn grill pan on high heat and grill peaches both sides remove from heat and set aside to cool completely.
Chantilly Whipped Cream Frosting
1 qt. heavy whip cream
1/2 cup powdered sugar
1 teaspoon vanilla
1 tablespoon peach schnapps
In chilled mixing bowl, place all ingredients in and before turning on whip combine with whisk till no dry powdered sugar is in bowl. Begin mixing on low increasing as whipped cream begins to come together and continue until a stiff peak ( when whipped cream will stay stiff on end of whip without falling off.)
Cake Soak
1 cup peach daiquiri mix
1/4 cup peach schnapps
1 box shortbread cookies (crumble 10 cookies)
To assemble cake
Slice top of cakes with a serrated knife to create even surface. Combine peach schnapps and peach daiquiri mix to make your cake soak.
Brush all cakes on cut side with the cake soak. Place one layer of cake on cake board and then 1/3 Chantilly Frosting layer with shortbread crumbles and then grilled peaches.
Repeat until top layer then use whole cookies and remaining grilled peaches to decorate.
Chill minimum 2 hours or overnight and then serve to happy guests!
An earlier version of this story was originally published on May 27, 2020.