Missy Robbins shares cook-at-home recipes
Missy Robbins is one of New York City's pasta powerhouses and now she's sharing her semolina secrets with "GMA."
Robbins has two local hotspots -- the always packed Brooklyn-based pasta restaurant Lilia and nearby Misi, a pasta and vegetable-focused venture -- along with an impressive list of accolades that includes top honors at last year's James Beard awards.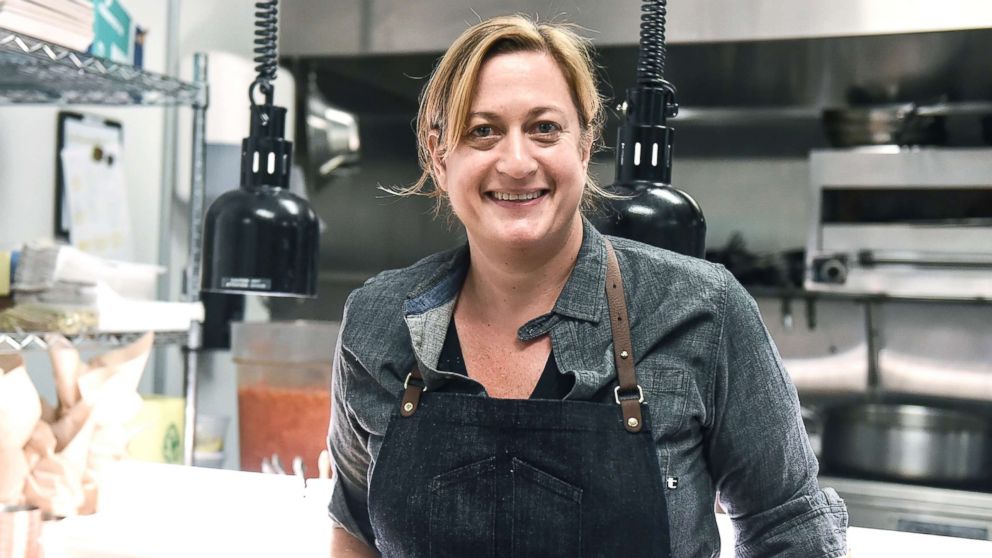 Prior to her time in New York, Robbins honed her pasta making skills as executive chef of Tony Mantuano's Spiaggia and Café Spiaggia. During her time at the helm of the infamous Michelin-starred kitchen, Spiaggia was nominated by the James Beard Foundation for outstanding restaurant twice.
"It's just a craft and you spend years and years and years doing it -- once you sort of master that repetition there's just an endless world of shapes and sizes and fillings," Robbins explained. "There's something very comforting about it and everyone likes to eat pasta."
In her cookbook, "Breakfast, Lunch, Dinner...Life," Robbins shares the recipes and memories from her childhood to today.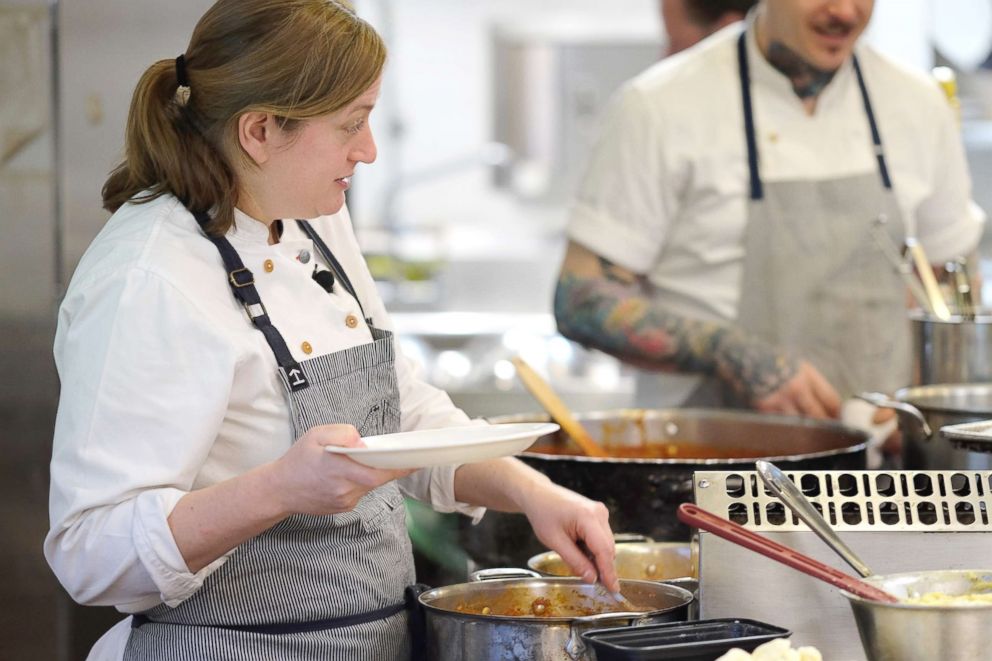 Check out the full recipes below for her old school method of making fettuccine with Parmesan and butter and a classic semi-healthy Caesar salad inspired by her grandmother.
Fettuccine Dough
Ingredients:
1 pound 00 flour
25 egg yolks
Semolina for dusting
Method:
Place the flour in the bowl of a mixer with the dough attachment. On low speed, gradually add the egg yolks a few at a time. Continue to mix until the dough is smooth. If it is a touch dry, add a few drops of water. The dough will be bright yellow.
Turn the dough onto a smooth lightly floured surface and knead by hand until a smooth ball is formed. Cover with plastic wrap and let rest for a minimum of 30 minutes.
Divide the dough into three equal portions. With a manual pasta roller or the pasta attachment of a stand mixer, run the first portion of pasta through the widest setting and roll out two times. Repeat rolling, working your way through each setting twice until the pasta is almost transparent.
Cut the sheet into 12-inch pieces and put through the fettuccine attachment on the pasta machine. Repeat until all of the pasta is used.
Place in bundles on a parchment lined sheet pan with semolina.
Fettucine with Buffalo Butter and Parmigiano-Reggiano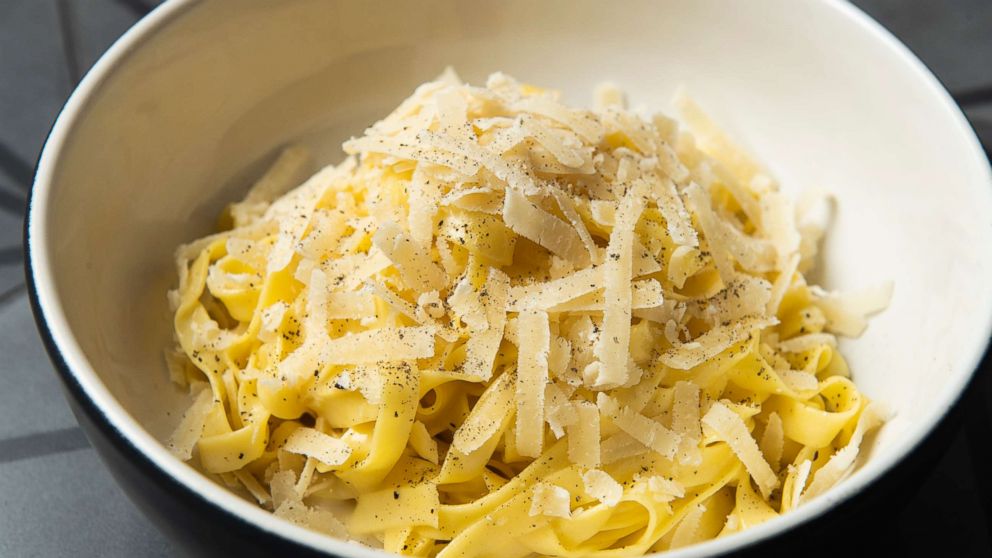 Serves 4
Ingredients:
20 ounces fresh fettucine
104 grams buffalo butter
52 grams butter
232 grams finely grated Parmigiano-Reggiano
120 grams roughly grated aged or specialty Parmigiano-Reggiano
Black pepper to taste
Method:
Bring an 8-quart or larger pot of water to a boil and salt generously.
Place a large sauté pan on low heat and add 4 ounces of pasta cooking water to the pan.
Add both butters to the pan and slowly stir to emulsify. While you are starting the sauce, add the fettuccine to the boiling water and cook for approximately one to two minutes until tender and soft to the bite.
Remove the pasta with tongs from the pot and add to the butter and water mixture.
Add the additional four ounces of pasta cooking water and fresh ground black pepper.
Continue to cook on low heat while tossing to incorporate the sauce into the pan.
When the sauce is incorporated remove the pan from the heat and add the finely grated cheese in a slow steady stream while tossing the pasta.
Divide the pasta between four bowls. Top with the remaining coarsely grated cheese and more freshly ground pepper.
The buffalo butter and regular butter are added to the large sauté pan to emulsify on low heat along with the four of pasta cooking water.
My Semi-Healthy Caesar
"Me and Caesar salad go way back. Not only is it one of my favorite things in the world to eat, but I also have a lot of warm and fuzzy Caesar salad memories. It was the dish I made when I threw my first dinner party for friends at age fourteen, using my Grandmother's wooden Caesar-salad bowl. And it was the first thing I learned to make in my very first restaurant job. (And then had to make daily five-gallon buckets of it!) Unfortunately, it is loaded with cheese, egg yolks, and olive oil, ingredients that were not welcome on my newfound path to healthy eating. Let's face it, we all pretend we are eating healthy if we are eating a salad, but traditional Caesar dressings (and lots of other creamy dressings) can be a big, fat calorie offender. Still, it was important for me to find an alternative to one of my go-to comfort foods, so I discovered that using yogurt instead of oil and eggs still allowed me to keep the garlicky, anchovy flavors of this wonderful dressing without ruining my diet."
Serves 4–6
Ingredients:
5 garlic cloves
5 anchovy fillets
3 tablespoons Dijon mustard
1 tablespoon black peppercorns
1/4 cup red wine vinegar
5 dashes Tabasco
1 tablespoon Worcestershire sauce
Juice of 1 lemon
1 cup plain yogurt
1/2 cup grated Parmigiano-Reggiano, plus 1/4 cup for finishing
3 hearts of romaine, outer leaves discarded, cored to separate and wash leaves
Cracked black pepper
Method:
Place the garlic, anchovies, mustard, black peppercorn, red wine vinegar, Tabasco, Worcestershire, and lemon juice in a blender. Blend on medium-high speed until a paste is formed and the garlic and peppercorns are completely crushed and blended. Transfer to a mixing bowl.
Gently fold in the yogurt and ½ cup Parmigiano-Reggiano. I like my dressing thick, but you can thin it out a touch by adding a drop or two of water.
Place the clean, dry romaine leaves in a large mixing bowl. Add 1/2 cup dressing and use your hands to gently mix until all the leaves are coated. (Store the rest of the dressing in a tightly sealed container in the fridge and keep on hand for the week.)
Top with the remaining grated Parmigiano and a few twists of black pepper.
Recipes reprinted from "Breakfast, Lunch, Dinner...Life! Recipes and Adventures from My Home Kitchen" by Missy Robbins with Carrie King courtesy of Rizzoli Publishing