This easy '10-Can Chili' is the perfect fall recipe
Singer, mom of three and author Jessie James Decker can't wait for friends, family and fans to get cooking with her new cookbook, "Just Feed Me."
James Decker told "Good Morning America" she wanted to make a cookbook to show people "yes you can make the same thing I just made and it's easy, here's the tips and tricks and this is what you do."
"I think anybody can get in their kitchen and cook something really amazing if you know the simple ways to do it," she said. "I'm just ready for everyone to have the book in their hands and tell me what their favorite dishes are, I'm just excited."
As so many people hone their culinary skills with more and more folks cooking at home amid the pandemic, James Decker shared her best tip to combat kitchen fatigue.
"For those that can't spend a lot of time in the kitchen or sit there for an hour making something, I created these meals called 'quick feeds,'" she said of the recipes in her new cookbook that are marked with a pink stamp and take less than 15 minutes to make. "I wanted to make some recipes that are super easy, but really quick and take less time than going to a drive-thru -- plus, it's better for you and you can whip it up so fast."
With fall and winter around the corner, she said this cookbook includes tons of cozy and hearty recipes, like stews, soups, pastas and baked skillets that are perfect for the brisk months ahead.
One dish that's perfect for sweater weather and a great way to feed the whole family with pantry ingredients is her 10-can chili recipe, which you can recreate at home with the full recipe below.
Kitchen Q&A with Jessie James Decker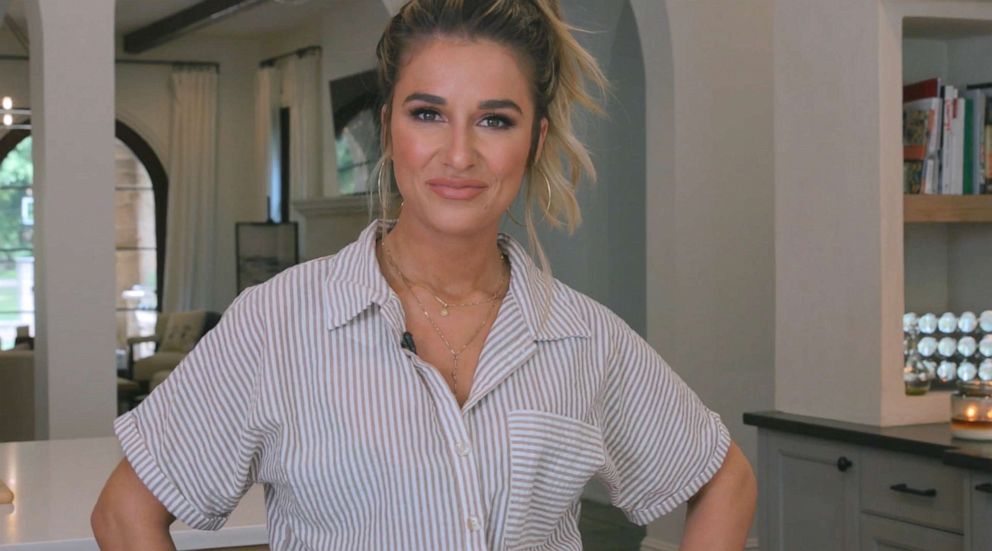 Is your family more sweet or savory when it comes to breakfast?
"Everyone wants pancakes first thing in the morning for sure," she said. "But we're double breakfast folks for the most part. If we're really feeling a breakfast vibe the kids will start with cinnamon sugar toast or something little and sweet like a chocolate croissant -- and then when they're ready for full breakfast we'll do scrambled eggs or breakfast tacos."
Best tip to get kids involved in the kitchen?
"I always include my children when it's time to bake. I put em up on the counter, give em a spoon to stir, let em pour in the flour or sneak a taste of the chocolate chip cookie dough," she said. "It's just something fun to do together and if it gets messy who cares, kids are messy life is messy and you can clean it up later."
Who's your biggest cooking inspiration?
"My mom taught me how to cook. The first thing I learned to make was jambalaya thanks to my mom. I remember sitting on the phone with her -- I had just moved to Nashville and I was overwhelmed," she recalled of navigating her novice cooking skills. "It's crazy how far I've come along. My mom is an amazing home cook and someone I look up to."
How has food kept you connected during the pandemic?
"Me and my family do this all the time, where my mom or sister will make a new recipe and then they'll make variations of a new recipe," she explained. "We'll FaceTime each other or send pictures as we make it. Even if you're not together in the kitchen food always brings people together because it's something creative and there's always a different take."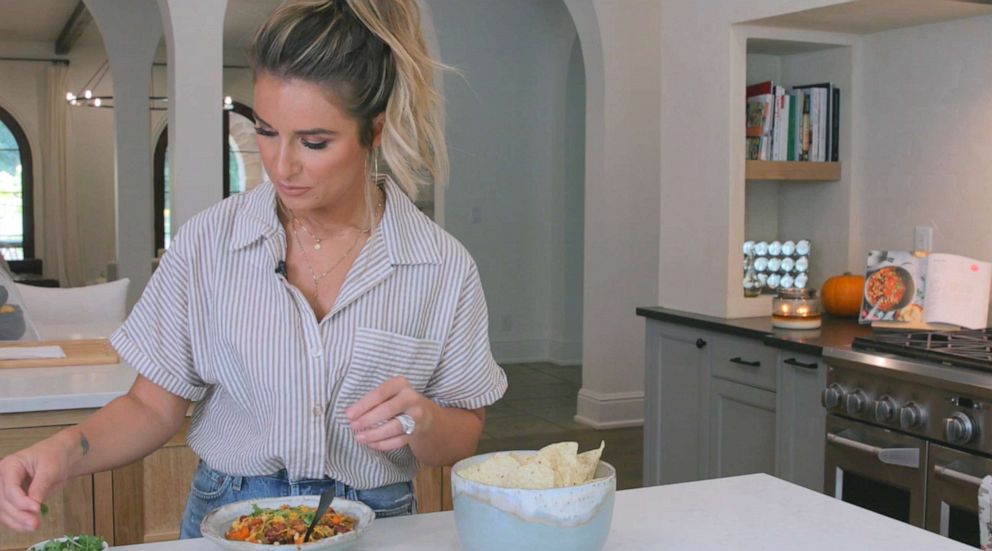 What kind of music do you jam out to while you cook?
The country-pop star said with a laugh, "I actually put on jazz or French cooking music -- I think a lot of people do that, not just me."
Any surprises in the book?
Even though James Decker said she is "more of glass of wine girl" she also loves making cocktails for others and "got a little creative during quarantine and decided to add a cocktail chapter."
"I enjoy making my margaritas because I get the biggest reaction from everybody," she said.
What's your favorite healthy recipe developed for the cookbook?
"I have this ground turkey sweet potato skillet that I literally invented myself and I put it through one of those calorie calculators, it turned out to be low in calories and super high in protein, so I call it the body builder's dream meal -- it's super hearty and delicious, but for one serving is less than 250 calories," she said of the baked dish topped with light mozzarella cheese and spinach.
10-Can Chili Recipe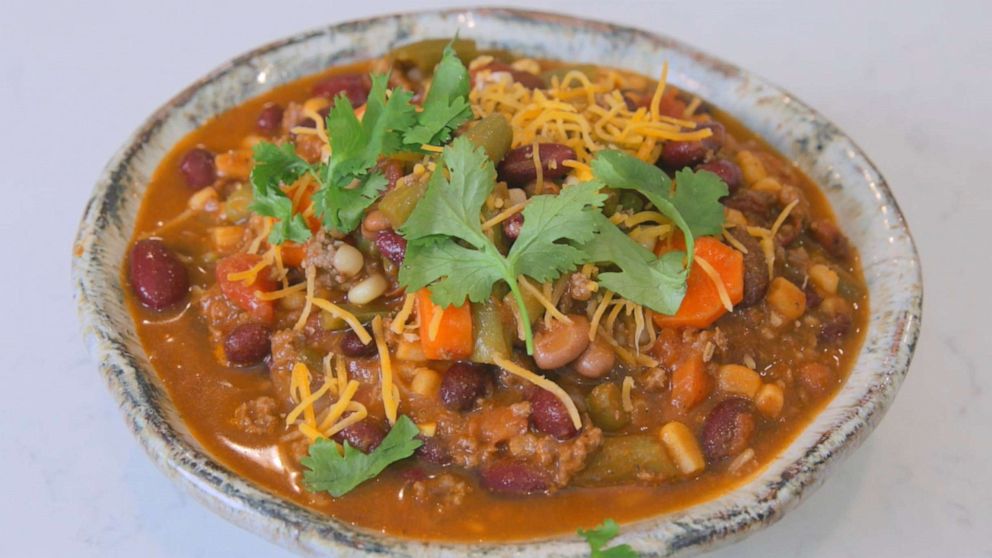 James Decker said that anyone who doesn't eat or enjoy ground beef, this recipe can be easily adjusted with a protein swap such as ground chicken or ground turkey.
Prep time: 15 Minutes
Cook time: 20 Minutes
Yield: 6 Servings
Ingredients
2 tablespoons olive oil
2 cloves garlic, chopped
3 carrots, chopped
1 medium yellow onion, chopped
1 pound ground beef
1 (10-ounce) can Ro-tel diced tomatoes and green chilies
3 (15.5-ounce) cans kidney beans, rinsed and drained
2 (15.25-ounce) cans white corn
1 (15-ounce) can vegetarian chili
1 (15-ounce) can tomato sauce
2 (14.5-ounce) cans cut green beans
2 tablespoons chili powder
1 tablespoon garlic powder
1 teaspoon ground cumin
Tony Chachere's Creole Seasoning
Salt and freshly ground black pepper
Shredded Cheddar cheese, for serving
Chopped fresh cilantro, for garnish
Tortilla chips, for serving
Directions
In a large pot, heat the oil over medium heat. Add the garlic and sauté until fragrant, about 2 to 3 minutes. Add the carrots and onion and when they start to soften, after about 5 minutes, add the beef and brown for about 7 minutes, breaking it up with a wooden spatula or spoon. Drain the fat from the meat and discard the drippings.
Stir in the tomatoes with green chilies, kidney beans, corn, vegetarian chili, tomato sauce and green beans and cook for 5 minutes. Stir in the chili powder, garlic powder, cumin, and Tony's seasoning and salt and pepper to taste. Cover, reduce the heat to low, and simmer until you are ready to eat.
Top with cheddar, garnish with cilantro, and serve with tortilla chips.
From JUST FEED ME by Jessie James Decker Copyright © 2020 by Jessie James Decker. Reprinted by permission of Dey Street, an imprint of HarperCollins Publishers.