On the second day of Christmas someone's true love gave them two turtle doves, but we'd happily take these chocolate turtle cookies instead.
Grandbaby Cakes founder and author Jocelyn Delk Adams joined "Good Morning America" to make a chocolate, caramel, pecan-topped treat for the 12 Days of Christmas cookies.
Check out her full recipe below and recreate these in your kitchen just in time for Christmas!
Chocolate Turtle Candy Cookies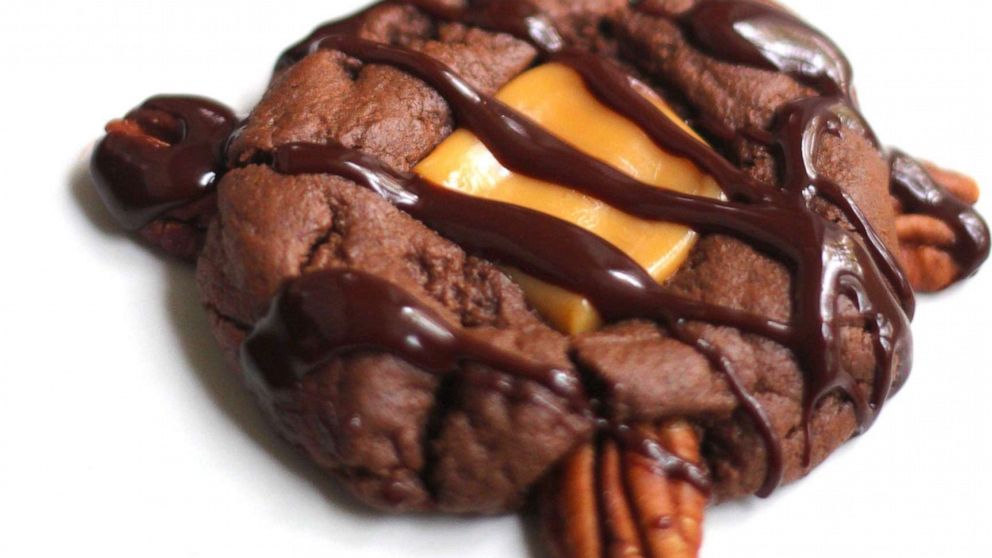 Ingredients
1/2 cup unsalted butter, room temperature
1/2 cup granulated sugar
1/2 cup light brown sugar, packed
1 large egg, room temperature
1 teaspoon pure vanilla extract
1 1/4 cup all-purpose flour
1/2 teaspoon baking soda
1/2 teaspoon baking powder
1/2 teaspoon salt
1/2 cup cocoa powder
1 package wrapped caramel candies
1 package pecans
Optional: Chocolate sauce, warmed
Instructions
Preheat the oven to 350 degrees.
In the bowl of your mixer, add the butter and both sugars to the bowl and cream until nice and fluffy.
Next add in the egg and vanilla extract and continue to mix until well incorporated.
While dough is creaming, sift together flour, baking soda, baking powder, salt and cocoa powder in a separate bowl.
Lastly, add the dry ingredients to the mixing bowl and mix until well incorporated. Place the dough in the refrigerator for 15 minutes to cool. It will help it become easier to work with.
Remove dough from the refrigerator. Next using a medium sized cookie scoop, scoop dough and place on a parchment paper lined cookie sheet and repeat until cookie sheet is filled leaving one-inch of space between.
Place one unwrapped caramel candy in the center of each cookie ball and press down to flatten. Press three to four pecans on the bottoms of the cookie balls to resemble a turtle shape.
Bake cookies for 10 to 12 minutes until they are nice and browned and the caramel has melted through.
Next drizzle chocolate sauce over cookies and serve.
Tips
- Room temperature butter is key for making sure you cream it perfectly with the sugar creating perfect pockets for it to be fluffy. And make sure it is unsalted.
- Make sure to add salt to any cookies you bake to give more flavor.
- Remember to chill dough so you don't get super thin spread out cookies. It also allows the ingredients to come together better.
- For super chewy cookies, try underbaking a little. Even when you remove them from the oven, the heat will continue to cook them.
Recipe reprinted courtesy of Jocelyn Delk Adams.