Home cook shows us how to make his grandpa's Chinese crisp pork belly
Deciding what to make for dinner when you don't know what cuisine you're craving or how much time you want to dedicate in the kitchen can be a mental hurdle and lead to a hasty, hangry decision -- and ultimately something lackluster or dissatisfying.
"Good Morning America" Food is stepping in to help answer the question "What's for dinner?" with easy, delicious recipes from an array of cookbook authors, chefs, food creators and other trusted cooks who have created dishes that can be whipped up any night of the week.
Chris Joe, a third-generation Chinese American home cook and creator of CJ Eats, shared a beloved wonton recipe with "GMA" that has become a staple in his home.
CJ's passion for cooking first started with his late grandfather, who immigrated to the U.S. from China and became a chef and grocery store owner in Southern California after serving in the Army. According to CJ, his grandfather taught him many of the traditional Chinese cooking techniques he still uses today.
This particular recipe, pork and shrimp wontons, comes from CJ's grandmother. He hailed them as "the best" wontons because "they're juicy and springy" and perfect with his homemade chili oil.
"I have the best memories of her making large batches of these -- they're so full of flavor, cook quickly, and the best part is, they freeze perfectly," he said. "You can keep these in the freezer to pull out for an easy meal any time."
Check out the full recipe below.
Chinese Pork and Shrimp Wontons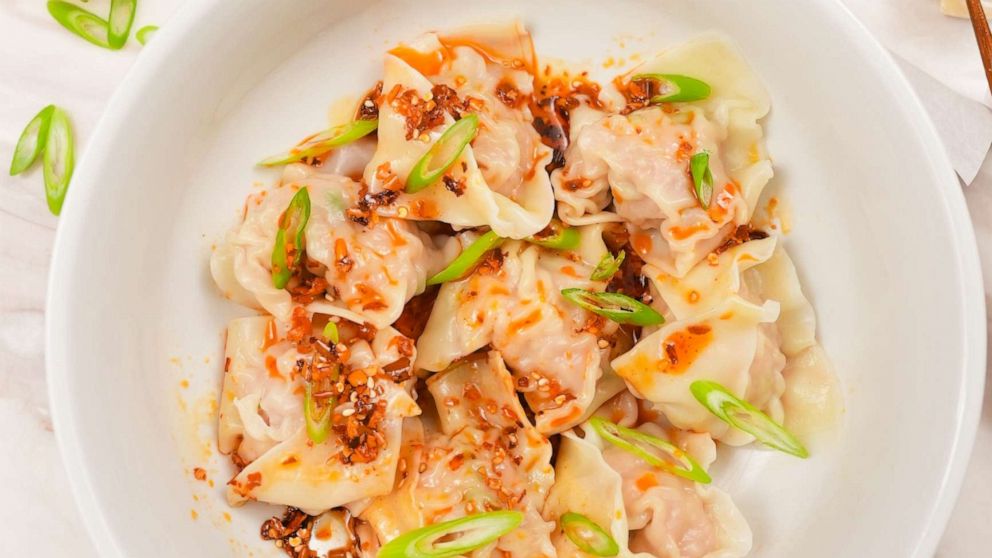 Prep time: 1 hour
Cook time: 10 minutes
Ingredients
1/2 pound ground pork
1/2 pound shrimp
3 scallions chopped
1/2 teaspoon white pepper
1 teaspoon kosher salt
2 cloves garlic chopped
1/2 inch ginger chopped
1 tablespoon sesame oil
1 tablespoon Shaoxing wine
2 tablespoons light soy sauce
1/2 tablespoon sugar
1/4 teaspoon MSG (optional)
Wonton wrappers, I used the brand 'Dynasty'
Directions
Chop your shrimp into small pieces and add to a large mixing bowl with your ground pork, then add garlic, ginger, scallions, white pepper, kosher salt, sugar, MSG, sesame oil, Shaoxing wine, and light soy sauce.
Mix in one direction until the filling is combined and you can see streaks along the edge of your bowl. Pick up the filling and throw it down a couple times (Da Xian) to create additional springiness and texture in the filling.
Fry a little bit of the filling to taste test and adjust seasoning to your preference if needed! I always do this before folding my wontons -- there is nothing worse than spending the time to fold to find out the seasoning is off from your preference.
To make your wonton, place 1/2 tablespoon of filling in the center of your wrapper. Wet two adjacent sides of your wrapper with water, then fold over into a triangle and seal, making sure all air escapes from the inside of the wrapper. Then wet the two long corners of your wonton and connect them together to form a tortellini-esque shape.
Cook for 3 to 4 minutes on a high simmer (medium high) until the dumplings float. You do not want a rapid boil, otherwise the dumplings wrappers may break.
Serve with chili oil, fresh scallions and sesame seeds!
Tips for making the best homemade wontons
"My grandma's secret to this wonton is a technique called Da Xian, [which] basically involves slamming down the mixed filling a couple times. My grandma swore this helped provide springiness and additional texture. (Added bonus -- it's a great stress reliever!)"
Make extra to freeze
"These make a great freezer meal," CJ wrote alongside the recipe. "I always make a big batch and freeze for the future. Once you've folded your wontons, lay them out on a baking tray with room in between (to avoid sticking). Place the tray in the freezer and freeze for at least one hour. After the hour has passed, you can transfer the wontons to a freezer bag. This helps avoid the wontons sticking together."
Best ways to eat them
"I personally like to eat these boiled (in water) and drained with chili oil on top or in a soup," he said, adding that you can incorporate them into wonton soup as well.
Recipe reprinted courtesy of CJ Eats.