Oscar nominee and four-time Emmy winner Stanley Tucci is giving fans a taste of his food and life in his latest cookbook.
"Taste: My Life Through Food," unlike his previous books, "The Tucci Cookbook" and "The Tucci Table," weaves his life stories in with the recipes featured.
He also shared how to make one of his favorites at home with this recipe for pasta fagioli.
Pasta Fagioli (My Way)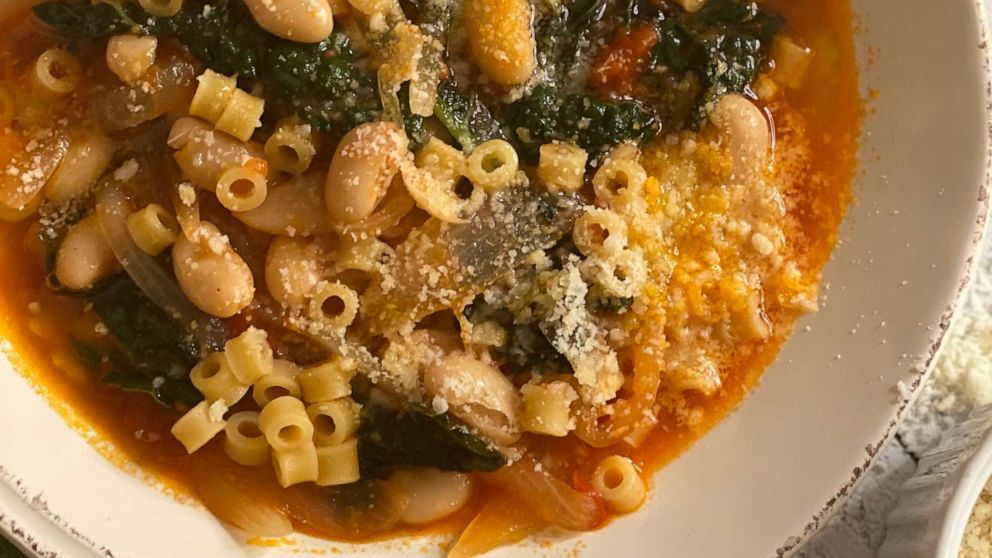 Directions
Extra-virgin olive oil
1 medium onion, sliced
2 garlic cloves, halved
1/2 bunch cavolo nero, roughly chopped
Three 14-ounce cans cannellini beans
3 cups chicken stock (page 253) or vegetable stock
2 to 3 cups marinara sauce
1 pound small pasta, like ditali or gnocchetti sardi
Salt
Freshly ground black pepper
Parmigiano-Reggiano or Pecorino, for serving (optional)
Directions
Pour a glug of the oil into a medium pot and saute the onion and garlic over medium-low heat until soft. At the same time, boil the cavolo nero in a small pot of salted water.
Add the beans, stock, and marinara to the pan with the onion and garlic and stir together. Cook over low heat.
When the cavolo nero is soft, strain it, add it to the bean mixture, and stir. Continue to cook on a low simmer with the lid askew for about 15 minutes.
In the meantime, boil the pasta in salted water according to the directions on the package. When it's done, strain it, reserving about a cup of the water, and place it in a large bowl. Add about 2 cups of the bean mixture to the pasta along with some of the pasta water and a drizzle of oil and mix.
Salt to taste and divide among 4 bowls. Add more bean mixture to each bowl along with a drizzle of oil. Sprinkle with pepper and Parmigiano or Pecorino, if using.
Variation: Loosely scramble 2 large eggs in a pan with olive oil. Then add one portion of the finished recipe above, including the pasta, and toss together. Finish with grated Parmigiano or Pecorino and a drizzle of olive oil.
Recipe reprinted from the book TASTE: My Life Through Food to be published by Gallery Books, an Imprint of Simon & Schuster, Inc. Printed by permission Copyright © 2021 by Stanley Tucci.