Thanksgiving 911: How to defrost a turkey and more last-minute hacks
Turkey day is finally here which means it's time to get the food prepped, in the oven and on the table to enjoy a delicious feast with friends or family.
This year we're especially thankful for the help of three celebrity chefs who joined "Good Morning America" to share all their best Thanksgiving tips and recipes.
All-star chefs Jamika Pessoa, Eddie Jackson and Dan Churchill answered your last-minute turkey emergency questions all morning on "GMA."
Turkey day tips to improve any recipe
To defrost a frozen turkey: Let the turkey sit for up to 30 min out of fridge. You can also submerge in cold water first. Your turkey must be room temp before cooking.
To make side dishes creamier: Chef Jamika Pessoa suggests adding cream cheese in a variety of ways. Use it to make a creamier mac 'n' cheese, for a quick creamed spinach, for a moist cake -- just blend into the batter -- or for a smoother perfect pie filling.
To keep your turkey moist: Chef Dan Churchill suggests you cook "low and slow" and wait 20 minutes before carving.
To revive a dried turkey: Chef Eddie Jackson finds that chicken broth is the best way to revive dried turkey. Just pour warm chicken broth onto the meat to moisten. Jackson also said certain wines can be used as an easy glaze that will keep the turkey from drying out and will also add flavor.
To make your mashed potatoes fluffier: Jackson suggests using a hand mixer, heavy cream and butter.
Pro tip for yams: Pumpkin spice mix is a great way to elevate any yam dish. Jackson said he also loves additions like orange zest, orange liquor or fresh vanilla beans.
To spruce up store bought stuffing: Chef Dan Churchill suggests making muffin stuffing cups by adding stuffing mix and whipped whole eggs to a muffin tin instead of a baking dish. Bake at 375 for about 25 minutes until golden on top.
If you're still in need of a dish, it's not too late! Scroll down to get all of the recipes seen on "GMA" from our Thanksgiving chef dream team. Enjoy!
Jamika Pessoa's Turkey and Toppings
Deep Fried Turkey Wings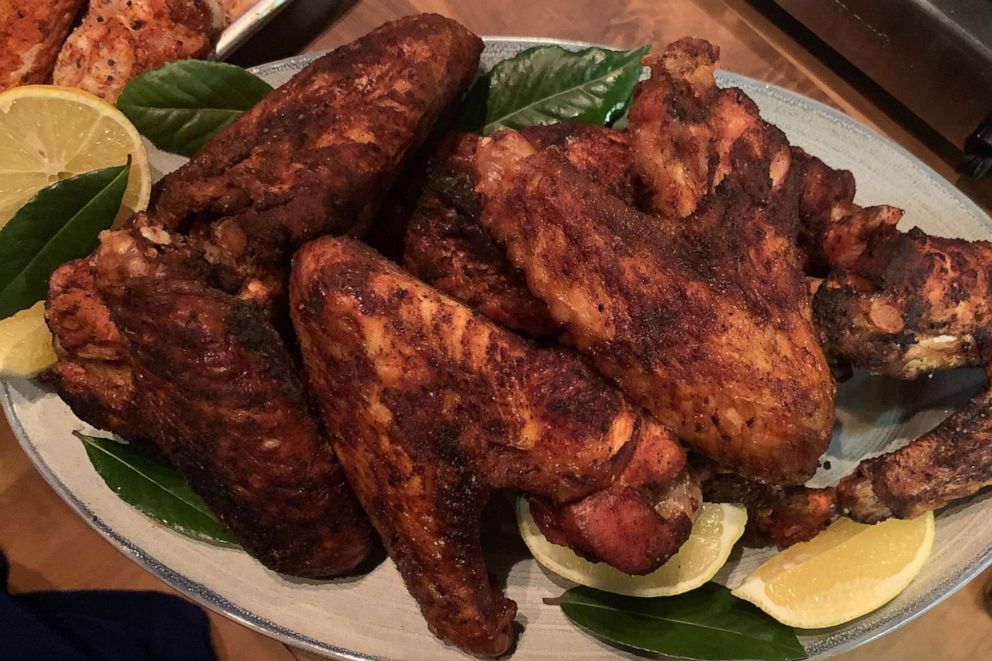 Cook time: 12-15 minutes
Serves 2-4
Ingredients
Cajun Spice Mix:
2 tablespoons paprika
2 tablespoons garlic powder
2 tablespoons salt
1 tablespoon cayenne pepper
1 tablespoon chili powder
1 tablespoon onion powder
1 tablespoon coarse ground black pepper
3-5 pounds of turkey wings, tips removed
Vegetable oil, for frying
Directions
Mix spices together in a small bowl. Season both sides of wings and refrigerate for 4-6 hours.
Using a home deep fryer or large saucepot, heat oil to 350 F. Place wings in hot oil and fry for 12-15 minutes until golden brown and cooked throughout to an internal temperature of 165 F.
Drain on paper towels and serve immediately.
Garlic Herb Spatchcock Turkey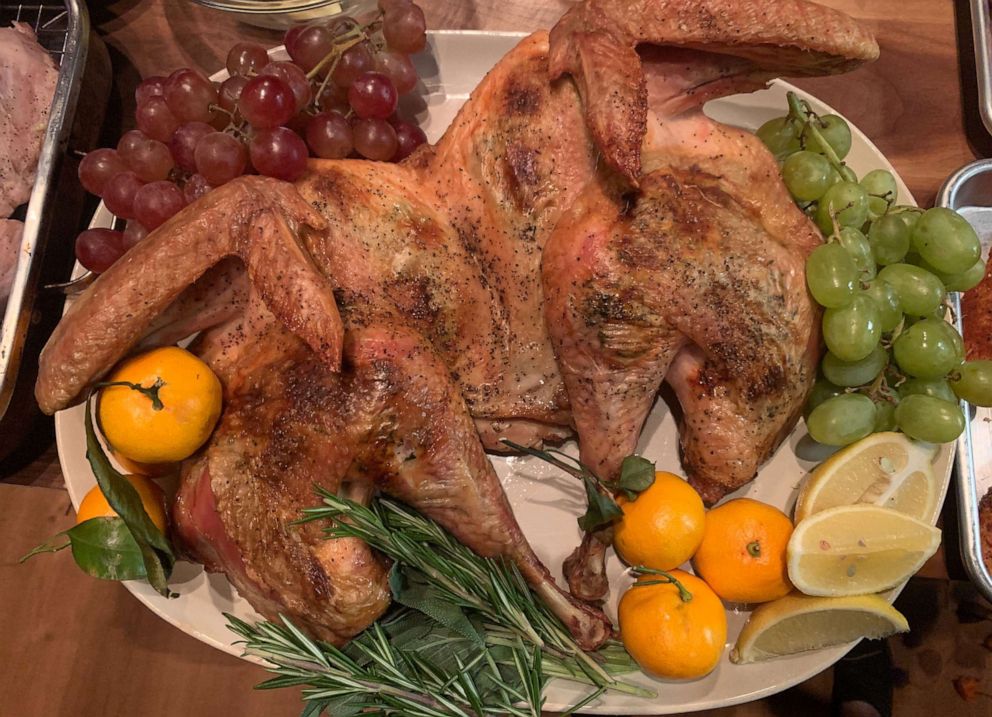 Cook time: 1-1 1/2 hours
Serves 10-12 people
Ingredients
1/2 pound unsalted butter, softened
4 cloves garlic, minced
2 tablespoons fresh thyme leaves, chopped
2 tablespoons fresh rosemary leaves, chopped
Zest and juice of 1 lemon
Kosher salt and coarse ground black pepper, to taste
1 whole turkey, 10-12 pounds, giblets removed
Kosher salt and coarse ground black pepper, to taste
Directions
Mix butter, garlic, herbs, lemon zest, juice, and salt and pepper together well. Spoon the mixture into plastic wrap and shape into a log. Seal tightly and chill in the refrigerator until firm.
Preheat oven to 350 F. To prepare the turkey, slice along both sides of the backbone with a sharp knife. Using kitchen shears, cut out the backbone and discard. Flip the turkey over and press firmly on the breastbone until the turkey is flattened. Place the turkey on a wire rack resting inside of a large baking dish.
Season both sides of the turkey with salt and pepper.
Once the herb butter is firm enough to slice, tuck several slices under the turkey's skin.
Roast the turkey in the oven for 1 to 1 1/2 hours (depending on the turkey's weight) or until the internal temperature is 180 F in the thickest part of the thighs.
Sweet N' Spicy Cranberry Glaze
Ingredients
One 14-ounce can jellied cranberry sauce
1 cup water
1 tablespoon honey
1/4 teaspoon chili flakes
1/4 teaspoon ground cinnamon
Directions
Heat all ingredients in a small saucepan over medium heat. Whisk thoroughly until smooth. Serve warm.
Eddie Jackson's Sides
Skillet Greens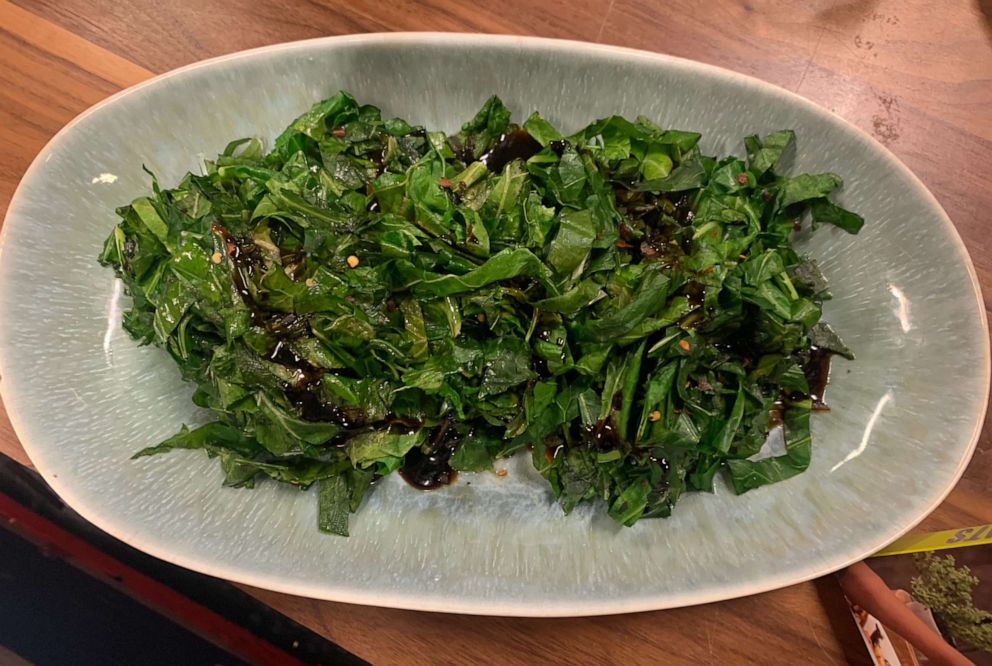 Ingredients
1 large bunch collard greens (roughly 16-ounces) rinsed and sliced into 1/2 inch strips
2 tablespoons olive oil
4 cloves garlic, minced
1/2 teaspoon red pepper flakes
1 teaspoon kosher salt
1/2 teaspoon ground black pepper
1/4 cup chicken broth
1 teaspoon balsamic molasses glaze
For the balsamic molasses:
2 cups quality balsamic vinegar
1/2 cup molasses
1-2 sprigs of fresh thyme (or any hearty herb)
1/4 teaspoon kosher salt
1/2 tablespoon unsalted butter
Directions
Heat a large saute pan over medium-high heat and add the olive oil.
Once hot, add the garlic and red pepper flakes and saute until fragrant. Add the collard greens, and saute until bright green, about 4 minutes. Season with salt and pepper.
Stir in the chicken broth and cook until the liquid evaporates, another 2 minutes. Finish by drizzling the greens with balsamic glaze.
Poblano and Hatch Chile Corn Pudding
Ingredients
2 cups frozen sweet corn
One 15-ounce can creamed corn
1/2 red bell pepper, finely diced
3 scallions, finely diced
1 poblano pepper, roasted and finely diced
1 4-ounce can hatch chiles, drained
1/4 cup all-purpose flour
1 1/2 teaspoons kosher salt
1/2 teaspoon garlic powder
2 cups shredded Monterey Jack cheese
2/3 cup heavy cream
5 large eggs
4 tablespoons unsalted butter
Directions
Heat the oven to 350 F.
In a large bowl, add the frozen and creamed corn, bell pepper, poblano, scallions, hatch chilis, flour, salt, garlic powder and 1/3 cup cheese.
In a separate bowl, whisk together the eggs and cream until just combined. Stir the egg-cream mixture into corn mixture.
Put the butter in a 9 by 13-inch baking dish and place the dish in the oven until the butter is melted and lightly browned, about 8 minutes.
Pour the batter into the baking dish, and top with the remaining cheese. Bake the pudding 45 to 50 minutes, or until it is puffed and bubbling, and the cheese is golden brown.
Remove from the oven and let cool 20 minutes before serving.
Roasted Carrots with Balsamic Molasses Glaze
Ingredients
2 pounds baby carrots with tops
3 teaspoons olive oil
2 teaspoons tarragon (or other fresh herb), finely chopped
1 shallot, thickly sliced
1/2 teaspoon kosher salt
1/4 teaspoon black pepper
1/4 teaspoon ancho chili powder
1/4 teaspoon smoke sweet paprika
For the balsamic molasses:
2 cups quality balsamic vinegar
1/2 cup molasses
1-2 sprigs of fresh thyme (or any hearty herb)
1/4 teaspoon kosher salt
1/2 tablespoon unsalted butter
Directions
Place a roasting pan or cast-iron skillet in the oven. Heat to 475 F.
Remove all but an inch of greens from the carrot tops.
In a large bowl, combine carrots with oil, 1 teaspoon of herbs, shallots and dry spices. Toss to combine.
Remove the pan from the oven and arrange carrots evenly. Place the pan back in the oven for 10-15 minutes until the carrots are tender. Turn the carrots halfway through cooking time.
Remove the carrots and transfer to a serving dish. Sprinkle with remaining fresh herbs then drizzle with glaze.
Combine all molasses glaze ingredients, excluding butter, in a small saucepan. Bring to a gentle boil over medium heat then reduce to medium-low. Sauce should lightly simmer.
Cook 15-20 minutes until reduced by half. Sauce should be thick enough to coat the back of a spoon.
Once sauce becomes thickened, finish with a pat of butter. Fold in just until butter is melted.
Dessert by Dan Churchill
Easy Blueberry Crumble
Ingredients
3 cups blueberries, fresh or frozen, thawed and drained (can also use cherries)
1/2 cup rolled oats
1/2 cup flour (gluten-free or all purpose)
1/4 cup coconut oil
2 tablespoons maple syrup
1 teaspoon cinnamon
1 teaspoon vanilla extract
1 teaspoon grated fresh ginger (optional)
1 teaspoon fresh lemon zest
1 teaspoon baking powder
pinch of salt
Directions
Heat oven to 375 F. Create crumble by mixing together all ingredients except blueberries. Place blueberries in a baking dish and top with the crumble.
Bake for 35-40 minutes or until golden brown and blueberries are bubbling. Wait until crumble is cool before serving.
No Bake Pumpkin Spice Bites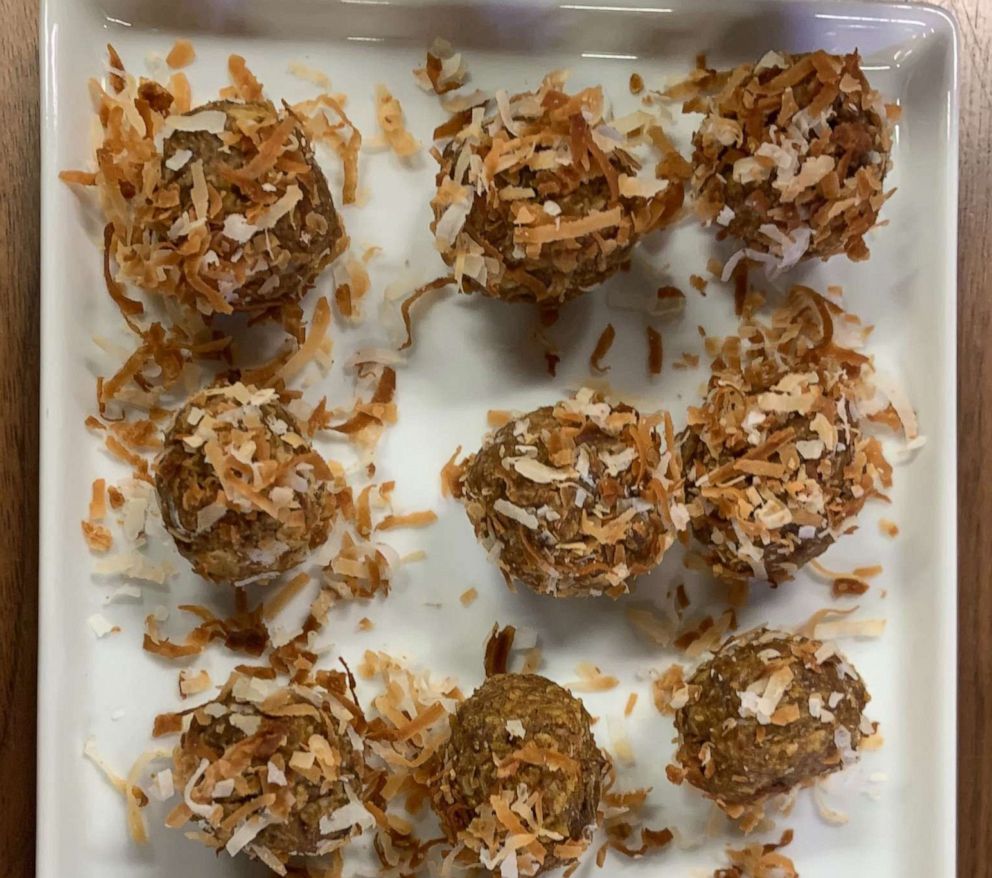 Ingredients
1 cup dates, pitted
1 cup rolled oats
1/2 cup almond butter (or another nut butter of choice)
1/3 cup pumpkin purée (no sugar added)
1 teaspoon cinnamon
1 teaspoon vanilla extract
pinch of salt
Toasted, shredded coconut, for rolling
Directions
Place dates in food processor and pulse a few times to break down. Add remaining ingredients and puree until you have a paste. Place in the fridge for 10 minutes to firm. Roll mixture into balls and in toasted coconut, if desired. Store in the fridge for up to a week.
Paleo Sweet Potato Pie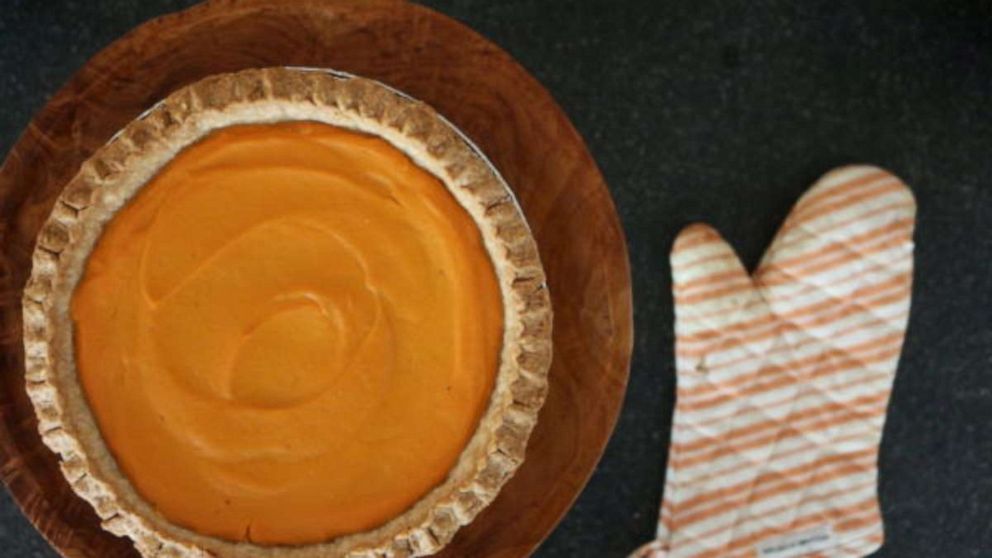 This gluten-free dessert is a sweet treat that won't leave you feeling guilty after a day of feasting.
Ingredients
For the crust
2 cups of almond flour, plus extra for dusting
Pinch of salt
1 egg, whisked
1/4 cup shredded coconut
2 tablespoons butter (grass-fed) or coconut oil (melted, but not piercing hot)
For the filling:
2 pounds sweet potatoes, peeled, cubed
1/2 cup coconut milk
1 teaspoon cinnamon
1 teaspoon nutmeg
1/3 cup maple syrup/honey
Pinch of salt
1 tablespoon butter
1 egg
Directions
Heat oven to 375 F.
In a bowl, combine flour, salt and coconut with butter/oil and the whisked egg. Once it forms a doughy consistency (you may need to add a little water depending on the humidity) knead for a few minutes until smooth and flatten into a disk using extra flour and a rolling pin. Cover with plastic wrap and place in the fridge for 15 minutes to firm. If you leave for longer than 30 minutes the dough will be tough to work with immediately, so bring it to room temperature first.
Roll dough out on a surface and then press at the bottom of a 9-inch pie pan. If the dough starts to crumble, press back into place.
Prick the dough with a fork and then pop in the oven for 10 minutes or till slightly golden.
Bring a pot of salted water to a boil and cook the sweet potatoes in boiling water for 10-12 minutes or until they pierce easily. Drain and allow to cool.
Blend sweet potatoes, coconut milk, cinnamon, nutmeg, salt and maple syrup into a food processor or blender and mix till smooth. Crack in the egg and blend for a further 20 seconds.
Pour filling into pie crust and bake for 45-55 minutes until the crust is golden. Allow to cool for 20 minutes before slicing and enjoying.
Quick Whipped Cream
Whisk heavy whipping cream with a pinch of salt. Add in flavorings of choice.
For non-dairy, the same can be done with the cream from a full-fat can of coconut milk that has been refrigerated overnight and scooped out (leaving the water behind).
Recipes reprinted with permission from Jamika Pessoa, Eddie Jackson and Dan Churchill.