How to make the most delicious wings this football season
Football season is underway and these delicious recipes for a tailgate will help you get ready for game day.
For one of the most beloved crowd favorites, "GMA" enlisted the help of four chefs to cook their top chicken wing recipes.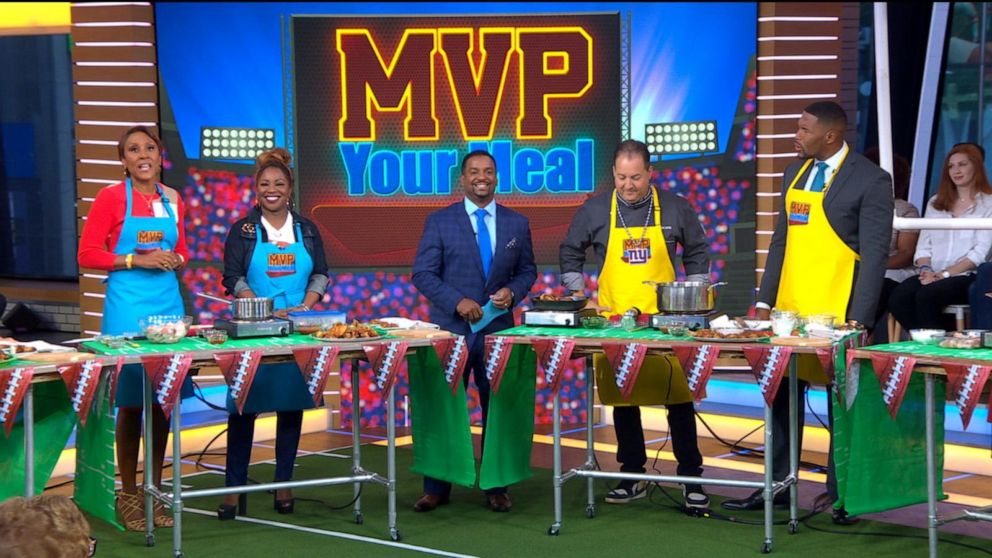 Dan Churchill, host of "The Epic Table" podcast and owner of Charley Street in New York City, shared his sweet and savory chicken wings that he paired with a maple cashew sauce.
Celebrity chef and Food Network host Gina Neely jazzed up a classic hot wing with honey and Sriracha.
Josh Capon, chef and owner at Bowery Meat Company, whipped up a grilled peach habanero BBQ sauce for his chicken lollipops, which he said can be prepared by your local butcher.
"Game-Day Eats" cookbook author Eddie Jackson shared his wings with an Asian-inspired twist and classic southern dipping sauce.
Check out all the amazing wing recipes below and be sure to tag "GMA" if you recreate these for your game day!
Dan Churchill's Zesty Chicken Wings with Maple Cashew Sauce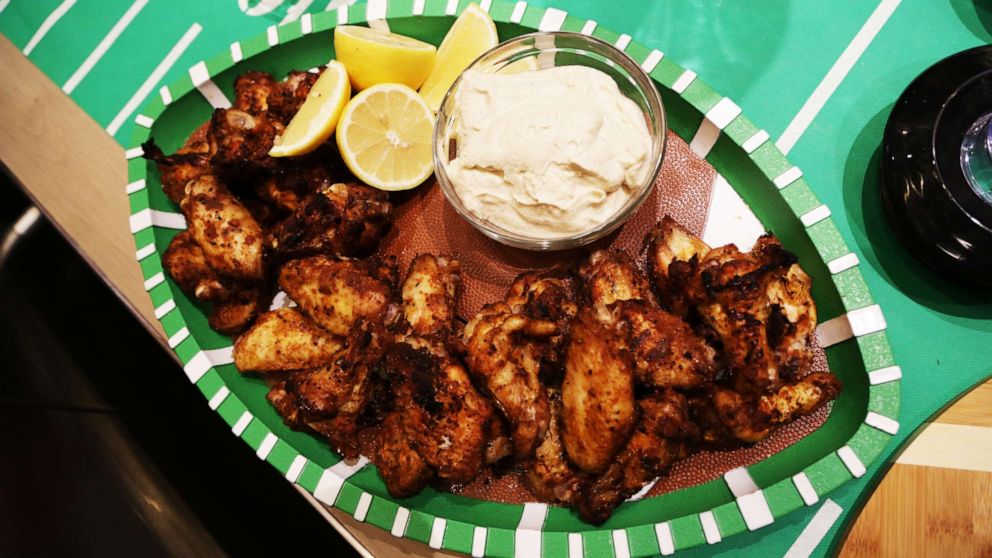 Ingredients:
1 cup cashews
4 garlic cloves
2 lbs of wings
1 tablespoon paprika
1 tablespoon cumin
1 tablespoon coriander
Pinch of salt and pepper
Juice and zest of 2 lemons
1 tablespoon maple syrup
2 teaspoon soy sauce
1/2 cup coconut milk
Directions:
Soak cashews in hot water for one hour, set aside
Place garlic on a sheet of aluminum foil. Drizzle with olive oil and sprinkle with salt and pepper. Bake for 20 minutes. Or until golden and jammy.
In a bowl combine wings, paprika, cumin, coriander, salt, pepper and lemon zest. Transfer to baking tray with a rack on top and roast for 30-40 minutes.Meanwhile in a blender add your coconut milk, soy sauce, maple syrup, roasted garlic, lemon cashews and salt and pepper and blitz until smooth!
To serve place wings down on a board and have the cashew sauce ready to be dipped into.
Gina Neely's Honey Sriracha Wings with Blue Cheese dressing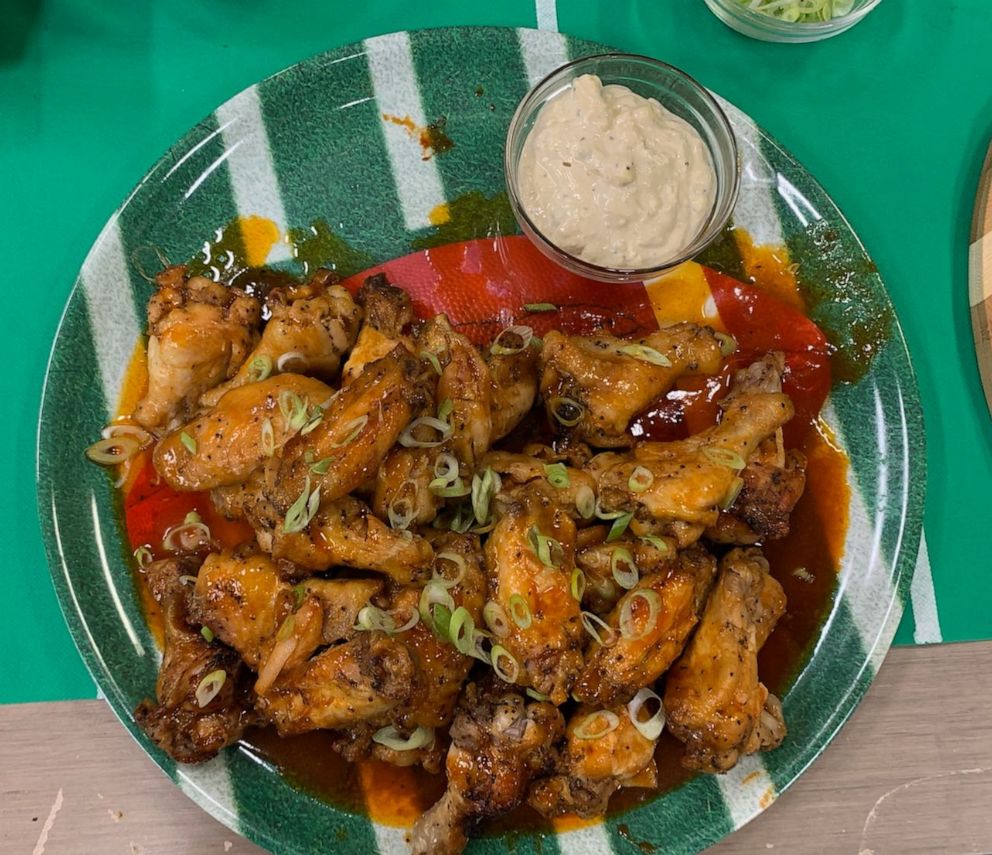 Ingredients:
3 tablespoons olive oil
1 tablespoon rice vinegar
1 tablespoon garlic salt
1 tsp. black pepper
3 lbs. chicken wings
Cooking spray
Sauce
1/4 cup butter
2 tablespoons honey
3 tablespoons low sodium soy sauce
1/4 cup Sriracha
Directions:
In a medium boil, mix olive oil, rice vinegar, garlic salt, and black pepper. Mix well.
Place chicken wings in a Ziploc bag. Pour marinade into Ziploc. Seal and shake well, until all chicken is covered in marinade. You may need to use two Ziplocs depending on how large wings are. Refrigerate for a minimum of 30 minutes. Preheat oven to 425 degrees.
On a baking sheet lined with aluminum foil, spray cooking spray. Line wings on baking sheet.
Roast for 25 minutes. Flip wings over and roast for another 25 minutes on opposite side. Remove from heat.
In a large skillet on medium heat, melt butter. Add honey, soy sauce and Sriracha. Mix nonstop until ingredients are smooth, three to four minutes. Remove from heat.
Add wings to sauce making sure to coat each wing well. Serve with blue cheese dressing.
Josh Capon Grilled peach habanero BBQ sauce chicken lollipops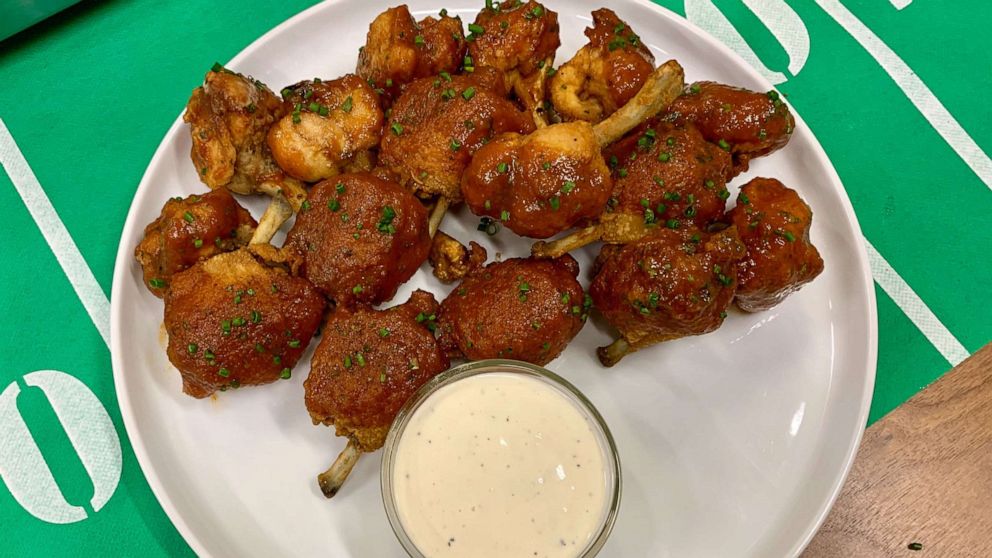 Ingredients:
Peach habanero BBQ sauce:
1 - 16oz jar store bought BBQ sauce
3 ripe peaches halved, seasoned and grilled
2 habanero peppers roasted & seeded
1 red onion sliced and grilled
1/2 cup fresh cilantro leaves
2 tablespoons fresh lime juice
Lime ranch dipping sauce
2.5 quart mayo
1 qt buttermilk
2 tablespoons garlic, microplaned
1 tablespoon fresh ground black pepper
1 tablespoon salt
1 cup fresh lime juice
Directions:
Bring BBQ sauce to a simmer. Add chopped peaches, onions, peppers and simmer for 10 minutes. Remove from heat. Let cool. Add cilantro and lime juice and puree with hand blender till smooth.
Coat lollipops with salt, pepper and flour and fry till golden brown. Dip in sauce and garnish with chopped chives.
Whisk all ingredients for lime ranch dipping sauce together and put in fridge until ready to serve.
Garnish with cilantro sprigs and lime wedge.
Eddie Jackson's Spicy Korean Wings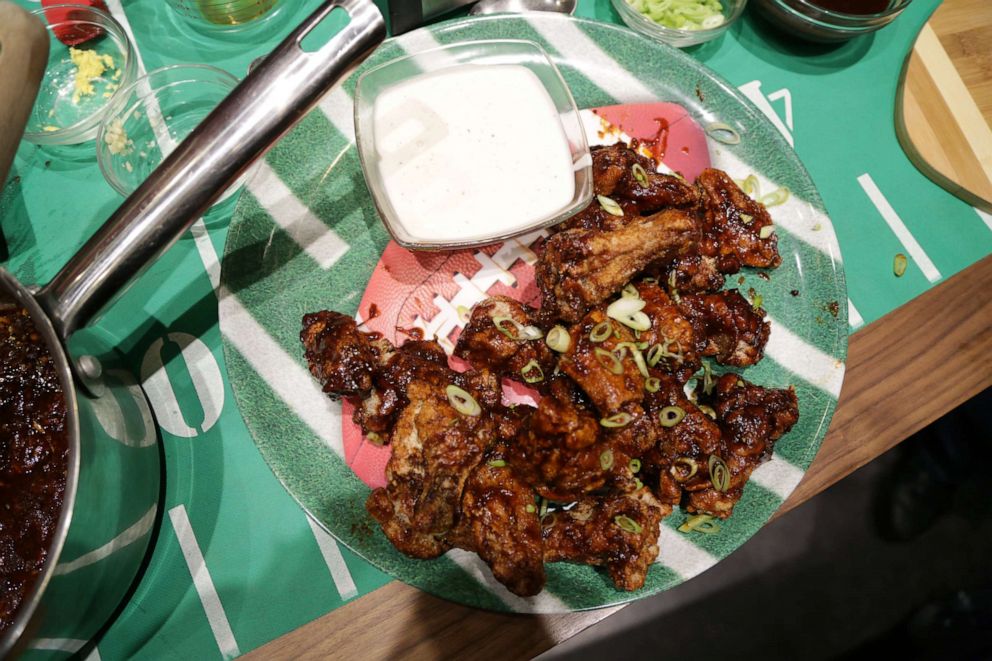 Gochujang, Korean fermented chile-bean paste, is what gives these wings a sweet heat you won't soon forget. Gochujang is a perfect condiment on its own—great for barbecue sauces, scrambled eggs, or even a compound butter—but this recipe takes it to a whole new dimension. Rice flour is essential here, as it ensures a crispy crust.
Ingredients:
2 pounds chicken wings
About 3 cups canola oil
1 1/2 cups rice flour
For the gochujang sauce
1 tablespoon canola oil
1 tablespoon finely chopped shallot
1/4 cup gochujang
1/4 cup molasses
1/4 cup reduced-sodium soy sauce
1 heaping tablespoon light brown sugar
1 tablespoon finely chopped fresh ginger
1 tablespoon finely chopped garlic
1/2 teaspoon kosher salt
1/8 teaspoon coarsely ground black pepper
Alabama white sauce (recipe below)
Thinly sliced scallions, for garnish
Directions:
Prepare the wings: Rinse the chicken wings under cold water, then pat dry with paper towels. Make sure the wings are completely dry, then break the wings down.
Pour enough oil to come halfway up the sides of a large Dutch oven and bring the oil to 375 degrees over medium heat.
Make the gochujang sauce: While the oil comes to temperature, in a small saucepan, heat the canola oil over medium heat until it begins to shimmer, one to two minutes. Add the shallot and cook, stirring, until softened, about 1 minute. Add ¼ cup (60 ml) water and the remaining sauce ingredients and bring to a simmer. Continue to cook until the sauce is reduced by one-third, five to eight minutes. Reduce the heat to low to keep warm.
Working in batches, toss the wings in the rice flour until completely coated. Slowly submerge the wings into the hot oil. Fry, turning occasionally, until you can cut into the wing and the juice runs clear, 10 to 12 minutes.
Transfer the fried wings into a large bowl and toss with the warm gochujang sauce. Serve hot, drizzled with Alabama White Sauce and sprinkled with scallions.
Alabama White Sauce Ingredients:
3/4 cup mayonnaise
1/4 cup apple cider vinegar
1/4 cup fresh lemon juice
1 tablespoon prepared horseradish
1 tablespoon coarsely ground black pepper
2 1/2 teaspoons garlic powder
2 1/2 teaspoons sugar
2 teaspoons kosher salt
1 teaspoon whole-grain mustard
1 teaspoon cayenne pepper
Directions:
In a small bowl, whisk together all of the ingredients. Serve right away or transfer to an airtight container and refrigerate for up to 7 days.
Recipe reprinted from Jackson's cookbook "Game-Day Eats."