Dan Souza shares how to make the perfect chicken sandwich at home
Attention Chick-fil-A fans: Get ready for a first-of-its-kind sweet, spicy, Southern spin on the restaurant chain's original chicken sandwich, just in time for fall.
Starting Aug. 28, Chick-fil-A guests can try the all-new Honey Pepper Pimento Chicken Sandwich -- the first-ever update to the original sandwich in Chick-fil-A history -- as well as a brand new Caramel Crumble Milkshake for fall.
The new sandwich, which was created by Chick-fil-A chef Stuart Tracy, features the chain's classic chicken filet topped with creamy pimento cheese (made with green chilis, red pimentos and cheddar cheese), mild pickled jalapenos and served on a warm, toasted bun drizzled with sweet honey.
Tracy said he considered three components that make a standout sandwich when developing the new menu item -- savory, melty and just the right amount of salt and sweet to balance -- and kept those elements in mind when choosing the new seasonal sandwich toppings.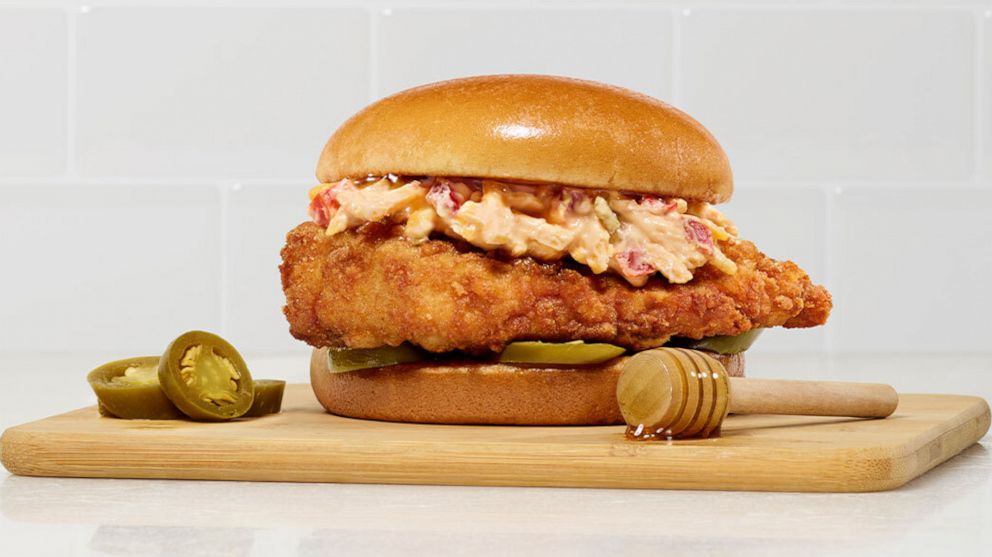 "We wanted to create a standout sandwich that would deliver a unique spin for our guests, without losing the classic taste," Tracy said in a statement. "With our custom-made pimento cheese and specially sourced jalapeños, we hope to deliver a new and exciting sandwich our guests will love."
The Chick-fil-A said its culinary team spent over a year on research and development, noting that the Honey Pepper Pimento Chicken Sandwich rose as the top pick among more than 30 sandwich creations.
The company first tested the sandwich in Asheville, North Carolina, and upstate South Carolina in 2020, where customers rated it highly across all metrics for taste and value, surpassing the other seasonal grilled sandwiches and putting it on par with the brand's original chicken sandwich.
Chick-fil-A is also rolling out the Caramel Crumble Milkshake, which it said amps up the "cozy" flavors of fall in a "cool sweet treat." The new shake is "made with creamy butterscotch caramel flavors, hand-spun Chick-fil-A Icedream, blondie crumbles and topped with whipped cream and a cherry," according to the brand.
Chick-fil-A chef Christy Cook created the brand's seventh seasonal milkshake and said she was inspired by the flavors that caramelize at the bottom of a blondie pan.
Customers can check the Chick-fil-A app or contact their local restaurant to find out if these menu items are served at a nearby location for dine-in, pick up or delivery.