Prince Harry and Meghan Markle's wedding is less than 10 days away.
If you can't make it to Windsor on May 19, you can have your own royal wedding viewing party.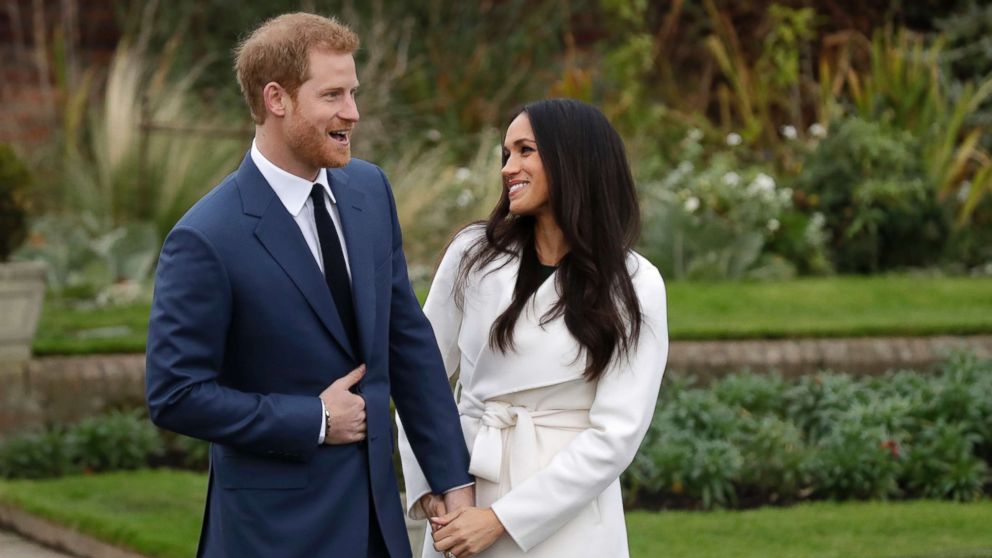 Enter DIY guru Brit Morin, the founder and CEO of Brit + Co, who shared her top tips. Read below and start planning!
We love weddings, but we especially love royal weddings (*grabs fascinator*).
So it should come as no surprise that we've been formulating our own watch plans for Prince Harry and Meghan Markle's big day since we first got word of their engagement.
If you're in the same boat (your fascinator looks great, too), we've we gathered the best tips, tricks, and DIYs to know to host a royal wedding viewing party on May 19 that truly takes the (wedding) cake. Scroll down to get the celebration started!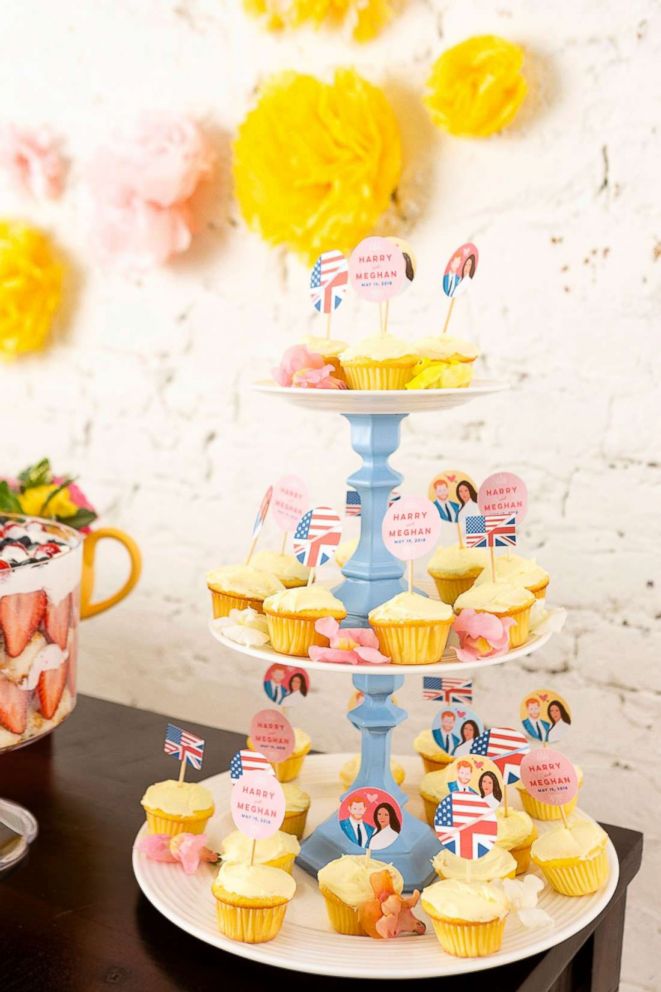 DIY tea sandwiches
Going with classic British dishes is a no-brainer for your shindig, and there's nothing that's more on theme than traditional finger sandwiches. All you need are a few different types of bread, toppings and cookie cutters to create these tasty bite-size treats for all of your guests to nosh on during the event.
Ingredients:
1-2 cans biscuits, like Pillsbury Grands Junior Flaky Biscuits ($1), cooked
1 loaf Pepperidge Farms Very Thin Sliced White Bread ($4)
1 loaf Pepperidge Farms Swirl Bread ($4)
1 small container Philadelphia Whipped Cream Cheese ($3)
1 cucumber, peeled and sliced thinly
Lemon pepper seasoning, like Lawry's Lemon Pepper Salt ($3)
1 package dill
1 container smoked salmon slices
1 container smoked, thinly sliced ham
1 container pre-made egg salad
1 container pre-made pimento cheese
Mustard
Pptional: Brie cheese or apple slices (lemon juice squeezed on top)
Instructions:
Allow guests to assemble their own finger sandwiches, using cookie cutters to create fun shapes and garnishing to their own tastes and preferences.
Elderflower cupcakes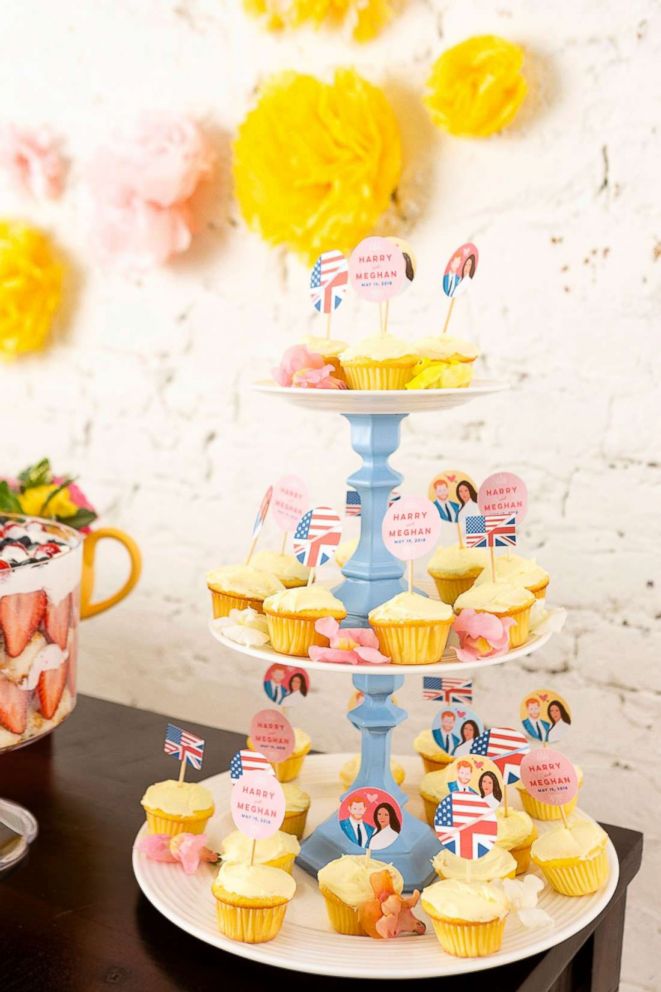 The couple will serve lemon elderflower cake in lieu of the traditional British wedding fruitcake. To pay homage to their sweet taste, whip up your own delish cupcake version.
Once it's ready, take your dish up a notch by displaying it on a fancy tiered stand. If you don't have one on hand, DIY it by hot-gluing two candlestick holders between three decorative plates. Once the glue dries, top the stand off with an artfully arranged display of cupcakes. Finish it off with these cheeky, printable decorative toppers that provide the *perfect* finishing touch.
Ingredients:
Nonstick spray
Lemon cake mix, like Betty Crocker Super Moist Lemon Cake ($2)
Water, eggs, vegetable oil (called for in the box instructions)
1 tablespoon elderflower syrup, like Elderflower Spritz ($8)
Ready-made lemon frosting, like Pillsbury Lemon Frosting ($2)
Water and salted butter
Instructions:
Make and bake cupcakes according to package instructions. Add 1 tablespoon elderflower syrup to batter. Allow to cool completely. Meanwhile, use frosting according to package instructions. Add salted butter if desired for better flavor. Ice cupcakes and garnish with the cupcake toppers. (Note: We sized ours down to match our mini cupcakes.)
British trifle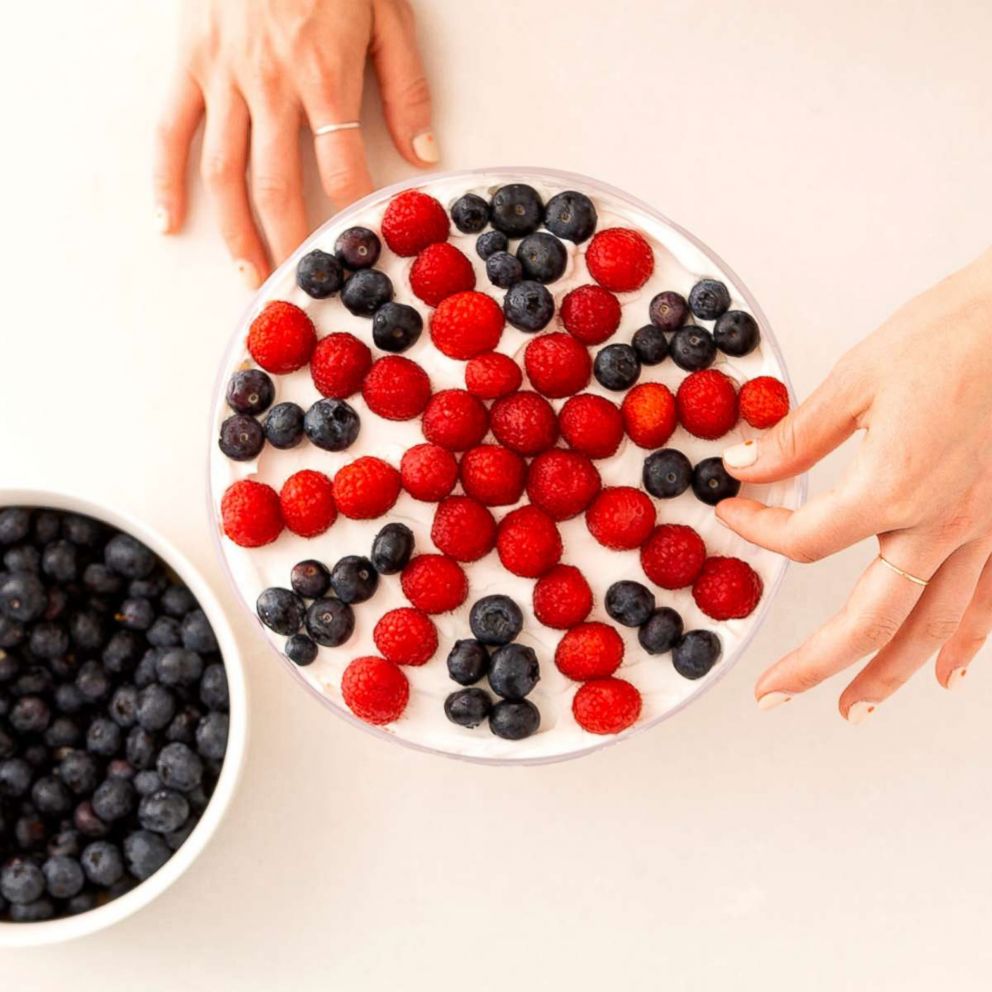 The more desserts, the merrier! Pair ripe berries and light-as-air angel food cake and add creamy Cool Whip for another delectable option that'll rule the buffet table. After laying in all the delicious ingredients, finish off your breakfast-friendly creation with a topper fashioned after the British flag. Then, dig in and enjoy!
Ingredients: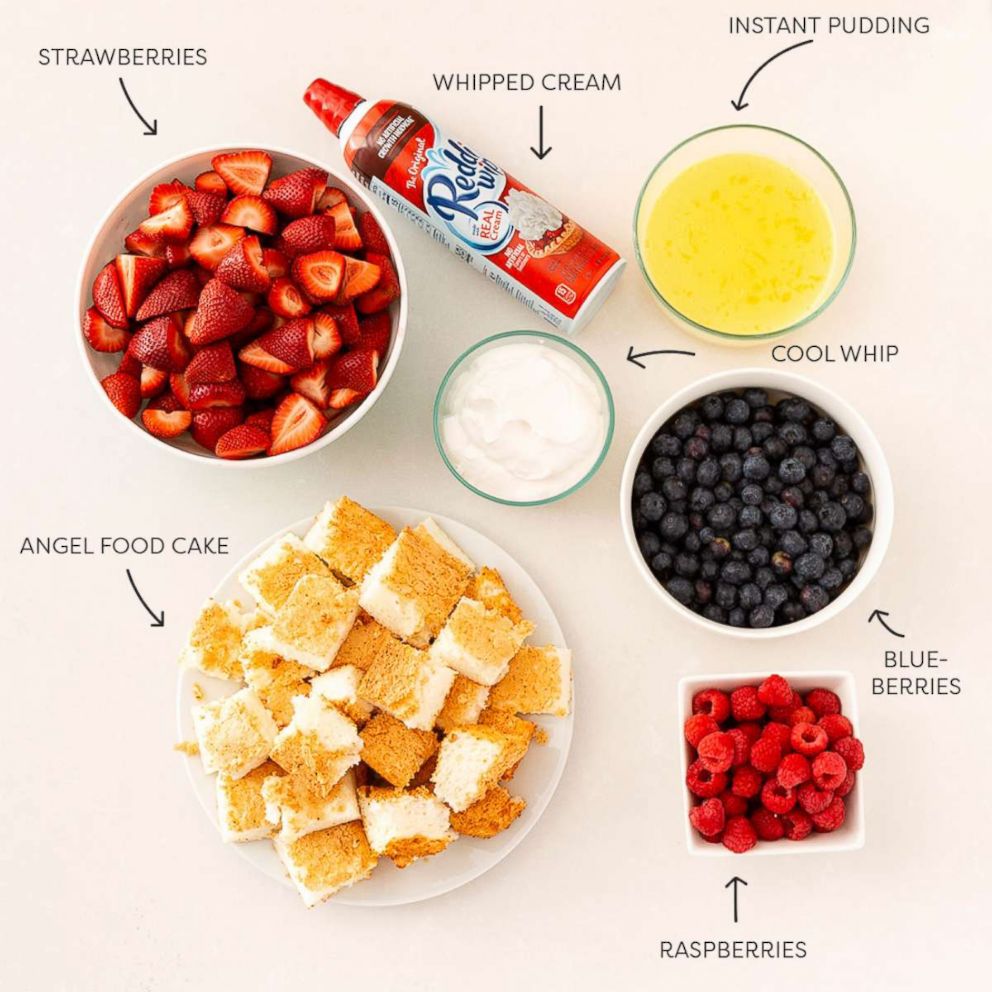 1 pre-made angel food cake, cut in 1 1/2-inch pieces
1 batch vanilla pudding, like Jell-O Vanilla Instant Pudding ($1)
Boiling water (for pudding)
2 containers Cool Whip Original Whipped Topping ($2)
2 containers large strawberries, sliced in half
2 containers blueberries
2 containers raspberries
1 can Reddi Wip Original Whipped Cream ($2)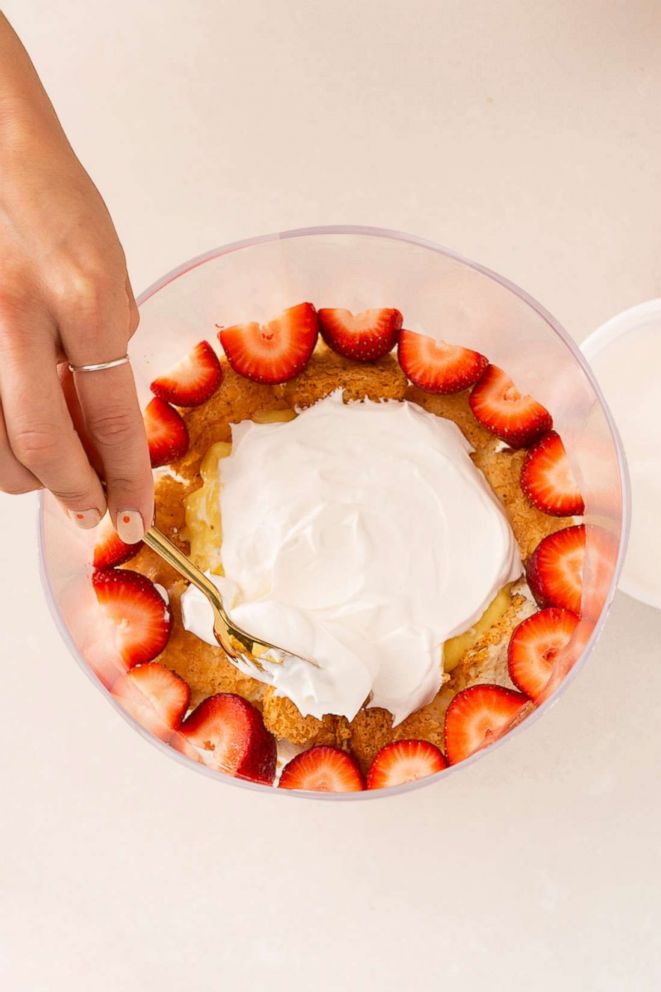 Instructions:
1. In a large clear trifle bowl, make a layer of angel food cake and dollop 1/3 of the pudding on top. Carefully lay strawberries, cut side exposed, around perimeter of glass bowl.
2. Fill with 1/2 the container of Cool Whip. Repeat process until you have 1 inch of space remaining in the bowl.
3. To form British flag using berries and cream on top, assemble raspberries so they form a cross. Create diagonal lines of raspberries in between each right angle to form eight triangles.
4. Fill in each of the eight triangles with blueberries. Carefully create white lines in between all raspberries and blueberries with Reddi Wip to complete the flag.
Tea-Making Station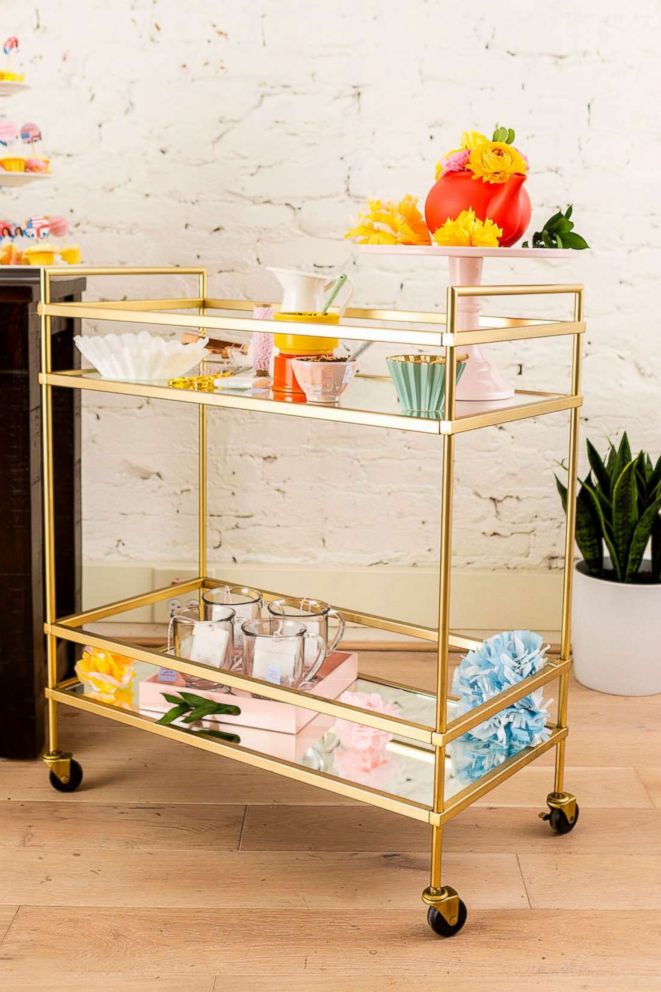 With the ceremony set to begin at 7 a.m. ET (4 a.m. PT!), caffeine is a *must.* Instead of your usual morning brew, present your guests with their own cuppa complete with customized tea bags and cheeky tags ("Harry's Getting Married!").
To make your tea bags, cut a coffee filter into a rectangle. Place your tea in the center of it, folding the sides into the middle and twisting the material. Wrap the string around the bag several times to secure. Top them off with a custom printable tea tag to finish. Then sip -- pinkies up!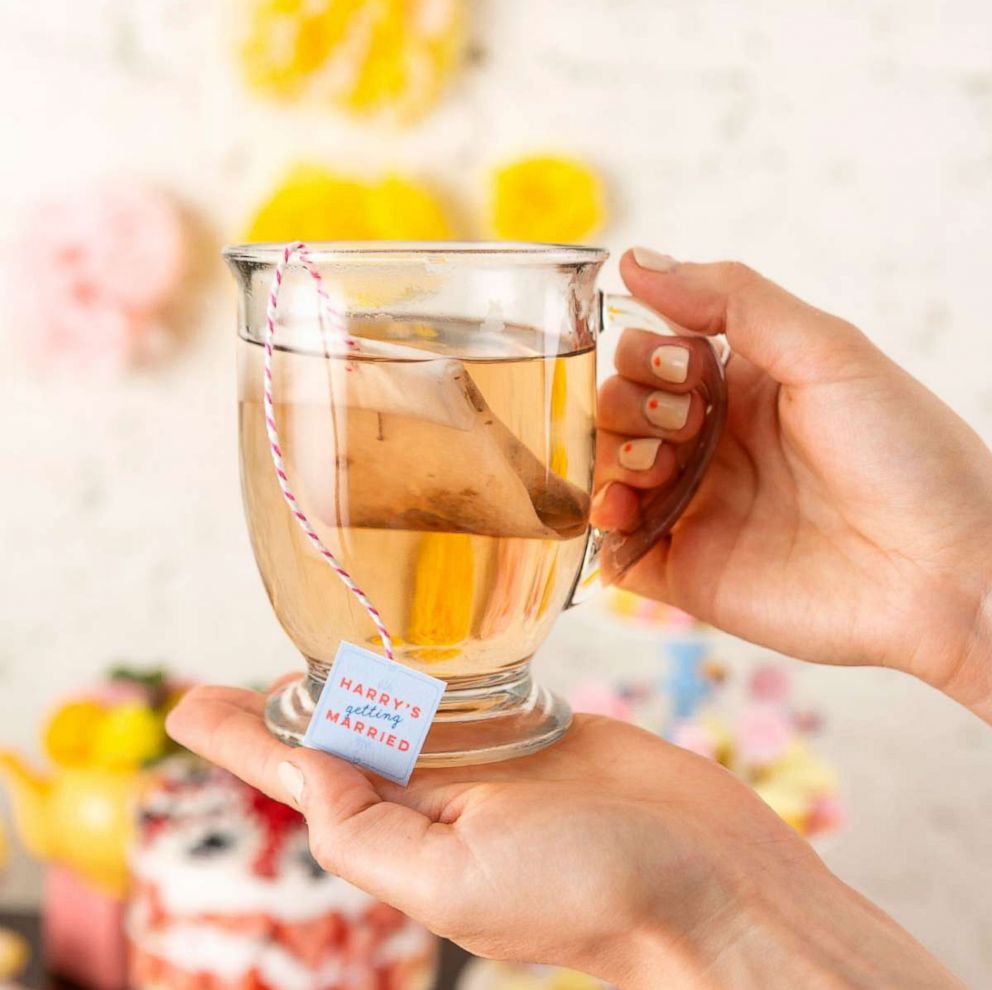 DIY paper flowers
Hello, gorgeous decor! This next idea ties in the theme of "springtime in England." Using this DIY crepe paper flower tutorial, you can create a stunning centerpiece for all of your royal highnesses. Try draping cascading garlands of handmade tissue flowers or paper ranunculus to really bring the blooming theme home. Either route you go (we encourage both!), be sure to have a camera handy to snap your final creations and share them with us @BritandCo!
Bonus: DIY bingo card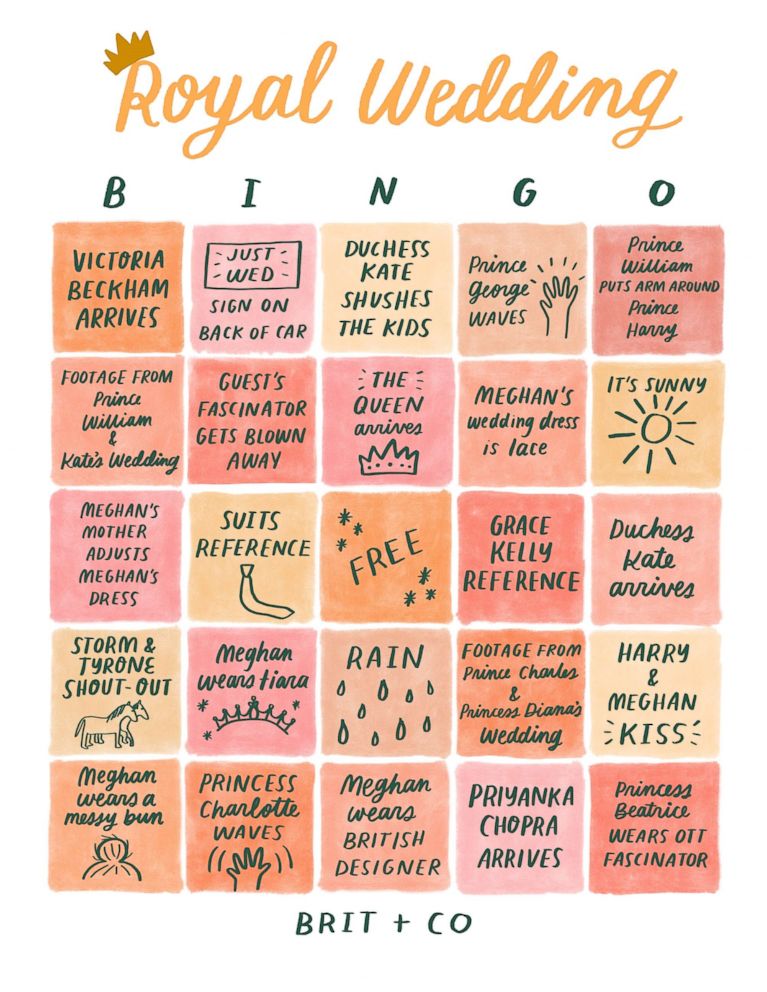 Give your party attendees a game to play while they watch the wedding. Create a bingo card that is customized for Harry and Markle's wedding day.
This article was originally published on Brit+Co's website.