Pumpkin spice coming back
Dunkin Donuts, Jetpuff, KKD, Halo top, Pillsbury
For those who get excited at the sight of burnt orange hues, even ahead of the autumnal equinox in September, great news: Brands are already rolling out the pumpkin spice flavors before the first leaves of fall even hit the ground.
While the squash in its natural state isn't fully in season until closer to winter, consumers love the hype that comes with pumpkin-flavored products, which has surged beyond just lattes and pie.
Jenny Lee, the lead data analyst for Google Trends, told "Good Morning America" that "pumpkin spice spikes every September, but this month," as of time of publication, "it's already being searched more than ever."
"I'm seeing lots of non-food related pumpkin spice products such as toilet paper, sugar scrubs and air fresheners," she explained. "In fact, 'pumpkin spice wipes' were the top trending non-food or drink pumpkin spice search this month."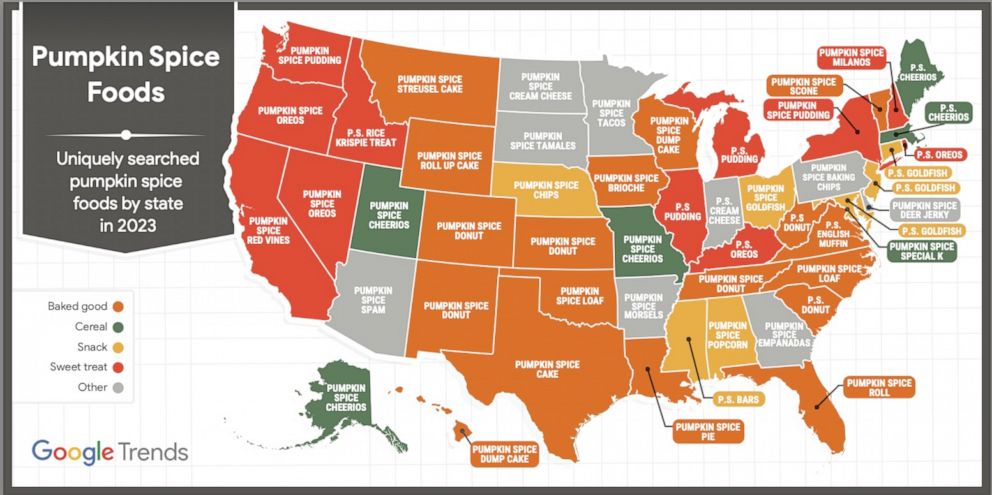 As far as food and beverages go, Google Trends captured even more data and shared a snapshot of the seasonal insights.
"Iced pumpkin spice latte" and "pumpkin spice creamer" are among the top searched terms in the U.S., and luckily for fervent fall fans both, plus much more, are available on shelves now.
Scroll on to check out this year's tasty offerings.
New pumpkin spice products this season
From breakfast to dessert, the pumpkin spice options are seemingly endless. Check out all the new and improved seasonal offerings.
Pumpkin Spice creamer, dairy-free alternatives and new apple crumble flavors
Califia Farms is back with it's fall pumpkin lineup, plus a brand new flavor, first-of-its-kind plant-based, dairy-free Caramel Apple Crumble Oat Creamer.
The limited time offerings also include Pumpkin Spice Latte Cold Brew Coffee and Pumpkin Spice Oat Barista Blend, all made with real pumpkins grown in the wine country surrounding Walla Walla, Washington.
Shoppers can find Califa Farms available at Target, as well as online and in-stores.
Wendy's Pumpkin Spice Frosty
The new seasonal flavor merges the same creamy texture of the classic Wendy's Frosty with hints of pumpkin and a blend of warm spices like cinnamon and nutmeg. The brand likened the experience to "eating pumpkin pie a la mode in a single bite."
For even more of a pumpkin pick-me-up, Wendy's is also offering Pumpkin Spice Frosty Cream Cold Brew, which uses the same syrup from the aforementioned Frosty, cold-brewed coffee and Frosty creamer swirled over ice.
Customers who order the new Frosty with Uber One can snag a BOGO deal for a free second Frosty and a free medium fry from Sept. 13 - 21.
Pillsbury Grands! Pumpkin Spice Rolls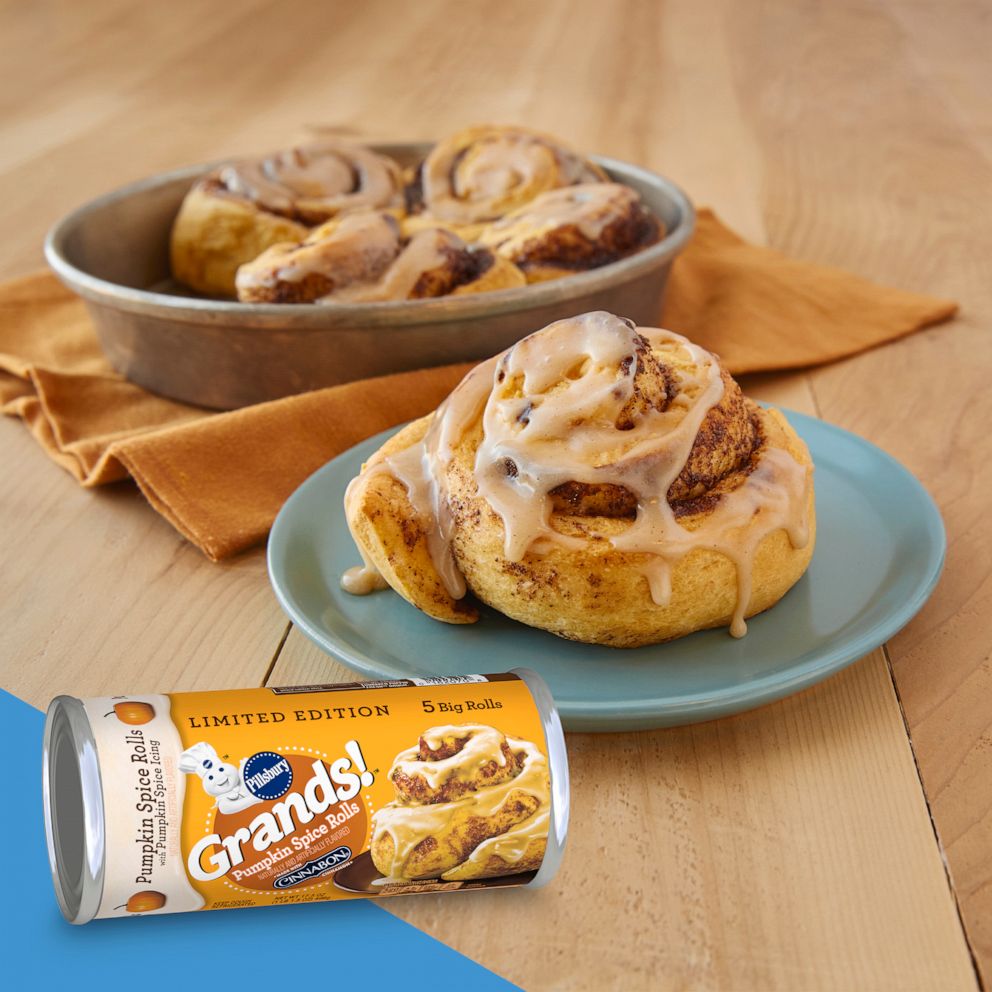 Take sweet, sticky, perfectly pillowy cinnamon rolls and amp up the fall flavor with these pumpkin spice rolls made with Cinnabon cinnamon and pumpkin spice icing. The ready-to-bake dough is available at retailers nationwide for $6.18.
Three Wishes Pumpkin Spice Protein Cereal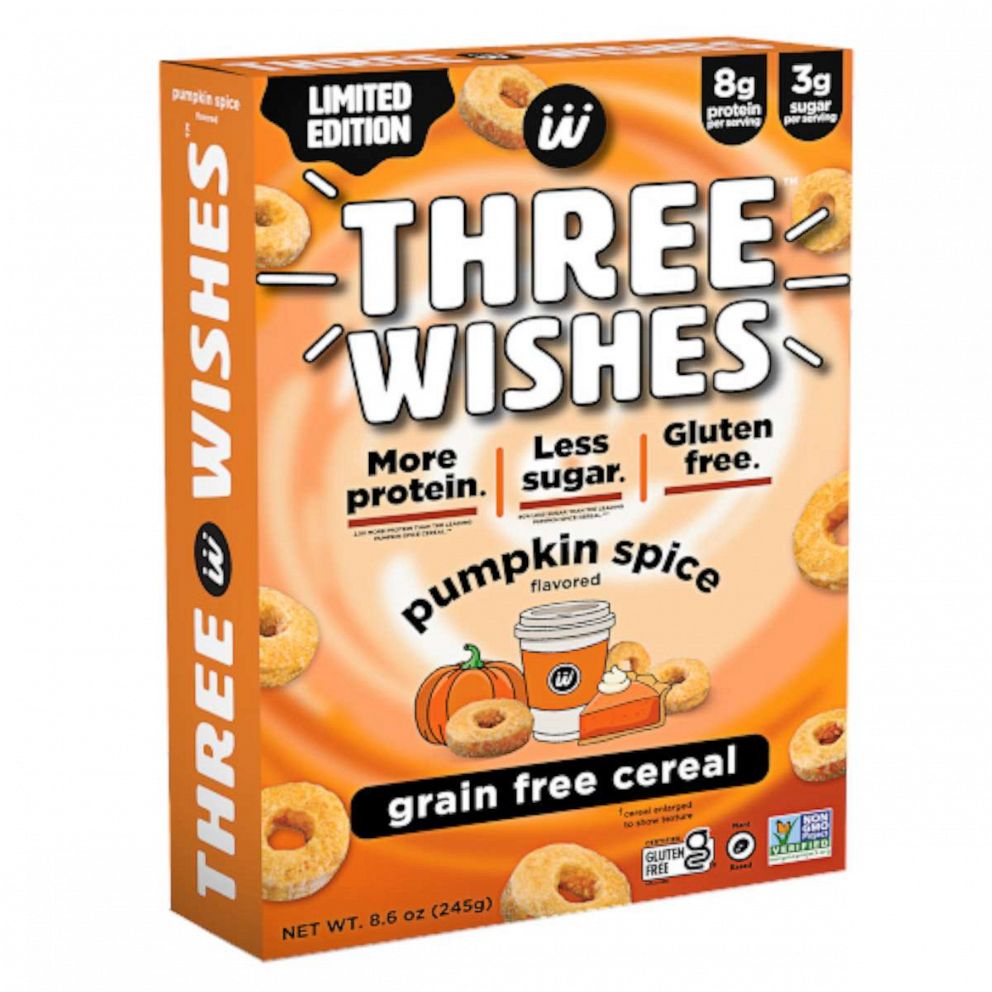 The popular gluten- and grain-free vegan cereal, which has only 3 grams of sugar, is bringing back the fall flavor that sold out last season, now available in a three-pack on Amazon for $26.99.
Krispy Kreme new fall lineup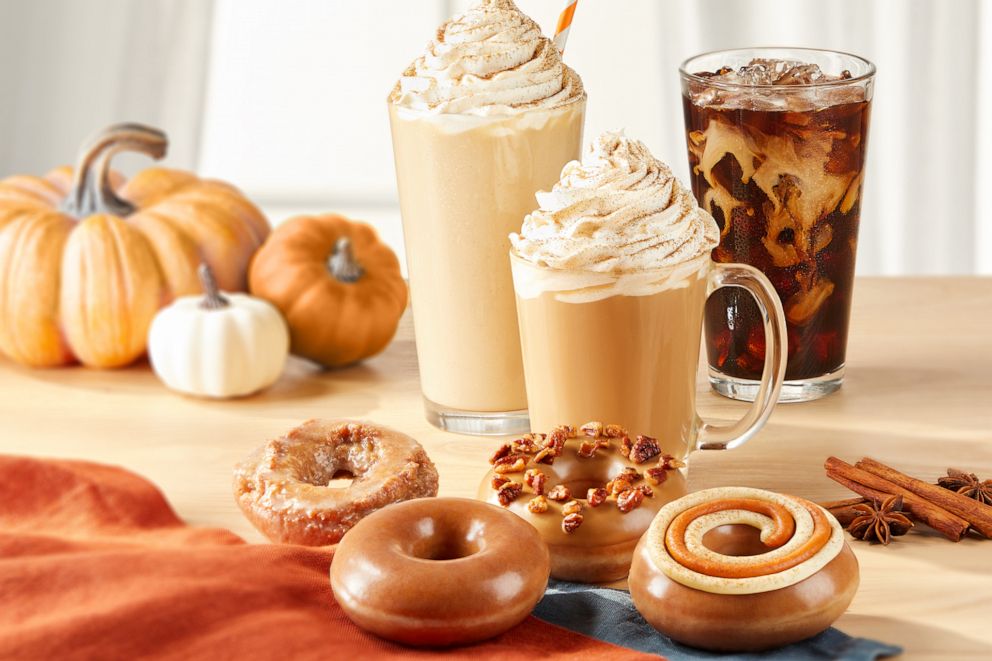 The popular doughnut chain kicked off pumpkin spice season earlier this month with a collection of doughnuts that are mixed, stuffed, sprinkled and topped with more pumpkin spice, including the all-new Pumpkin Spice Cheesecake Swirl Doughnut and Pumpkin Spice Maple Pecan Doughnut.
The Pumpkin Spice Collection is available in-shop and for pickup or delivery across the U.S. via Krispy Kreme's app and website.
Plus, doughnut and pumpkin spice fans can find six-packs of the Pumpkin Spice Cheesecake Swirl Doughnut and Pumpkin Spice Cake Doughnuts delivered fresh daily to many local Walmart, Kroger, Food Lion, Publix, Stater Brothers, Wakefern and more stores.
Goldfish Dunkin' Pumpkin Spice Grahams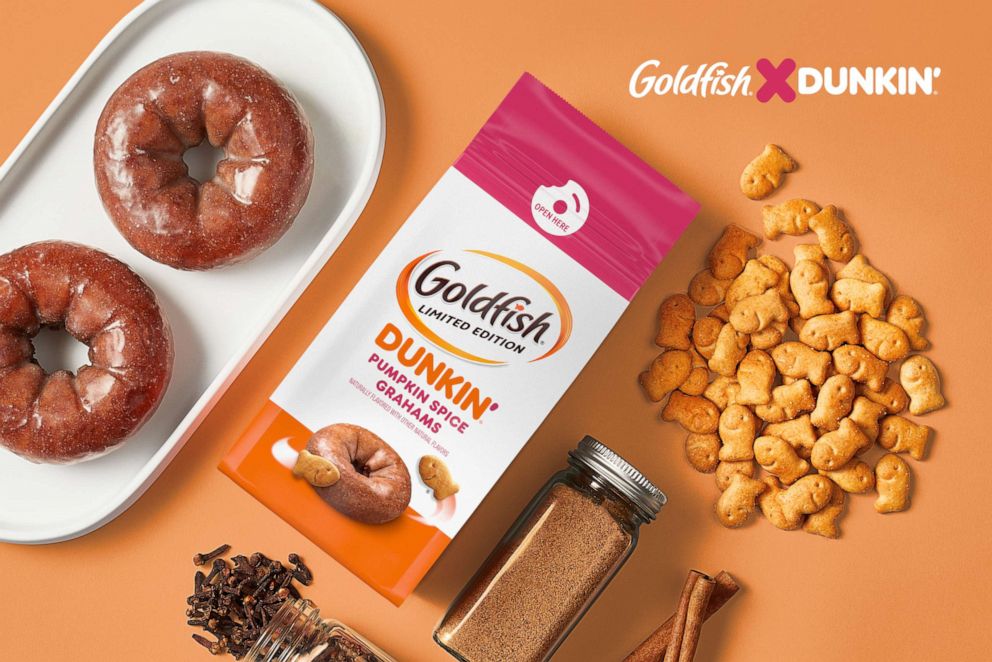 The two brands collaborated to create this special fall snack filled with notes of pumpkin, donut glaze and warm spices, including cinnamon, cloves and nutmeg.
Starting in September, the sweet snack will be available nationwide, wherever Goldfish crackers are sold, for $3.69 per 6.1-ounce bag, while supplies last.
Jet-Puffed Pumpkin Spice Marshmallows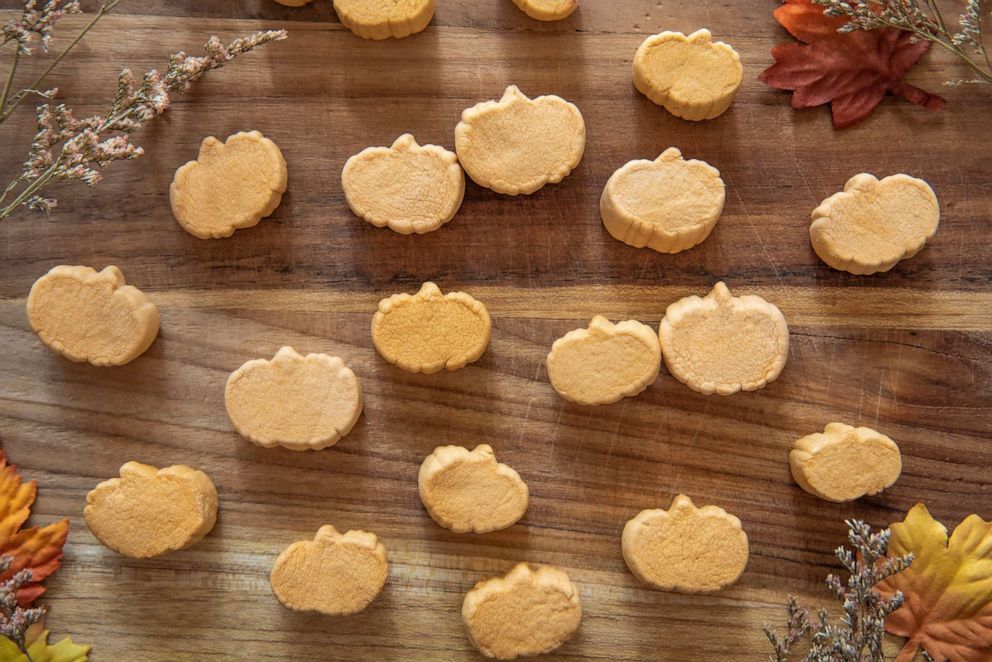 These pumpkin-shaped and pie-spiced marshmallows are a festive fluffy treat that will make a cup of hot chocolate or s'mores extra special for fall.
The Pumpkin Spice marshmallows will be available nationwide at retailers including Walmart and Target for $4.43 a bag.
Pepperidge Farm Soft Baked Pumpkin Cheesecake Cookies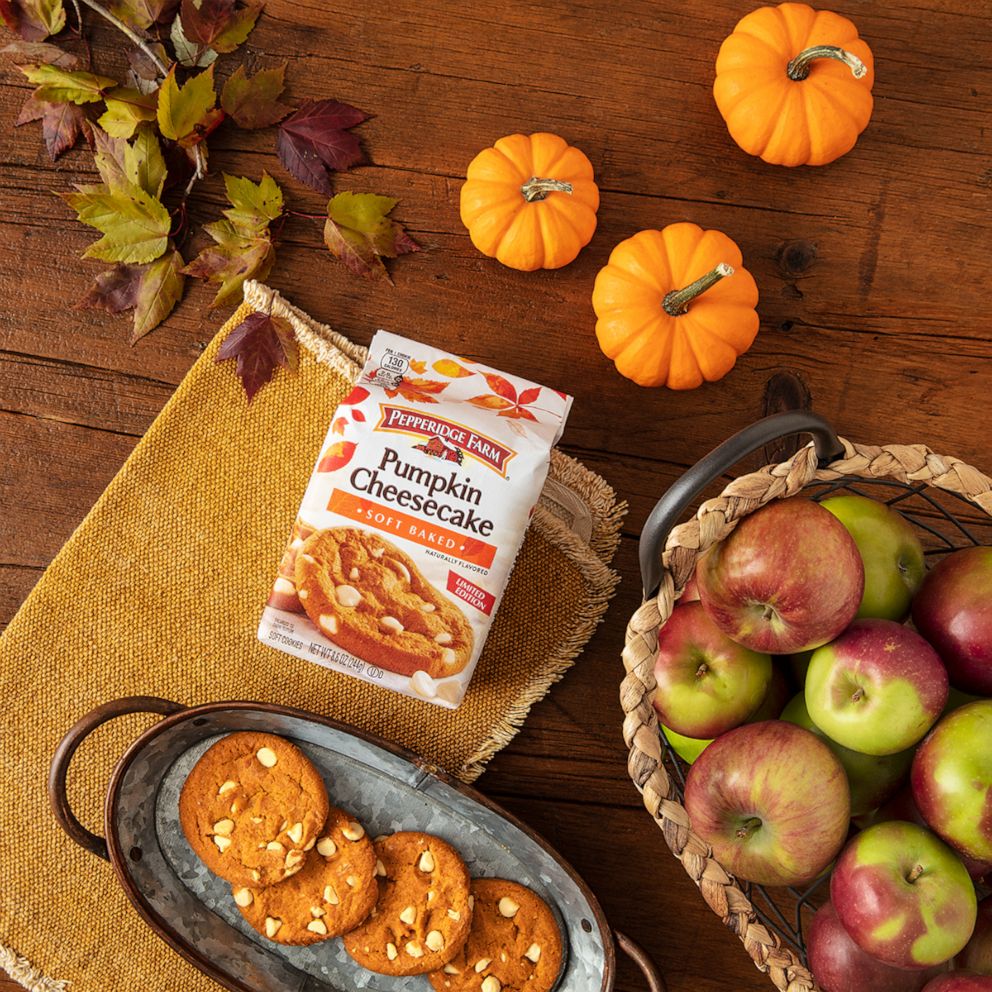 The moist, tender cookies are made with white chocolate, brown sugar, real pumpkin, and spices that evoke autumn. The seasonal cookies are available now at national retailers such as Target, Publix, Kroger, and Albertson's for $5.09 per bag.
Pepperidge Farm Pumpkin Spice Milano Cookies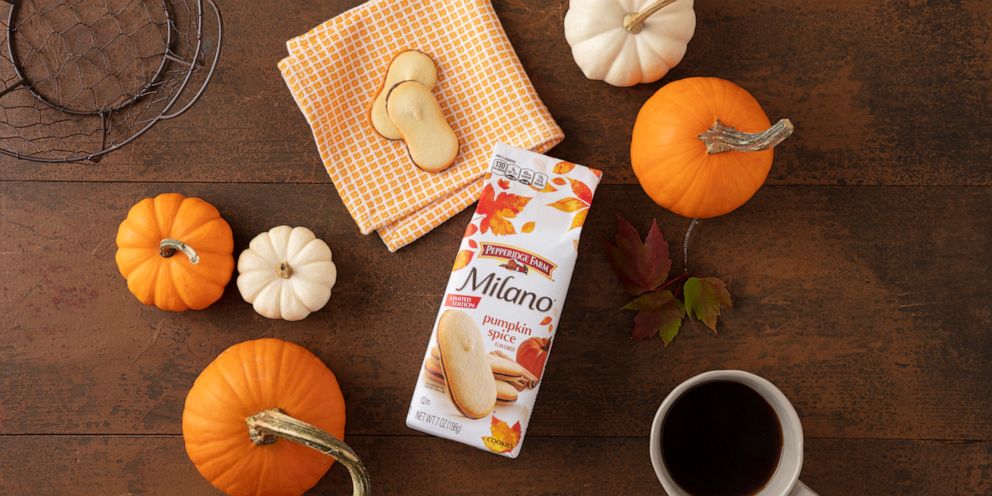 The crisp sandwich cookies are made with rich milk chocolate and a dash of pumpkin spice, and are available at national retailers such as Target, Publix, Kroger, and Albertson's for $5.09 per bag.
Halo Top Pumpkin Pie Ice Cream
The "better-for-you" high-protein, low-sugar frozen treat has returned to bridge the gap between summer and fall and is available now through November on store shelves and online at Walmart.
At 360 calories per pint, an entire pint of Halo Top Pumpkin Pie has 20 fewer calories than a grande PSL at Starbucks.
An earlier version of this story was originally published on Aug. 22, 2023.