Super Bowl party recipes: Must-try 'Touchdown' nachos with chorizo and Asian-inspired wonton nachos
Super Bowl party recipes: Must-try 'touchdown' nachos with chorizo and wonton nachos
Nothing says Super Bowl Sunday like a heaping plate of nachos!
Food Network host and chef Sunny Anderson knows a thing or two about how to cook for a crowd. Her "touchdown" nachos that combine chorizo, a Mexican sausage, and ground beef -- topped with all the fixings and two types of drizzles -- is the perfect staple for game day.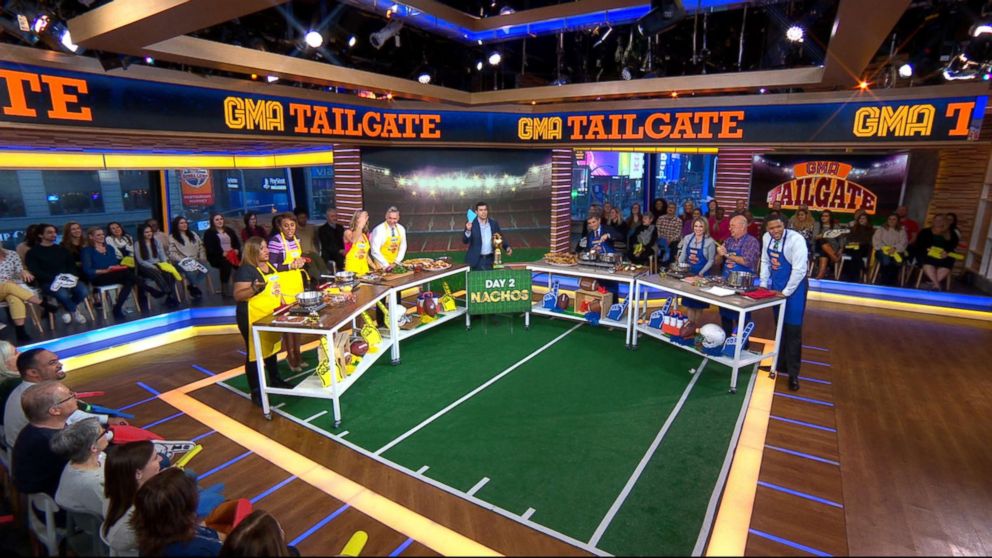 Chef and TV host Andrew Zimmern made the fan favorite dish with an added global cuisine flare. His Asian inspired wonton nachos are topped with a ginger and ground pork filling.
The chefs demonstrated how to put it all together on "Good Morning America" today and you can get her full recipe below.
Sunny's Touchdown Nachos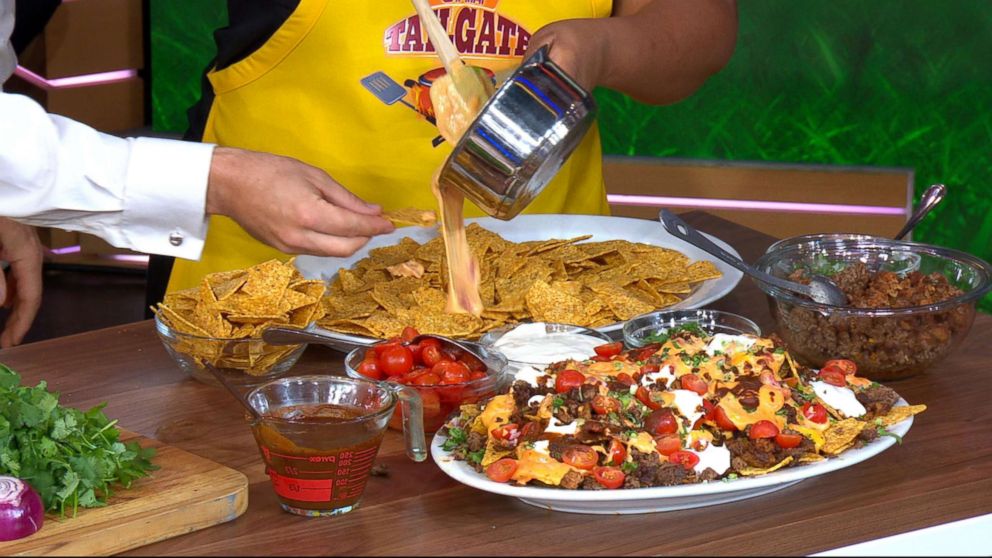 Serves 4-6
Ingredients:
1 (10-13 ounce) bag yellow corn tortilla chips, warmed in a 200-degree oven
1 tablespoon vegetable oil
1/2 pound Mexican chorizo, casing removed
1/2 pound ground chuck beef (80 percent meat, 20 percent fat)1/2 teaspoon Kosher salt
1 pound processed cheese block, cut into 1-inch cubes
1 (10 ounces) can diced tomatoes and green chilies
1/2 teaspoon cumin
1/2 pint (about 10) cherry tomatoes, small ones cut in half, larger ones cut in fourths
1/4 cup your favorite hot sauce
1/4 cup finely chopped red onion
1 finely chopped scallion, white and green parts
1/4 cup finely chopped fresh cilantro leaves
1 tablespoon fresh lime juice
Black pepper
1/4 cup warm mole sauce
1/4 cup Mexican crema
Directions:
Brown the meat
In a large non-stick pan on medium high heat add the oil, chorizo, beef and salt. Vigorously break down the chorizo with a wooden spoon while browning to resemble ground meat crumble, not boulders or even rocks, pebbles. Brown until cooked through, about eight to ten minutes. Keep warm until ready to build.
Make the cheese sauce
In a large sauce pot on medium high heat add the cheese, tomatoes, chilies and cumin. Allow to melt and stir to coax the melting process. Keep warm until ready to build.
Prepare the tomatoes
In a medium bowl toss the tomatoes and hot sauce.
Prepare the toppings
In a small bowl stir to combine the red onion, scallions, cilantro, lime juice and black pepper.
Build and serve
Place half of the warmed chips on a serving platter. Sprinkle over half the meat, making sure to get the meat in the nooks and crannies. Pour over half the cheese sauce taking the same care. Top with the second half of the chips then repeat with the meat and cheese layers using the remaining portions. Sprinkle the tomatoes all around as well as the onion topping. Drizzle over mole sauce and Mexican crema. Serve immediately.
Recipe courtesy Sunny Anderson, 2019.
Andrew's Wonton Nachos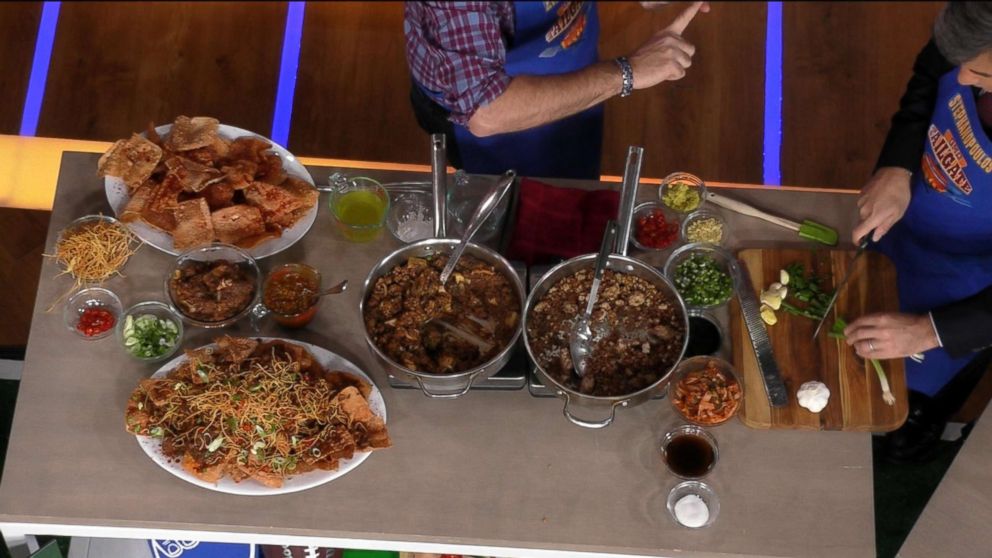 Serves 4-6
Ingredients:
For the wontons and noodles
3 packages won ton wrappers
1/2 pound fresh Chinese thin egg noodles
2 quarts oil for frying
1 tablespoon fine sea salt
1 tablespoon ground hot Chile peppers
For the sauce
4 tablespoons Chinese sesame paste (roasted sesame paste)
4 tablespoons light soy sauce
4 tablespoons Chinkiang vinegar
4 cloves minced garlic, finely minced
3 scallions, finely minced
2 tablespoons honey
1/2 cup homemade chili oil with flakes, or more to taste
1 teaspoon toasted and ground Sichuan peppercorns
For the pork
3 tablespoons canola oil
2 pounds ground pork
3 tablespoons minced ginger
2 tablespoons minced garlic
7 scallions, chopped
4 tablespoons fermented black beans, rinsed and chopped
1 cup Sui Mi Ya Cai (Sichuan preserved mustard greens)
4 tablespoons Shaoxing wine (or dry sherry)
1 tablespoon sugar
1 cup chicken broth
2 tablespoons corn starch mixed with 3 tablespoons cold water
Directions:
To prepare the won tons and noodles
Heat the oil in a large pot over medium heat until the temperature reaches 375 degrees.
Fry the wontons in batches until brown and crispy. Reserve to a large bowl lined with paper towels and when all won tons are fried, season with the salt and Chile pepper.
Fry the noodles, separating them with your fingers as they slip into the oil. Stir until light brown and reserve to a tray lined with paper toweling.
To prepare the sauce:
Whisk sesame paste and light soy sauce until fully incorporated.
Add Chinkiang vinegar. Keep stirring until mixed. Then mix in garlic, green onion, honey, chili oil and Sichuan peppercorn and mix well and then set aside.
To prepare the pork topping:
Heat the oil in a skillet or a wok over medium heat until hot. Add pork and light brown it.
Add ginger, garlic, green onion, fermented black beans, Sui Mi Ya Cai, cooking wine and sugar. Cook and stir until all the liquid has evaporated and the pork turns a dark brown color. Add the chicken broth and bring to a strong simmer.
Drizzle in the corn starch slurry; you wont need it all. Just use enough to thicken the liquid around the pork.
To assemble the wontons:
Spread the crisp wontons on a large platter or individual plates.
Divide the pork mixture in layers as you pile on the fried wontons.
Drizzle the sauce in layers with the pork mixture.
Garnish with thinly sliced scallions cut on the bias and the crispy fried noodles.
Recipe courtesy Andrew Zimmern, 2019.