Wolfgang Puck knows how to throw an elaborate party with a robust lineup of incredible dishes, so it's no surprise that the LA-based Austrian chef will return to cook for the celebrity-studded post-Oscars' Governors Ball.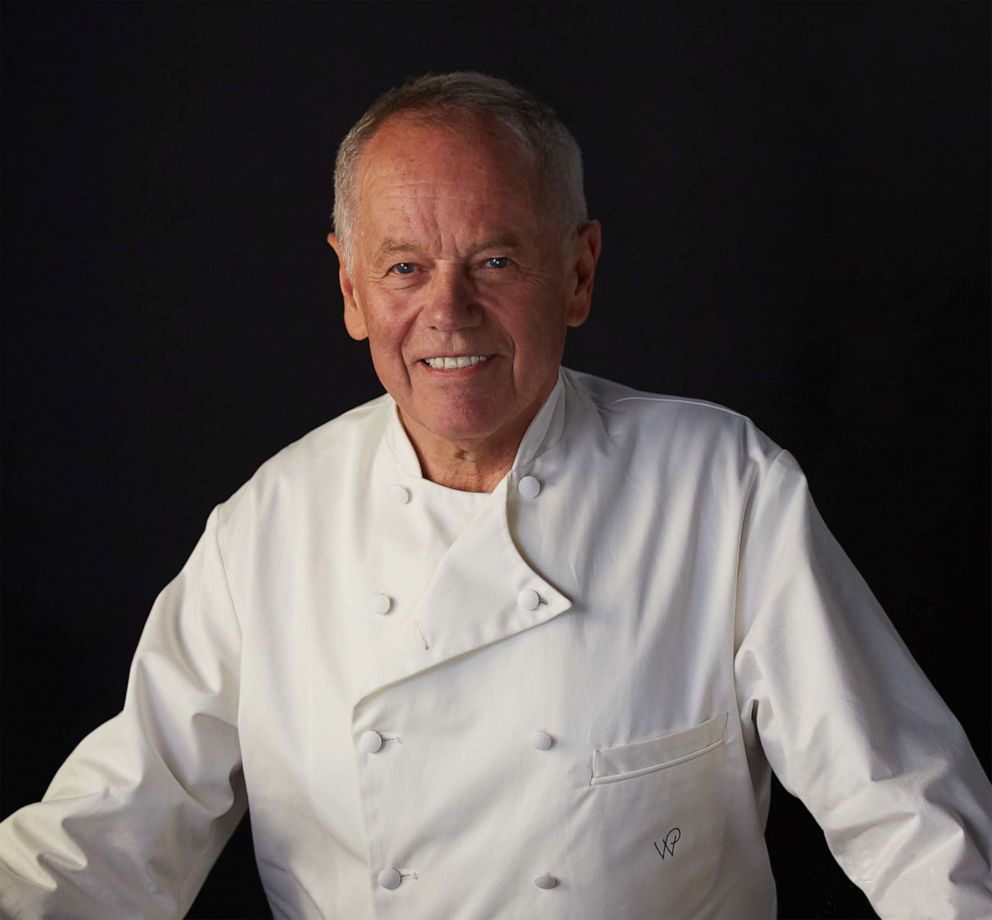 For his 29th iteration of the party, Puck will serve a few new items and gave "Good Morning America" an exclusive first look at the menu from his eponymous catering company. This year also marks the 25th anniversary of the legendary restaurateur's catering business.
In addition to innovative small plate stations with crispy rice to order, bao buns, wood-fired pizzas and more, Puck highlighted two new dishes for "GMA" -- a crispy tamarind glazed, asian-style fried chicken and coconut pandan leaf waffles as well as Ma Maison chicken salad served on an endive leaf.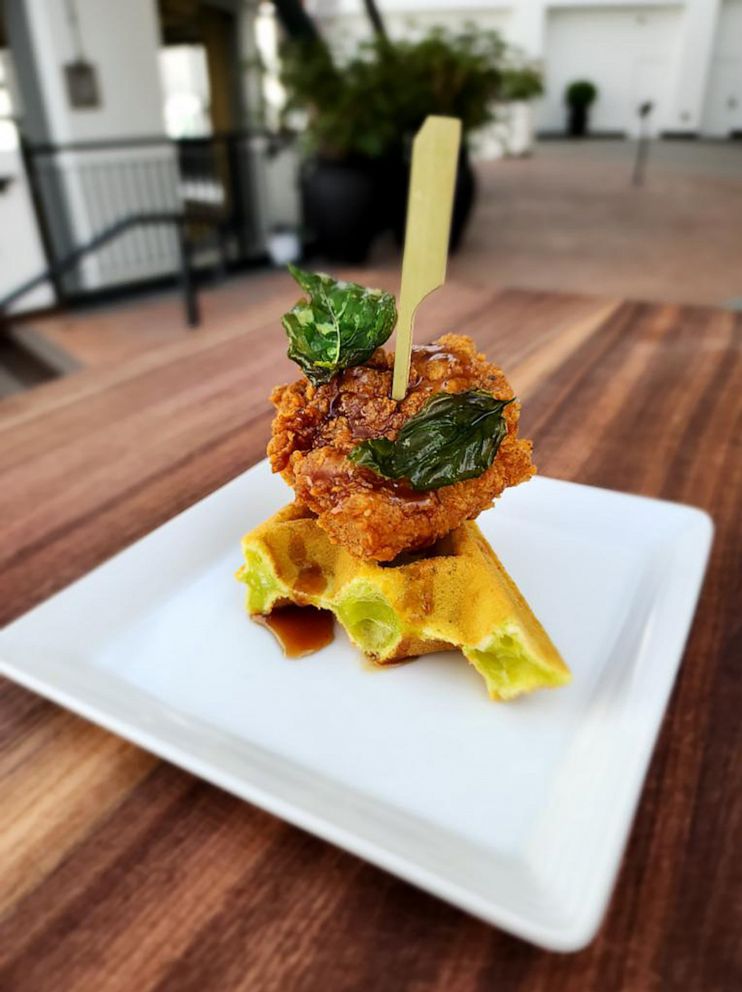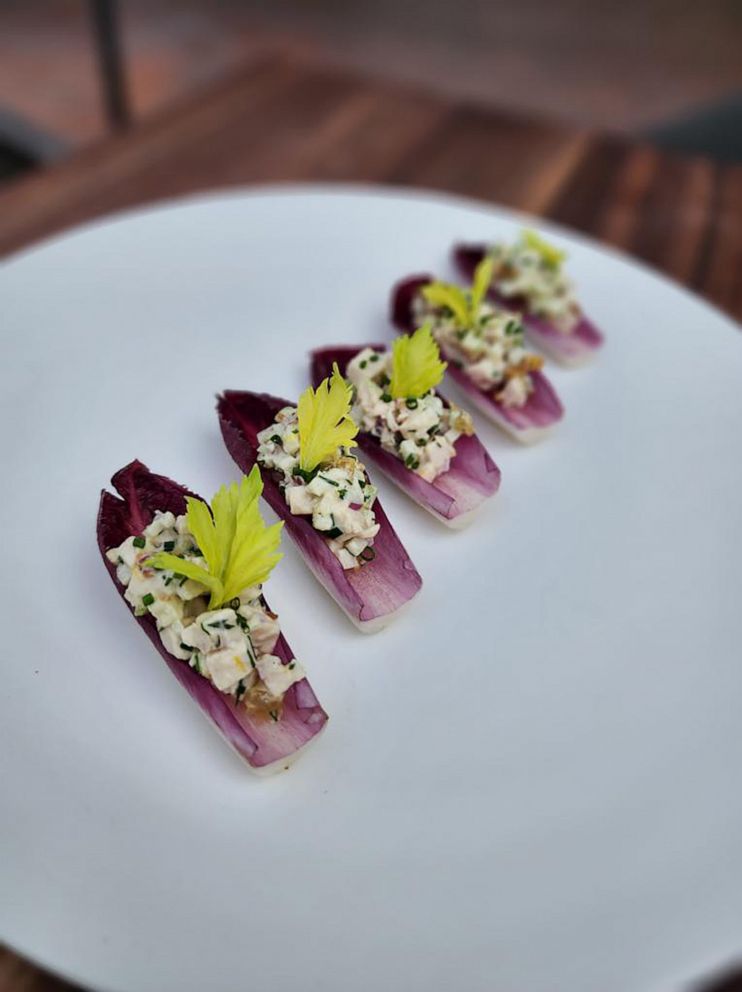 Check out the full menu below.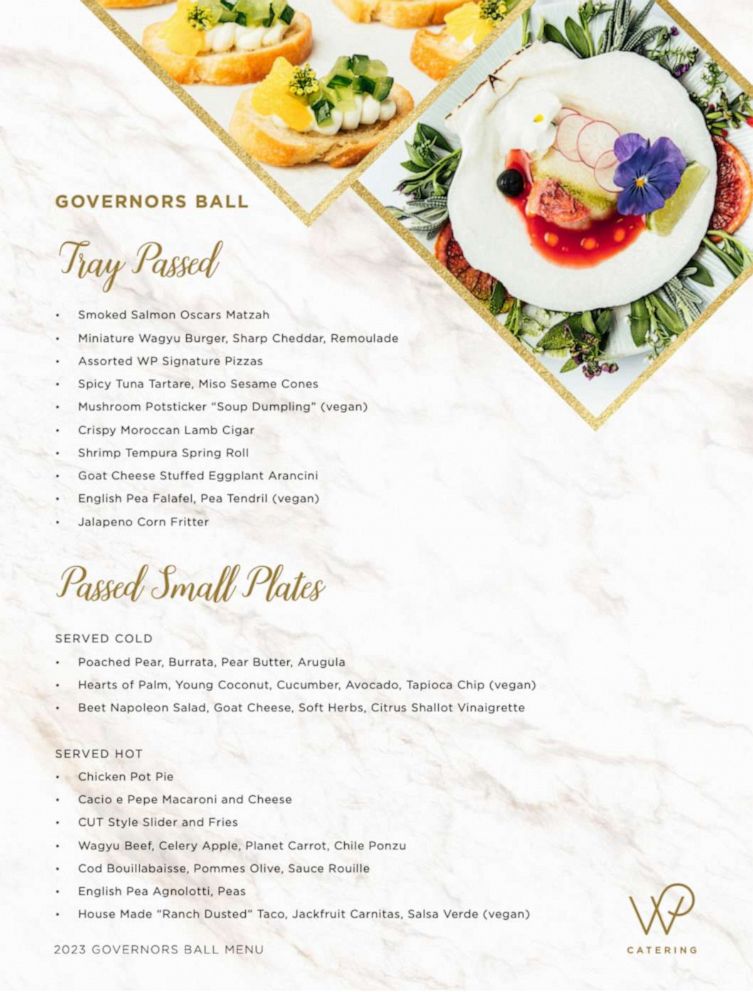 Tray Passed
Confit Golden Beet, Cashew Crème, Gastrique, Mint (vegan)NY Steak Crostini, Yuzu Kosho Pesto, Shishito Pepper, WasabiEverything Bagel Macaron, Smoked Salmon, Sorrel
Soy Marinated Deviled Egg, Ramen Spice, Chicken Glass, Scallion
Taro Root Taco, Charred Pineapple "Al Pastor," Shallot, Cilantro (vegan)
Puri Pillow, Sumac Hummus (vegan)
Black Pepper Shortbread, Goat Cheese, Rhubarb
Endive, Ma Maison Chicken Salad, Celery Leaf
Miniature Wagyu Burger, Sharp Cheddar, Remoulade
Assorted WP Signature Pizzas
Spicy Tuna Tartare, Sesame Miso Cones
Smoked Salmon Oscars Matzah
Mushroom Potsticker "Soup Dumpling" (vegan)
Crispy Moroccan Lamb Cigar
Shrimp Tempura Spring Roll
Goat Cheese Stuffed Eggplant Arancini
English Pea Falafel, Pea Tendril (vegan)
Jalapeno Corn Fritter
Stationary Snacks
House Made "Street Corn" Tortilla Chips
Caramel Chili Flavored Popcorn (vegan)
Passed Small Plates
Served Cold
Poached Pear, Burrata, Pear Butter, Arugula
Hearts of Palm, Young Coconut, Cucumber, Avocado, Tapioca Chip (vegan)
Beet Napoleon Salad, Goat Cheese, Soft Herbs, Citrus Shallot Vinaigrette
Served Hot
Chicken Pot Pie
Cacio e Pepe Macaroni and Cheese
CUT Style Slider and Fries
Wagyu Beef, Celery Apple, Planet Carrot, Chile Ponzu
Cod Bouillabaisse, Pommes Olive, Sauce Rouille
English Pea Agnolotti, Peas
House Made "Ranch Dusted" Taco, Jackfruit Carnitas, Salsa Verde (vegan)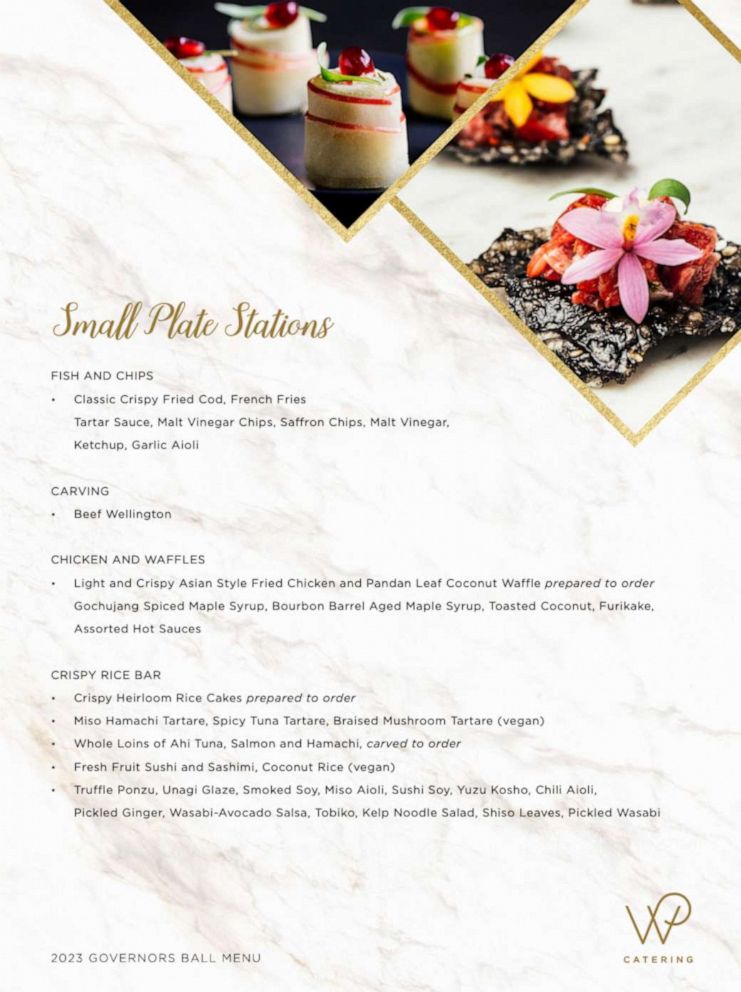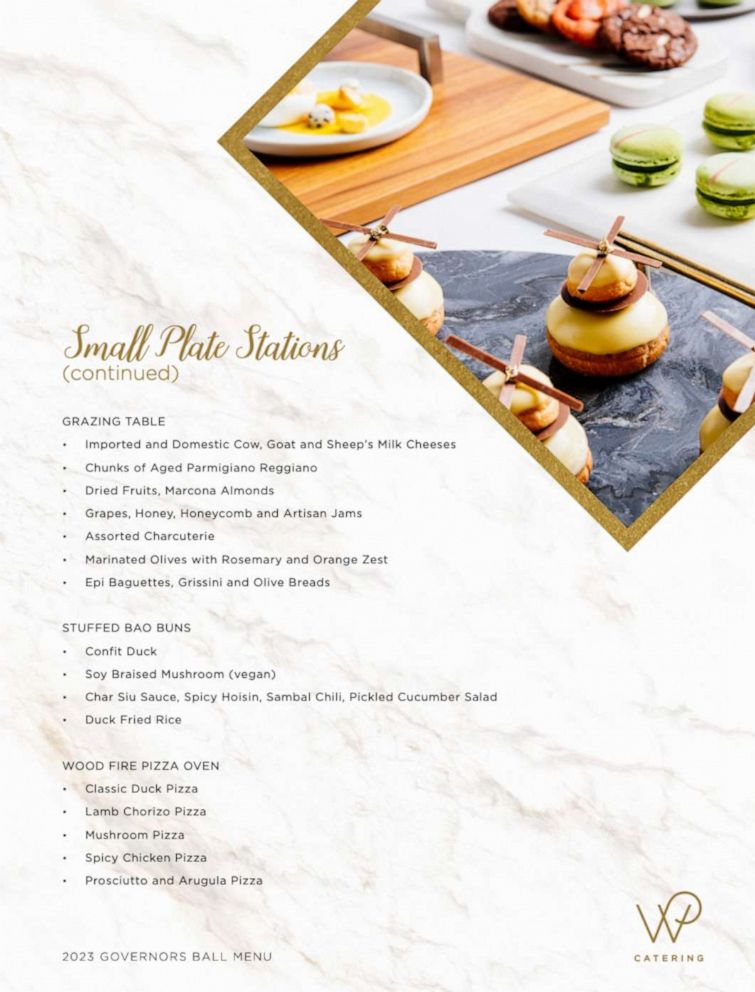 Passed Small Plate Sweets
Butterscotch Terrarium
Basque Cheesecake, Elderflower Macerated Berries
Modern Marjolaine Cake
Chocolate Caramel Flan, Sesame Streusel
CUT London Classic Trifle
Small Plate Stations
Fish and Chips Classic Crispy Fried Cod, French Fries
Tartar Sauce, Malt Vinegar Chips, Saffron Chips, Malt Vinegar, Ketchup, Garlic Aioli
Carving
Beef Wellington
Chicken and Waffles: Light and Crispy Asian Style Fried Chicken and Pandan Leaf Coconut Waffle prepared to order
Gochujang Spiced Maple Syrup, Bourbon Barrel Aged Maple Syrup, Toasted Coconut, Furikake, Assorted Hot Sauces
Crispy Rice Bar
Crispy Heirloom Rice Cakes prepared to order
Miso Hamachi Tartare, Spicy Tuna Tartare, Braised Mushroom Tartare (vegan)
Whole Loins of Ahi Tuna, Salmon and Hamachi, carved to order
Fresh Fruit Sushi and Sashimi, Coconut Rice (vegan)
Truffle Ponzu, Unagi Glaze, Smoked Soy, Miso Aioli, Sushi Soy, Yuzu Kosho, Chili Aioli, Pickled Ginger, Wasabi-Avocado Salsa, Tobiko, Kelp Noodle Salad, Shiso Leaves, Pickled Wasabi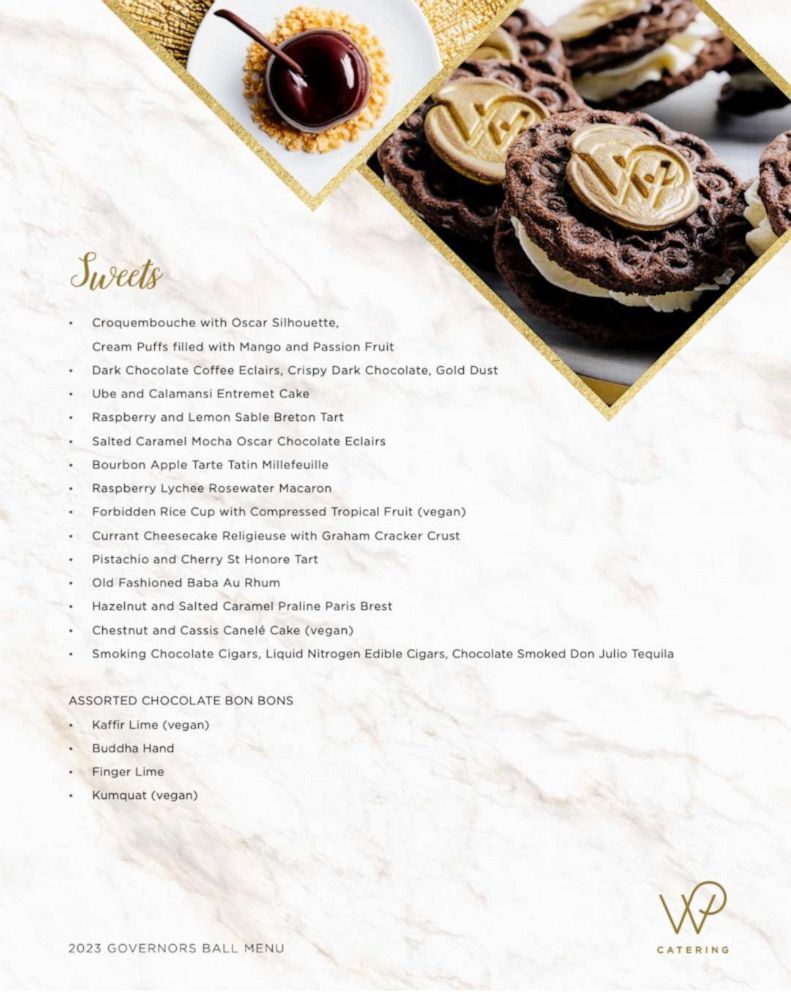 Grazing Table
Imported and Domestic Cow, Goat and Sheep's Milk Cheeses
Chunks of Aged Parmigiano Reggiano
Dried Fruits, Marcona Almonds
Grapes, Honey, Honeycomb and Artisan Jams
Assorted Charcuterie
Marinated Olives with Rosemary and Orange Zest
Epi Baguettes, Grissini and Olive Breads
Stuffed Bao Buns
Confit Duck
Soy Braised Mushroom (vegan)
Char Siu Sauce, Spicy Hoisin, Sambal Chili, Pickled Cucumber Salad
Duck Fried Rice
Wood Fire Pizza Station
Classic Duck Pizza
Lamb Chorizo Pizza
Mushroom Pizza
Spicy Chicken Pizza
Prosciutto and Arugula Pizza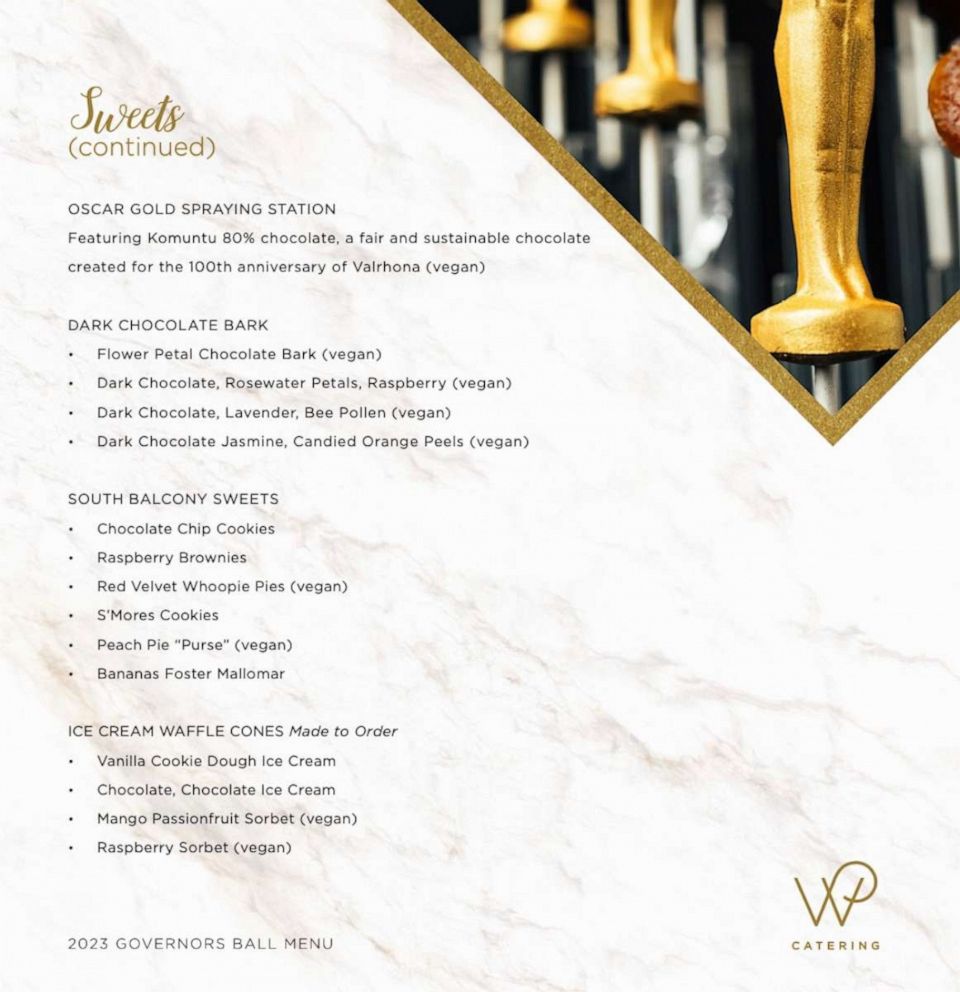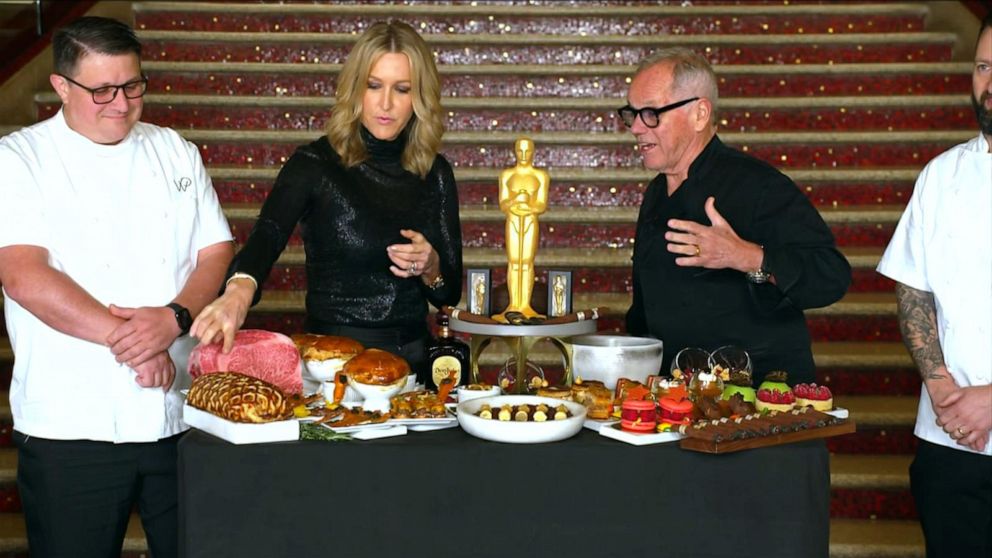 The menu was created by Wolfgang Puck and Eric Klein, VP of Culinary for Wolfgang Puck Catering. Pastry Design by Kamel Guechida and Garry Larduinat.
An earlier version of this story was first published on February 24, 2023.