Cuisine transcends borders and a growing list of culinary consumer products are tapping into heritage ingredients and flavors to deliver an authentic taste of their culture to home cooks, chefs and more.
"Good Morning America" Food asked a handful of those founders to explain how they have successfully intertwined personal narrative with a love of food into a business that delivers something bigger than the brand's label.
Fly by Jing
"Flavor is the greatest way to bridge gaps between cultures. At Fly By Jing, we say that our products are not traditional, but personal, and that's how we encourage people to use them," founder Jing Gao told "GMA." "I first launched Fly By Jing as an underground supper club while I was still living in Shanghai. That's where I had my first 'aha' moment that Sichuan flavors are universally exciting and appealing ... People's eyes would light up when they tried certain dishes."
After visiting Expo West, the largest natural foods show in the U.S., Gao said "Asian flavors were dramatically underrepresented," which was the catalyst to launch the brand. "I decided to launch Fly By Jing's all-natural Sichuan Chili Crisp as an introduction to a suite of CPG products that I knew people in the West would be excited about, because there wasn't much in the marketplace at the time ... I want these flavors to have a place on everyone's table."
Gao also proudly supports fellow AANHPI-owned food and beverage brands expanding their presence through goods that give back to their communities.
"My fridge is always stocked with Sanzo sparkling water. I love how founder Sandro Roca is infusing the seltzer aisle with Asian flavors like calamansi, yuzu, and lychee," she said. "I admire the work Sandra Nguyen is doing at Nguyen Coffee Supply. Her goal is to increase economic advancement for Vietnamese farmers, so she sources directly from family-run coffee farms in Vietnam, then roasts the beans in Brooklyn." She also hailed "the work Sana Javeri Kadri is doing to build a more equitable spice trade in India and Sri Lanka at Diaspora Co. -- and the heirloom spices she sources are absolutely packed with flavor because they're sold the same year they're harvested."
Momofuku Goods
"If you're lucky enough to travel, you realize how much natural overlap there is across cuisine," Momofuku restaurateur, chef and founder David Chang told "GMA." "That's what's cool to me about food -- you see different cultures searching for what's delicious and coming up with similar results."
From chili crunch to seasoned salts, noodles and vinegar the restaurant-grade, Asian American pantry essentials line originated with a simple goal in mind: "to redefine what the American pantry looks like."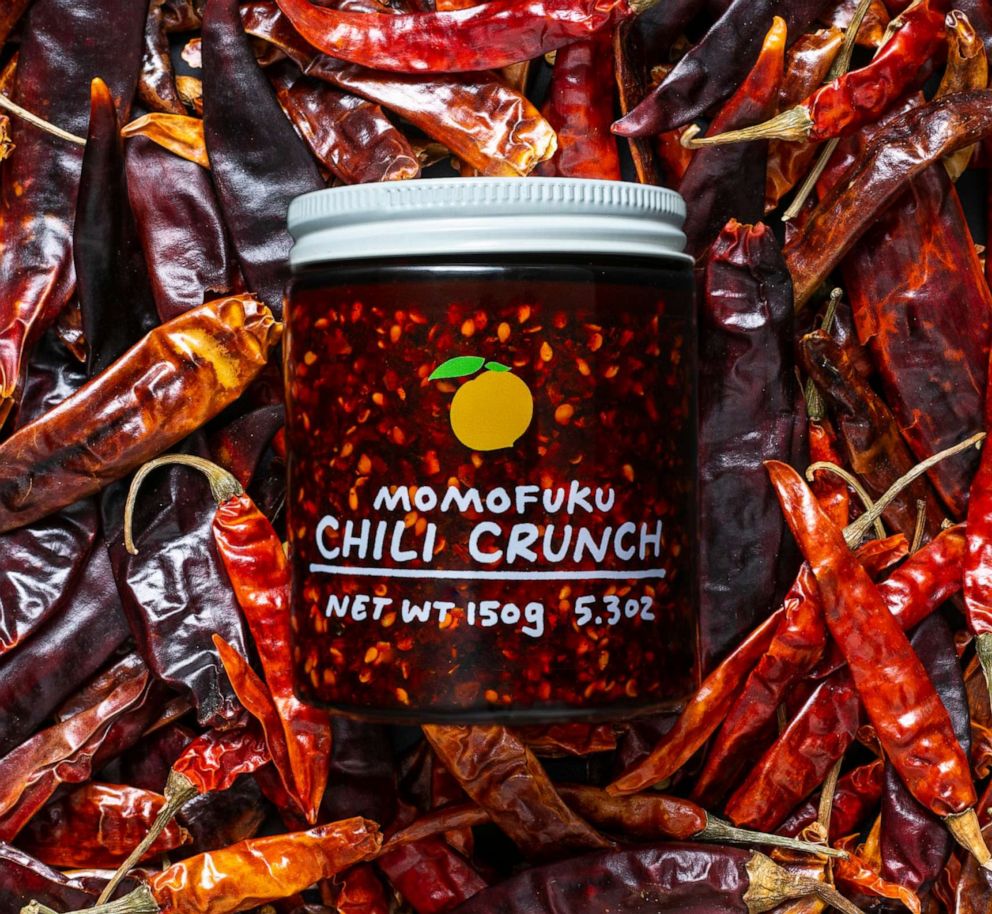 "Growing up, I couldn't imagine that the foods I got made fun of bringing to school for lunch would be considered popular. But there's still so much work to do," Chang said. "Why do grocery stores have one or two brands of soy sauce but a dozen varieties of olive oil? Why are ramen noodles considered cheap but people will pay for pasta? We're making progress but we're not there yet."
"It's amazing to me that we can change that and give people the same products we use in our restaurants," he said.
Material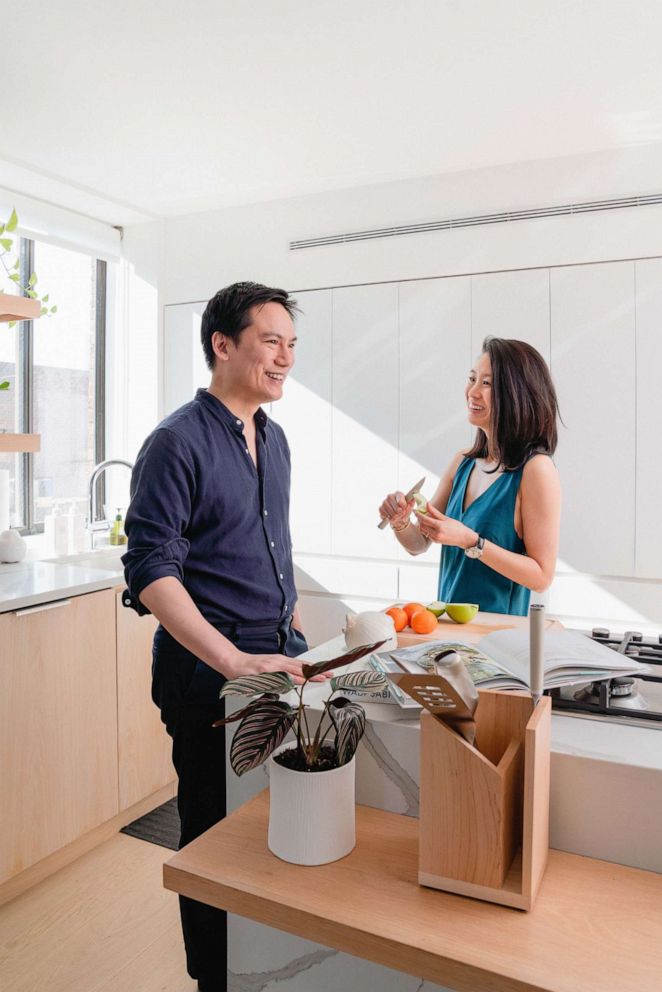 Eunice Byun, CEO, and co-founder of the sustainable kitchenware brand told "GMA" their company sought out to re-imagine the shopping experience for home cooks with products people will "regularly use, purposeful and beautiful designs" that last.
"Growing up, I was definitely that kid who was teased for eating seaweed or dried squid as snacks so it's incredible to see how widely adopted certain food items or flavors have become," Byun said. "But, for me, I think what's most poignant is being able to bring elements of history or artistry to the kitchen through collections like our ceramics, which are made of five types of Korean soil in a region of Korea that has been perfecting the art of ceramics for generations."
Byun said "there are so many amazing AAPI-owned brands in the kitchen right now. I love Brightland," she said of Aishwarya Iyer's clean olive oil brand. Much like Gao, Byun also said, "my drink drawer is always stocked with Sanzo, which I purchase from Asian online grocer Umamicart. I also always have Partake's double chocolate cookies on hand for my daughters and their friends -- and the grown-ups too."
Country Archer Provisions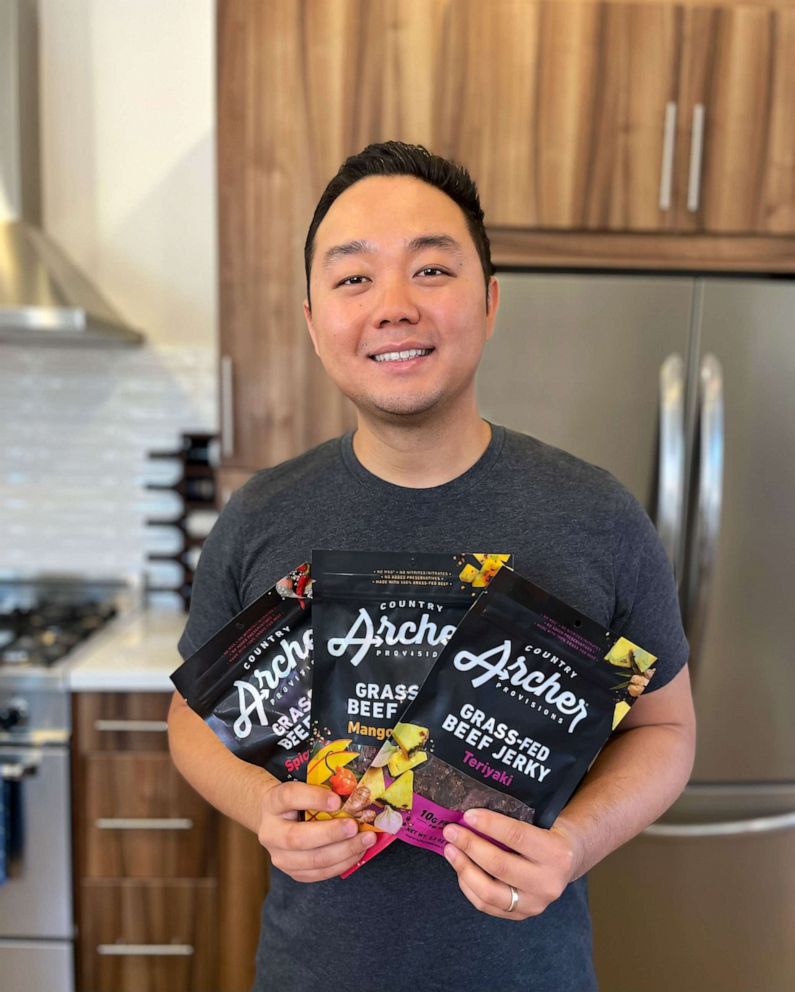 CEO and Co-Founder of the artisan jerky brand Eugene Kang told "GMA" that "the Asian American community has really rallied to help raise me and Country Archer up -- there were tough times with the business when we were struggling to get our foot in the door."
When the popular hot sauce sriracha was first trending, Kang reached out and "pulled on the heart strings" of the Huy Fong Sriracha owner and collaborated to create a sriracha flavored jerky. "It put Country Archer on the map and I'm ever thankful for what they did for me," Kang said. "Now it's about paying it forward. If there's advice, I can help a young founder with, I'm happy to lend a voice."
"I grew up in a Korean immigrant household, with my grandfather coming to the country on less than $20. He started in the convenience store business because it was the business where you didn't need to speak much English," Kang said. "As a result, I grew up in the stores and around CPG food products all the time. To think about my family starting from there, and to now be able to be an Asian-American business owner of a CPG Food brand is emotional and awesome."
Rooted Fare
Chinese American, co-founders and childhood friends, Ashley Xie and Hedy Yu, are daughters of immigrants bringing both nostalgic and novel eats, like Black Sesame Crunchy Butter to the masses.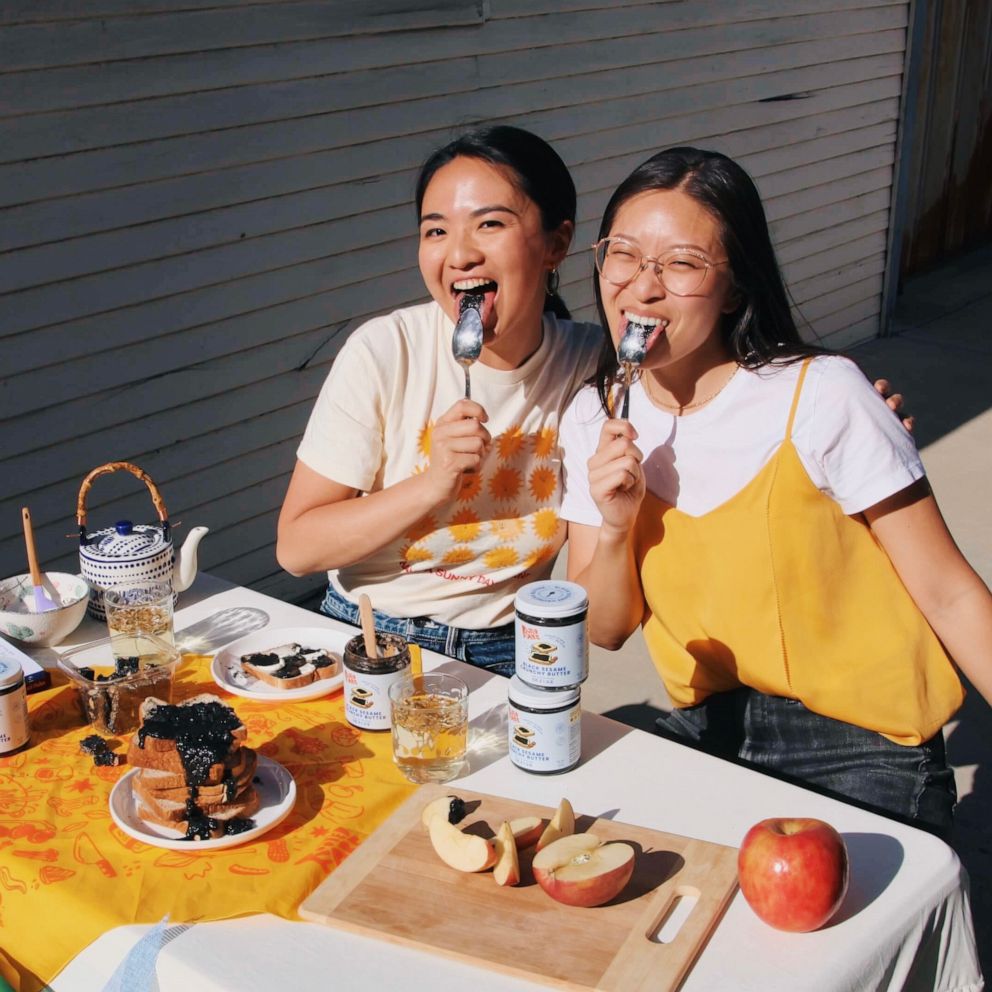 "It's an honor that I'm able to showcase Chinese American flavors, especially as a daughter of immigrant restauranteurs," Xie told "GMA." "I can finally embrace the flavors and culture I grew up with and have a community behind us."
Yu echoed the sentiment adding that the abilitiy "to share our twist on childhood flavors we grew up with has been super empowering."
"Equally, if not more incredible, has been feeling seen and understood by other Chinese- and Asian-Americans, who sometimes DM us saying, 'I can't believe this didn't exist before,'" Yu said of their popular products.
While they both agreed "there are so many" great AAPI-backed brands, a few the founders love include Halmi, Uproot Teas, Omsom, Fly by Jing, Dear Bella Creamery, Diaspora Co., Pocket Latte, and A-Sha.
This story was originally published on May 13, 2022.