Would the real Academy Award winners please stand up?
Rapper Eminem made an unexpected appearance on the 2020 Oscars stage, performing his hit, "Lose Yourself," from the 2002 movie "8 Mile."
Lin-Manuel Miranda introduced a tribute to songs that helped turn great movies into fan-favorite classics, but the end included a twist.
Cue Eminem, who surprised Oscar-goers with a performance of his 2003 Oscar-winning best original song, "Lose Yourself."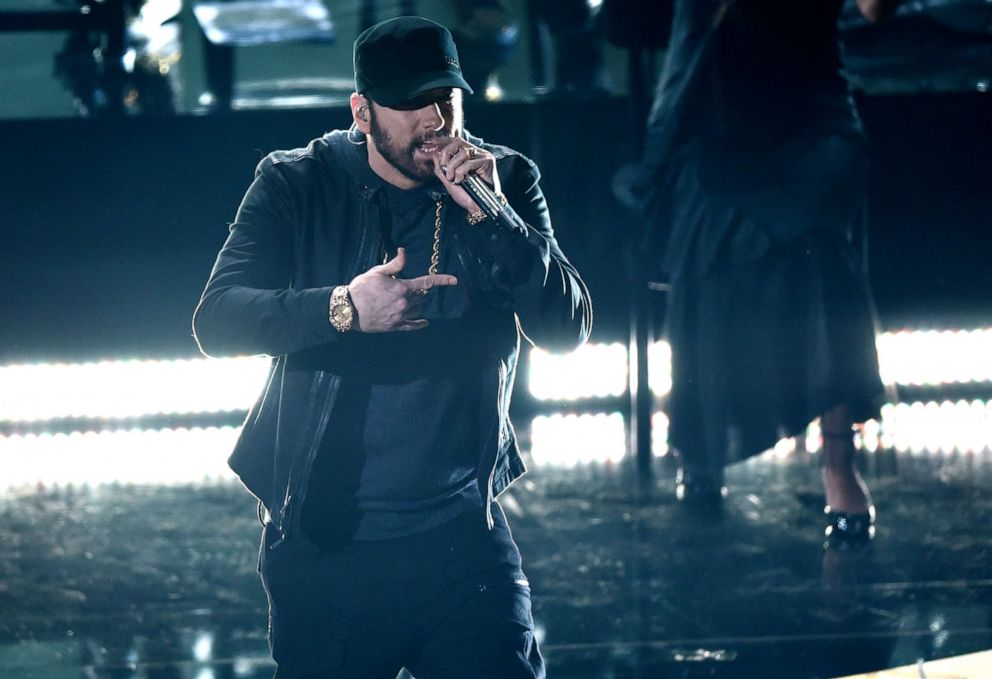 Celebrities in the audience had the best reactions, including surprise and confusion.
By the end, everyone in the star-studded audience was on their feet.
The 47-year-old rapper didn't attend the 2003 Academy Awards to accept his award from Barbra Streisand, but he got a second shot Sunday night.
In an interview Monday with Variety, Eminem explained, "I kinda figured maybe since I didn't get a chance to do it at the time, maybe it would be cool. Back then, I never even thought I had a chance to win, and we had just performed 'Lose Yourself' on the Grammys with the Roots a couple of weeks before the Oscars, so we didn't think it was a good idea."
"Also, back at that time, the younger me didn't feel like [it was] a show, like, that would understand me. ... I remember being kinda confused about why I was even up for one, because as a kid with the Oscars, it was like a vacuum," he added.
Instead of attending the Oscars that night in 2003, Eminem said he was just at home with his daughter and ended up sleeping. Luis Resto, his keyboard player who produces records with the rapper, went up and accepted the award on his behalf.
When the opportunity came to perform at this year's Academy Awards, Eminem was 100% on board and kept it under wraps.
"Most of the rehearsals were offsite, not in [the Dolby Theatre], just trying to keep it secret," he told Variety. "It was presented to me that way and I said, 'Oh, that's kinda dope to not even announce it.'"
After he took the stage Sunday, Eminem took to Twitter to explain what prompted his performance.
"Look, if you had another shot, another opportunity... Thanks for having me @TheAcademy," he tweeted, paraphrasing the song's lyrics. "Sorry it took me 18 years to get here."