Chris Harrison offers date-night tips for couples in quarantine
Due to the stay-at-home orders, the typical anniversary date-night activities seem to be put on hold.
Not to worry, "Good Morning America" has rounded up creative tips to make a meaningful celebration -- even amid quarantine.
Get Creative
1. Movie date night
With a few extra creative touches, turn a typical night of watching your favorite movies into a special evening.
Get some poster board and markers and make a homemade "Movie Theater" sign for a "date night." Some creative touches include a themed-drink menu (complete with your partner's favorite drink), your best microwave popcorn and even a movie queue with a few options for the night.
2. Virtual trip around the world
Do you have a favorite place you like to travel to with your partner? Travel to the spot where you went on your honeymoon or a recent meaningful trip you both enjoyed.
This safe "travel" date can inspire you to set up a night honoring your favorite places -- with your favorite foods, of course!
For example, the evening can begin in "France" with a charcuterie board and a bottle of wine, then hop over to "Italy" by making handmade pasta, and then the evening can end in "Spain" with a flan recipe that can be made in an Instant pot.
Also, many world-famous museums, like the Louvre, are hosting virtual tours.
Decorations and big imaginations are encouraged!
3. Livestream a concert
Musical artists all over the world are hosting "virtual" concerts over social media amid the coronavirus pandemic.
Look out for the next "Live" performance or find an old concert on YouTube of your partner's favorite performer and make a night out of it.
Sit down, turn up the volume, and enjoy each other's company while being serenaded by your favorite artist -- in the comfort of your own home!
Get Nostalgic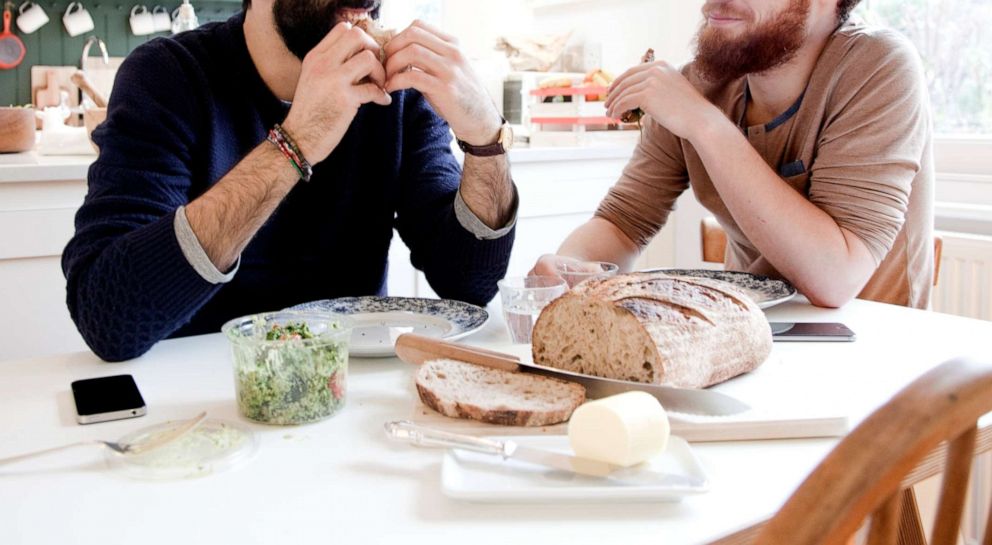 1. Recreate your 1st date
Anniversaries are a time to celebrate all of the love, support and comfort you've shared together over the years. Why not take it back to the beginning?
Recreate your first date. If you went out to eat, try to make the first meal you ever had together from scratch. If you went out with friends, video conference them in for a night of reminiscing. If you met in high school or college, try to recreate your high school or college selves. The more details included, the more meaningful the night can be.
As a bonus, add a bottle of wine from the year you first got together!
2. Redo your 1st wedding dance
Re-stepping into your old shoes and redoing your first dance can create a new romantic and intimate moment with your partner.
This thoughtful, easy and inexpensive idea will stir emotions and show appreciation for all the time you've spent together.
Afterwards, continue the dance down memory lane, with looking through your wedding photo album or other old pictures of the two of you together.
3. 'Prom Night'
Whether you actually went to prom together or not, this is a fun way to celebrate each other in a way that can have the whole family involved.
Have your household dress up like you were all going to Prom. Get a corsage and throw on some dorky music and you'll be sure to be sharing a laugh in no time.
You can make a dance floor anywhere with streamers and balloons.
DIY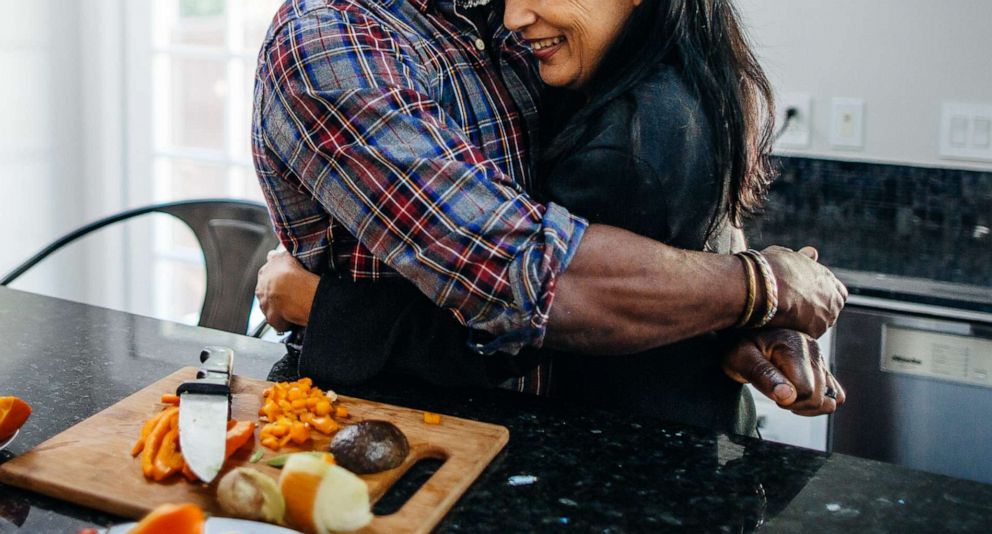 1. DIY spa day
With everything that's happening in the world right now, give your partner a mental relaxation day.
Beginning with breakfast in bed, take the day to search for some easy at-home self-care solutions.
There are plenty of DIY face masks that can be made from simple household items like avocados and honey or give your partner a manicure and pedicure.
Afterwards, the day can end with massages and thoughtful time with each other -- without any phones, kids or other distractions.
2. Sip and paint
"Sip and Paint" places have been a creative date-night idea pre-pandemic. Why not make it your own, and do it at home?
Find a meaningful photograph of your partner or a thing or place that you love to share together and paint it. No artistic skill is required!
Painting is an activity that takes patience and quality time, so spend those moments with your loved one over a nice bottle of wine and a paintbrush.
3. Homemade cards
Often, words are worth more than anything that can be bought at a store. Take the time to write out why you love your partner the way that you do. Below are some writing prompts to help get you started:
What is your favorite memory with your partner and why?
What is your favorite secret, small, thing about your partner?
What is one trait that you value in your partner?
What is one thing (ie. a quote, a place, an object) that reminds you of your partner and why?
What was going through your head during a specific, meaningful moment with your partner (ie. first date, Wedding day)?
What do you appreciate about your partner?