Coronavirus daily update: March 31, 2020
A pandemic of the novel coronavirus has infected more than 859,000 people around the world.
Over 178,000 of those patients have recovered from the new respiratory virus, which causes an illness known officially as COVID-19.
More than 42,000 people across the globe have died, according to data compiled by the Center for Systems Science and Engineering at Johns Hopkins University.
With more than 189,000 diagnosed COVID-19 cases, the United States has by far the highest national tally in the world, according to the Johns Hopkins data. At least 4,076 have died from the virus in the United States, surpassing the death toll in China where the virus first emerged in December.
Tuesday's biggest developments:
US now has over 4,000 COVID-19 deaths
Spain, France report highest single-day death tolls
New York City crosses 1,000 deaths
United Kingdom deaths double in 24 hours
12-year-old girl becomes youngest known coronavirus victim in Europe
Masks for everyone 'under very active consideration,' Fauci says
Here's how the news developed Tuesday. All times Eastern.
9:30 p.m.: LA continues to see sharp rise in cases
Los Angeles County saw another increase in cases on Tuesday, with Mayor Eric Garcetti saying they've had 548 new cases in the past 24 hours.
The county announced 342 new cases on Monday.
Garcetti stressed the need for more ventilators, but said the county does have 1,383 beds available.
He also said testing began yesterday on Skid Row, LA's infamous collective area for the homeless. He said about 1,000 tests would be administered to homeless in the county daily.
9:17 p.m.: Russia sending supplies to US
A Russian plane carrying personal protection equipment and other supplies is expected to land in the U.S. on Wednesday after Russian President Vladimir Putin offered to help with the U.S. response to COVID-19, a senior administration official said Tuesday evening.
On Monday, Trump said at his White House press conference: "Russia sent us a very, very large planeload of things, medical equipment, which was very nice."
Russian news agency Interfax reported Tuesday that Kremlin spokesman Dmitry Peskov said Trump and Putin had discussed Russia sending a plane during a phone call Monday; the White House did not mention the plane in its own readout of the call.
7:22 p.m.: NYC death toll surpasses 1,000
The coronavirus death toll in New York City surpassed 1,000 Tuesday evening, according to the city's health department.
The 1,096 fatality count was a 164 jump from the morning's tally of 932.
The total number of cases in the city is now at 41,771, according to the health department.
No state -- besides New York, where the total stands at over 1,550 -- has had more than 267 deaths.
6:54 p.m.: Federal prisons to restrict detainees mostly to cells
The U.S. Bureau of Prisons announced tougher restrictions for its detainees as a new step to curb the coronavirus spread.
Inmates currently in 122 facilities will be assigned to their cells for a 14-day period under the new rule. Detainees will still have access to programs and services such as mental health treatment and education.
The inmates will have limited group access for "commissary, laundry, showers, telephone, and Trust Fund Limited Inmate Computer System (TRULINCS) access," according to the agency.
U.S. Attorney General William Barr has said there are 146,000 inmates in federal prisons.
6:15 p.m.: Trump warns Americans next 2 weeks will be 'very painful'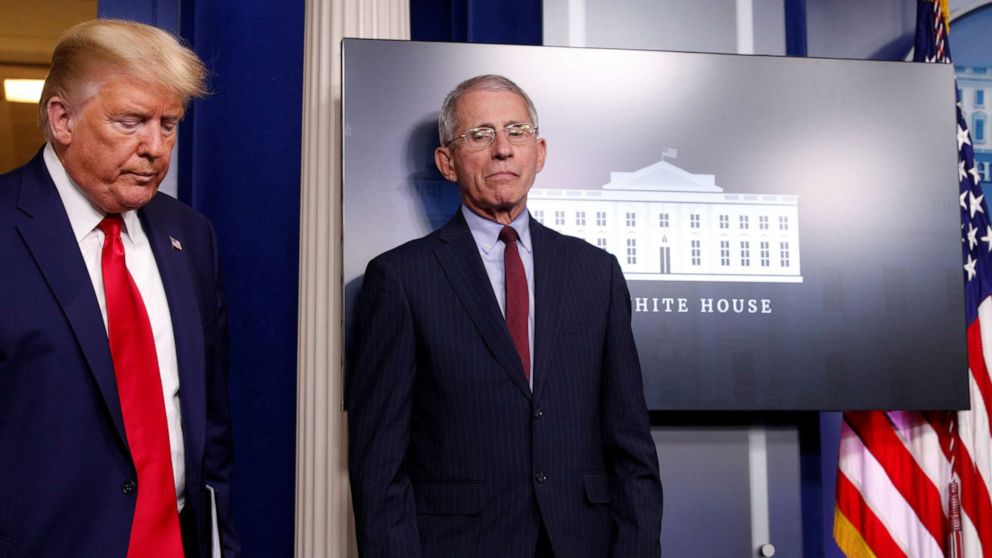 President Donald Trump warned Americans during his daily briefing that there will be hard days ahead as the pandemic spreads across the country.
"We're going to go through a very tough two weeks," he said. "We're going to start seeing some real light at the end of the tunnel, but this is going to be a very painful, very very painful, two weeks."
Dr. Anthony Fauci, the director of the National Institute of Allergy and Infectious Diseases, said Americans should be prepared for deaths as high as 100,000.
"I think the more we push on the mitigation, the less likelihood it would be that number," he said. "But as being realistic we need to prepare ourselves that that is a possibility that that is what we will see."
Vice President Mike Pence said so far, 1.1 million COVID-19 tests have been conducted across the country.
5:02 p.m.: Florida governor asks Trump to bar cruise ships from docking
Florida Gov. Ron DeSantis said he has requested that the president stop cruise ships from docking in the state.
Holland America's MS Zaandam -- which has nearly 200 passengers on board with "flu-like symptoms," four deaths of elderly passengers and multiple people who tested positive for COVID-19 -- as well as sister ship MS Rotterdam were planning to return to Florida. Carnival's Coral Princess was also planning to return, and it has multiple passengers with "flu-like symptoms."
The governor said only medical supply ships should be allowed to use those ports. As of Tuesday afternoon, Florida had 6,338 confirmed cases and 77 deaths, according to the state's health department.
DeSantis said he isn't considering a statewide stay-at-home order and would defer the call to local counties. He has ordered a self-quarantine mandate for visitors coming from the New York tristate area.
The governor said 8,600 people who have come into the state by car or plane have been screened so far.
4:40 p.m.: LA County classifies grocery store, delivery workers as 'front-line responders'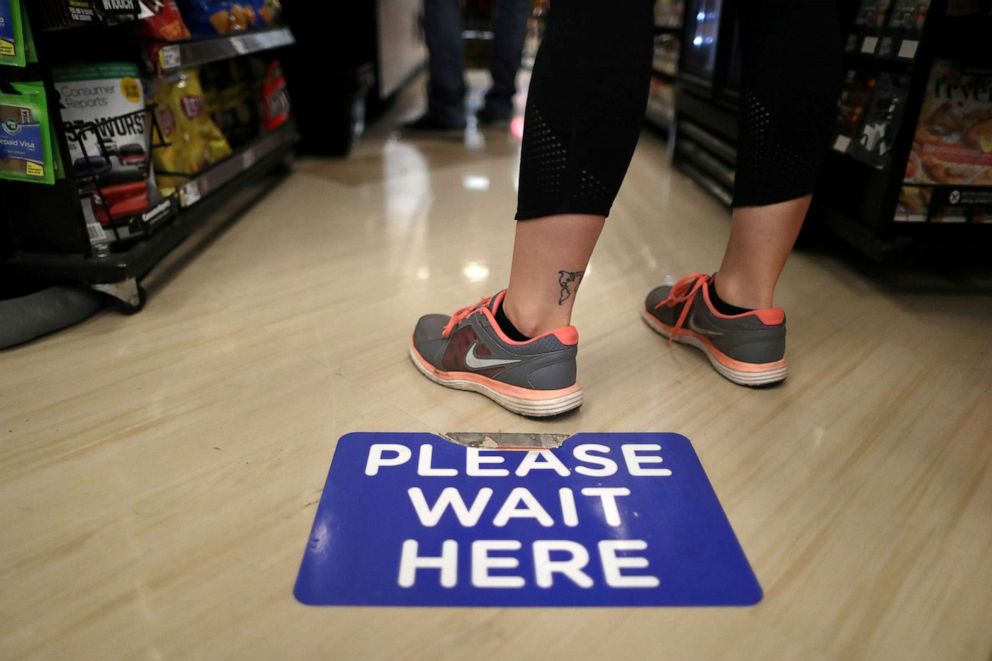 In Los Angeles County, the Board of Supervisors has passed a motion to protect grocery store, delivery and pharmacy workers, now classifying them as "front-line responders."
"In these difficult times, a visit to the grocery store makes extraordinarily clear that food and grocery delivery drivers are essential workers and we must do all that we can to protect them," Supervisor Mark Ridley-Thomas said in a statement.
Employers now must sanitize and stock all bathrooms, put sanitizers at the front of stores, clean stores, clean carts between use, require employees to wash their hands every 30 minutes, provide access to testing and support employees so they can address family needs.
3:44 p.m.: Louisiana's death toll reaches 239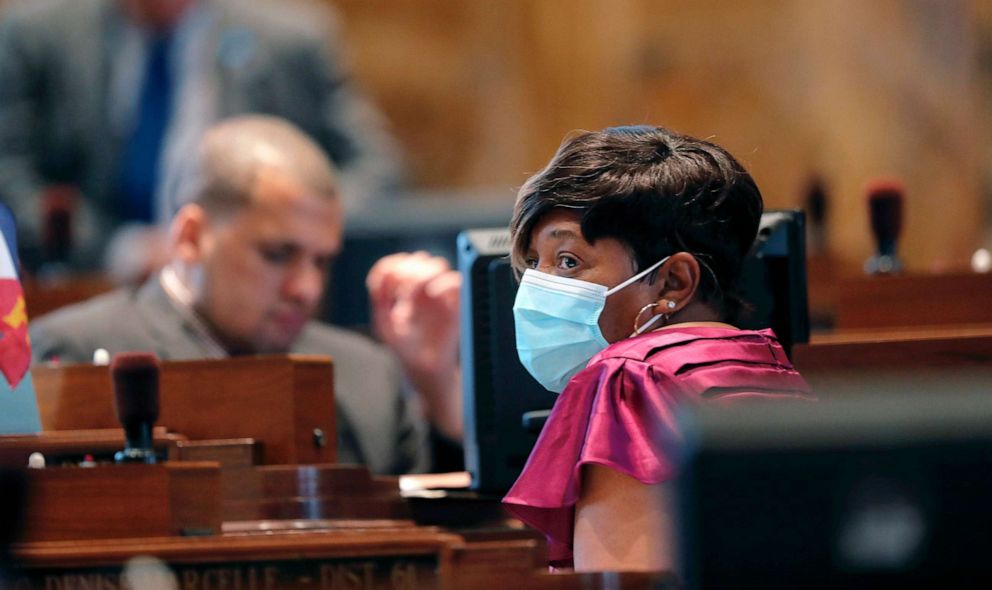 In Louisiana, one of the hardest-hit states, 239 people have now died from coronavirus -- a 29.1% increase from Monday.
At least 5,237 in the state have tested positive. Of those, 1,355 people are in the hospital, including 438 people who are on ventilators.
Since Thursday, the number of hospital patients has doubled and the number of people on ventilators has doubled, Gov. John Bel Edwards said Tuesday.
The New Orleans area is expected to exceed ventilator capacity as early as April 4, and run out of hospital beds by April 7, the governor said.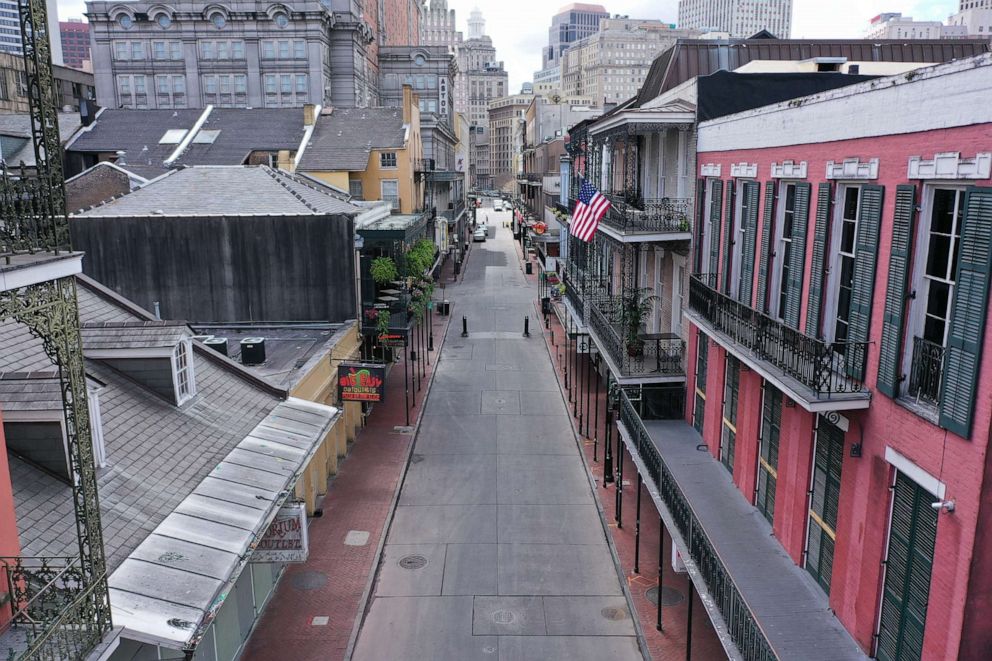 Louisiana has ordered about 14,000 ventilators, including 150 from the national stockpile, the governor said.
"We have received 292 [ventilators] to date from private vendors and that includes an additional 100 that came in yesterday, and the 150 from the national strategic stockpile which has not yet been delivered here to Louisiana but we expect to receive those very soon," he said.
The governor said there's no evidence the state has started to "flatten the curve" and the stay-at-home order will be extended until at least April 30.
3:27 p.m.: France reports highest single-day death toll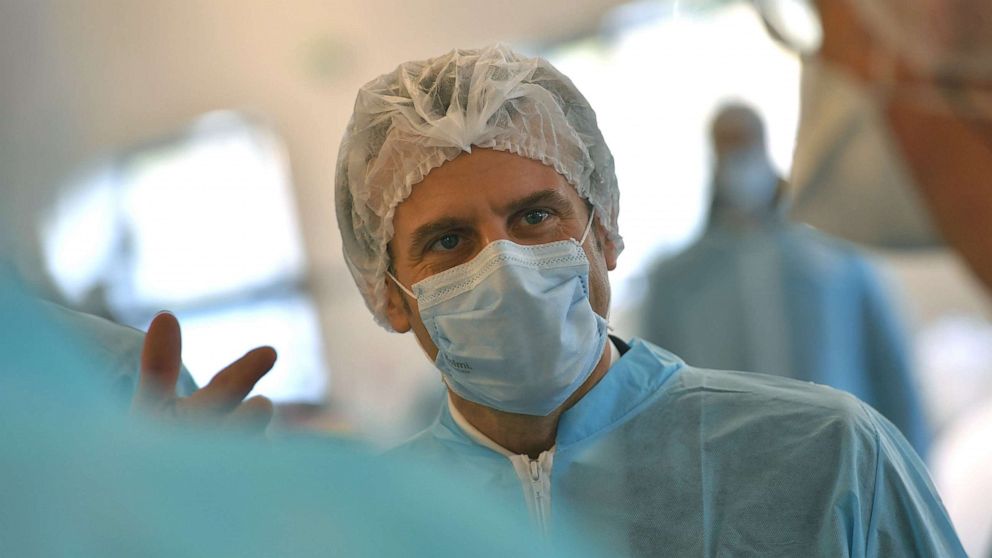 France reached its highest single-day death toll Tuesday, reporting 499 deaths in the last 24 hours.
France's total number of fatalities has now reached 3,523, said Jerome Salomon, director-general of health.
The nation's total number of confirmed cases has climbed to 55,128. Of those, over 22,000 are hospitalized, including 5,565 people in intensive care, Salomon said.He said 68 patients in intensive care are under the age of 30.
The death toll is likely to spike further as the number of fatalities and diagnosed cases does not yet include data from nursing homes, according to Salomon.
Tune into ABC at 1 p.m. ET and ABC News Live at 4 p.m. ET every weekday for special coverage of the novel coronavirus with the full ABC News team, including the latest news, context and analysis.
3:06 p.m.: New York City crime drops off the map
"Crime has dropped off the face of the map" in the nation's most populated city since social distancing began, NYPD Police Commissioner Dermot Shea said.
"The foot traffic is almost nil at this point in time," Shea said Tuesday.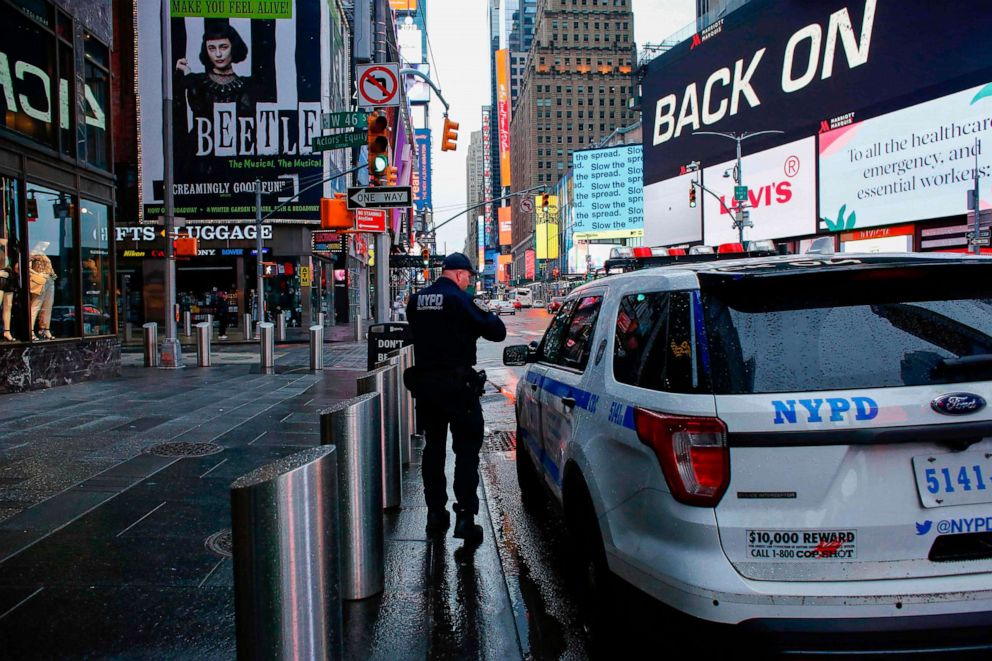 Police calls are down, which is a benefit to the NYPD as 15% of its uniformed officers -- about 5,600 cops -- are out sick.
The NYPD has had 17 people come back to work after testing positive since Friday, Shea said.
"They are back, they are better and they are jumping in to fill the place when people go down," he said.
At least 914 people have died from coronavirus in New York City, the city health department reported Monday night.
Over 38,000 New York City residents have tested positive.
While crime is down, calls to 911 and first responders are up.
Thanks to FEMA, 250 ambulances are being sent from across the country to New York City to help alleviate the strain on the EMS system, New York City Mayor Bill de Blasio said Tuesday. At least 135 of those ambulances have already arrived.
The FDNY says more than 20% of the EMS workforce is out sick.
De Blasio added that FEMA is sending 500 more EMTs to New York City, 270 of whom have already arrived.
12:45 p.m.: United Kingdom deaths double in 24 hours
The United Kingdom has recorded its highest number of daily coronavirus deaths with 381 people losing their lives in the last 24 hours.
That doubles the number of deaths reported Monday.
The U.K.'s death toll now stands at 1,789.
The largest number of confirmed cases are in London, where officials say the number of those infected is spreading quickly.
12:10 p.m.: Need to prepare for 'battle' at the apex, Cuomo says
In hard-hit New York state, 1,550 people have died from COVID-19, Gov. Andrew Cuomo said Tuesday.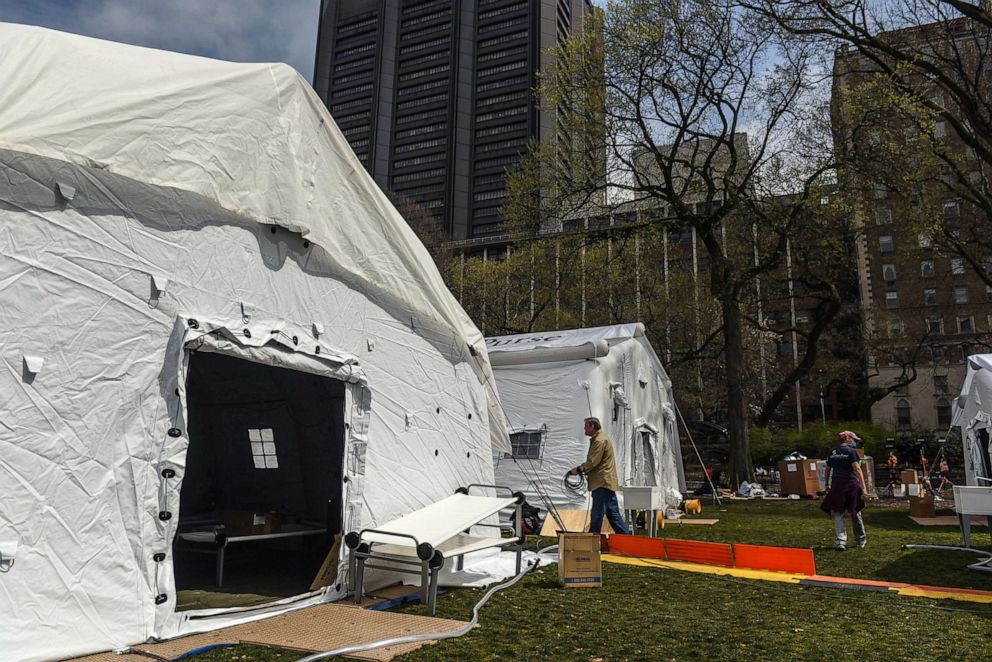 Over 75,000 have tested positive in the state, and of those, 2,710 people are in intensive care units as of Tuesday, the governor said.
"I am tired of being behind this virus. We've been behind this virus from day one," Cuomo said, stressing that the main battle will be at the "apex" of the curve -- which has not yet been reached.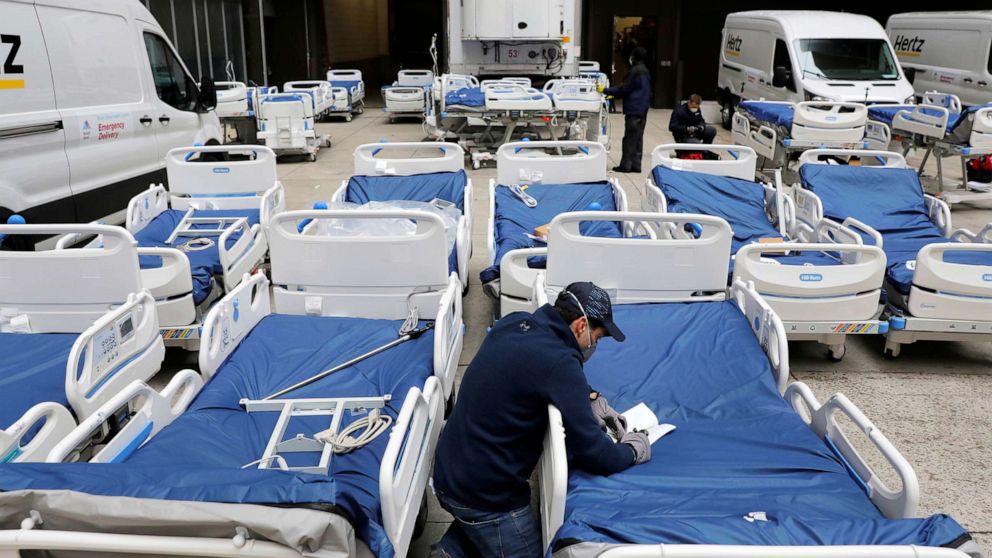 "We are planning now for the battle at the top of the mountain," Cuomo said, including stockpiling equipment.
The governor said it's important that there's a social acceptance of the time expectations
"Everybody wants to know one thing: when is it over. Nobody knows," Cuomo said. "It is not gonna be soon ... calibrate your expectations."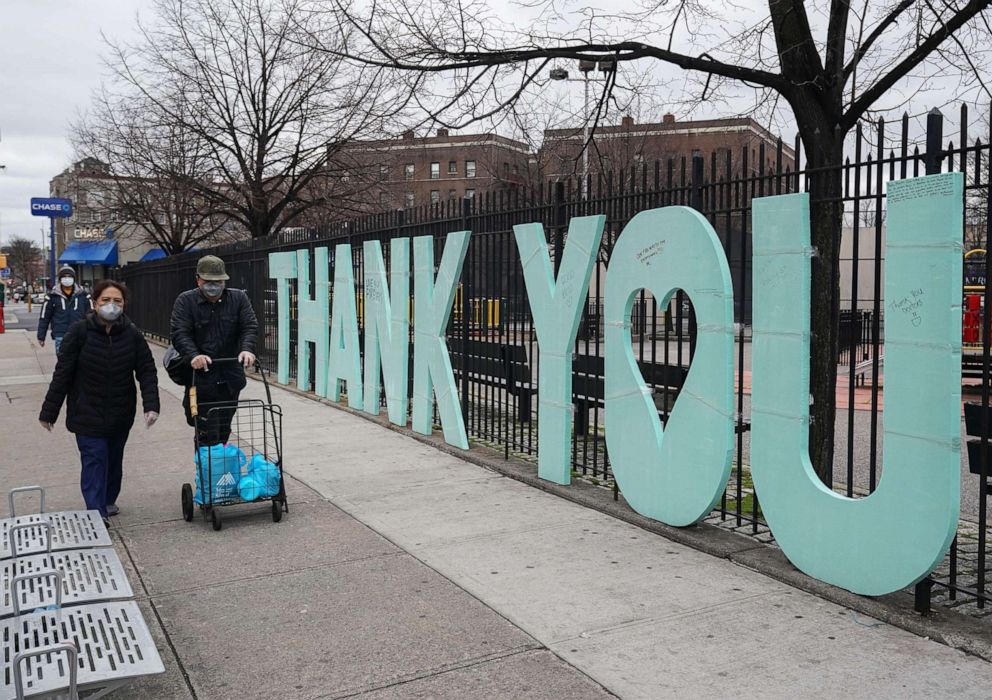 To the public, the governor stressed, "everyone is subject to this virus. It is the great equalizer. I don't care how smart, how rich, how powerful you think you are."
Gov. Cuomo said his younger brother, CNN anchor Chris Cuomo, has tested positive for coronavirus. The governor said he spoke to his brother Tuesday morning and that he "will be fine."
But the governor also chastised the younger Cuomo for letting their mother go to his house several weeks ago.
"I said, 'That is a mistake. You expose her to a lot of things,'" the governor said. "She's older and she's healthy but I said, 'you can't have mom at the house.'"
"If my brother still had my mother at his house ... now we'd have a much different situation," he said.
Chris Cuomo tweeted Tuesday, "I have been exposed to people in recent days who have subsequently tested positive and I had fever, chills and shortness of breath."
Chris Cuomo said he's quarantined in his basement and will anchor his CNN show from there.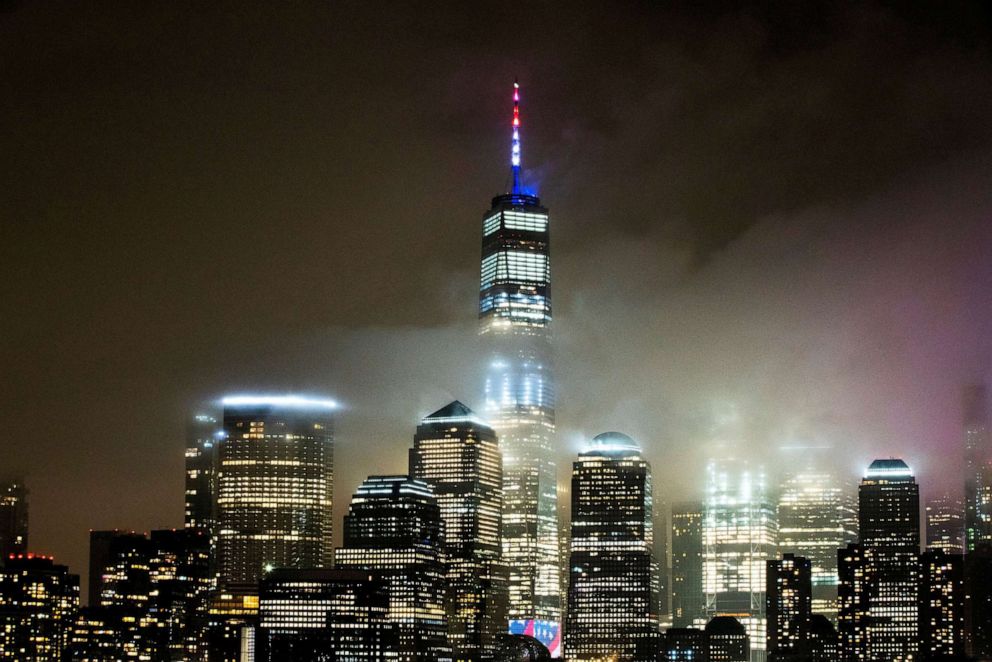 11:30 a.m.: Walmart will check employee temperatures
Walmart says it will start taking employees' temperatures when they arrive at work and will ask them "some basic health screening questions."
Any employee with a temperature of 100 degrees or higher will be asked to go home and will be paid for reporting to work, Walmart said in a statement.
Masks are expected to arrive in one to two weeks and will be available for any employees who want them, Walmart added.
What to know about the novel coronavirus:
10:26 a.m.: Masks for everyone 'under very active consideration,' Fauci says
Dr. Anthony Fauci, director of the National Institute of Allergy and Infectious Diseases, said on CNN Tuesday that masks for everyone is "under very active consideration."
The possibility of recommending that all Americans wear masks will be discussed at Tuesday's coronavirus task force meeting and officials will come "close to coming to some determination" when there are enough for health care workers, Fauci said.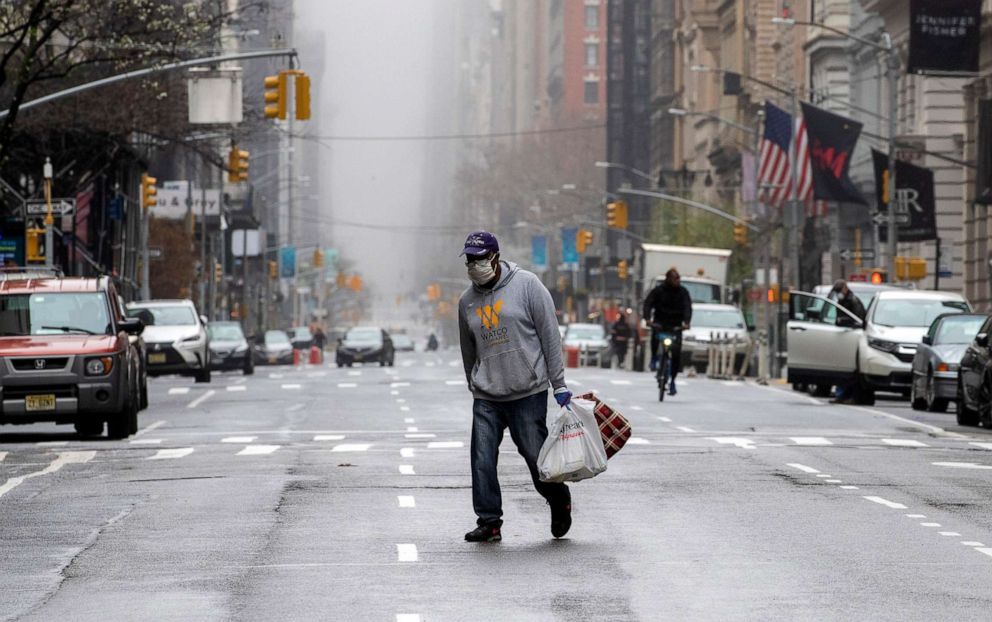 Dr. Mike Ryan, executive director of the World Health Organization's (WHO) Health Emergencies Program, said Monday, "we don't generally recommend the wearing of masks in public by otherwise well individuals because it has not been, up to now, associated with any particular benefit."
Ryan added that they do not criticize the practice and it may offer psychological benefits but there's some evidence to suggest the opposite in the misuse of masks and there's also a massive global shortage to consider.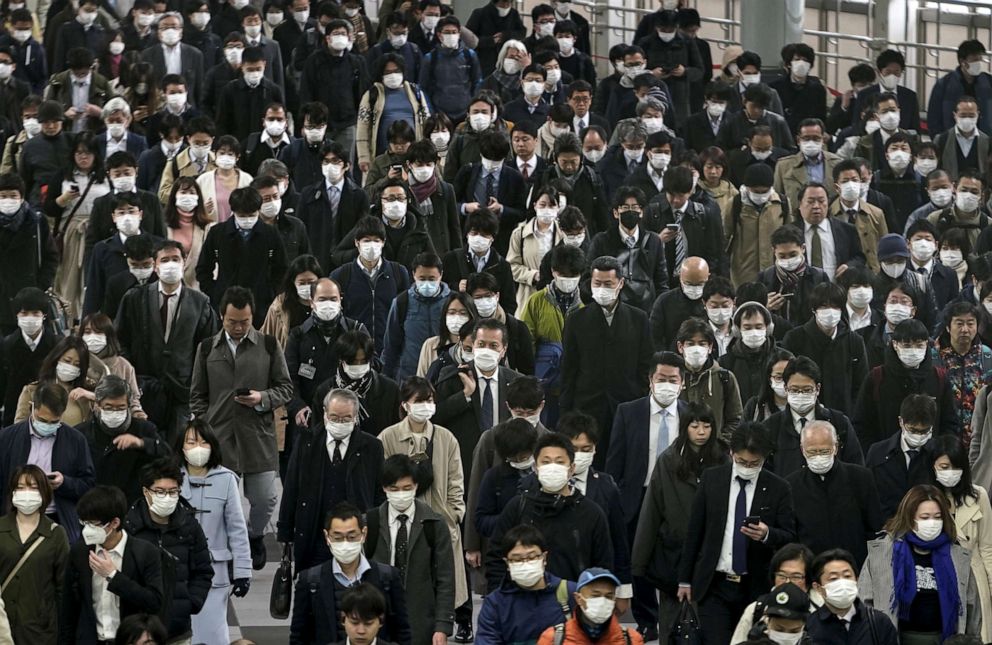 "Right now the people most at risk for this virus are frontline health workers who are exposed to the virus every second of every day," Ryan said. "The thought of them not having masks is horrific," he said.
WHO officials reiterated that symptomatic and diagnosed patients should wear masks to prevent the transmission to others.
9:30 a.m.: TSA screenings reach another record low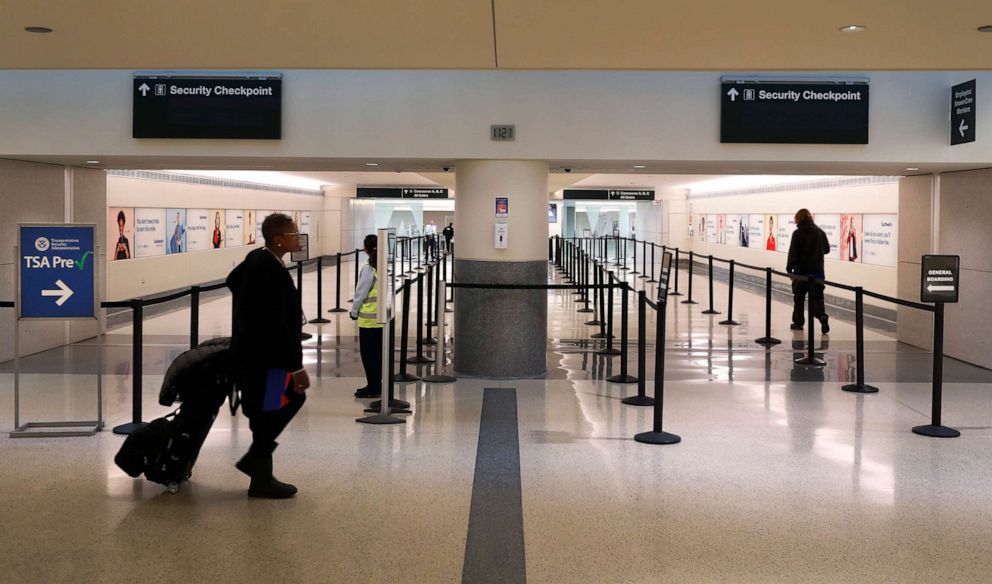 As the pandemic intensifies, airline travel is continuing to plunge in the U.S. and TSA screening numbers have fallen to the lowest in over a decade.
The TSA said it screened 154,080 travelers nationwide on Monday, compared to the 2,360,053 passengers screened on the same day last year.
8:56 a.m.: 12-year-old girl becomes youngest known coronavirus victim in Europe
A 12-year-old Belgian girl has become the youngest known person in Europe to die after contracting the novel coronavirus.
Dr. Emmanuel Andre, a spokesman for Belgium's national crisis center, announced the untimely death of the unnamed girl at a press conference Tuesday, saying it was "an emotionally difficult moment, because it involves a child, and it has also upset the medical and scientific community."
"We are thinking of her family and friends," Andre added. "It is an event that is very rare, but one which upsets us greatly."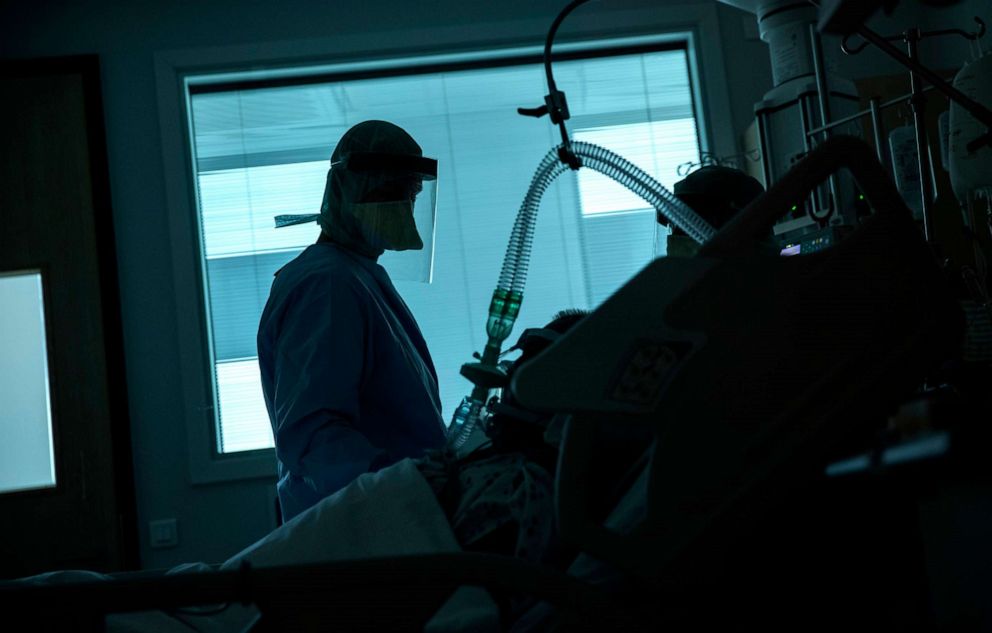 A spokesperson for Belgium's health ministry told ABC News the girl succumbed to the disease over the weekend. Further information was not immediately available due to privacy concerns for her family.
There are at least 12,775 diagnosed cases of COVID-19 in Belgium, and at least 705 of those patients have died, according to the latest count from Johns Hopkins University.
Belgium's health ministry has recorded 98 deaths within the past 24 hours.
8:13 a.m.: Spain reports highest single-day death toll from COVID-19
Spain has recorded an additional 849 deaths from the novel coronavirus in the past 24 hours, the highest single-day in-country increase since the pandemic began.
The 11.5% increase brings the country's national death toll from COVID-19 to 8,189. About 85 percent of the newly reported fatalities were patients over the age of 70, according to the Spanish Ministry of Health.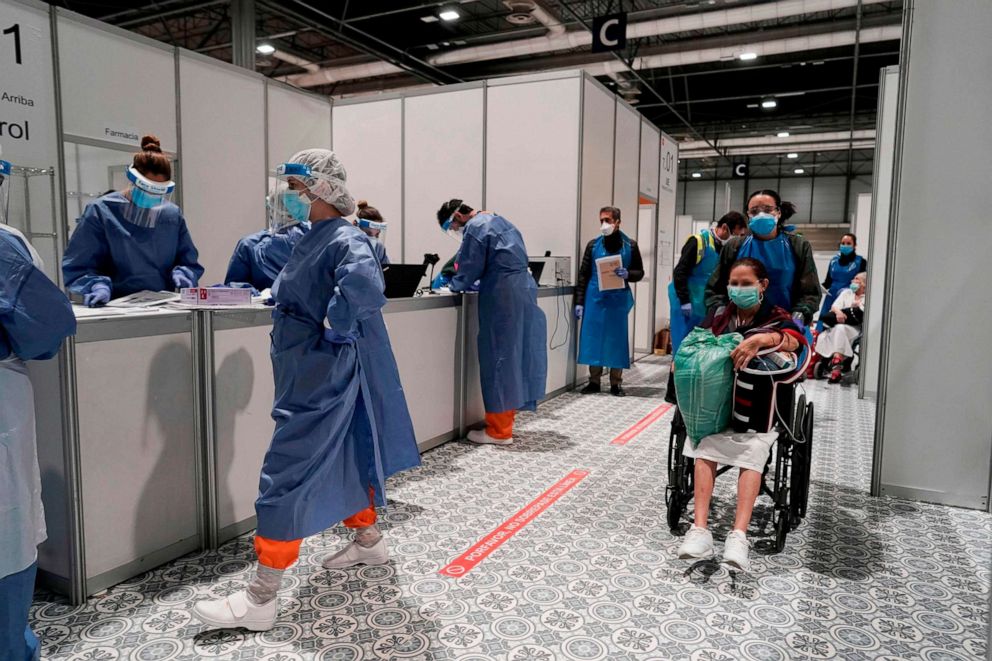 The health ministry also recorded 9,222 newly diagnosed cases in the last 24 hours, bringing the nationwide total to 94,417 -- a 10.8% increase.
Spain has the third-highest national tally of diagnosed cases in the world and the second-highest national death toll from the novel coronavirus, according to the latest count from Johns Hopkins University.
7:15 a.m.: US Army Corps of Engineers assessing 341 facilities for potential makeshift hospitals
U.S. Army Lt. Gen. Todd Semonite, who is spearheading an effort to build makeshift hospitals across the country in response to the coronavirus crisis, said the scope of the initiative is "immense."
"We're looking right now at around 341 different facilities across all of the United States, very similar to the Javits Center," Semonite told ABC News Chief Anchor George Stephanopoulos in an interview Tuesday on "Good Morning America."
Over the past week, the Army Corps of Engineers has been busy transforming the Jacob K. Javits Convention Center in New York City into an overflow medical facility designed to make it easier for hospitals to focus on treating patients infected with the novel coronavirus. The temporary field hospital could be able to house 2,910 beds, making it one of the largest hospitals in America. On Monday, the convention center began treating non-coronavirus patients.
The U.S. government is calling it "hospitals without walls," and it's requiring an unprecedented rollback of federal regulations so health care providers can act without fearing they might be penalized later. That means if a city like New Orleans or Denver wants to build its own makeshift hospital like the one at New York City's Javits Center, they can. Hospitals also can now provide benefits to its staff like meals, laundry or child care.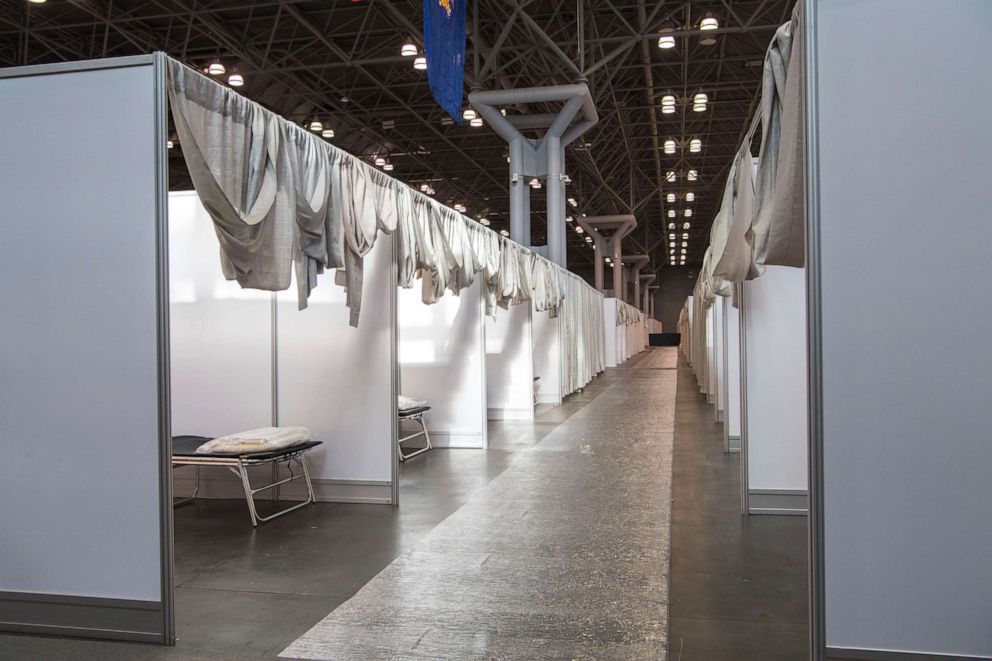 Semonite, the commanding general of the Army Corps of Engineers, said they're looking at various buildings across the nation, such as hotels and dormitories as well as big open spaces like convention centers, as potential sites to convert into more makeshift hospitals. There will be two types of temporary facilities: ones that will house COVID-19 patients and ones that will treat all other patients, according to Semonite.
"We've got eight contracts under gear right now, people in centers constructing facilities, probably about 8,500 beds," Semonite said. "And then by the end of the day, we should have another five contracts awarded with somewhere around another 4,000 beds."
"Our thought was make it extremely simple," he added. "Find an existing facility that already has all the codes, has heat, has water, has IT, has parking lots, and then just put in whatever we can like a hospital inside of that."
The U.S. Army Corps of Engineers is working side by side with the Federal Emergency Management Agency, the U.S. Department of Health and Human Services as well as local governments.
"We don't know where this is going to go," Semonite said. "This is a state and local decision, but what the Corps wanted to do is come up with an option so if we could be able to mitigate this delta in some way, we're able to find a solution that states could employ."
6:13 a.m.: Italy observes minute of silence to mourn coronavirus victims
Italy flew its flags at half-staff and observed a nationwide minute of silence on Tuesday to mourn the victims of the coronavirus pandemic, honor their families and show solidarity with health workers amid the crisis.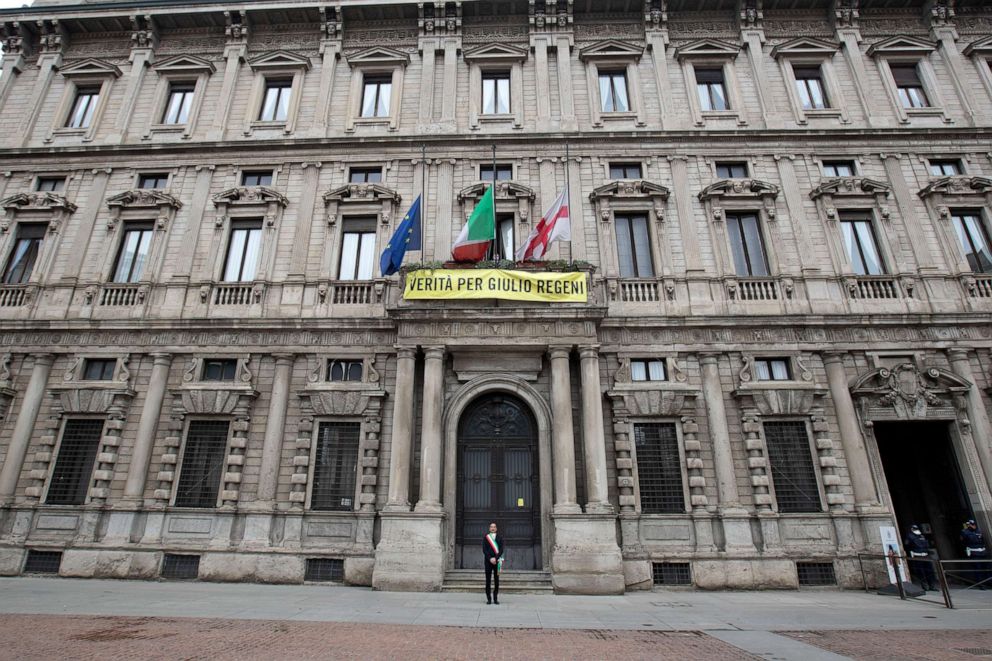 With more than 101,000 diagnosed cases of COVID-19, Italy has the highest national tally in Europe and the second-highest in the world, behind the United States. More than 11,500 people have died from the disease in Italy, according to the latest county from Johns Hopkins Unversity.
3:30 a.m.: US Open tennis complex to transform into temporary hospital
The site of the U.S. Open tennis tournament in New York City will be converted into a temporary medical facility as the coronavirus pandemic strains the city's resources, according to the U.S. Tennis Association, which owns the venue.
USTA spokesman Chris Widmaier told The Associated Press that an area of indoor courts at the Billie Jean King National Tennis Center in the New York City borough of Queens will be used for 350 temporary hospital beds starting Tuesday. Meanwhile, kitchens at Louis Armstrong Stadium -- the second-largest arena of the Grand Slam tennis tournament -- will be used for preparing 25,000 meal packages per day for patients, workers, volunteers and schoolchildren in New York City.
The Wall Street Journal first reported on the plans.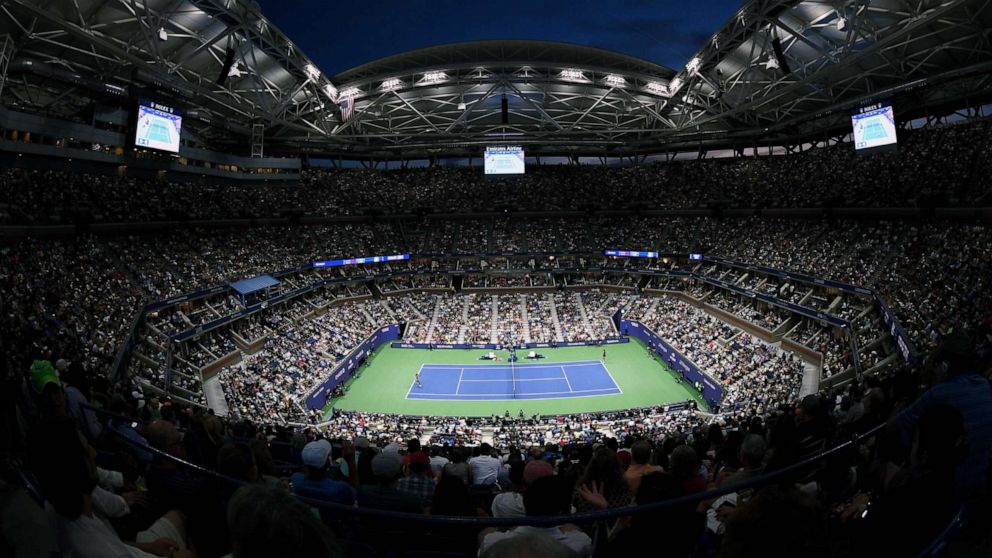 The USTA, the national governing body for tennis, originally had said it was going to keep the center open for people to take lessons, practice or play tennis. But then the organization said it was closing the site to the public.
With more than 38,000 diagnosed cases and nearly 1,000 deaths, New York City is the epicenter of the novel coronavirus outbreak in the United States. State and city officials are trying to increase hospital capacity in order to handle the health crisis. New York Gov. Andrew Cuomo said up to 1 million more healthcare workers were needed.
"As governor of New York, I am asking health care professionals across the country: If you don't have a health care crisis in your community, please come help us in New York now," he said at a press conference Monday.
The rising death toll from the outbreak in the United States was poised Tuesday to overtake China's tally of more than 3,300 deaths.
ABC News' Thomas Dunlavey, Taylor Dunn, Anne Flaherty, Aicha El Hammar, Josh Hoyos, Mina Kaji, Aaron Katersky, Rachel Katz, Amanda Maile, Joseph Simonetti, Terrance Smith, Christine Theodorou and Robert Zepeda contributed to this report.