Disgraced gymnastics doctor's alleged victims file new lawsuits
Rebecca Cook/Reuters, FILE
Athletes who have accused disgraced gymnastics doctor Larry Nassar's with sexual abuse have filed two new lawsuits Thursday against the International Federation of Gymnastics, as well as USA Gymnastics, the United States Olympic Committee and Michigan State University.
Scores of women and girls, including Olympic gymnasts Aly Raisman, McKayla Maroney and Gabby Douglas have publicly said they were abused by the former USA Gymnastics team physician, who is already behind bars.
Thursday's legal move marks the first lawsuit against the International Federation of Gymnastics, the council that oversees competitive gymnastics on a global scale.
Attorneys allege that USA Gymnastics and others should have acted on allegations of Nassar's alleged abuse sooner, arguing that Nassar could have been stopped years earlier.
"The first report was made in 1997," Mo Aziz, one of the attorneys representing the alleged victims, said at a news conference Thursday.
"These young women were born in 1996, they do not have to be sitting here today," he added. "The hundreds of Mr. Nassar's victims would not have to exist had USAG, had Michigan State University and the other defendants responded appropriately."
Emily Vincent, one of the alleged victims who filed the suit, said in a press conference on Thursday that she was a 15-year-old high school swimmer when she was sexually abused by Nassar.
"How is change going to happen if people don't rally for it?" Vincent said. "This should never happen to anyone in the future and I want to be a part of making that a reality."
Victoria Carlson, another alleged victim, said at the news conference that she did not even identify herself as a victim of the physician's alleged sexual abuse until she read another women's account of her own.
"I never wanted to go public with this," Carlson said Thursday. "I actually never even wanted to tell my parents."
This past February, Nassar, a former Olympic doctor, was sentenced to an additional 40 to 125 years in prison for abusing scores of girls and women in serial sexual assaults that went on for decades. The sentencing came on top of 60 years he received after pleading guilty last December to federal charges of possession of child pornography.
"I just signed your death warrant," Ingham County Circuit Judge Rosemarie Aquilina told Nassar at his sentencing two months ago.
USA Gymnastics told ABC News that it does not comment on pending legal matters.
"USA Gymnastics is sorry that any gymnast was harmed by the despicable crimes Larry Nassar committed," the group said in a statement. "The safety and well-being of our athletes are our highest priority and at the forefront of the decisions and actions that USA Gymnastics is taking to build a culture of empowerment that encourages our athletes to speak up, especially about difficult topics, and promotes a safe, positive training environment."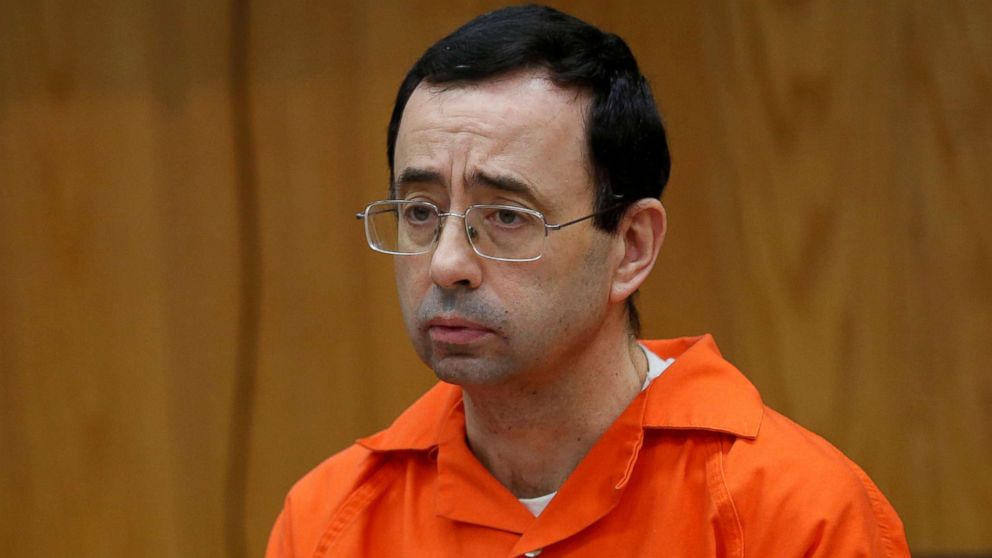 MSU did not immediately respond to ABC News' request for comment Thursday, but in a statement issued in February following Nassar's sentencing in January said that the sentencing "represents another important step toward justice. Over the past several days, many here at MSU, including President [Lou Anna] Simon and trustees, listened to the brave women who came forward to tell their stories at Nassar's sentencing hearing."
The statement continued: "Nassar's behavior was horrific and repugnant, and it is deeply disturbing to know that his crimes were often committed on campus. He will rightfully spend the rest of his life in prison.
"We are committed to continue supporting those in our community affected by these terrible crimes. The Healing Assistance Fund was created to help survivors access any counseling and mental health services they may need. The thoughts and prayers of the entire MSU community are with these women."
Simon later resigned her post as MSU president.
The U.S. Olympic Committee said in a statement: "The many brave survivors and their stories are bringing important changes to sports. The reprehensible behavior of Larry Nassar and other abusers has no place in our Olympic and Paralympic community. Organizations, institutions and individuals alike must reignite a culture for competitive excellence -- one that is a safe, respectful and supportive environment. The USOC has made significant progress to strengthen protections for athletes, and we recognize that our work is never done."
The International Federation of Gymnastics did not immediately respond to ABC News' request for comment Thursday.