— -- -- Larry Nassar was sentenced to 40 to 175 years in prison Wednesday.
-- Nassar apologized to his victims before learning his fate.
-- A letter Nassar wrote the judge complaining of having to listen to victims was quoted in court.
-- Victims expressed relief at the sentence but said they won't rest until all enablers are held accountable.
-- MSU's president has stepped down in the wake of the scandal.

A Michigan judge sentenced former USA Gymnastics team doctor Larry Nassar on Wednesday to 40 to 175 years in prison, calling Nassar's choice to assault scores of girls and women under the pretense that he was treating them was "precise, calculated, manipulative, devious and despicable."
"I just signed your death warrant," Ingham County Circuit Judge Rosemarie Aquilina said today.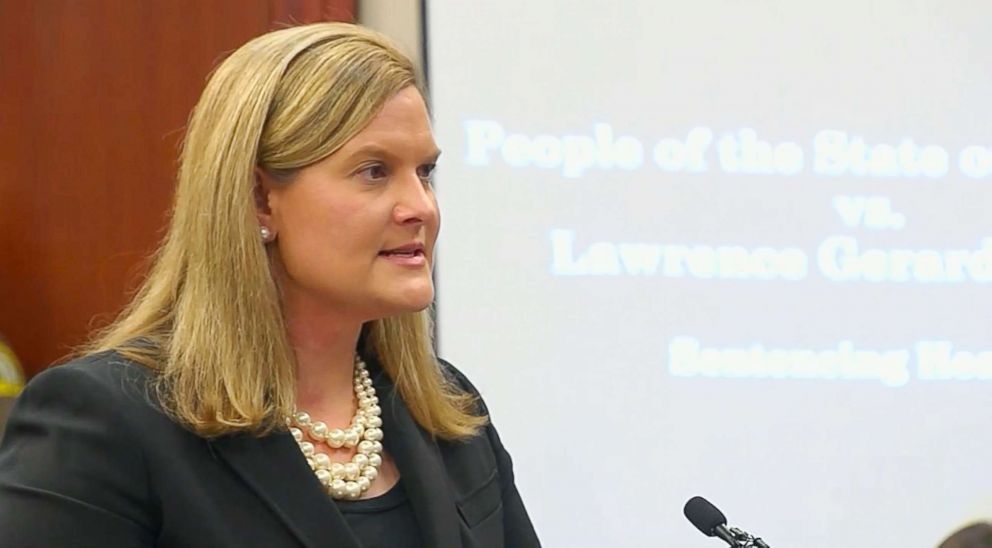 "It is my honor and privilege to sentence you because, sir, you do not deserve to walk outside a prison ever again," Aquilina told Nassar. "You have done nothing to control those urges and anywhere you walk, destruction will occur to those most vulnerable."
Aquilina sentenced Nassar on seven counts of criminal sexual misconduct in the first degree, to which he pleaded guilty to in November.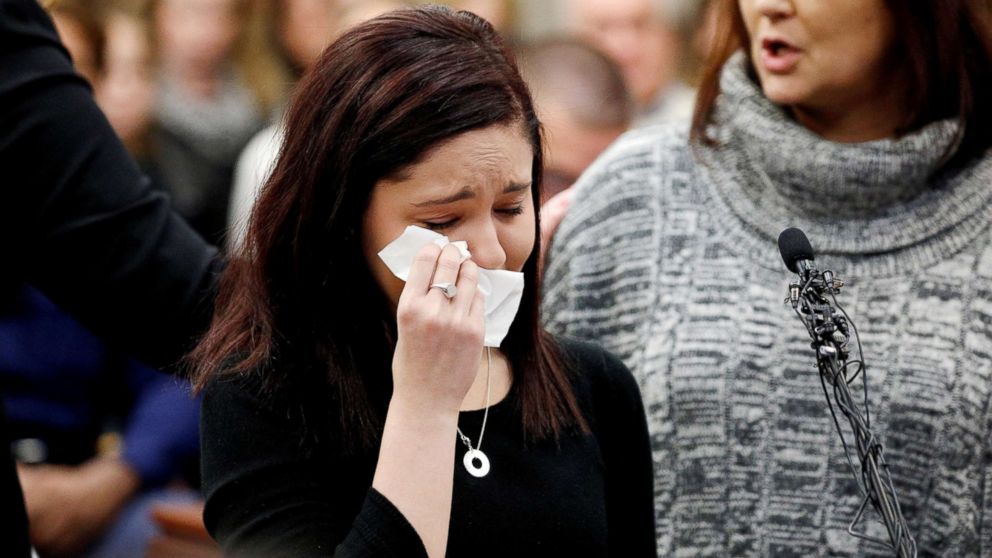 Nassar's sentence today is in addition to the 60 years he previously received by pleading guilty to federal charges of child pornography. He is also scheduled to be sentenced on Jan. 31 in neighboring Eaton County, Michigan, on three additional charges of criminal sexual misconduct he pleaded guilty to there.
His punishment today came at the end of a seven-day sentencing hearing, in which 156 women and girls gave victim impact statements in court or had them read on their behalf. Among those who faced Nassar in court were Olympic gymnastic stars Aly Raisman, McKayla Maroney and Jamie Dantzscher.
Nassar says victims' words 'have shaken me to my core'
Before learning of his fate, the 54-year-old Nassar, who also served as a sports doctor at Michigan State University for more than two decades, addressed his victims in court.
"Your words these past several days ... their words," he said, turning to face his victims sitting in the courtroom gallery, "have had a significant, emotional effect on myself and have shaken me to my core."
He continued: "I also recognize that what I am feeling pales in comparison to the pain, trauma and emotional destruction that all of you have. There are no words that can describe the depth and breadth of how sorry I am for what has occurred. An acceptable apology to all of you is impossible to write and convey. I will carry your words with me for the rest of my days."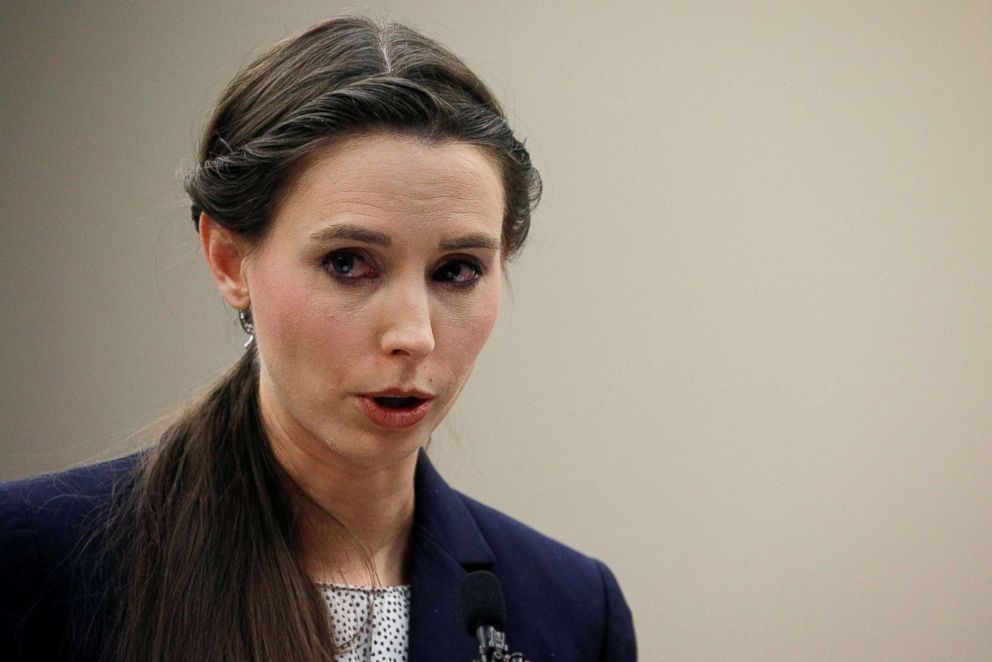 Ahead of the sentencing, Angela Povilaitis, the assistant attorney general of Michigan, called him "the most prolific sexual child abuser in history."
"He supposedly practiced osteopathic manipulative medicine but, in truth, he was actually a master manipulator ... he performed no healing, only hurt," Povilaitis said in court.
Aquilina scoffed at Nassar's apology, saying, "I hope you are shaken to your core. Your victims are clearly shaken to their core. And I know there are some who ask, 'Are you broken because you got caught?'"
Nassar's letter comes back to haunt him
Aquilina then read excerpts from a letter Nassar wrote to her last week complaining that listening to his victims in court was mentally taxing.
Aquilina said she would not make the entire letter public, but said she decided to read portions of it because "I considered it in sentencing as an extension of your apology and whether I believe it or not."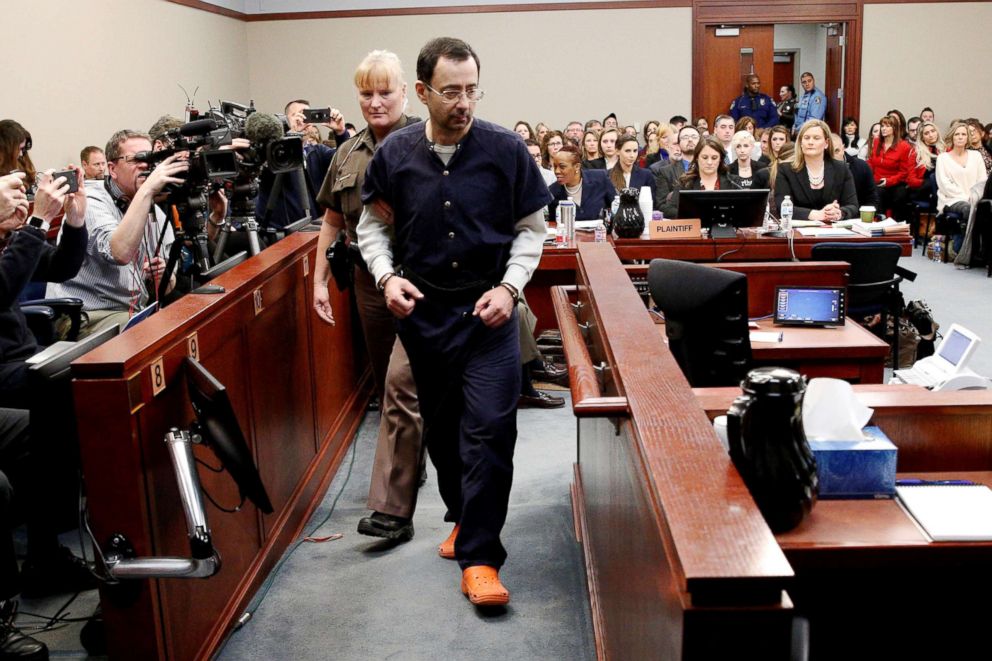 In the letter, Nassar griped about the federal sentence he received, writing it was "not proper, appropriate, fair," according to what Aquilina read. As for his guilty plea in the state cases, he said he only did it to "avoid a trial to save the stress to this community, to my family, the victims. Yet, look what is happening. It is wrong."
"I was a good doctor because my treatments worked and those patients who are now speaking out were the same ones who praised and came back over and over and referred family and friends to see me," he wrote, according to what Aquilina read.
Jeers broke out in the courtroom when Aquilina read a section of the letter in which Nassar purportedly wrote, "The media convinced them that everything I did was wrong and bad. They feel I broke their trust. Hell hath no fury like a woman scorned. It is just a complete nightmare."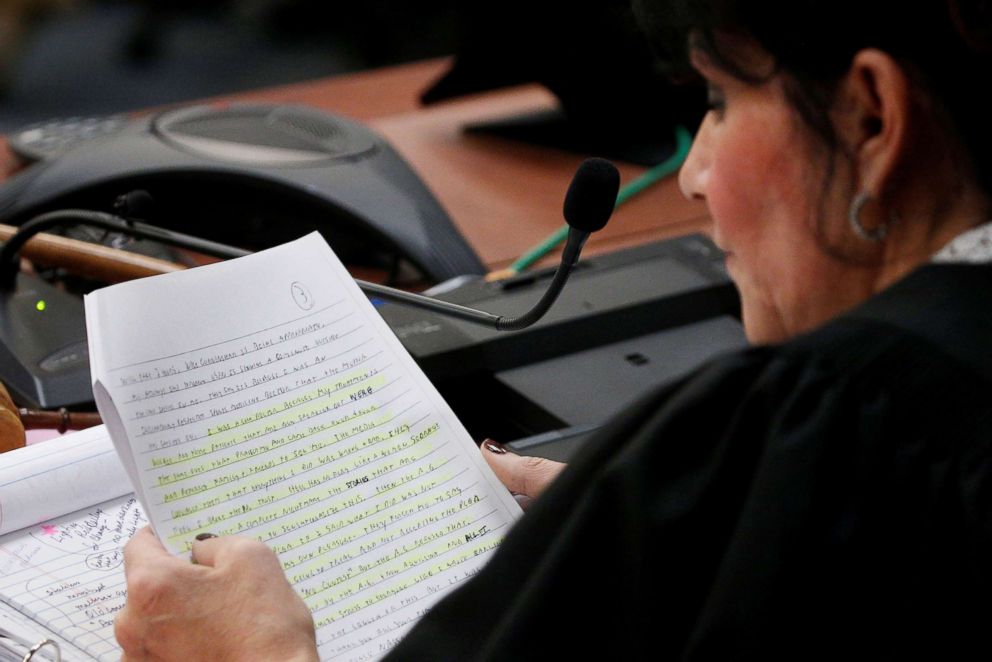 After she was finished reading the letter, Aquilina dramatically flung it on her bench.
"Would you like to withdraw your plea?" she asked Nassar.
"No, your honor," he replied.
"Because you are guilty, aren't you? Are you guilty, sir?" the judge said.
Nassar responded, "I accept my plea, exactly."
So-called medical treatments slammed
She told Nassar his so-called medical treatments had nothing to do with legitimate medicine and that there was no evidence presented to the court to support his practices.
"This letter, which comes two months after your plea, tells me that you have not yet owned what you did, that you still think that somehow you are right, that you are a doctor, that you are entitled, that you don't have to listen and that you did treatment," Aquilina told Nassar. "I wouldn't send my dogs to you, sir."
She added: "Sir, you know you had a problem. That is clear to me. You knew you had a problem from a very young age, even before you were a doctor. You could have taken yourself away from temptation and you did not."
Aquilina imposed the sentence on Nassar after hearing from the last three victims to appear in court -- including Rachael Denhollander, the first to publicly accuse Nassar of abuse.
Following the sentence, Denhollander expressed "gratitude that justice has been done."
Victims react to sentence
Raisman took to Twitter with a lengthy statement, writing, "To Judge Aquilina, thank you from the bottom of my heart. You leadership, your professionalism, your compassion, and your commitment to allow each and EVERY ONE of us survivors the opportunity to share our impact statements in open court was extremely important and meaningful."
Denhollander said she also had "gratitude for a judge who presided with true justice for our case and gratitude for the incredible army of survivors who rose up in the last two weeks to stop the reign of a predator and to ensure a tragedy like this never happens again."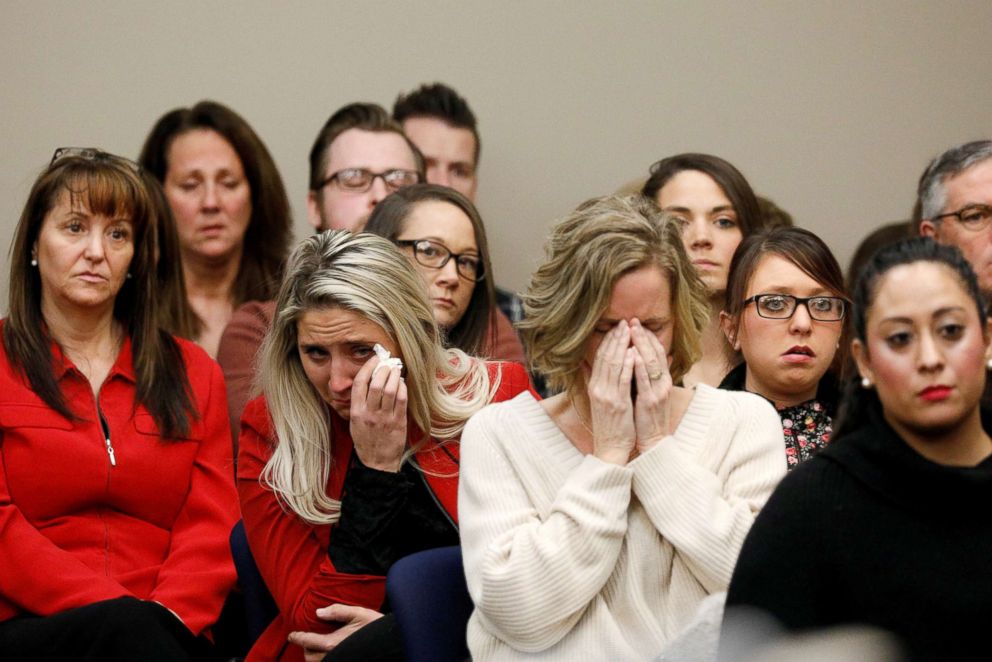 But Denhollander and other victims said their fight is not over.
Kaylee Lorincz -- who also gave a victim impact statement Wednesday, detailing how Nassar molested her when she was 11 years old -- also said the sentence was bittersweet.
"There was some satisfaction hearing Larry Nassar's sentence for sexually assaulting me, some satisfaction," Lorincz said. "I guess I thought it would feel like I could close this chapter of the book, but I can't -- not yet. Larry Nassar had more than one accomplice. He was not only enabled by MSU and [USA Gymnastics], but they actually fed him his victims."
In a statement today, Kerry Perry, president and CEO for USA Gymnastics, said: "During the last seven days, more than 150 courageous women have shared their deeply personal experiences and how Larry Nassar's despicable crimes impacted their lives. I am profoundly saddened that a single woman, a single girl, a single athlete was hurt. USA Gymnastics applauds Judge Rosemarie Aquilina for handing Nassar the maximum sentence of up to 175 years, in an effort to bring justice to those he abused and punish him for his horrific behavior.
"The powerful voices and strength of these survivors have left a lasting impression on all of us. Every day, their stories will impact my decisions as president and CEO.
"As stated on my first day on Dec. 1, 2017, I will not waver on my commitment to focus each and every day on our organization's highest priority – the safety, health and well-being of our athletes. We will create a culture that empowers and supports them. Our commitment is uncompromising, and it is my hope that everything we do going forward makes this very clear."
MSU said in a statement today: "Larry Nassar's sentencing today on state criminal sexual conduct charges represents another important step toward justice. Over the past several days, many here at MSU, including President [Lou Anna] Simon and trustees, listened to the brave women who came forward to tell their stories at Nassar's sentencing hearing.
"Nassar's behavior was horrific and repugnant, and it is deeply disturbing to know that his crimes were often committed on campus. He will rightfully spend the rest of his life in prison.
"We are committed to continue supporting those in our community affected by these terrible crimes. The Healing Assistance Fund was created to help survivors access any counseling and mental health services they may need. The thoughts and prayers of the entire MSU community are with these women."
Simon announced Wednesday evening she would be stepping down from her position as president in the wake of the scandal.
"As tragedies are politicized, blame is inevitable," she said in part in a statement. "As president, it is only natural that I am the focus of this anger. I understand, and that is why I have limited my personal statements. Throughout my career, I have worked very hard to put Team MSU first. Throughout my career, I have consistently and persistently spoken and worked on behalf of Team MSU. I have tried to make it not about me. I urge those who have supported my work to understand that I cannot make it about me now. Therefore, I am tendering my resignation as president according to the terms of my employment agreement."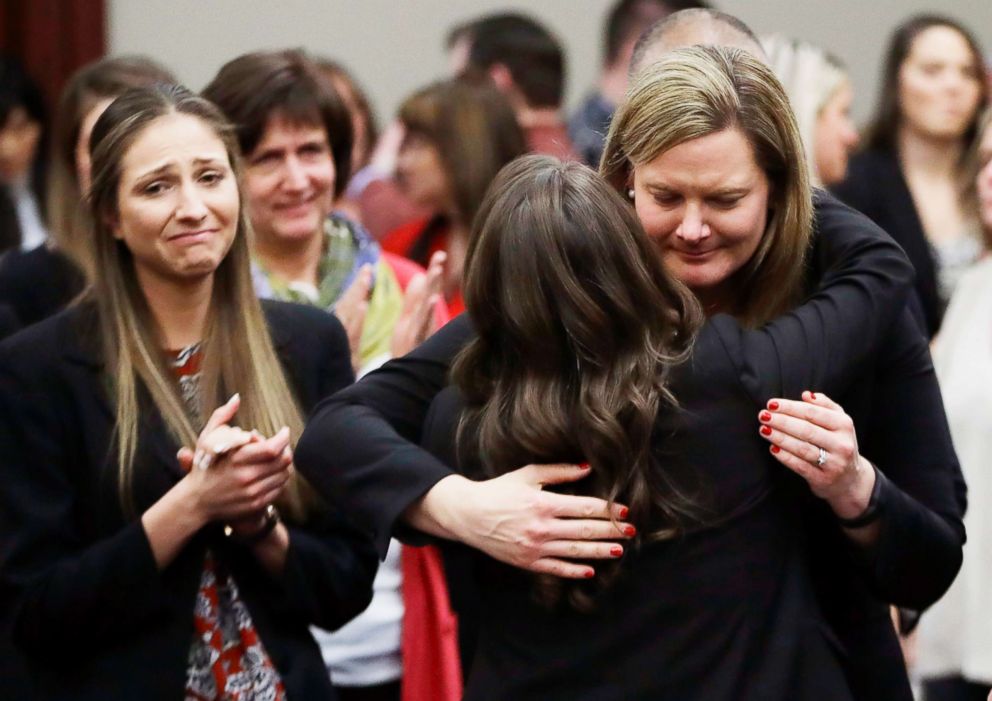 Povilaitis said she and her prosecution team was happy with the sentence and felt a "sense of relief."
"The thing I think I am most pleased by and excited by was that as we started, not only did we have more victims come forward but more victims wanted to shed that label of being an anonymous victim, that they wanted to come and be publicly identified," Povilaitis said. "I think so often there is shame involved in this case even though these victims have done nothing wrong. They realized that the shame belongs on him, not on them."
She said she hopes the case is a "kind of physical manifestation" of the #MeToo movement, in which women across the country have come forward to expose the abusers and sexual harassers.
She said she believes Nassar's sentence will make victims feel "they can be supported, that they can be believed, that they can have good outcomes within the criminal justice system, that we can hold serial offenders accountable."