A Nigerian artist may have struck gold after one of his hyperrealism pencil drawings went viral and caught the attention of his "favorite" comedians -- Kevin Hart.
Eli Waduba Yusuf posted on his Facebook and Twitter accounts earlier this month a black-and-white illustration of the comedian. The drawing was one of his many original portraits, but he posted Hart's image with hopes that "The Upside" star would actually see it.
"I have watched a lot of his movies, he's my favorite comedian and I wanted to give him something as a gift as a way of saying thank you," Yusuf told ABC News Thursday by the phone from Kaduna State in Nigeria.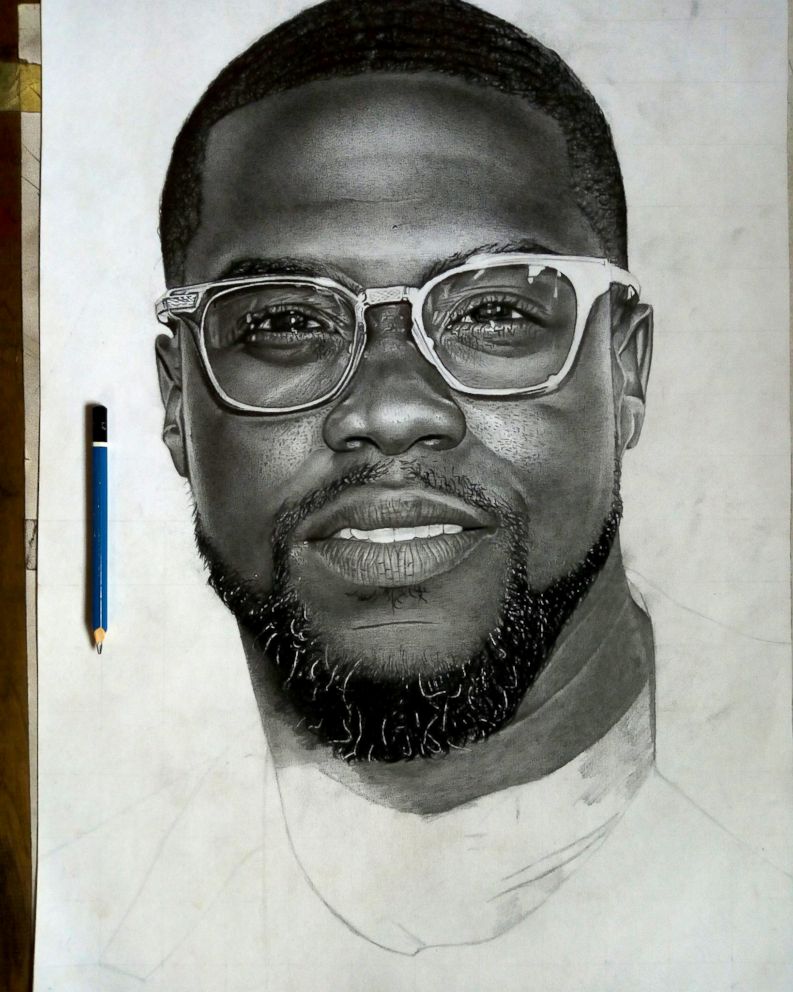 Yusuf, 26, took to both of his social media accounts and attached the portrait sketch of Hart on Feb. 20 with a brief caption: "My favorite comedian."
I cannot believe it's true. I'm still in shock.
Two days later — and after dozens of retweets, likes and shares on both platforms — Yusuf again posted the image of Hart and tagged the Philadelphia native's Twitter handle.
"Please retweet until @KevinHart4real sees it. He's one of my favorite comedian[s], help a brother out. Thank you," the artist wrote.
Still, Hart didn't bite.
Yusuf took another chance on Feb. 25, this time, posting a photograph of himself with the real-life looking drawing and tagged Hart's Twitter handle again. Yusuf also added the account for his inspiration, Nigerian hyperrealistic artist Arinze Stanley, along with a formal introduction to Hart.
"My name is Eli Waduba Yusuf. Am a Nigerian, based in kaduna. Am a hyperrealism PENCIL Artist, I hope to become like @Harinzeyart. Please Retweet, let @KevinHart4real see it, thank you," Yusuf wrote.
Finally, it worked.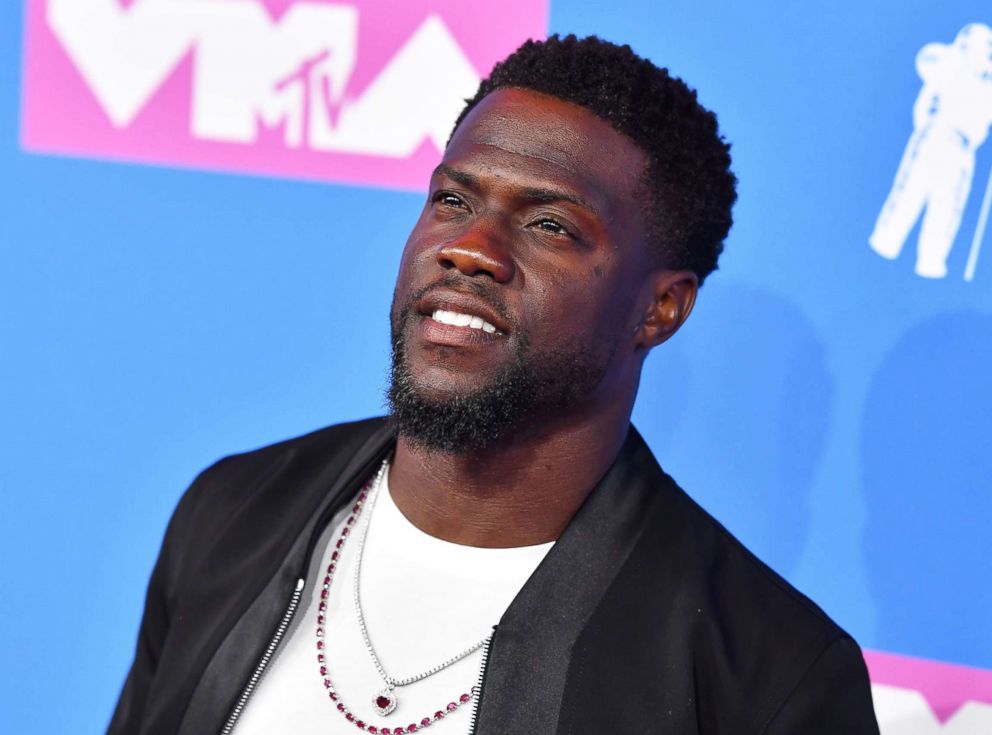 On Wednesday evening, Hart retweeted one of his 35 million followers, who brought the artwork to his attention, and wrote a request, "Can somebody please tag me with this kids info ... "
Minutes later, Hart was connected to Yusuf's Twitter page.
"I cannot believe it is true. I'm still in shock," said Yusuf, who has been drawing since he was a child, but seriously picked back up his pencil nine years ago.
Hart, 39, not only put in an order for his own drawing, but requested to pay Yusuf "to do a pencil drawing of 3 of my celebrity friends that I can gift it to."
Hart's post accumulated nearly 400,000 likes on Twitter within 24 hours. Yusuf shared Hart's request on his Facebook page and it was shared more than 4,300 times as of Thursday evening.
"I feel so graced to be able to inspire someone somewhere out there. To see people win is the ultimate deal in life, you don't get a better feeling than that," Stanley told ABC News on Thursday. Stanley, 26, who is a self-taught hyperrealism artist, hopes to set up a meeting with Yusuf in the future to be of "any assistance."
Yusuf, who is a graduate of Kaduna State Polytechnic, where he studied cooperative economics, was stoked when Stanley — and more than 16,000 other people — started to follow him on Twitter.
"We spoke for a little bit on Twitter. Never did I think I would ever speak to him," said an excited Yusuf.
Since Yusuf's art went viral on Facebook and Twitter, it drove him to also start an Instagram account. He has gained almost 10,000 followers in a week on the picture and video app.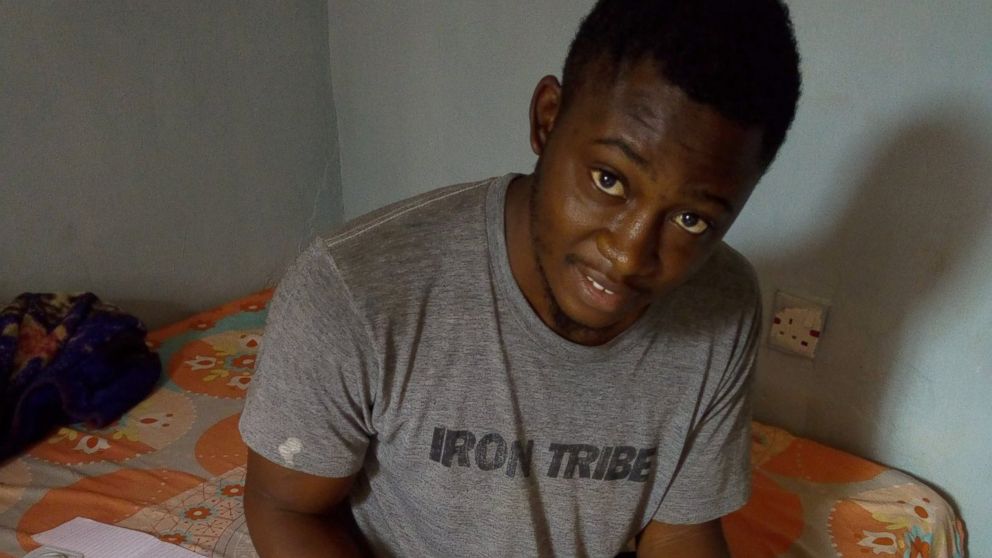 Hart connected to Yusuf through a private message on Twitter. The "Night School" actor did not pitch a price for his order as he is on the set for a new project, Yusuf said.
ABC News reached out to Hart and his publicist for comment, but neither immediately responded to the requests.
It's unclear which of Hart's "celebrity friends" Yusuf will draw for Hart, but in his Facebook cover photograph, a sketch of R&B singer Trey Songz is on display. On Thursday, a sketch of Morgan Freeman appeared on his Twitter page, too.
"I'm waiting for him (Kevin Hart) to tell me who to draw. I will leave it up to him to decide," said Yusuf, who would love to draw Dwayne "The Rock" Johnson, among others.
Hart received backlash in December after a homophobic comment he posted on social media from eight years ago resurfaced. The "Ride Along" actor stepped down from hosting this year's Oscars and issued an apology.