What two men say happened when they were arrested at Philadelphia Starbucks
The two black men who were arrested at a Starbucks in downtown Philadelphia last week and accused of trespassing say they were there for a business meeting that they had hoped would change their lives.
Rashon Nelson and Donte Robinson came forward this morning on ABC News' "Good Morning America" to publicly share their story for the first time.
The 23-year-old entrepreneurs and longtime friends said they were waiting to meet a potential business partner at the Starbucks in Philadelphia's Rittenhouse Square neighborhood April 12 when a barista asked them whether they wanted to order anything. They declined and told her they were just there for a quick meeting, they said.
Nelson said he immediately asked to use the restroom when they walked in but was informed it was for paying customers only. So the pair sat at a table and waited for the person with whom they were scheduled to meet.
Then they saw police officers enter the store and speak with the manager, they said.
"I was thinking, 'They can't be here for us,'" Robinson said in the interview with "GMA" co-anchor Robin Roberts. "We have meetings at Starbucks all the time."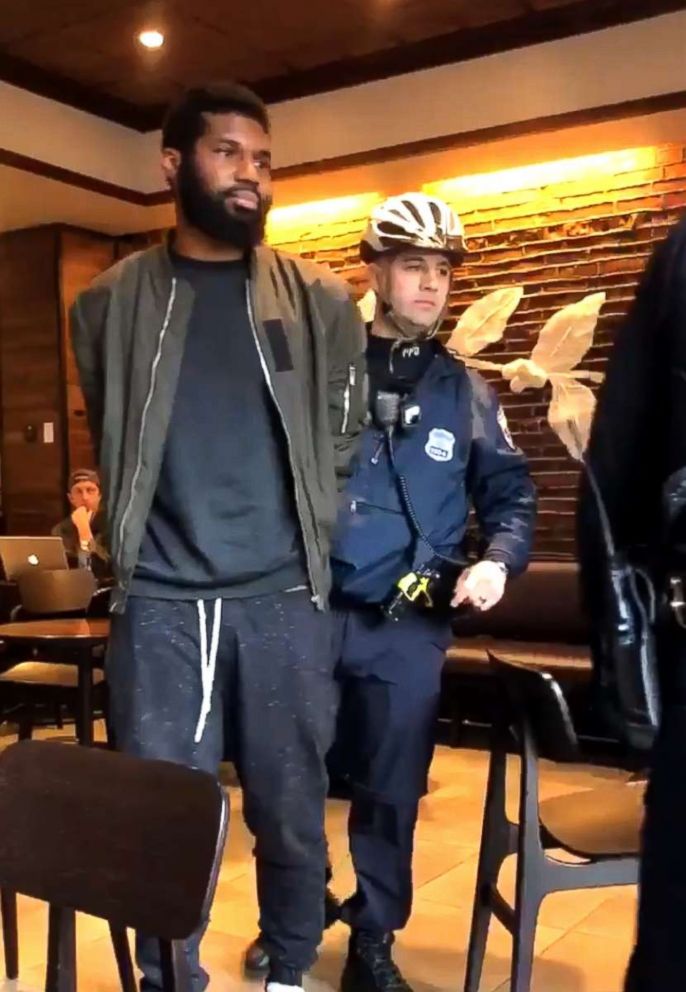 They didn't think anything of it until the officers approached their table and told them they needed to leave, they said.
"It was just, 'Get out, you have to leave. You're not buying anything, so you shouldn't be here,'" Nelson told "GMA."
They said they calmly told the officers they were there for a meeting, and Robinson said he even called the person for whom they were waiting. But the officers repeatedly insisted that they leave, they said.
"It's a real estate meeting. We've been working on this for months," Robinson said. "We're days away from changing our whole entire situation, our lives, and you about to sit here telling me I can't do that? You're not doing that."
The officers ultimately handcuffed Nelson and Robinson, and escorted them out of the Starbucks and into a squad car before taking them to the police station. Both men were later freed and the charges they were facing -- trespassing and disturbance -- were dropped that night.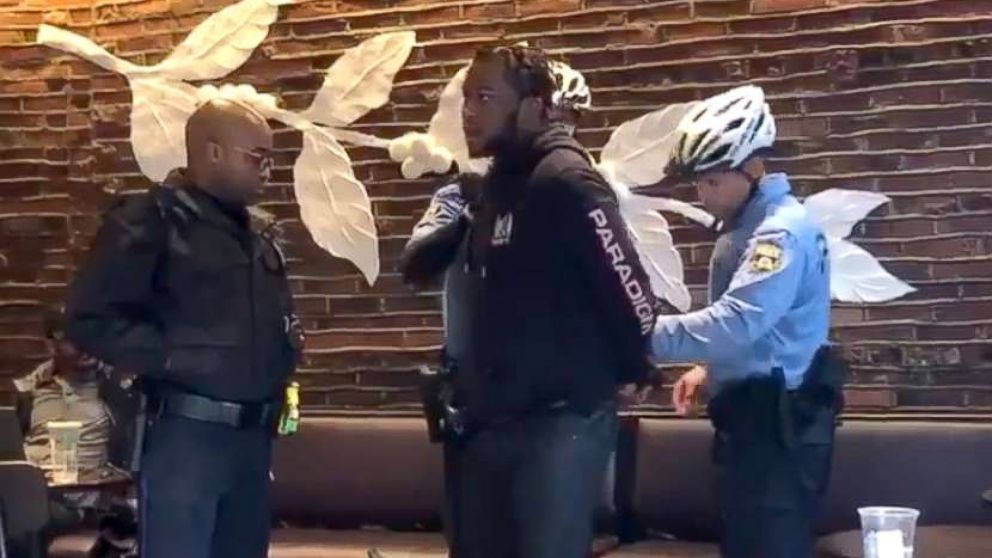 An onlooker, Melissa DePino, captured the incident on video, which has been viewed more than 10 million times online and prompted protests outside the coffee giant's location on Spruce Street.
DePino, a 50-year-old writer and mother of two, told ABC News a Starbucks barista shouted from behind the counter at the two men to make a purchase or leave.
"They were sitting quietly minding their own business, and waiting for their friend to come," she said in an interview Sunday.
Robinson said police never read them their Miranda rights when they were handcuffed and they were held in custody for eight hours.
"There was no reasoning," he said. "They had nothing. They just kept using 'defiant trespassing' as their excuse for putting us behind bars."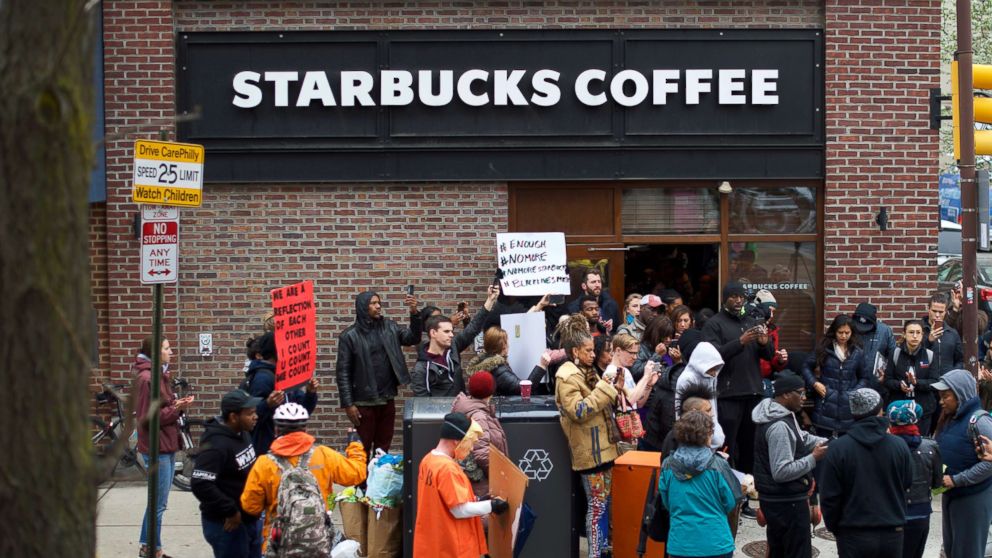 The Philadelphia Police Department did not immediately respond to ABC News' request for comment this morning. But Philadelphia Police Commissioner Richard Ross Jr. said in a video testimonial released Saturday that his officers "did absolutely nothing wrong."
"I can tell you candidly these officers did a service they were called to do," Ross said.
The police commissioner also accused the men of being disrespectful to the officers and said that both were given several chances to leave, but they refused.
"On three different occasions the officers asked the two males politely to leave the location because they were being asked to leave by employees because they were trespassing," he said. "Instead the males continued to refuse as they had told the employees and they told the officers they were not leaving."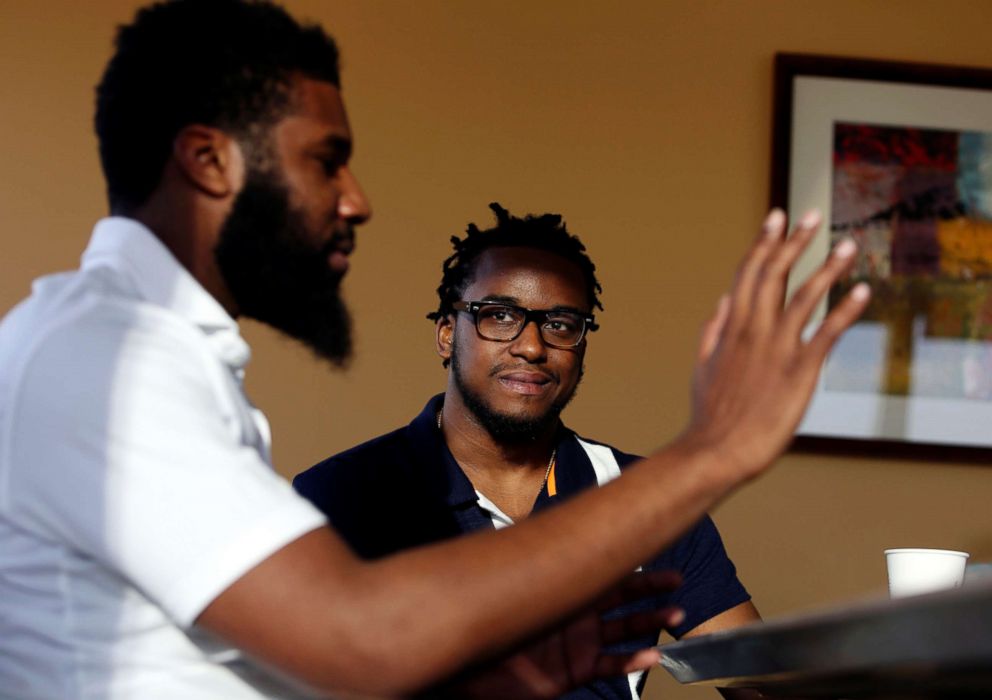 Starbucks CEO Kevin Johnson released a statement last Saturday night apologizing to the two men on behalf of the company.
"The video shot by customers is very hard to watch and the actions in it are not representative of our Starbucks mission and values," Johnson said in the statement. "Creating an environment that is both safe and welcoming for everyone is paramount for every store. Regretfully, our practices and training led to a bad outcome -- the basis for the call to the Philadelphia police department was wrong. Our store manager never intended for these men to be arrested and this should never have escalated as it did."
In an interview Monday morning on "GMA," Johnson said he will order managers to undergo training on how to spot "unconscious bias."
"I'll say the circumstances surrounding the incident and the outcome at our store on Thursday were reprehensible," he said. "They were wrong, and for that, I personally apologize to the gentlemen that visited our store."
A Starbucks spokeswoman subsequently confirmed to ABC News that the store manager who called police no longer works there.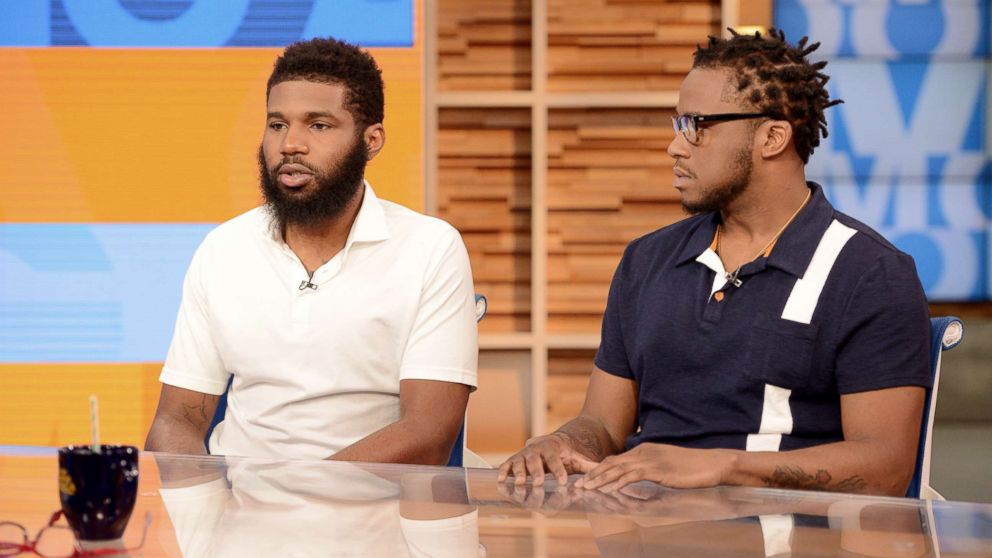 The next day, Starbucks announced in a statement that it will close more than 8,000 company-owned stores across the nation for the afternoon of May 29 to train its staff on how to avoid "racial bias" in an effort to prevent "discrimination in our stores."
Stewart Cohen, the attorney representing Nelson and Robinson, said his clients have met face to face with the Starbucks' CEO, but it's not enough.
"Starbucks holds itself open as a place for people to meet and to have public conversations; those are words from their website," Cohen said on "GMA" this morning. "The apologies are fine, but what we need to do is have some action by Starbucks with respect to this situation.
"There has to be real and meaningful discussions," he added.
ABC News' Alexandra Faul, Joshua Hoyos, Bill Hutchinson, Amanda Maile, M.L. Nestel, Matthew Stone and Jason Volack contributed to this report.