Thirteen Lune sets new tone for inclusivity in beauty
courtesy of Thirteen Lune
Nyakio Grieco knows beauty.
Her skin care brand, Nyakio Beauty, features everything from marula oil to cleansing balm. Grieco has a background she says traces back to family traditions with her grandmother who was a Kenyan farmer.
"She would take me on the farm, we would pick coffee beans, we would crush them, we would add oils," Grieco told "Good Morning America." "So we would use that to exfoliate our skin."
Before launching her company, Grieco, a first-generation American, felt that the continent of Africa was very underrepresented in premium beauty.
After 20 years of hard work and fortitude put toward her "Nyakio Beauty" brand, the line successfully landed on the shelves of Target -- serving a larger market.
"That's when I really experienced a true dream realized," said Grieco.
While Grieco admits her own road to entrepreneurship wasn't always easy, she said she thought "it was supposed to be hard."
"I didn't really recognize the barriers that I faced," she said.
Greico launched Thirteen Lune after being inspired by the racial awakening during the COVID-19 pandemic, and wondering why retailers don't give Black founders "more shelf space, more representation."
Co-founded with entrepreneur Patrick Herning, Greico describes Thirteen Lune as an online destination grounded in global and cultural traditions -- with a laser focus on inclusive beauty.
The website also serves as a site for discovering Black and brown beauty founders who create unique products for all.
"We have brands from Africa, from Southeast Asia, from China, from the Dominican Republic, but they are products that have to work on people of all colors, hair texture, skin types and really tell a founder story," Grieco told "GMA."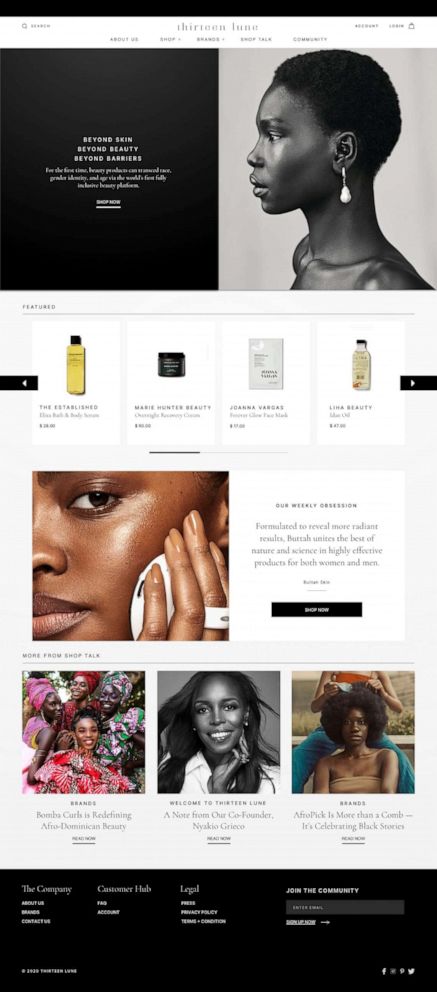 A 2018 study conducted by Project Diane, an advocacy group for Black and Latina entrepreneurs, showed that Black female entrepreneurs earned less than 1% of venture capital investments.
Grieco recalled going to Black-owned beauty brands on Instagram and other social media websites and finding that a lot of them only sold direct-to-consumer or to small retailers, but often had no presence in big retail spaces.
"We really want to help build generational wealth and lessen that financial gap and do it through the lens of beauty, because beauty is universal and for everyone," said Grieco.
The website currently features everything from face and body to hair, makeup and wellness brands. Brands include Ami Colé, Buttah, JINSoon, BeautyStat and many more.