Meghan Markle launches Smart Set, the Smart Works capsule collection: Here's how to create your own capsule wardrobe
Duchess Meghan shares 'sneak peek' of her new capsule collection
Meghan Markle's handpicked capsule collection is finally here.
As we learned in July, her exclusive line includes "workwear essentials" that will benefit Smart Works, a U.K.-based charity for which the Duchess of Sussex is Patron.
The line includes a blazer and trousers from Jigsaw, a tote bag from John Lewis & Partners, a flattering dress from Mark & Spencer, and a white shirt from Misha Nonoo.
For each item purchased, another item will be shared with a woman at Smart Works.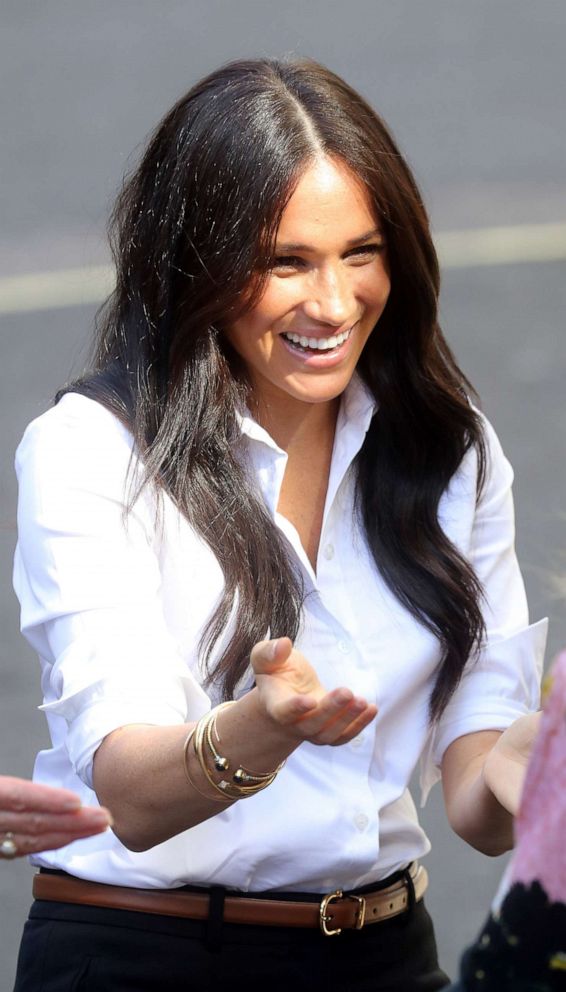 "Since moving to the UK, it has been deeply important to me to meet with communities and organizations on the ground doing meaningful work and to try to do whatever I can to help them amplify their impact," Markle said in a statement.
"It was just last September that we launched the 'Together' cookbook with the women of the Hubb Kitchen in Grenfell. Now, one year later, I am excited to celebrate the launch of another initiative of women supporting women, and communities working together for the greater good."
The Duke and Duchess of Sussex posted on Instagram a behind-the-scenes look at the collection, and a caption sharing her gratitude with the designers who participated.
"Thank you to the four brands who came together in supporting Smart Works on this special project -- placing purpose over profit and community over competition," Markle was quoted as saying in the post.
While many of us are excited to shop pieces from the royal's highly anticipated clothing launch, you actually can create your very own capsule wardrobe -- and save lots of time and energy while at it.
What is a capsule wardrobe?
"It's a practice of editing your wardrobe down to your favorite clothes (clothes that fit your lifestyle + body right now), remixing them regularly, and shopping less often and more intentionally," minimalist enthusiast and blogger Caroline Joy notes on her blog.
In 2018, "GMA" profiled style blogger Jessica Rice, who downsized her closet to 38 items to create her own capsule collection.
This edit to Rice's closet allowed for more peace in her household and a simplified wardrobe that encouraged her to take everything out of her closet and think about the things she really loved and would use frequently.
Tips for creating your own capsule collection:
Joy advises on her blog to stick to three general guidelines: freeing yourself of clothes that aren't serving you, reserving your closet space for your favorite clothes, and shopping less often yet more intentionally.
"Let go of clothes that no longer fit, clothes that no longer work for your lifestyle, and items with other shortcomings. Either pass them on to someone who can use them or, if they're nostalgic or seasonal, store them," Joy noted.
She added: "And make sure they fit your lifestyle, body, and the current weather/season. When a new season rolls in and the weather changes, reassess your wardrobe, pulling a few pieces into and out of storage."
Her final tip: "When you do shop, look for well-made, long-lasting pieces that bring you joy."
The benefits:
Experts agree that creating a capsule collection brings a calming effect to figuring out what to wear every day. You have essential items that you love and are practical at the same time.
There's more room for your garments to breathe -- without the extra clutter.
An added bonus: A capsule wardrobe helps you to do more with less and find a signature style within that.
The cons:
One drawback capsule wardrobe curators mention is the act of letting go. You will need to carve out time to revamp your closet, and possibly make some tough decisions.
"There were a couple of items I missed -- for example, a flowy lace top that I love, but it wouldn't have been good for wearing multiple ways and a pair of light blue skinny jeans that weren't as versatile as the light blue pair I ultimately picked for the capsule," Rice wrote in a post on her blog.
"There were also a couple [of] casual dresses that I missed," the post continued. "Other than those, all of my favorite items were in the capsule."
Not sure where to start?
If you do a quick Pinterest or Instagram search of "capsule wardrobes," you will find over 1,000 images showcasing carefully curated groups of clothing and lots of minimalist aesthetics that include as little as 10 basics that allow you to create a variety of outfits.
There are loads of inspiration to help you craft the capsule collection of your dreams.