What's almost as exciting as the release of the movie "Frozen 2"? All the sweet treats at Walt Disney World to celebrate.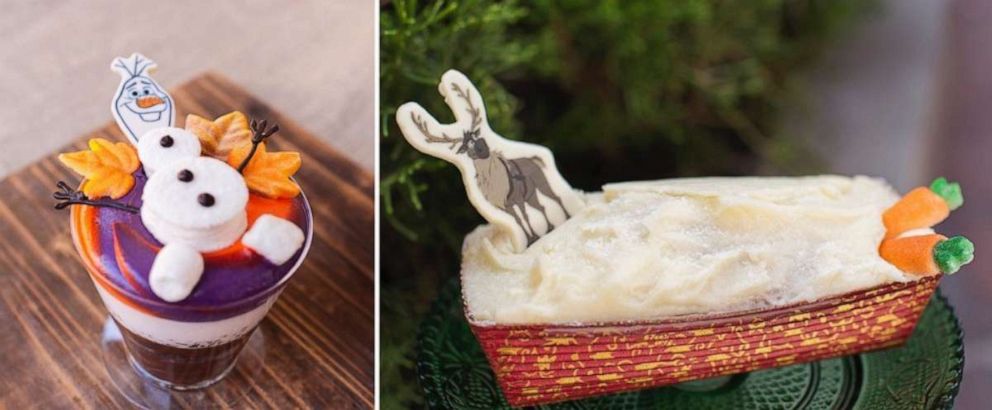 At Magic Kingdom there are two new "Frozen 2" treats.
Olaf's Frozen Hot Chocolate Cake will be available all day at Main Street Bakery. It's a gluten-friendly chocolate cake layered with chocolate crispy pearls, chocolate panna cotta and marshmallow fluff.
Over at Pecos Bill Tall Tale Inn & Café is Sven's Carrot Cake, a carrot cake topped with cream cheese frosting, sugar carrots and a chocolate piece.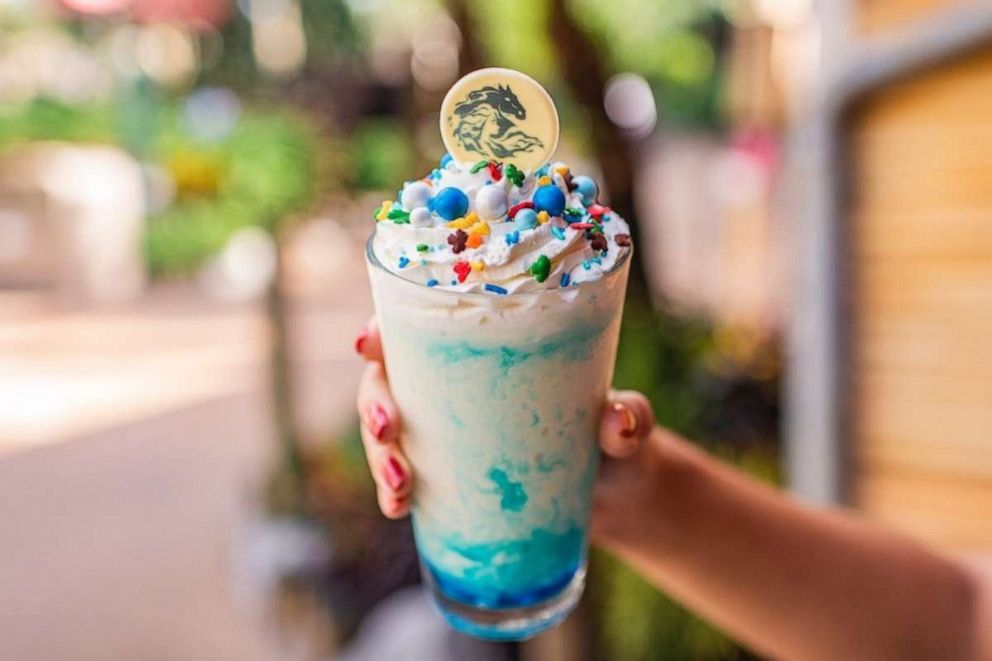 Typhoon Lagoon is the place to be for a "Frozen 2" treat that'll please not only your palate, but your Instagram. It's the Elsa's Frozen Wave, a cotton candy vanilla milkshake with whipped cream, fall and winter sprinkles, and a white chocolate coin.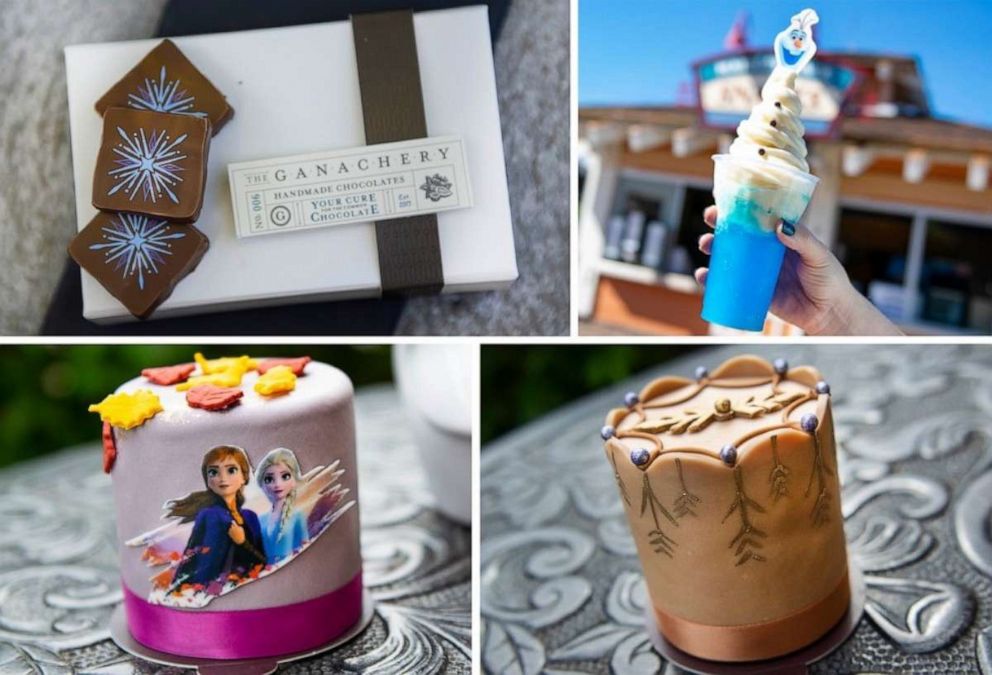 Several treats are found at The Ganachery at Disney Springs: The Chocolate Olaf, a creamy milk chocolate Olaf filled with mini pumpkin spice marshmallows frolicking in a pile of chocolate leaves; the Pumpkin Spice Ganache Square; and the Chocolate Ganache Pop, a salted caramel ganache pop.
Also in Disney Springs at Marketplace Snacks is the Olaf Dole Whip Slushy, a vanilla soft-serve on top of blue raspberry slush with Olaf chocolate piece and chocolate chip buttons.
At Amorette's Patisserie, there's the Anna and Elsa Petit Cake, a cinnamon-nutmeg chiffon cake with Calvados caramel mousse, cranberry-cherry pate de fruit and roasted hazelnuts and the Arendelle Anna Petit Cake, a cinnamon-nutmeg chiffon cake with Calvados caramel mousse, cranberry-cherry pate de fruit and roasted hazelnuts.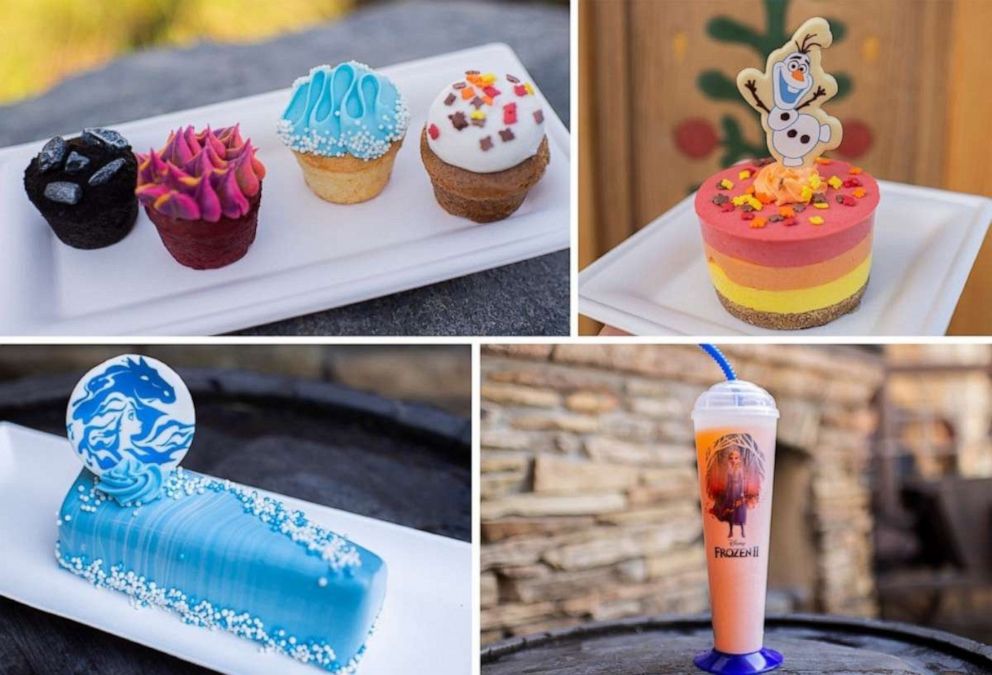 At Epcot, head directly to Kringla Bakeri Og Kafe. It's a one-stop shop for multiple "Frozen 2" treats.
Can't miss for cupcake lovers is the 4 Pack Mini Spirit Cupcakes -- a variety pack named for the elements earth, wind, fire and water.
There's also the Fall Cheesecake, a lemon cheesecake with graham cracker crust topped with Olaf and fall leaf sprinkles. If one cheesecake isn't enough, add on Sven's Apple Cheesecake, too.
There's the Caramel Mousse, a sea salt caramel mousse with vanilla cake crust and white chocolate piece.
And if you need a drink to cool off, there's the Frozen Orange Vanilla Cream Soda served in a souvenir sipper.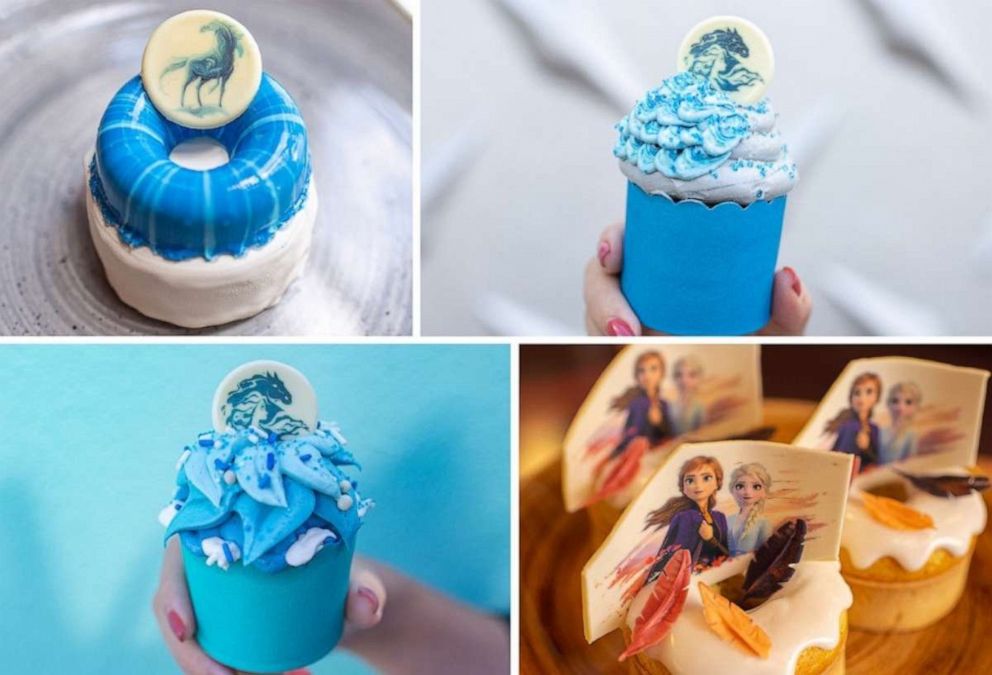 At Walt Disney World Resorts, the treats continue.
Stop by the Beach Club Marketplace and The Market at Ale & Compass at Disney's Yacht and Beach Club Resort for a Dark Sea Chocolate Cake, a chocolate cake with caramel cream cheese swirl, a dulcey chocolate mousse dome, glaçage and a white chocolate glaze.
The Frozen Waves Cupcake calls Everything POP Shopping & Dining at Disney's Pop Century Resort and Landscape of Flavors at Disney's Art of Animation Resort home. It's a chocolate cupcake filled with chocolate ganache and topped with vanilla mint buttercream and sanding sugar.
If you can't wait that long for your cupcake fix, the Frozen Fractals Cupcake, a blue confetti cupcake with shades of blue frost buttercream and a white chocolate piece is found at the Food Courts at Disney's All-Star Resorts.
If you're more of a donut person, or you just need to try pumpkin-flavored everything -- don't miss the "Frozen 2" Pumpkin Spiced Donut Tart, a vanilla tart shell filled with pumpkin custard and topped with a spiced donut cake top, cinnamon glaze and chocolate leaves.
"Frozen 2" will be in theaters Nov. 22.
Editor's note: This article originally published on Oct. 29, 2019.
The Walt Disney Company is the parent company of ABC News.