Science reporter documents colonoscopy to raise awareness
Chadwick Boseman's death last year due to colon cancer led one man to take charge of his own health and try to inspire others to do the same.
Nicholas St. Fleur, a reporter for STAT News, a health, medicine and science-focused publication, decided to get a colon cancer screening and document it from start to finish.
"I wanted to help fight or combat any stigma associated with it," St. Fleur told "Good Morning America. "Because it is such a personal part of your body and it is something that many people don't want to go through because they might find it scary."
St. Fleur said Boseman's death alerted him to the importance of getting screened for cancer considering he had several risk factors -- he is Black and has a family history of the disease.
"My mother had colon cancer at the age of 34, so I knew that I was at a higher risk to develop the disease myself," he said. "Once I saw that Chadwick Boseman passed away from colon cancer, it really kind of sparked me. It really opened my eyes and it made me realize I need to be more serious about this, about getting checked myself."
Health experts say they are seeing a spike in colon cancer rates among young adults.
Over the last decade, while cases of colorectal cancer have decreased in adults over 55 -- thanks in large part to cancer screening -- rates in people younger than 55 are increasing. Screenings for colon cancer are currently recommended to start at age 45 or younger if you are at higher risk, like St. Fleur.
It's important for individuals to speak with their doctor about their individual risk.
"It is going to become the top leading cause of cancer death in people aged 20 to 49 by the year 2030," said Dr. Kimmie Ng, an oncologist and co-director of the Colon and Rectal Cancer Center at Dana-Farber Cancer Institute. "There is a stigma around talking about colorectal cancer and some of the symptoms that may be associated with colorectal cancer, so my hope is that the conversation around this cancer becomes more normalized and that people understand what a prevalent cancer this is."
Colorectal cancer -- an umbrella term for cancers of the large intestine, the colon and the rectum -- is currently the third-most commonly diagnosed cancer as well as the third-most deadly in the United States, according to the Centers for Disease Control and Prevention.
Black Americans have a 20% higher chance of getting colorectal cancer and are 40% more likely to die from it than other groups, according to the CDC. Rates of colon cancer are 30% higher in men than in women of all races.
"I knew I had a family history, but I didn't realize that as a Black man, you know, I was at higher risk as well," said St. Fleur.
Boseman was diagnosed with stage 3 colon cancer in 2016 and battled it for four years, keeping his cancer fight private while he filmed movies ranging from "Black Panther" to "Marshall" and "Da 5 Bloods," according to a statement announcing his death.
The actor had not publicly revealed he was battling cancer before his death at age 43.
Though colon cancer may not display any noticeable symptoms -- which is why experts stress the importance of screenings -- symptoms may include blood in stool, stomach pain, aches, or cramps that don't go away and unexplained weight loss, according to the Centers for Disease Control and Prevention (CDC).
The disease can be deadly if not caught early.
A colonoscopy, like the one St. Fleur underwent publicly, allows a doctor to use a tube, called a colonoscope, to view the inside of the entire colon and look for any abnormalities.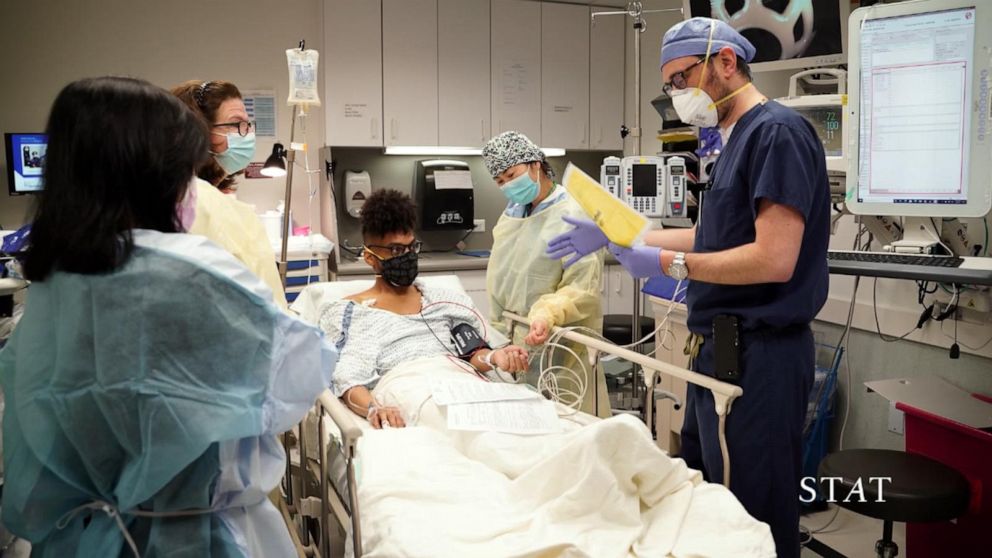 "Though it is one of the deadliest types of cancer, it is also one of the most preventable with early detection," St. Fleur wrote in his reporting. "My procedure was done by Bethany DeVito, the same gastroenterologist who found my mother's cancer some 20 years ago."
"After it was over, my mother said she felt relieved that my outcome was different than hers and that she was proud that I was willing to share my experience," he wrote.
To read more about Nicholas St. Fleur's reporting and his colonoscopy journey, visit StatNews.com.