Mom gives daughter lifesaving CPR at cheer competition
A North Carolina mom's quick thinking and knowledge of CPR recently helped save her 17-year-old daughter's life.
Keianna Joe, a high school senior, was warming up for a cheerleading competition at a North Carolina high school on March 5, when she became unresponsive.
Keianna told "Good Morning America" she does not remember anything from that day, but was later told by her teammates and coaches that as she was dismounting from a stunt where she was lifted in the air, they noticed something was off.
"I gripped onto my base and I didn't let her go and that's when they knew something was wrong and they slowly let me down to the ground," Keianna said. "I'm so thankful that my teammates are observant and very careful and knew not to panic in the moment and to get me down safely."
Once Keianna was on the ground, her mom Andrea Joe learned that her daughter was in trouble and ran over to help.
"I immediately ran to her side and I felt for a pulse and I didn't feel a pulse and I checked again, and I didn't feel a pulse," Joe told "GMA." "I am CPR-certified ... I've been trained on an AED device and I knew kind of at that moment that she needs this. This this has to be done and I know how to do it."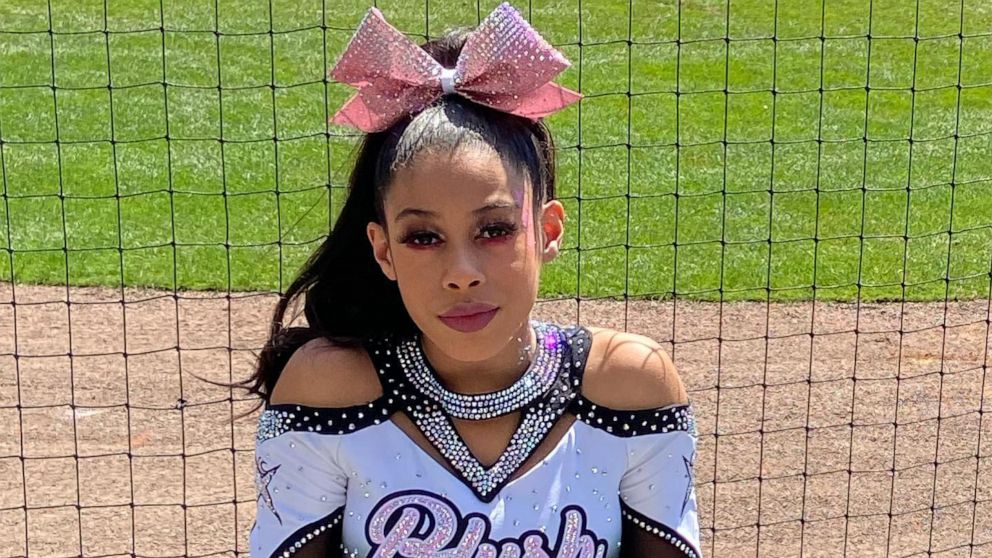 Joe, a mom of three who works as a certified medical assistant, said she immediately started performing CPR on Keianna.
As she tried to keep blood flowing throughout Keianna's body to prevent brain damage, Joe said someone brought over an automated external defibrillator, or AED, that was kept in the high school gym.
An AED is a portable medical device that can analyze the heart rhythm and, when appropriate, deliver an electrical shock to restore a person's heart to its normal rhythm, according to the U.S. Food and Drug Administration.
Though Joe had been trained to use an AED for years, she said she never previously used one in a real-life setting, and never expected to use one on her otherwise healthy daughter.
"I grabbed the pads and I just kind of ripped her uniform up over her head and threw the pads on her and hit the button," Joe said. "It said, 'shock advised,' and that was alarming because you train on these devices all the time and every time you train on them, they never deliver a shock because it's not a live patient."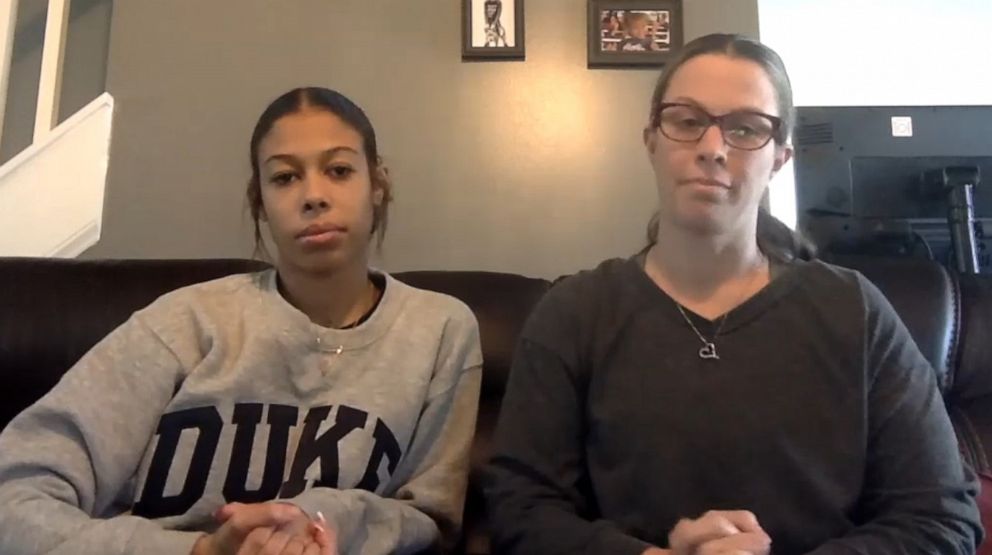 After Joe used the AED again and performed another round of CPR, Keianna finally inhaled deeply, signaling she was breathing again.
Keianna was later transferred to Duke University Hospital, where doctors discovered she had gone into cardiac arrest, a potentially fatal condition where the heart stops beating suddenly, stopping the flow of blood to the brain and other organs, according to the Centers for Disease Control and Prevention.
After more than a week in the hospital, much of that time spent in critical condition, Keianna underwent surgery Monday to insert an implantable cardioverter defibrillator, a battery-powered device that can detect and stop irregular heartbeats.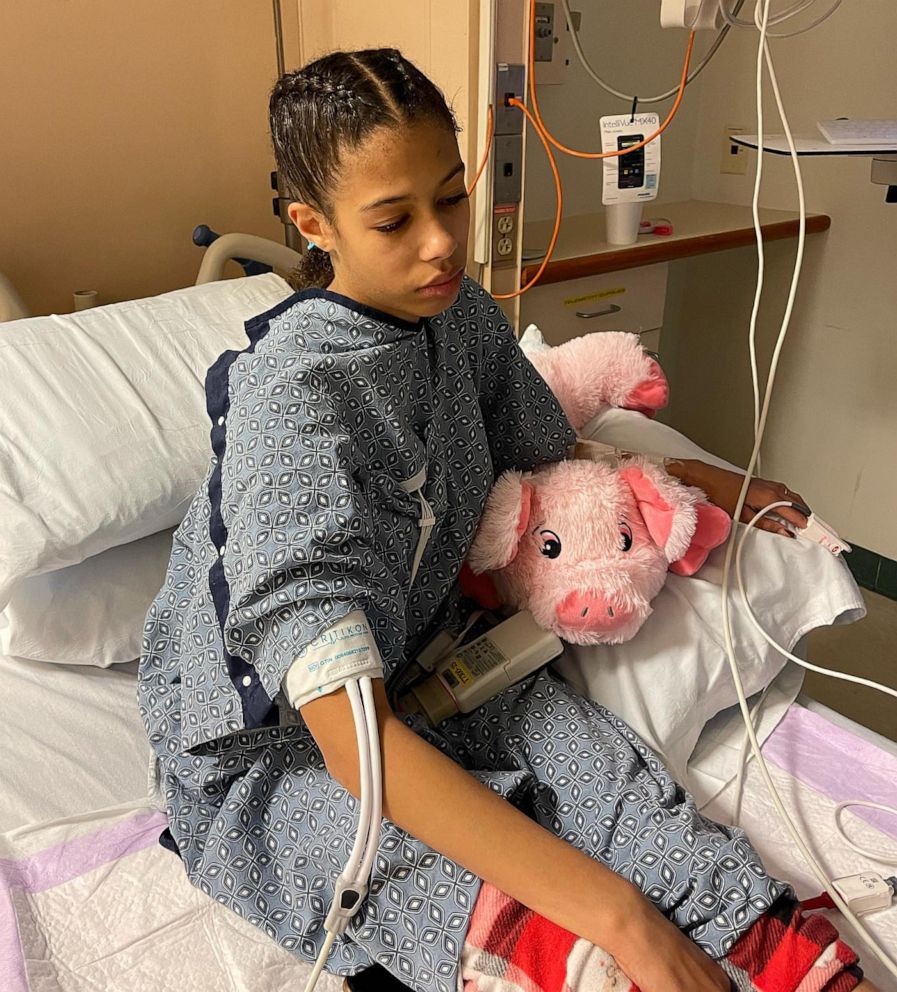 She is now home and recovering, a milestone that her doctor says is due to her mom's quick actions.
"Her mom delivering high-quality CPR to her for the few minutes it took to get the AED there basically allowed her to escape with no brain damage," said Dr. Zebulon Zachary Spector, the pediatric cardiologist at Duke University Hospital who performed surgery on Keianna. "And she's probably alive because there was an AED on-site and her mom knew how to use it."
Both Keianna and her mom said they are sharing their story in hopes of raising awareness about the importance of both knowing CPR and having AEDs onsite in public places, including at youth sports.
"I want everyone to be aware of the situation, especially schools and athletic gyms," said Keianna. "I wasn't expecting to go in there and have this happen to me, but I'm thankful I was surrounded by a bunch of people who knew exactly what to do, who knew how to use an AED and do CPR."
Joe said she was surprised by how fast the situation unfolded and said that being trained in CPR and AEDs helped her to remain calm in the moment.
"This is my healthy 17-year-old kid and it happened so fast," Joe said. "One second she was up in the air, doing motions, smiling, laughing, and the next second she was unresponsive.... There were no signs, nothing."
She continued, "You have to have the quick response and the knowledge to be able to respond to something that quickly, to be able to be of assistance."
What to know about cardiac arrest and kids
The risk of cardiac arrest for young people and athletes has been in the spotlight since January, when 24-year-old Buffalo Bills safety Damar Hamlin collapsed on the field during an NFL game.
Hamlin has since made a remarkable recovery, one that both he and his doctors say was because of the quick response of an NFL trainer who performed lifesaving CPR.
Across all ages, 70% to 90% of people who suffer cardiac arrest outside of a hospital setting die before they reach a hospital, according to the CDC.
In young athletes, sudden cardiac arrest – although rare – is the leading medical cause of death, according to a study. The risk for the condition is nearly four times higher in student athletes compared with non-athletes, Dr. Jonathan Drezner, head of the UW Medical Center for Sports Cardiology in Washington, told "GMA" last year, citing published research.
Cardiac arrest is more common in men, and the risk for both men and women increases with age, according to the National Institutes of Health. The condition is still considered "rare" in people younger than age 30.
While coronary heart disease is considered the most common cause of sudden cardiac arrest for athletes age 35 and older, the more common causes for young athletes are "genetic and acquired cardiac abnormalities," according to the American College of Cardiology. Cardiac screening protocols are less robust in children, and, in some cases, exercise can often be the very first trigger for a congenital heart condition.
Keianna and her mom said she had no symptoms prior to going into cardiac arrest, and they and her doctors do not yet know what caused her to experience it.
Spector said he agrees with Keianna and Joe in supporting the presence of AEDs and CPR-certified individuals at schools and sporting events.
"For Keianna, she'd never had a symptom before. [Cardiac arrest] was her presenting symptom," Spector said. "And we know there are others walking around with a similar unknown condition yet to present. We'd like for people to be prepared ahead of time."
The American Heart Association offers resources for people who want to get education and training to provide first aid and CPR that could save a life.