A Pennsylvania woman who spent nearly eight months hospitalized after contracting COVID-19 while pregnant was able to reunite at home with her family in time for the holidays.
Marissa Fuentes, 29, of Wynnewood, Pennsylvania, was discharged from a rehabilitation facility on Nov. 24, the day before Thanksgiving. She spent the holiday at home with her family, a feat her doctors described as "a miracle."
"Thanksgiving felt very surreal because I was able to sit at the table with my entire family," Fuentes told "Good Morning America." "I wanted to take every single moment in and I didn't want the day to end because it was so incredible."
Fuentes was around 32 weeks pregnant with her second child in April when she said she started to feel light-headed and short of breath.
Her husband, Adrian Fuentes, took her to a local Main Line Health hospital, where she tested positive for COVID-19 and was immediately admitted and transferred to the intensive care unit (ICU).
Just two days later, doctors did an emergency C-section to deliver the couple's baby, a son named Enzo, who was born nearly two months premature.
Shortly after giving birth, Marissa Fuentes, a teacher, was put on a ventilator and an extracorporeal membrane oxygenation, or ECMO, machine, which removes carbon dioxide from the blood and sends back blood with oxygen to the body, allowing the heart and lungs time to rest and heal.
The mom of two, who was not vaccinated against COVID-19 because the vaccines at the time were not yet fully recommended for pregnant women, spent the next five-and-a-half months on the ECMO machine.
While Marissa Fuentes was sedated and on the ECMO, her son was diagnosed with spinal muscular atrophy (SMA), a genetic disease, not connected to COVID, that affects the nervous systems, according to the Muscular Dystrophy Association.
Adrian Fuentes said he had to navigate making care decisions for both his wife in the ICU and his son in the NICU while he was quarantined at home due to also testing positive for COVID at the same time as his wife.
"I can't tell you how many phone calls I made every single today to check in on the two of them. Everything was minute by minute, hour by hour," he said. "The ECMO was keeping my wife alive while the SMA was killing my son."
"It was extremely scary. There's just no other way to put it. It was terrifying," he said.
Enzo was ultimately treated with a one-time IV infusion of a gene-replacement therapy. The newborn spent 54 days in the hospital before he was discharged on June 14, 2021, his original due date, according to Adrian Fuentes.
Enzo would not meet his mom for another three months.
Marissa Fuentes met her son for the first time on Sept. 11, 2021, her 29th birthday and just a few weeks after she first woke up from sedation. The day also marked the first time since her hospitalization in April that she was able to see her 3-year-old daughter, Ellianna, in person.
"Seeing them come through the door was literally everything I could have ever asked for. My eyes filled with tears," she said. "I was able to hold them. It was something that I'll never forget."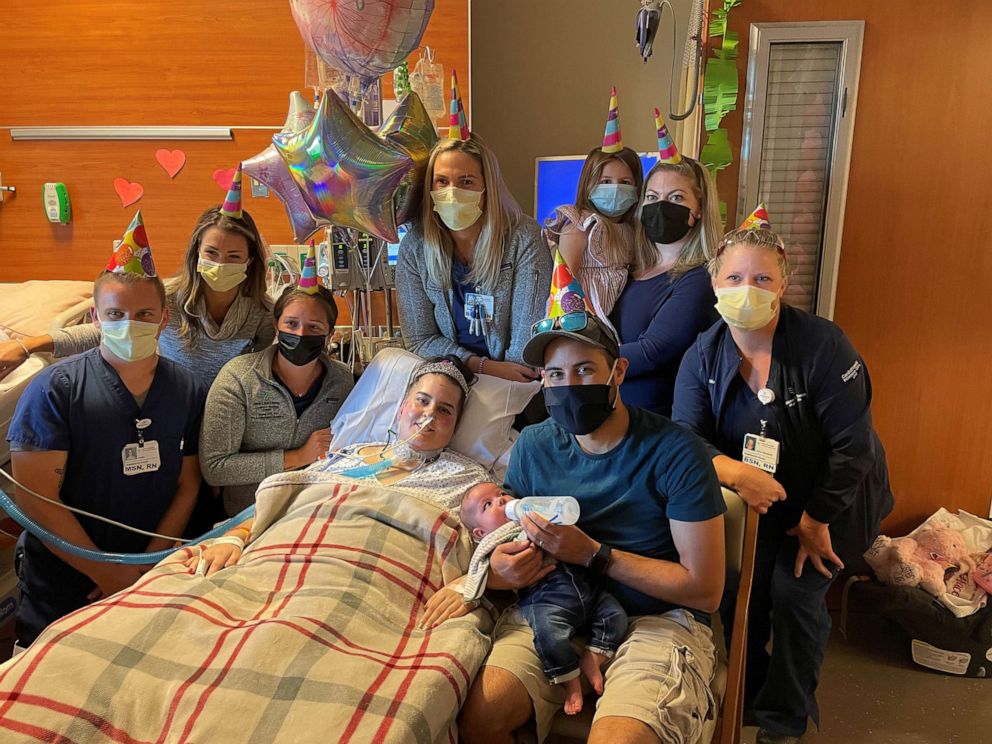 Marissa Fuentes used the motivation from that visit to fuel her own recovery, pushing through countless hours of physical and occupational therapy with the goal of going home.
"There were a lot of hard days where I cried thinking nothing would get better," she said. "I had to relearn everything. The first time I sat on the side of the bed it took eight people to sit me up. I had to learn how to stand again. I had to learn how to walk again. I had to learn how to get myself dressed and take care of myself. I had to learn how to talk because I still had the [breathing tube] in."
In early November, Marissa Fuentes was transferred to Bryn Mawr Rehab Hospital, where she set an ambitious goal.
"The first day that I met the doctor at Bryn Mawr I told him, 'I want to be home for Thanksgiving. That is my goal,'" she recalled. "He kind of looked at me like I was crazy and said, 'That's only two weeks away.'"
"I told him, 'I do not want to miss these holidays with them,'" she said of her two children. "I was a determined woman."
Adrian Fuentes described his wife being home in time for the holidays, after hours of therapy each day, as a "miracle."
"In the beginning of this, everybody was saying it was maybe going to be June or July 2022 when she made it home," he said. "Then there was this rapid progression and it became that maybe she'll be home for Enzo's birthday in April and then our daughter's birthday in February and then maybe she'll be able to ring in the New Year with you, so the fact that she got home before Thanksgiving is a miracle."
When Marissa Fuentes walked out of Bryn Mawr Rehab Hospital on Nov. 24, she was cheered on by the doctors, nurses and support staff who cared for her across several Main Line Health hospitals for the past nearly eight months.
"People came in from home to celebrate her leaving and this was the Wednesday before Thanksgiving," said Barbara Wadsworth, COO and chief nursing officer of Main Line Health, adding that nurses from Lankenau Medical Center, where Marissa Fuentes spent most of her time hospitalized, came to Bryn Mawr to do her hair and makeup for her discharge ceremony.
"She is why we do what we do," said Wadsworth. "She's a miracle."
Adrian Fuentes said the nurses and doctors who treated his wife have become part of their family, adding, "They never gave an inch. Neither did Marissa."
Marissa Fuentes is still on oxygen and is still using a walker as she regains her strength. She is receiving occupational and physical therapy at her home while she prepares for Christmas, her favorite holiday, which she'll get to spend at home with her family.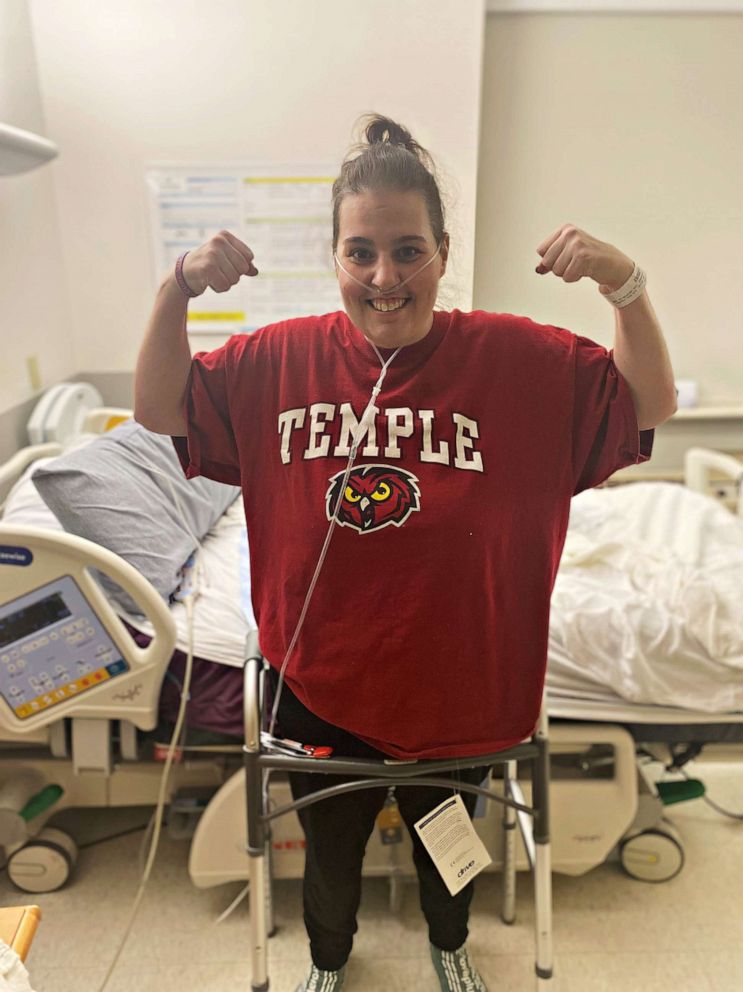 "Christmas is my favorite time of the year. It always has been. My family has always joked that I'm Mrs. Claus," she said. "So being able to be home and see the joy on my kids' faces as they open presents and watching Christmas movies and having our Christmas lasagna that we have every year just brings me so much joy."
Adrian Fuentes, who cared for their two children while working full-time during his wife's battle, said he is happy to have her home, calling Marissa the "glue that holds the family together."
"I'm so incredibly proud of my wife for how hard she fought throughout this 222-day battle," he said.