Study indicates blue light filtering glasses have little benefit for most: 3 eye-healthy habits to adapt instead
What is digital eye strain and are you experiencing it?
While many people have noticed excessive screen time can result in tired feeling eyes and may affect sleep, a new study questions the role of blue light in this phenomenon.
Blue light is part of the visible spectrum of light and is emitted from the sun, and to a lesser extent, from our screens.
Despite experts warning that there is a lack of evidence to support the benefits claimed by their use, blue-light-filtering lenses have remained popular for eye health, with an increase in demand during the pandemic when most shifted their lives onto screens.
"Blue light filtration typically refers to a coating, which can be applied to corrective prescription lenses or plain lenses," Dr. Jen Tsai, an optometrist in New York City and founder of Line of Sight, told ABC News.
A large review of existing clinical trials published this week found that blue-light-filtering glasses did not show any reproducible short-term benefit in terms of eye strain or eye health, and had mixed or inconclusive results regarding sleep quality.
The review looked at 17 studies comparing use of blue-light-filtering lenses with non-blue-light-filtering lenses in adult patients over the course of days to weeks, with the longest study looking at five weeks of daily use.
The review's authors found that, based on the current data, blue-light-filtering lenses have "probably little or no effect" in reducing eye strain.
Meanwhile, some studies included in the review show minor, reversible side effects from blue light glasses and blue light-filtering lenses such as headaches, low mood and discomfort.
"This systematic review found that blue-light-filtering spectacle lenses may not attenuate symptoms of eye strain with computer use over a short-term follow-up period, compared to non-blue-light-filtering lenses," the authors wrote. "Further, this review found no clinically meaningful difference in changes to CFF [critical flicker-fusion frequency] with blue-light-filtering lenses compared to non-blue-light-filtering lenses."
While there is data to suggest blue light may have an effect on circadian rhythm and possibly sleep quality, this large review also found blue-light-filtering glasses had an inconclusive effect on sleep scores, with a few individual studies reporting benefits and others not.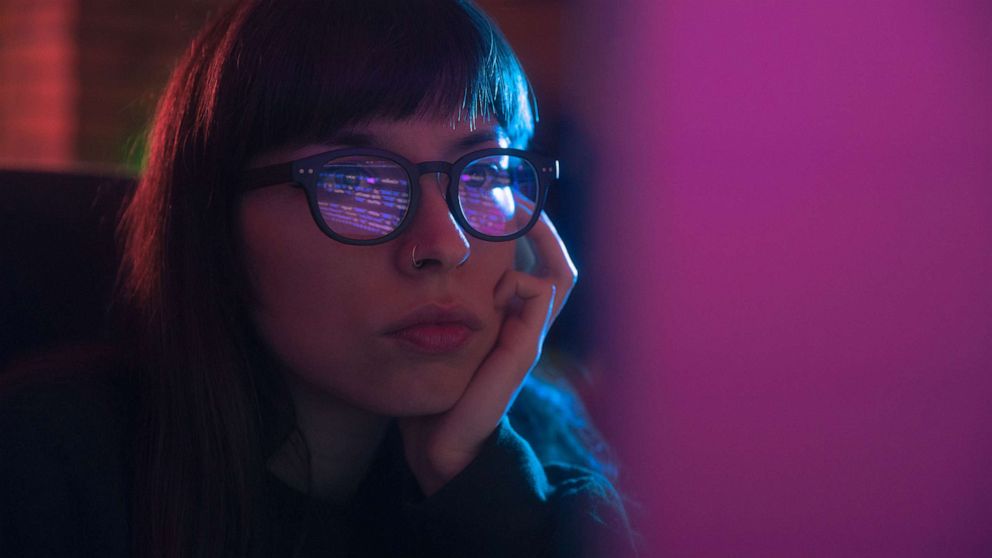 The experts ABC News spoke with recommended avoiding screens before bed and if that isn't possible, using the night mode on your laptop or phone instead.
Previous studies have also found that blue-light-blocking lenses placed within the eye itself do not decrease risk of developing or progression of age-related macular degeneration, the most common form of retinal disease in the United States.
"Our retinas have a specific area, called the macula lutea, that is responsible for a large part of our vision and accumulates yellow pigment," Dr. Jose Pulido, a retina specialist and director of translational research at the Wills Eye Hospital in Philadelphia, who was not involved in the newly-presented research, told ABC News. "This pigment specifically absorbs blue-light and some studies have suggested excess blue light exposure can place stress on your retina, however, this connection is likely only relevant to those with pre-existing retinal disease and still requires further study."
Dr. Rahul Khurana, a California-based retina specialist and spokesperson for the American Academy of Ophthalmology, told ABC News that the discomfort people experience from prolonged screen time is due more to muscle fatigue and a lower blink rate.
"When you blink, it lubricates the eye and makes it feel comfortable," Khurana said. "When you stare at a screen, your blink rate goes from 15 times a minute to 7 times a minute, so your eyes dry out and they get heavy and feel terrible."
Khurana said he has "no reason" to believe there will be different results if blue-light-filtering products are studied for longer periods of time, saying, "We have no current evidence blue light from screens is harmful to your eyes."
The experts ABC News spoke with instead offered these recommendations to help protect the eyes:
1. Wear sunglasses with broad spectrum protection when outside. The sun emits not only blue light but UV light as well, which increases your risk of developing cataracts.
2. Avoid prolonged staring at screens. The 20-20-20 rule can help: For every 20 minutes a person looks at a screen, they should look at something 20 feet away for 20 seconds.
3. Use artificial tears with extended screen time if your eyes are prone to drying out. Additionally, if you have contact lenses, try alternating prescription eyeglasses.
If you continue to suffer from eye discomfort, see your local optometrist or ophthalmologist for further evaluation.
Dr. Devina Mehta, licensed dermatologist, is a member of the ABC News Medical Unit.