Trauma surgeon's daughter thanks health care workers after her father recovers from COVID-19
This father recovered from COVID-19 after his family had said their final goodbyes
One man who has devoted his life to saving others experienced what his family describes as a "miracle" after battling COVID-19 in a Dallas, Texas, hospital.
Dr. Charles A. Iliya, a trauma surgeon in the emergency department at Texas Health Presbyterian Hospital Dallas for 30 years, started to feel sick and experience COVID-19 symptoms on March 12.
His wife, Rebecca Iliya, a retired nurse, also felt ill at the time, so the couple decided to self-quarantine. However, according to the couple's youngest child, Elizabeth Iliya, 25, her father, who had no preexisting health issues, was doing "so much worse" than her mother.
"He was sleeping 20 hours a day. He wasn't taking a lot of fluids. He was having trouble breathing," Elizabeth Iliya said, recalling her father's symptoms in an interview with "Good Morning America."
Elizabeth Iliya said that her father had to call three times to get a test because they were not widely available at the time. Charles Iliya was finally tested for COVID-19 on March 15 and didn't receive his positive test result until March 21, a day after he was admitted to the emergency room at Texas Health Presbyterian Hospital Dallas. Her mother did not get tested and continued to quarantine.
The youngest Iliya admitted that she did not grasp the severity of the situation when her father was admitted to the emergency room.
"I thought he just wasn't taking enough fluid and he was just going to get an IV and get out of the hospital in a couple days," she said. "But when he got to the hospital, he started having respiratory issues, and within three days he was on a ventilator."
She added that, "it just all happened so quickly," and believes one of the scariest parts of her father's battle with COVID-19 was that he had no prior health issues.
"We have been very lucky in our family to not have experienced kind of any issues, so this is our first time experiencing any sort of trauma like this," she said. "He was very healthy."
After Charles Iliya was put in a medically induced coma and placed on a ventilator on March 23, his condition was not improving. The family was given extremely low odds that he would make it through the night, Elizabeth Iliya said.
Three days later, her father's health deteriorated so much that she and her three siblings, Paul Iliya, 32, Catherine Iliya, 31, and Peter Iliya, 28, said goodbye to him over FaceTime. "We were able to just tell him that we loved him and missed him so much and we were ready for him to come home," Elizabeth Iliya said.
She added that she couldn't believe she was even in the position where she and her family were saying goodbye to her father. "When we were sitting there FaceTiming I didn't know what I felt. I just wanted him to hear my voice," she said.
"My friend told me that hearing is the last thing to go to. She was like, 'Talk to him -- let him hear your voice,'" she added. "That's what I was really just focused on, just him hearing my voice and trying to be sort of a calming factor for my family during this time because we were all so stressed and we were apart from one another."
"I felt like life really wasn't fair in that moment," she continued. "My dad has worked his entire life saving other people and working with his patients, and he was about to die alone [surrounded by] people that he knew, but were not his family."
However, seven days later, on April 2, she was able to speak to her father again when he was taken out of the medically induced coma. She said his doctors felt it was time for him to try to breathe on his own, and he has been improving every day since.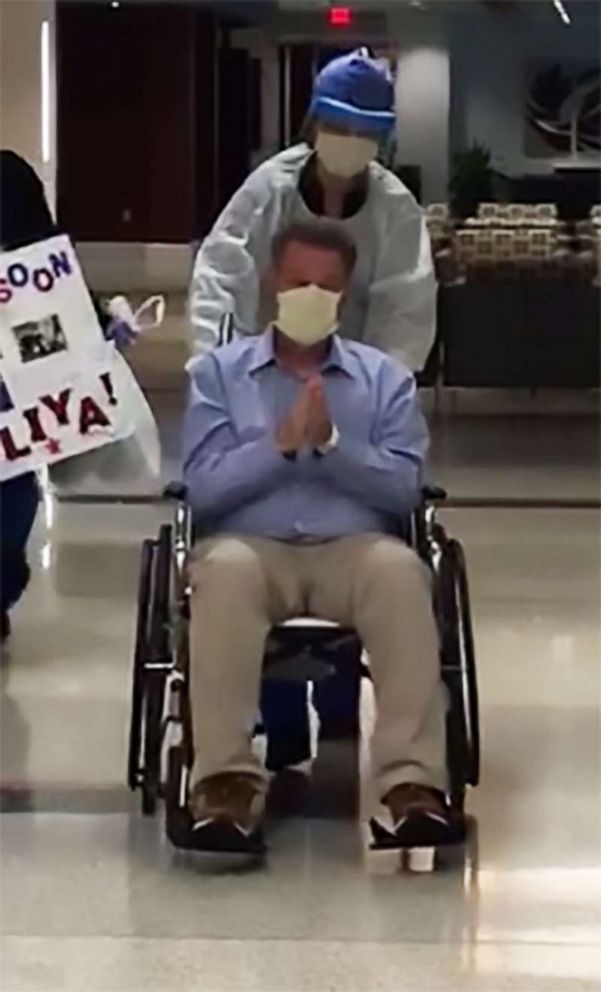 Elizabeth Iliya credits the hospital staff and team of doctors, nurses and patient techs at Texas Health Presbyterian -- many which her father knows well and has worked with for years -- for helping him pull through.
For his discharge celebration on April 11, Charles Iliya's colleagues and family gathered to pray with him, see him wheeled out of the hospital and hear him express his appreciation for saving his life.
"You just started hearing people cheer, and I could hear someone saying, 'Oh, there he is,' and he came out. It was just the most wonderful experience," Elizabeth Iliya shared.
"I definitely saw my dad cry, which I cannot say I've ever seen before in my life," she added. "His discharge was not only for him, but for all the health care workers that worked so diligently and tirelessly to help him and reunite him with us."
In a video featuring his discharge from the hospital, Charles Iliya told the crowd: "I just want to thank everybody. I know it took a lot of people and a lot of praying and a lot of effort, and I do appreciate it. I know that I've kind of been given a second chance, so I better make good use of it...I don't think I could've made it without y'all."
Monica Reed, a nurse in the emergency room at the hospital who has worked with Dr. Iliya, said that he was very deserving of such a celebration. "One thing I can say about him, and everyone agrees, is that he treats everyone like they matter and they are relevant," she told "GMA."
With Charles Iliya now in recovery, the family is giving thanks for health care workers across the nation, specifically the team in Dallas that saved their father.
"I'm so thankful for the doctors, the nurses, all the techs and therapists who risk their lives every day to protect their patients, including my father. It's nothing short of a miracle that he's home with us now," Elizabeth Iliya said. "We dedicate that miracle to them."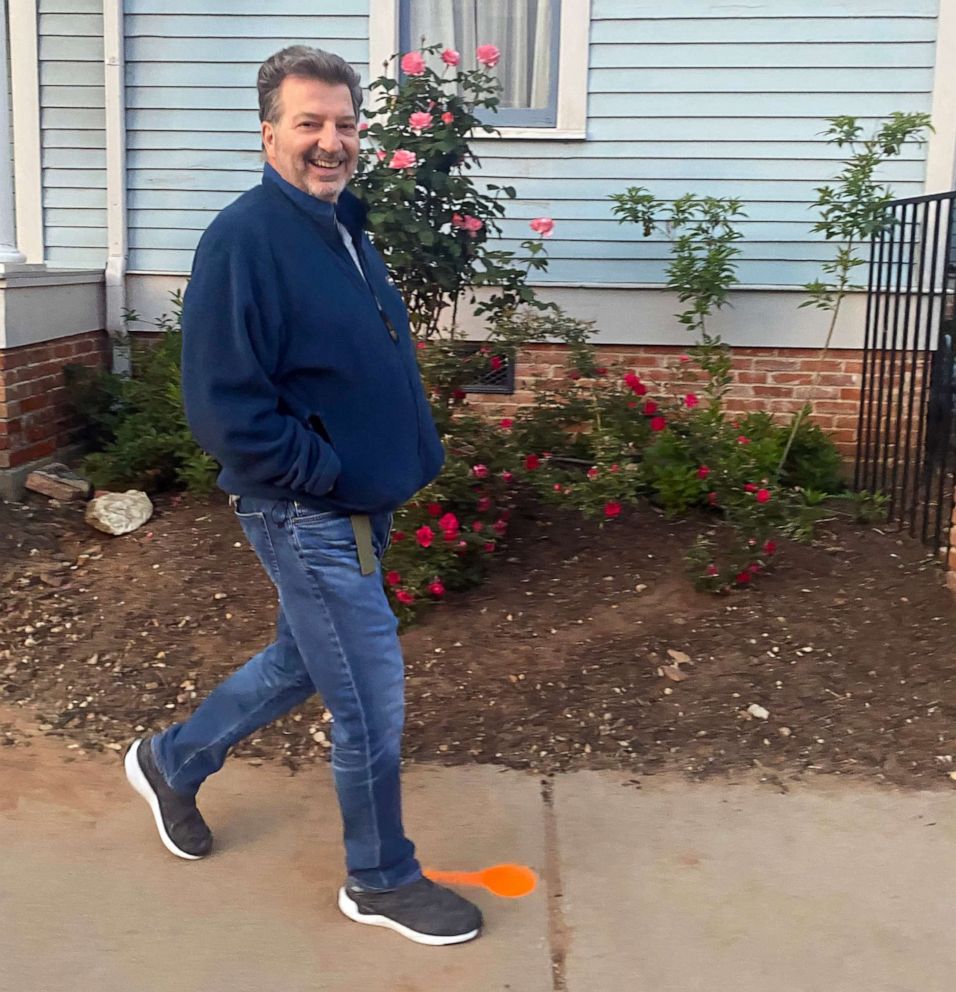 "There is hope that people can beat this virus and be reunited with their loved ones," she said.
What to know about Coronavirus: