Zibby Owens is the host of award-winning podcast "Moms Don't Have Time to Read Books" and author of the upcoming anthology, "Moms Don't Have Time To: A Quarantine Anthology."
December, like everything else in 2020, will be quite different. No holiday parties. No big family gatherings. Minimal (if any) in-person shopping. No final kids' class performances to applaud. It sounds a bit depressing, to be honest.
But at least a new crop of inspiring, entertaining, beautiful books will be hitting the shelves, even if we can't see them.
Let's escape into stories this season, our own or these by brilliant authors, to take us to those places and times we sorely miss, if only in our minds.
So get cozy and curl up with these new December book picks.
'This Time Next Year' is 'GMA' December 2020 Book Club pick: "This Time Next Year," a romantic debut novel by Sophie Cousens, tells the story of Minnie Cooper and Quinn Hamilton through the years on their New Year's Day birthday. Get started with an excerpt here and read along with us and join the conversation all month long on our Instagram account -- GMA Book Club and #GMABookClub.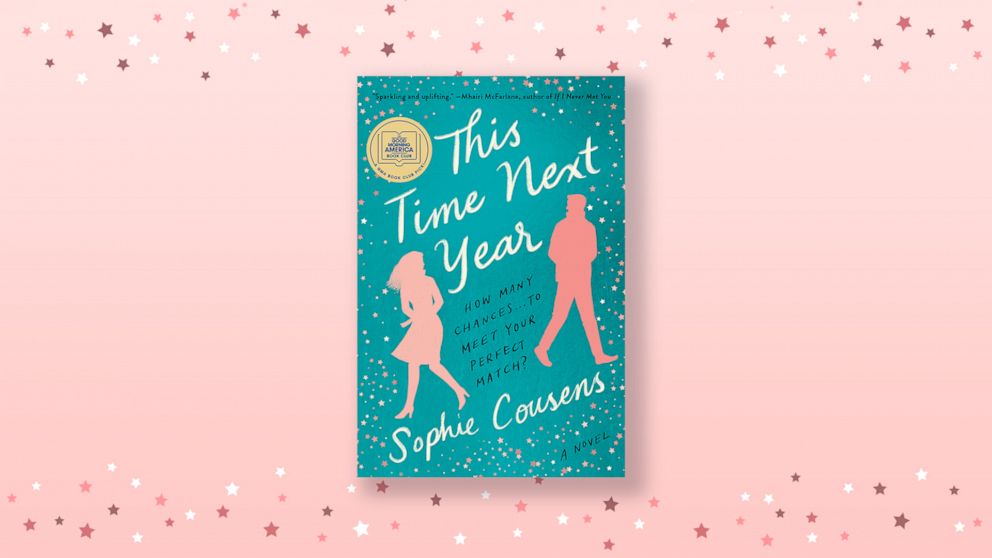 Dec. 1
'Admission' by Julie Buxbaum
A novel that feels awfully similar to the current real-life college admissions scandal, "Admission" by bestselling author Julie Buxbaum tracks the uber-privileged life of Chloe Berringer and how she copes when her family suddenly becomes embroiled in an FBI investigation.
'Badass Habits: Cultivate the Awareness, Boundaries, and Daily Upgrades You Need to Make Them Stick' by Jen Sincero
Bestselling author Jen Sincero tackles habit breaking in this hilarious, helpful handbook. Replete with interviews from others trying to crack habits and a 21-day plan to create new ones for yourself, Sincero's tips, tales and what our unbroken go-to's say about our own unmet needs will make you think and, hopefully, change.
'Open House' by Katie Sise
A chilling thriller, "Open House" tracks a missing art student who vanished 10 years prior and how her disappearance connects with a recent attack during an open house in a small university town. It also showcases the unending loyalty of close girlfriends and sisterhood in life or death.
'Perestroika in Paris' by Jane Smiley
Pulitzer Prize-winning, bestselling author Jane Smiley tells a story through the eyes of animals: a racehorse, a German shorthaired pointer, two ducks and a raven, who meet a French boy named Etienne. The roaming menagerie explores Paris in this sweet tale for the holiday season.
'How to Fail at Flirting: A Novel' by Denise Williams
A Type A professor whose department may get downsized decides to make a to-do list to get her out of her funk and ends up meeting someone: a man who gets her through the baggage of a previous abusive relationship and makes her question work/life priorities.
'Love Poems for the Office (or Wherever)' by John Kenney
The fourth installment in John Kenney's bestselling "Love Poems" series, this ode to office politics in the Zoom-era is spot-on, hilarious, timely, and just brilliant.
Dec. 4
'Growing Up Belvedere-Tiburon' by Paige Peterson
For anyone else longing for simpler times (I know I am), escape into this photographic and historical journey through a tiny enclave near San Francisco where days are spent picking blackberries and riding bikes, kids roam free, family secrets are hidden, and all ages bang the screen doors open just in time for dinner.
Dec. 8
'Survival of the Thickest: Essays' by Michelle Buteau
This hilarious, raunchy, tell-it-like-it-is collection of reminiscences and identity-searching tales by actress and stand-up star Michelle Buteau will entertain you and, perhaps, make you blush. Michelle details her journey through IVF and surrogacy, her relationship with what she calls her "thick" body, her racial identity, her career and so much more.
Lauren Martin's 'The Book of Moods: How I Turned My Worst Emotions Into My Best Life'
A self-help book inspired by Martin's blog, Words of Women, "The Book of Moods" tracks her journey to unpacking her anxiety and overall malaise. Her imminently relatable triggers will sound quite familiar especially this holiday season. Lauren's search for peace and well-being will help you navigate your very full plate.
'Read This for Inspiration: Simple Sparks to Ignite Your Life' by Ashly Perez
Former BuzzFeed sensation turned TV writer Ashly Perez offers short missives to living a more fulfilling life in this highly gift-able, multicolored, small book with a huge heart.
Dec. 29
'The Mystery of Mrs. Christie' by Marie Benedict
In 1926, legendary author Agatha Christie vanished for 11 days and suddenly reappeared with almost no explanation — in fact, she claimed amnesia. Bestselling author Marie Benedict explores those unexplained days in this gripping historical fiction tale of true mystery.
'The Chanel Sisters' by Judith Lithe
Also for fans of historical fiction, "The Chanel Sisters" will take you back to Paris in the WWI era when Coco Chanel and her sister escape their orphaned childhood and poverty to become toasts of the fashion town.
'Clean Body, Clean Mind: A 28-Day Plan for Physical, Mental and Spiritual Self-Care' by Tara Stiles
Right before enacting your New Year's resolutions, pick up wellness guru and Strala yoga founder Tara Stiles' new guide to a complete reset and start 2021 on the right foot. I mean, it has to be better than 2020.