I'm not sure why but this June's books seem to fall into certain buckets: books in which the protagonist is an author or works in the publishing industry, books centered around grandmothers or older women making life choices, thrillers in which loyalties are tested and things are not what they seem, families that splinter from a traumatic event, love stories with a deeper twist.
These aren't simple beach reads. Many have thoughtful, rich narratives designed to make us think and feel -- kind of like the period of time we've all just lived through. Grab any one of them to connect, to experience emotion and to remember the true joy of living in someone else's shoes for a moment, if only on the page. And for many of them, maybe keep the light on.
June 1
'The Other Black Girl' by Zakiya Dalila Harris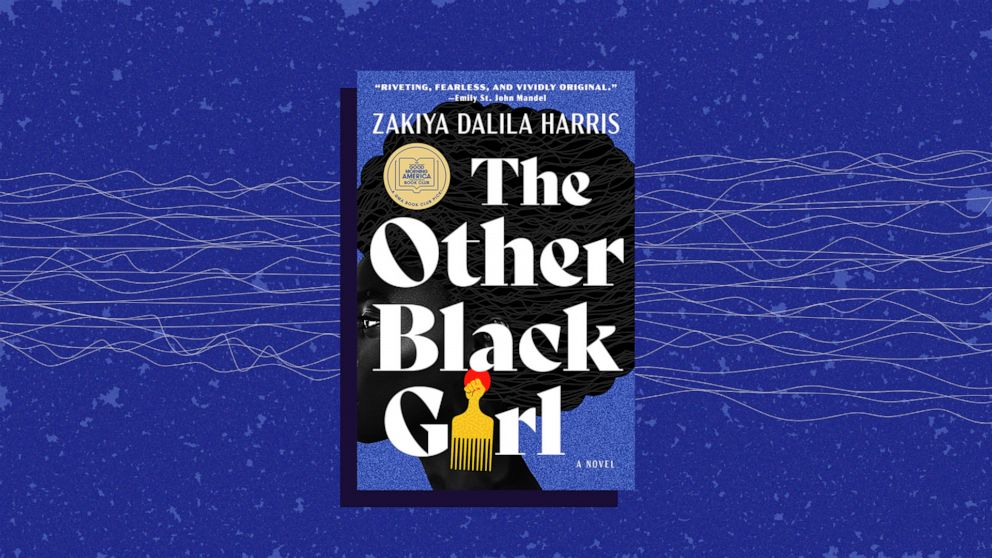 Set in the publishing world, "The Other Black Girl" has been on many "most anticipated" book lists. Why? It's timely, well-written, and has the kind of intrigue and plot twists that keep a reader wide awake. Nella is thrilled when another Black woman starts working at her publishing firm, a woman with "ombre locs," who calls her "sis" and quietly asks for the real story of how Black people are treated. What unfolds is a story of loyalty, deception, friendship, and speaking one's mind in the workplace. Who to trust? Nella's still working on that.
"The Other Black Girl" is also "GMA's" book club pick for June. Read an excerpt here and listen to my interview with Harris below!
Read along with us and join the conversation all month long on our Instagram account -- GMA Book Club and #GMABookClub
'Somebody's Daughter' by Ashley C. Ford
This compelling memoir about a poor Black girl in Indiana whose father is in prison gives us a glimpse of what it was like growing up in Ashley's fractured family. Ashley shares her body image issues and the atrocity of what happens when her date with the wrong boy ends up in sexual assault and rape. And wait until she finds out why her father is really in jail. Bestselling author Glennon Doyle said this will be a book of the year, so ...
'Golden Girl' by Elin Hilderbrand
A bestselling beach novelist on Nantucket writes a novel about a bestselling beach novelist on Nantucket -- and kills her right off. Vivian Howe, a mom of three, dies in a hit and run accident while jogging but gets to look back down on life on Earth. She is granted three "nudges" to change what happens even though she's gone. Does she help her kids? What about the book she was working on? What about hiding that childhood secret? For those who look at death as at least a reprieve from all that worrying, think again.
'Palace of the Drowned' by Christine Mangan
The author of bestselling novel, "Tangerine," is back with a mysterious tale about a novelist clinging to her grip on reality. The story unfolds in the foggy, evening streets of Venice where Frankie is hiding out in her friend's palazzo after she loses it at an event. It's basically an early example of being "canceled." What sets off her downfall is her obsession with a bad review for her previous book. While in Venice, she meets a young woman who shows her the ropes. But nothing is quite as it seems, not even the ropes.
'Malibu Rising' by Taylor Jenkins Reid
The author of breakout bestselling hit, "Daisy Jones & The Six," spins a tale of family, beach, and music. Four famous siblings, including Nina who has recently been dumped by her tennis pro husband, throw a huge party in Malibu. All the siblings -- Hud, Kit, Nina, and Jay -- have secrets that come to light during this raging event which has a truly fiery ending.
'Our Woman in Moscow' by Beatriz Williams
A family disappears from London in 1948: an American Diplomat, his wife and two children. No one has heard a word until the wife's twin sister gets a postcard from her sister in Moscow and heads there to help her escape. But things aren't so simple and as the sisters try to flee, they're forced to make unimaginable decisions filled with long-term consequences in this riveting novel by bestselling author Beatriz Williams.
'Seven Days in June' by Tia Williams
This summer romance is centered around a Black erotica novelist, Eva, and her love life. But it's so much more than a simple beach read. What lies at its core is her relationship with chronic pain from her debilitating migraines, a condition she is sure makes her ugly and unlovable. As a single mother, she also has to set a good example despite hiding her condition. While this is a sumptuous, fun, romantic story about two authors who reunite at a conference, it's also an ode to anyone who goes through life wishing they were more normal.
'Instructions for Dancing' by Nicola Yoon
Bestselling YA author Nicola Yoon writes from the heart in this beautiful love story that reminds readers: 'tis better to have loved and lost than never to have loved at all. Nicola wrote this novel during a time of loss and illness in her own life, even writing sections from the hospital. With clever segments formatted as texts interspersed with prose, Nicola creates some magical powers for her protagonist Evie: the ability to see into the future of an entire relationship as soon as she sees a couple together. What does that mean for her new relationship? She can't bring back her dad who recently left her mother -- and her -- but she can tell the future. If it doesn't end well, is it worth even starting? The answer, it seems, is a resounding: hell, yes.
June 8
'The Ugly Cry' by Danielle Henderson
Growing up Black and uncool in a white upstate New York neighborhood with her grandparents after her mother abandoned her for her druggie partner, Danielle wrestled with ideas of identity and family, themes which course throughout this well-written memoir.
'Pack Up the Moon' by Kristan Higgins
New York Times bestselling author Kristan Higgins tells a heartwarming -- and heartbreaking -- story about young love, loss and the lingering effects of grief. Newly married, Lauren is diagnosed with a fatal disease and writes a letter a month for the year after she dies for her husband to read. A story about resilience and everlasting love, this stunningly written tale is a true tearjerker.
'What's Good?: A Memoir in Fourteen Ingredients' by Peter Hoffman
The ultimate eat-local, farm-to-table highly acclaimed chef, Peter Hoffman traces his life and culinary career through both ingredients and seasons, taking a green market type tour of his experiences in this sumptuous read that will make you want to eat, cook, forage and feel full.
'Rainbow Milk' by Paul Mendez
Brilliant author Paul Mendez's novel "Rainbow Milk" started as a memoir about himself, a descendant of "the Windrush generation" in the U.K. In 1948, a group of immigrants from colonies like Jamaica settled in the U.K., but all their records were erased decades later. Suddenly, their descendants who had put down roots suddenly were being deported due to lack of documentation. Paul starts the book with a blind father character inspired by his own grandfather, whose son, years later, becomes a sex worker as he did.
'Should We Stay or Should We Go' by Lionel Shriver
A book with a dozen potential solutions, "Should We Stay or Should We Go" tracks a longtime married couple, Kay and Cyril, who decide at age 50 that when they both hit 80, they'll commit suicide together. Both medical workers, they don't want to end up like many patients, including Kay's dad who died a prolonged death from Alzheimer's. Bestselling author Lionel Shriver highlights the ways this couple's life could go at that turning point. What would you do?
'Animal' by Lisa Taddeo
After I read "Three Women," Lisa Taddeo's first non-fiction book, I went online and read everything else I could find that she'd written -- I loved her raw, emotional, distinct writing voice. In her debut novel, Lisa examines similar themes of love, lust and the relationship women have with men in her now-signature blunt, sexual, sensuous way. Joan, the protagonist, sees her lover, a married man from work, murdered right in front her at a restaurant and leaves for California to start over. What happens next involves coping with an incident from her past in the most brutal way as she reckons with the present. X rating may apply.
June 15
'She Memes Well' by Quinta Brunson
Comedian Quinta Brunson will make you laugh out loud. Her book, a debut essay collection, tracks her path to a well-known comedy life, her bouts with depression and her unique, hilarious perspective on the everyday.
'Morningside Heights' by Joshua Henkin
This intimate portrait of a marriage between Pru and Spence after 30 years of living in New York together shifts as Spence falls ill. A literary examination of love in later life, "Morningside Heights" highlights the complexities of monogamy, family, and love.
'The Maidens' by Alex Michaelides
No. 1 New York Times bestselling author of "The Silent Patient," Alex Michaelides writes in riveting prose about a female secret society at Cambridge University whose members get murdered, the professor who is a suspect, and the therapist who wants to solve the case at any cost.
'Night, Neon: Tales of Mystery and Suspense' by Joyce Carol Oates
Literary icon Joyce Carol Oates has compiled a collection of her most mysterious and suspenseful stories, originally published in Harper's, Vice and other publications.
June 22
'Blush' by Jamie Brenner
A sweeping tale of three generations of women all determined to save their family's vineyard on the North Fork of Long Island, "Blush" stars three strong female protagonists: the grandmother managing the property, the daughter looking for a safe haven from her failing marriage, and the granddaughter with her own issues. When the three women start a "trashy book club," they realize they might have all the answers they need right on the pages in front of them.
'Upper Bohemia: A Memoir' by Hayden Herrera
Sometimes things aren't as great as they seem. Hayden Herrera pulls back the curtain on what, from the outside, seemed to be a fabulous childhood: a life alternating between New York and Cape Cod, filled with her parents' intellectual friends like Peggy Guggenheim and Mary McCarthy. But really, she was a victim of her parents' narcissism. Both married five times, her parents made it clear Hayden was an afterthought. Subject to abuse and absent parents, her life was full of challenges brought on by that lack of maternal love, despite being surrounded by beauty.
'The Secret Keeper of Jaipur' by Alka Joshi
Author of "The Henna Artist," Alka Joshi is back with a tale she spun off from her first book, about the artist Lakshmi's protege, a young boy and former street child, Malik, now aged 20. In 1969, he is picked to apprentice at the Jaipur Royal Palace to build a new cinema, but when the balcony collapses on opening night, questions need answering. Was it an accident or something more?
'Dream Girl' by Laura Lippman
Aubrey is the main character in novelist -- and protagonist -- Gerry Andersen's book. As he recovers from a fall in his apartment, tended to by two women, he gets a call from someone purporting to be Aubrey, his character. As Gerry tries to figure out what is real or not and whether he has dementia, he reflects back on his past foibles in this psychological thriller by bestselling author Laura Lippman.
'Hostage: A Locked-Room Thriller' by Clare Mackintosh
This story takes place in just 20 hours on a nonstop flight from London to Sydney. Written by New York Times bestselling author Clare Mackintosh, "Hostage" focuses on Mina, a flight attendant, who gets an anonymous message warning her to comply with directions or risk her daughter's life. When passengers start dying, she has to start making some life-shattering decisions.
June 29
'The Personal Librarian' by Marie Benedict and Victoria Christopher Murray
Historical fiction at its best: Bella da Costa Greene was the belle of New York society, known widely as the personal librarian for powerhouse J.P. Morgan and charged with creating a world-class collection for the Pierpont Morgan Library. But her darker complexion wasn't from her alleged Portuguese descent: she was Black. "The Personal Librarian" spins a complex tale of deceit and allegiance as told through books.
'Something Wild' by Hanna Halperin
What if you found out your mother was being abused? Tanya and Nessa head back to Boston to help their mother move out of their childhood home, only to find out that she's in an abusive relationship with their stepfather. The sisters want to tackle the issue in different ways, colored by a secret experience they've lived through.
'Hell of a Book' by Jason Mott
A Black author goes on book tour across the country where he encounters a possibly imaginary child and a young Black boy from his past. What is reality? As bestselling author Jason Mott's character's book tour comes to an end, the reader gets some unexpected twists.
'Lorna Mott Comes Home' by Diane Johnson
From the bestselling author of "Le Divorce" and "Le Mariage" comes a family drama based on a successful grandmother living in France who decides to leave her French husband and return to America. But the America she left isn't the one she finds. Her adult children, her grandchildren and her first husband mix in a tale of family, love, and second chances, straight out of a Nancy Meyers movie.